10 Quick Tips for a Picture-Perfect Pantry
Who said organizing had to be ugly?
A few days ago, fellow blogger Molly told me I had to check out Khloe Kardashian's meticulously organized pantry. Turns out, Khloe is obsessed with food organizing. She even expertly arranges her cookie jars! And of course, like all things Kardashian, her pantry is flawless. I've been harboring some serious organizing envy ever since.
So, in an attempt to add a touch of Khloe-inspired fabulousness to my messy pantry, I've rounded up some of HGTV.com's best and prettiest pantry tips. If you need me this weekend, I'll be pouring my baking ingredients into glass jars.
Keep the Good Stuff in Reach
Store foods you use most often at eye level, reserving the top and bottom shelves for bulk buys, specialty appliances and seasonal items.
Pretty and practical, clear storage containers are a chic way to keep frequently-used ingredients organized and visible.
Keep your pantry organized for the long haul with labeled "parking spots" for staple food items.
Save space and give your pantry a chic, uniform look by transferring foods like flour, cereal and hand-held snacks from their bulky cardboard packaging into clear jars or bins.
Organization blogger Melissa George gave her plain pantry a super-chic update by adding a pretty tiled backsplash between the shelves. No budget for tile? Get the look at a fraction of the cost with wallpaper, wall decals or pops of bright paint color.
Protect that precious vino and put your crafting skills to good use with a pretty, DIY wine holder.
For overflow storage or items you don't use everyday, opt for stylish, roomy storage containers like these pretty gold and white bins.
Get Spices Off the Shelves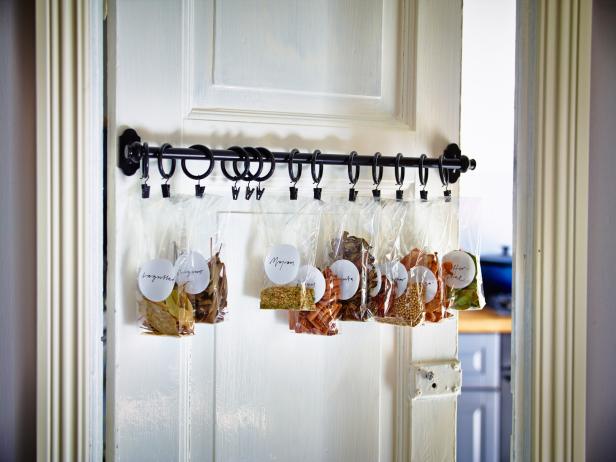 Spice Storage Rail on Pantry Door
Do you buy your spices in bulk? You might prefer hanging them for a whimsical display. Repurpose a small window treatment rod or use this Fintorp IKEA rail and Syrlig curtain clips to get the job done. Mount on the back of a pantry door to keep spices cool and dry.
Feeling overwhelmed by an unmanageable stock of spice jars? Get them off the shelves and in your hands faster with a vertical spice organizer like this pretty repurposed curtain rod system. But first, check any suspiciously old jars for freshness and toss if they're past their prime.
Keep all your ingredients in sight by placing shorter jars and bags toward the front of the shelf and taller ones toward the back.
Are chip bags cluttering your shelves? Put your pantry walls to work with a DIY bag holder made from a strip of wood and curtain hooks (minus the rings, of course).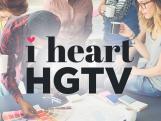 Get to know the talented writers and editors of HGTV's show and design blog. 
Go Behind the Blog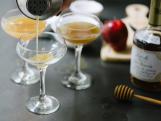 Take a look back at our past posts, from entertaining and design trends to up-and-coming HGTV shows.  
Read All Our Past Posts