Candy Craft: Birthday Candles
Blowing out birthday candles is great fun, but it can also be a hot mess. Skip the wax drips and add an edible flare to your next birthday celebration.
Sponsor article courtesy of Airheads®
SUPPLIES NEEDED: Airheads, Lollipop Sticks.
STEP 1: Roll out a White Mystery Airheads to form a cylinder shape. Cut a piece of a Cherry Airheads of the same length.
STEP 2: Press the cylinder onto a lollipop stick and twist the Cherry Airheads piece around from top to bottom.
STEP 3: Cut two teardrop shapes from a Cherry and an Orange Airheads and attach around the top of the lollipop stick to form your candle flame.
STEP 4: Happy birthday to you!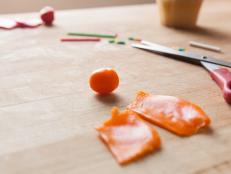 Make a beautiful butterfly buddy to take with you you everywhere. If you're feeling creative, make two or three more buddies and you'll have a whole crew of fun friends! Sponsor article courtesy of Airheads®