Small and Smaller: Extreme Living
How do these homeowners live large in 400, 200 and even less than 100 square feet?
When documentary filmmakers Merete Mueller and Christopher Smith set out to make a movie about people living in tiny homes, they became so intrigued with the lifestyle that they built their own 130-square-foot cabin. The film, "TINY: A Story About Living Small ," premiered on March 9, 2013.
Who says your home has to be huge to make you happy? These days, many people are choosing to live in tiny spaces and doing so in comfort and style. From miniscule studio apartments in the city to petite cabins way out in the country, scaled-down homes encourage residents to clarify their priorities, edit their possessions and prove that be it ever so humble, there really is no place like home.
With rents inching toward $100 per square foot, big-city apartments don't come cheap. But rather than move out to the 'burbs where the prices are lower, city lovers choose to stay near the hustle and bustle, even if it means living in apartments as small as 175 square feet.
With the earth getting more crowded and land more expensive, many Americans are looking for ways to live smaller and more simply. Whether they're building cabins in the woods or converting old shipping containers into studio apartments, these homeowners are being kind to the planet and to their wallets and find that living without a house full of possessions actually makes their lives feel fuller.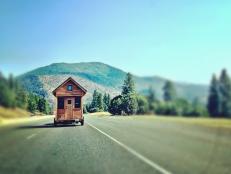 On land, at sea and in the air, these homes are a moveable feast of small-space design ideas.
Join the party! Don't miss HGTV in your favorite social media feeds.
The Latest From Our Design Blog
Catch up on the latest HGTV show and design news right here.