Living Room Built-In Shelves
These custom storage solutions maximize every inch of space, adding function and style.
Neat rows and columns can be very satisfying to gaze upon — especially if they represent the orderly assemblage of some of your favorite things. Built-in cabinetry can bring order to your living room, transforming it from a simple blank slate to a creatively curated exhibition. No longer plain walls with a window here and a door there, the space takes on a new dimension: foreground and background, storage space that closes up and display space that attracts the eye.
Jean-Marc Giboux/Getty Images
The living room in Kent and Jenny Longardner's home in Elmhurst, Illinois, after Design Star winner and Host Meg Caswell 's redesign, as seen on HGTV's Great Rooms, season 2 . The built-in library opens to unveil the door to the office, the tikky bar is in a corner and the facing wall is covered with a display of framed photos.
Built-in cabinetry allows for thinking about storage both horizontally and vertically. The higher and the deeper you go, the less accessible things become. Depending on who needs what, built-ins can serve a whole household, not to mention guests as well. They provide the framework for addressing a variety of needs: storage of books and photos, a home for televisions and media equipment, display for beloved collectibles, a handy spot for children's art supplies and toys. Maybe there's a tray on a deep shelf complete with drinks, napkins and barware.
Never underestimate the power of quality built-in cabinetry to unify a room — and to do so with both efficiency and good looks. What might be lost in flexibility within the space is gained in sure and steady practicality.
Trevor Tondro
A built-in filled with books cleverly surrounds the TV so the black screen isn't an obvious focal point in the room. The glass desk and coffee table add a contemporary touch, while the classic white furniture keeps with the room's overall traditional vibe.
Jennifer Jones of Niche Interiors recommends corralling loose items on shelves by stocking up on simple, attractive boxes and baskets. "Unless you truly live like a minimalist the only way to control the clutter is to have a home for everything, from remote controls to your child's favorite toys," she says. "Use boxes or baskets on bookcases and shelves to store your least attractive but necessary objects."
These days many people are searching for ways to use all of their rooms — every square inch of them — in the most adaptable and creative ways possible. They're retrofitting them to accommodate growing families or downsizing to bring simplicity to their lives. And the living room — once a pristine and formal room — is prime territory for housing more functions than ever. It's become a much friendlier and more adaptable room today.
"People are looking for custom storage solutions where things can be tucked away," says Ginny Snook Scott of California Closets. "Whether it's a computer or a media center or a spot to do homework that can be closed away at the end of the evening, they're finding places where those things don't have to be out all the time." Yes, she's talking electronics — the computers, tablets, phones, cameras, and televisions with all their cords and accessories. But it's not just that.
"Homeowners who want to convert their living rooms into multifunctional spaces are incorporating a wall bed," she says. "Rooms don't have to be dedicated to media 24 hours a day. Wall beds were part of our culture in the '30s and '40s, and they are making a comeback." So the Murphy bed is back. With its novel yet retro vibe and that über-cool element of surprise, your guests may want to stay awhile. Hospitality is built right in.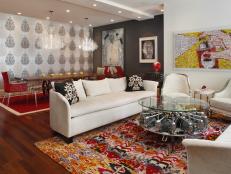 Designer tips on using the color wheel and best bets for mood-evoking combinations.
Join the party! Don't miss HGTV in your favorite social media feeds.
The Latest From Our Design Blog
Catch up on the latest HGTV show and design news right here.