Designer Tips for Hanging Storage
This type of mudroom storage gives you quick retrieval of coats and bags as you head out the door.
Eric Perry
Turn an entryway into a chic mudroom with the addition of a bench and thoughtfully placed hooks. Here, at the 2012 HGTV Green Home, the home's informal entrance provides a warm welcome and stylish storage options. The extra addition of long rectangular original artwork brings visual interest and style to the space.
When you want easy access to items, hanging storage is the way to go.
"Hanging storage is a good idea because of the way people use mudrooms," says Joanne Sanders, a designer for Easy Closets. "They need the convenience — you want to grab that jacket or keys and head out the door."
"I love hooks for quick retrieval in a mudroom and for a quick way to hang something like a hoodie," says professional organizer Jill Yesko, CPO of Discover Organizing. "It's much quicker than a hanger."
For her own home, Yesko has labeled every hook with the first initial of each family member. This encourages accountability and each person knows where to find their coat or bag. Yesko says she always uses double hooks (these feature a latch on the bottom with a hook on top) and likes placing bar hooks at a higher and lower height, spaced about three feet apart, to offer easy hanging storage for both adults and kids.
"Hooks are especially good for one or two items, not storing a large group of items," says Sanders. "You don't want to pile a bunch of coats on one hook and have to dig to find the one you need."
Pegs: An Alternative Hanging Solution
Pegs are a straightforward storage solution for a variety of items.
"I'm not a big fan of pegs unless they're the kind with a sharp angle upward," says Yesko. "When you use the kind that are straight out, things can fall off pretty easily."
Use pegs to store light bags, scarves or baseball caps, or add a peg rack under a shelf or a window to utilize available wall space.
An alternative to hooks and pegs and often utilized in a garage, slat walls in different colors and configurations can also be used in a mudroom.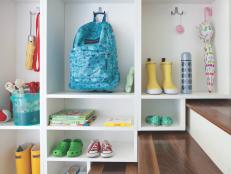 Get tips for using these two solutions to create designated storage and keep things organized.
Join the party! Don't miss HGTV in your favorite social media feeds.
The Latest From Our Design Blog
Catch up on the latest HGTV show and design news right here.