How to Create an Elegant Grown-Up Halloween Party
Lifestyle expert P. Allen Smith shows those who have aged out of trick-or-treating how to create a spooky-chic gathering.
Halloween is a holiday steeped in magic, fun and treats. While it's always a marvelous and entertaining spectacle to see children running through the neighborhood decked out in costume, this day is not just for kids. I love to see adults embrace their festive and creative sides, to take full advantage of this anything-goes holiday.
P. Allen Smith gives up the ghost with inspired All Hallow's Eve party tips.
Halloween is a great opportunity to get in one last big social event before the chaos of the holiday season begins. So delve into your shadowy depths, and find inspiration in a few ideas for how to throw a memorable Halloween party.
Producing a costume can be the scariest part of Halloween for some adults. Remove the pressure to impress and request all your guests just wear black at your spooky gala. It's not a bad idea to grab a few festive accessories like witches hats, Venetian masks or face paint to liven things up.
Don't hold back when it comes to décor. I like to pick a theme and run with it. Whether you prefer a ghoulish, creepy atmosphere or a lively harvest theme, look for unexpected ways to design the look of your party. Instead of setting pumpkins out on the ground, think about creating levels to draw the eye up. Stack them, or use props like bales of hay, wire cages or baskets to give them some height.
Create specters dancing through the garden with some cheesecloth and chicken wire or go Gothic with a ghoul made by soaking fabric in liquid fabric starched and then draped over a dress dummy to dry. Add some eerie lighting from within to really make your haunting dancers shine.
Halloween is all about embracing the ghostly atmosphere of the evening and encouraging your inner goblin to come out. A fire pit—or bonfire if you have the space—is always an easy, excellent centerpiece at night. Away from the fire you could throw some bales of hay out for seating and let your Halloween cauldron runneth over.
Food is just as important as your Halloween décor. There are so many thematic options when deciding on a Halloween party menu. I prefer to leave the candy bucket on the porch, and offer guests a few classic fall-themed hors d'óeuvres and cocktails.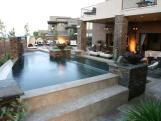 Browse beautiful photos of our favorite outdoor spaces: decks, patios, porches and more.
We're serving up the latest news, gorgeous style, DIY projects, clever entertaining tips & more.