5 Canopy Beds We're Obsessing Over
These canopy bedframes will leave you feeling like royalty.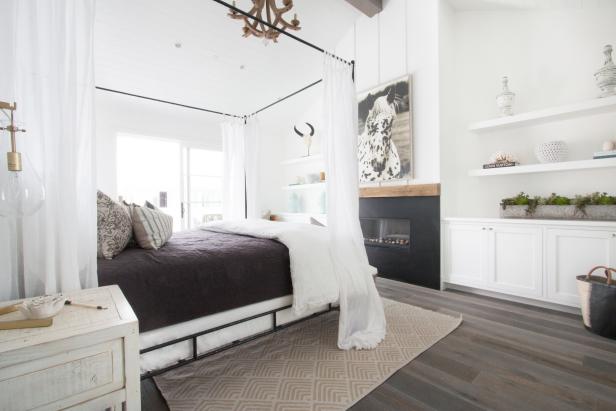 Modern Farmhouse Inspired Master Bedroom
Soaring ceilings, covered in beadboard and painted white, capture the farmhouse spirit which inspired the design of this bedroom. Floaty white canopy bed curtains, white built-ins and washed out wood floors enhance the open, airy feel of the space. An aubergine-colored quilt and patterned oatmeal-hued rug ground the space.
Do you want to give your bedroom a luxurious update? A canopy bed will do just that. Not only are they the perfect eye-catching piece of furniture that truly stands out in a room, these gorgeous canopy beds will also leave you feeling like a queen in her new castle. Imagine one of these stunning beds in your room while you curl up with a good novel or cozy up for a romantic night at home. Add a few new accents and you'll never want to leave your room again.
The Antonia Canopy Bed from Pottery Barn is a beautiful modern version of the classic canopy bed. The antique bronze gives you room to play with the latest steampunk styles or dress up with lace drapery for a whimsical dream bed. The fabric on the headboard can be removed easily for replacement with whatever style fabric you want. This clean-lined customizable bed that can go from canopy to four posters gives you the room you need to change things up as often as you like without having to shop again.
The black powder-coated iron and clean lines give this canopy bed frame a midcentury modern aesthetic. The all-black frame with the golden accents, allows you to dress it up or dress it down. The plated brass corners really set this frame off without limiting your style options for the rest of the room. This chic frame will make your bedroom feel classic and timeless.
Want something that's a little more glamorous? The Retro Glitz Brushed Goldtone Quatrefoil Queen Canopy Bed is perfect for those obsessed with the gold interiors trend. The Bohemian style quatrefoil headboard will make any room shine. This frame is particularly great for medium-sized rooms since the posts are tall without being too wide. Since the canopy bed makes such a statement, keep the rest of your bedroom's decor simple and understated.
This canopy bed from Mash Studio is a minimalist's dream. It has a stunning wood frame with clean lines and no visible hardware. The fact the bed is low to the ground and the box spring-free design will make the bedroom feel larger. Add a few plants to your nightstand to give it that urban jungle vibe.
This Rivendell Canopy bed looks like it was pulled straight out of a fairytale. Inspired by birch trees, this hand-painted steel, aluminum and iron bed frame is perfect for those who want to wake up with a little whimsy and romance each morning. The white frame leaves an array of options when it comes to decorating, but we recommend pairing it with a grey duvet and sheets to make the white really stand out.