At Home With Ólafur Darri Ólafsson
The actor, whose credits include The Secret Life of Walter Mitty and HBO's True Detective , tells us about his favorite spots in his Icelandic apartment and scenic summer home.
Remember the name Ólafur Darri. The award-winning Icelandic film star has been crossing over to U.S. film audiences, with roles in The Secret Life of Walter Mitty (remember the hilarious drunken pilot?), HBO's True Detective, and Cinemax's Banshee. Next up: Charlie Kaufman's (Eternal Sunshine of the Spotless Mind, Being John Malkovich) new FX Productions comedy pilot, How and Why. When he's not on set, Ólafur splits his time between his Icelandic apartment and his parents' scenic summer house. The actor tells us how each place makes him feel at home.
You sang in The Secret Life of Walter Mitty. Do you sing in your home?
I do! My daughter loves to sing; she can listen to something twice and she will know how to sing it, which is a lot of fun. I can listen to all kinds of music in the house. I picked up this wonderful Bose Bluetooth thing which is so good, since it's portable. It's expensive but you can charge it and take it anywhere, which is lovely. You can listen to the music in any room and it's a really quality sound.
How would you describe your home?
It's a place that I think of as my sanctuary. A place where I can get away from it all. I think that is important. I have the typical Icelandic apartment, and I have a lot of art from people I have a connection with. The art community is not the biggest one in Iceland, but I have many great artist friends who I buy from. If it's really bad, I'll just put it in the back in the closet!
And then I spend a lot of time at my parents' summer house. Summer homes are just fabulous, especially here in Iceland – it's a huge tradition. We go there in winter too. Actually, my favorite time to go is in mid-winter. It is so cozy when you can just stay indoors, reading a book, while the really bad weather and long hours of darkness are outside.
I think Icelanders always used to call them "summer houses" because back in the day, they were really only used in summer and closed down for winter. But now with most of them using geo-thermal heating and having electricity, they are being used more year round these days.
What's your favorite room in the home?
I love my daughter's room. I love her white wood crib, it's something my parents bought for her. And I like the tiny kitchen, though I wish it were bigger! I do most of the cooking in my house. Cooking for me is like meditation. You can have a lot of fun experimenting with the recipes. And I enjoy slicing vegetables — the simple things, they are good for the mind! I am going to move to a bigger place. When I will be looking for a new house, the first room I am going to check out is the kitchen. And if it's not big enough, I will just have to leave and look at the next one!
What drew you to your home?
It's owned by my mother and father in law, so it was cheaper. That's the honest answer! Artists in Iceland tend not to make a lot of money. My next place will be more my place — I want to live there for the next 20 years.
Any must-have home essentials?
I love all the art, books and movies. I read a lot of books; they have a calming effect on me. I love the smell of garlic, so I have to say my garlic press. As a film buff, I have to say I need my television — I try to watch a film a day.
Also, I love the sculpture. It is by my friend and classmate from high school, Halla Gunnarsdottir. I always wanted to get a piece by her. She had this big gallery opening in Iceland and sold most of her pieces. I went to her studio and saw a much bigger version of the sculpture, which I really loved, but was far too big for my apartment. I ended up buying two paintings, and a couple of months later, she called and said she had made a smaller version of the sculpture and asked if I would like to see it. It was love at first sight!
What are some of your favorite colors, textures, fabrics?
I am a velvet kind of guy! I love it. We have this really old red velvet couch from my girlfriend's grandparents. It has that kinda lush feel. I used to hate it, but I think it has really grown on me. I love red and blue in the house. Red has always been a great color for me; I love red bedspreads and stuff like that. I like a lot of rustic wood around me.
Do you make your own furniture pieces?
No, I am a horrible carpenter! But I think when I find the time, I will try to make that really ugly table.
Where do you like to shop for home-related products?
Ikea, which is a store I hate, but we always shop there since it's cheap. There are also a few specialized stores in Reykjavik. Kokka, a cooking supplies store. It's kind of like Sur La Table in the U.S., which I also love.
How would you describe your style?
I guess you would call it country cozy.
I do a little bit of gardening when I can at my parents' summer home.
The Latest From Our Blogs
Catch up on the latest HGTV show and design news right here.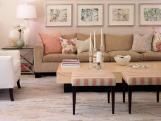 Found a living space you love in HGTV's Photo Library? Get the look in your own home with products from Wayfair.