5 Fire Pit Ideas to Steal for Cozy Fall Nights
Truth time: We recently had a fire pit built for our house in Los Angeles (where it gets cold like six times a year), because I'm obsessed with s'mores. Oops.
While I was doing research for our own design, I was blown away by all the creativity I came across. I discovered fire pits have come a long way! Here are a few of my favorite ideas to steal for your own fire pit design dreams, as well as some tips for creating the coziest outdoor spots this fall.
An (Outdoor) Room With a View
When you're thinking through where to put your fire pit, consider the view while creating your design. Try to choose an outdoor spot that gives a majority of people the best view. Even if your home doesn't have a mountain or water view, it's smart to think this through. For example, if you place the fire pit in a spot that has everyone staring at your garbage cans while roasting their marshmallows, that could really put a damper on your s'mores mojo.
DarrenMcCollester/Getty Images, 2012, HGTV/Scripps Networks, LLC. All Rights Reserved.
A simple solution can be achieved with a few chic outdoor chairs and your own DIY fire pit. Try cozy-ing up your space with some outdoor cushions and faux sheepskins thrown over the backs of your chairs if you want to go for a glamping vibe in your backyard.
Forget a pit, and go for a bowl! If you're tight on space, a fire bowl is a great solution. Typically, these have smaller profiles than a traditional fire pit and can easily fit into tighter or non-symmetrical spaces. If you have a larger area to use and still prefer the look of a bowl, use a large fire bowl instead.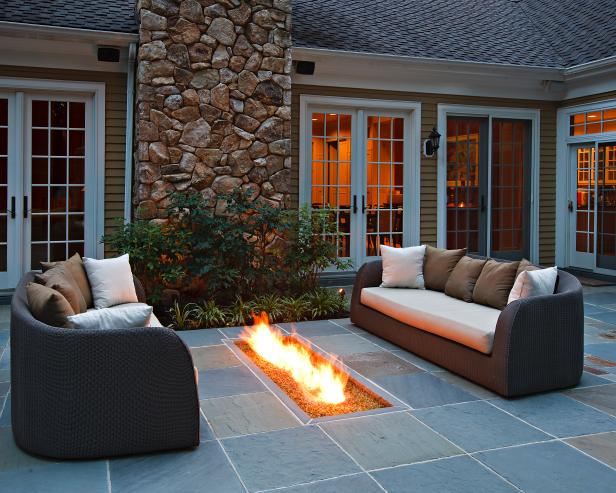 Patio Sitting Area With In-Ground Fire Pit
An in-ground fire pit lights and warms up this patio sitting area. A pair of wicker sofas flank the fire pit, offering a convenient spot for chatting with family and friends.
Just like a pool, you can choose to have your fire pit above ground or below. Below ground has a more modern look and is a great option if you want to maintain the site lines of your outdoor space. Using natural gas for these fire pits are a great option because you can kick off your cozy gatherings with a simple flip of a switch.
For those who don't want to make a big investment and are not so into the DIY route, consider buying a fire pit, or chiminea. These come in all shapes and sizes and work with virtually any outdoor decor scheme. You can even choose options like a fire pit table to ensure you're getting the most bang for your fire-pit buck.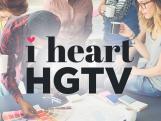 Get to know the talented writers and editors of HGTV's show and design blog. 
Go Behind the Blog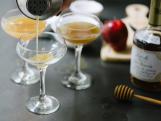 Take a look back at our past posts, from entertaining and design trends to up-and-coming HGTV shows.  
Read All Our Past Posts