14 Fashion-Forward Rooms for Every Design Lover
With three of the "Big 4" fashion weeks now behind us, there's only one week left to round out fashion month. Bonjour, Paris!
As we review the hottest trends we'll see next year, let's dive into these "holy chic!" spaces that merge the best of fashion and interior design.
This luxe sitting room off the master suite features a velvet sofa, mirrored panels and designer shoes as artwork.
Designed around a 1960's Vogue cover, this ultra-feminine bathroom features tile meant to mimic the curves of a couture Givenchy gown, a vanity with brass inlay and a crown-like chandelier. Be still my heart!
In designer Christopher Coffin's living room, antique Louis Vuitton suitcases are stacked neatly below a table acquired from the estate of notable skin expert Georgette Klinger.
Inspired by classic fashion icons, this glam living room features a bold blend of black, white, fuchsia and gold.
This modern workspace is full of chic inspiration. The colorful collages are full of fashion's most influential names, making this office the perfect place for any aspiring designer.
In Diggy Simmons' bedroom makeover, mom Justine insisted on having everything decked out in Versace, including the bedside table knobs.
This fashion-inspired bedroom features a metallic textured wall adorned with magazine artwork, giving the room an urban, glam feel.
Flame stitch Missoni women's wear fabric was used to create this graphic throw pillow. In fact, many interior designers suggest shopping at apparel fabric retailers to save money and add a touch of high fashion to a room's decor.
To add a more fashionable touch to your men's space, mix large-scale geometrics with plaids and tartans. This classic look will last all year round.
Designer Phillip Silver selected watermelon pink and burnt orange hues that were prevalent in Yves Saint Laurent's 1966 Rive Gauche line for the furnishings in the San Francisco Decorator Showcase 2015 living room.
This girl's desk area was dressed up with colorful jewelry and scarves to add a fashion-forward touch.
Designer books in a coordinating black-and-white color scheme add a high-fashion look to this elegant bedroom.
In this high-end dining room, romantic upholstered chairs surround a Versace dining table with gold Greek key trim.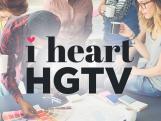 Get to know the talented writers and editors of HGTV's show and design blog. 
Go Behind the Blog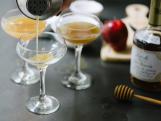 Take a look back at our past posts, from entertaining and design trends to up-and-coming HGTV shows.  
Read All Our Past Posts