Seasonal Spruce-Ups + Decorating Ideas
Say goodbye to winter with our best refreshes and decor tips that will leave your home sparkling for the season.
Container Gardening for Beginners
02:48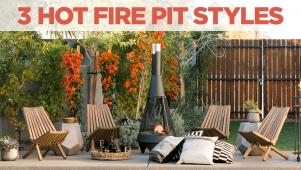 Now Playing
3 Hot Fire Pit Styles
02:14
Spend more time outdoors with these three fire pit gathering space ideas.
Now Playing
Impromptu Outdoor Room
01:48
Create an Impromtu Outdoor Room for entertaining with these easy tips.