10 Ways to Make the Most of Your Tiny Outdoor Space
Turn that once wasted patio into the outdoor retreat you've always dreamed of.
We still have a few more months left on the calendar before we can start dreaming about summer barbecues, but that doesn't mean we can't jump straight into planning mode, right?
For those of us with a tiny patio or balcony, our outdoor design options might seem more limited. But the truth is, with a bit of scheming you can create an amazing outdoor oasis no matter how small your space is.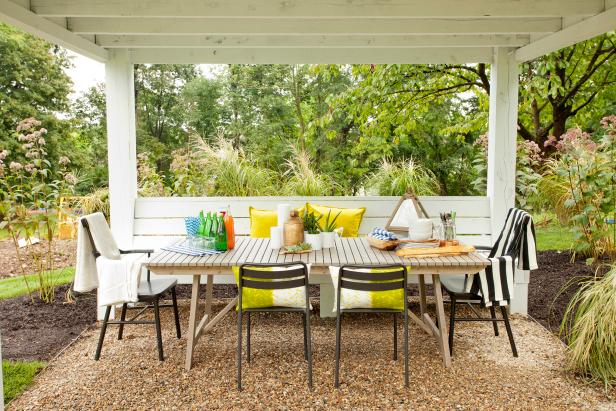 Covered Patio
An outdoor trellis and patio is complete with a casual outdoor dining table, colorful pillows, glasses, and chairs.
If you own your home and have a bit more flexibility with your budget, you might want to consider some built-in options. A built-in bench made from either concrete or wood would be the perfect solution for a tight spot, as you could build it to perfectly fit in your space. Combining a built-in bench with a table could create the perfect outdoor dining spot or simply work as a fun gathering space for you and your friends and family.
Another smart way to maximize your small outdoor space is with hidden storage. This is an especially great option if you want to keep pillows, throws or entertaining necessities on hand but need a spot to stash them. Even if you live in a warmer climate, it's not a bad idea to keep your outdoor goodies out of the elements when you're not using them. A storage bench is a great idea (and would provide a decent amount of space), but you could also try a storage ottoman or side table.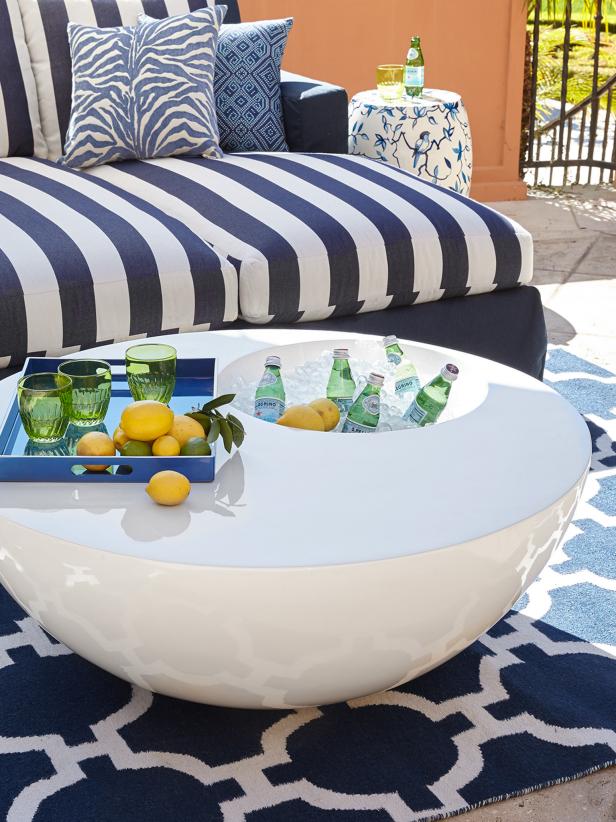 Outdoor Table With Beverage Storage
Keep what you need for entertaining on your deck or patio handy with this White Outdoor Beverage Table from Horchow. Handcrafted of a lightweight concrete/resin mix, it gives you a place to rest a tray of drinks and includes a rounded indent that can hold fruit, river stones or beverages on ice.
For small-space living, my favorite go-to solution is double-duty furniture (and this goes for both indoor and outdoor small-space challenges). A storage bench is a great example of this, but you can really think outside the box when it comes to outfitting your space. You can use a small coffee table for extra seating, a stool that doubles as a side table or larger throw pillows (made from weatherproof fabric) that also works as floor cushions.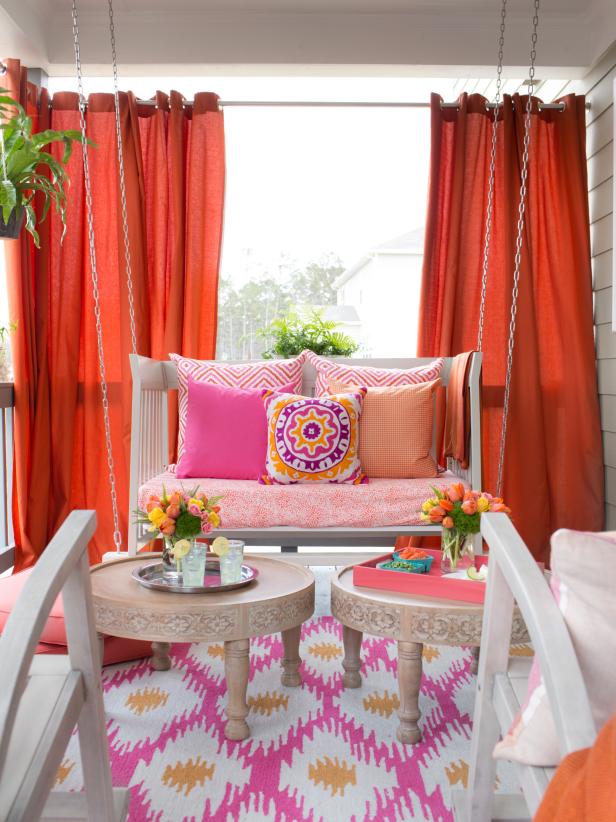 Vibrant Outdoor Space With Hanging Daybed and Draperies
Quick and easy updates brought springtime charm to the covered deck of the 2015 HGTV Spring House. From grommeted outdoor drapery to an upcycled swing chair, here's a closer look at the outdoor space's high-energy accents.
Flynnside Out Productions
Outdoor rugs are an amazing solution for a space that needs a bit more color or pizazz. They also do a wonderful job of defining the perimeter of a space, which is especially helpful if you have a small footprint. Make sure to choose a rug that is designed to remain outside, as it will be made with much heartier materials than a typical indoor rug. If you happen to find an outdoor rug that you love at a good price, you may want to buy two. I find that outdoor rugs tend to endure much more wear and tear, so it's not a bad idea to keep a backup on hand if you can.
There are some pretty strong opinions on both sides as to whether or not to go faux with plants or grass. I'm firmly in the "pro faux" camp as long as it's done right. Faux grass is a great option for an urban patio or balcony to help add the feeling of an actual lawn. To create a more realistic look, make sure you're putting the grass down across an entire defined area. You'll want to eliminate any harsh edges that would immediately indicate that your grass is faux.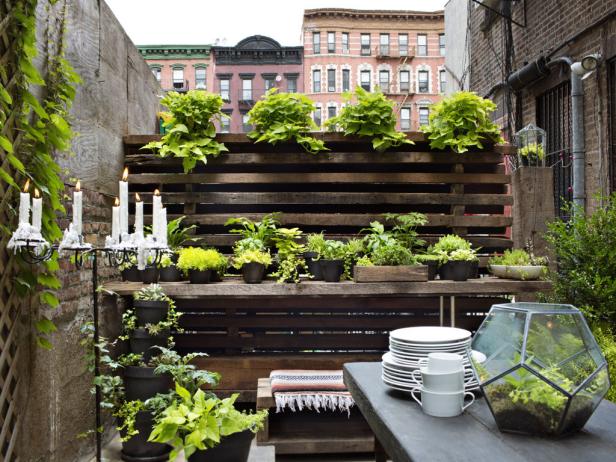 City Garden With Salvaged Wood Wall and Potting Table
In this small urban outdoor patio, a salvaged wood wall and potting table satisfy the city gardener. Climbing vines and potted plants, including a terrarium, create a lush space, while a candelabra adds ambiance for outdoor dining.
Even with a limited amount of space, you can still create a beautiful, vibrant outdoor garden. For a balcony, you might find it easier to stick to a container garden, which basically means that you will keep all of your plants and flowers in containers or pots. This gives you quite a bit of flexibility, as it allows you to easily move things around to change up your space. Flowers, plants and vegetables can all be successfully grown in small-space gardens.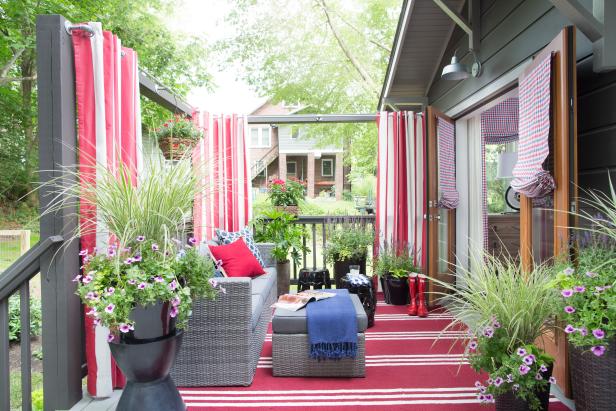 HGTV Urban Oasis 2015 Backyard Deck
Meant to function as another room, the deck celebrates Asheville's outdoor lifestyle with the modern Americana theme continued from the master bedroom and plenty of entertaining space.
Another great small-space trick is to add some outdoor drapery panels to your tiny patio or balcony. Curtains, in addition to creating some shade and privacy, can also make your space feel much more like a true outdoor living room. If you don't already have an overhead option for attaching a curtain rod, consider using a very simple wood frame to hang them on.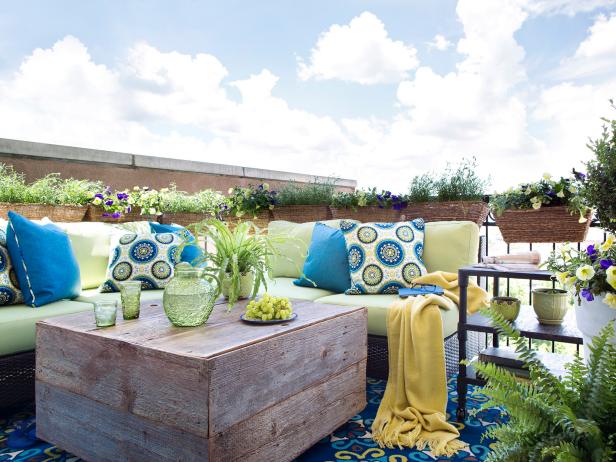 Stylish Deck With Sectional Seating
Cozy, transitional style is carried outdoors with this colorful sitting area designed by Brian Patrick Flynn. The deck rail is dressed up by several baskets of flowers, while a bright blue rug adds color and comfort beneath the upholstered sectional.
You may think you need to keep accessories to a minimum outdoors because it's ... outside. But it's actually quite the opposite! Take your favorite indoor items, like pillows and throws, and incorporate them outdoors, too. Use durable, mildew-resistant outdoor linens to infuse color and add a cozy, comfortable touch to your space.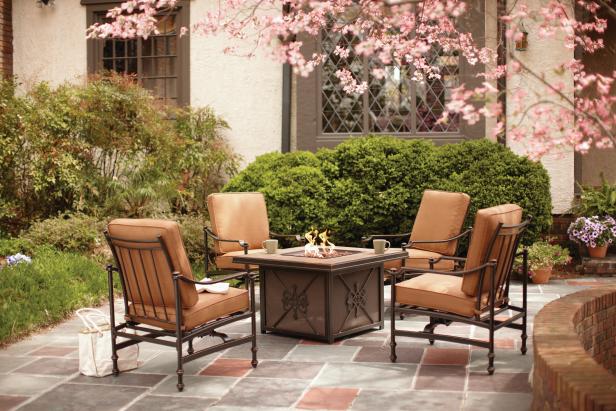 Pull Up a Seat
Sip coffee and other drinks by the glow of the fire with this set from Hampton Bay's Niles Park Collection . The fire pit has a tile top and scrollwork detailing. The set , sold by The Home Depot, includes four cushioned chairs.
Photo courtesy of The Home Depot
Fire pit tables have grown in popularity over the last few years, and they are a great option for a tight space. While not in use, you could easily cover the fire pit with an additional tabletop for some outdoor dining space (double-duty furniture!). When you're done with your meal, remove the top, light up the fire and have some s'mores for dessert.
For those of you who are looking to go a bit more bold, painting your deck is a fun idea. You could really go for it by painting the entire deck in a chic pattern. Or if you'd prefer a safer look to start, try simply painting a "rug" to define your space.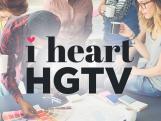 Get to know the talented writers and editors of HGTV's show and design blog. 
Go Behind the Blog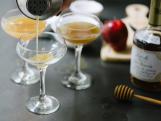 Take a look back at our past posts, from entertaining and design trends to up-and-coming HGTV shows.  
Read All Our Past Posts