Now Viewing
Genevieve Gorder's Big Renovation
After her NYC apartment went through a major overhaul, it was finally time for the fun part –– decorating! HGTV host Genevieve Gorder showed off her new digs to HGTV Magazine.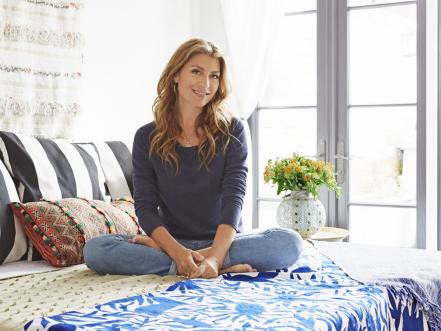 David A. Land
Chance for a Change
After a decade in the same small New York City apartment, design pro Genevieve Gorder was itching for a change. So when the unit next to hers became available, she jumped at the chance to buy it and combine the two spaces. The 18-month project—documented decision-by-decision on the HGTV show Genevieve's Renovation—didn't lack surprises. "Let's see, there were the uneven floors and the out-of-date wiring," Genevieve recalls. "Oh, and did I mention the HVAC system that had to be ripped out and replaced? When you're gutting a 160-year-old space, you have to expect the unexpected. You either go for it or you don't, and I went for it!"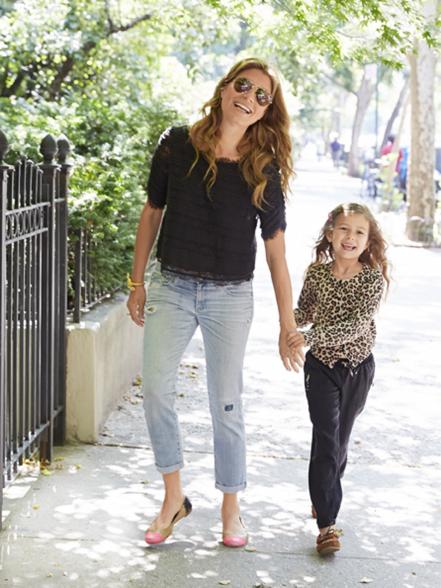 David A. Land
Family Home
Her beautiful new home, which features three bedrooms and three bathrooms on two floors, is a haven for Genevieve and her daughter, Bebelle, 6. It's filled with Genevieve's favorite subdued colors plus lots of treasured finds she's brought back from all over the world. "It feels refreshing, sophisticated, and very me," she says. "I'm excited to watch Bebelle grow up here."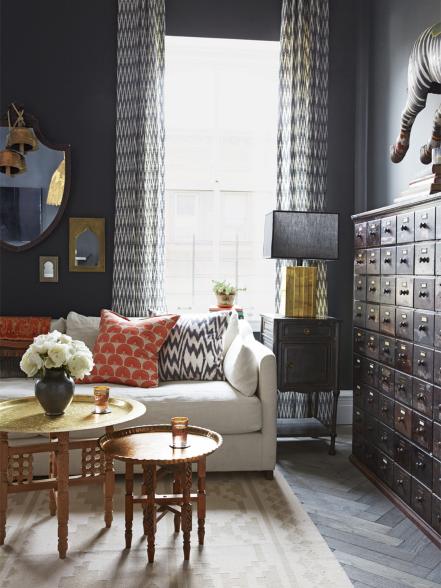 David A. Land
Living Room
With 14-foot-tall ceilings and light-flooded windows, this room could handle a dark wall color. Genevieve painted the walls black, then pumped up the space with pattern-rich textiles and timeworn furniture, including a 110-year-old cabinet originally from a bait and tackle store. The sofa is cream linen from ABC Carpet & Home. "Place anything in front of black and it becomes more beautiful, more dramatic, and more noticeable," Genevieve says.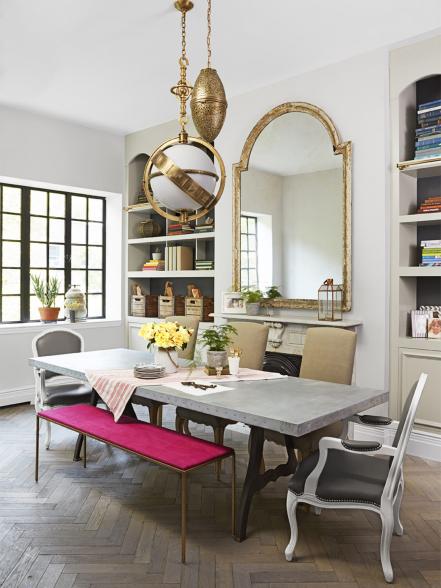 David A. Land
Dining Room
Not a fan of formal dining areas—"I don't like rooms where you feel like you have to behave!"—Genevieve went with mismatched furniture for a more easygoing look. A local blacksmith made the zinc-topped table; around it sit a mixed bag of seats, including CB2 armchairs and a fuchsia bench from the ABC Carpet & Home outlet. Two pendants—a zodiac-themed globe and a brass egg shape—are hung purposely unaligned over the table.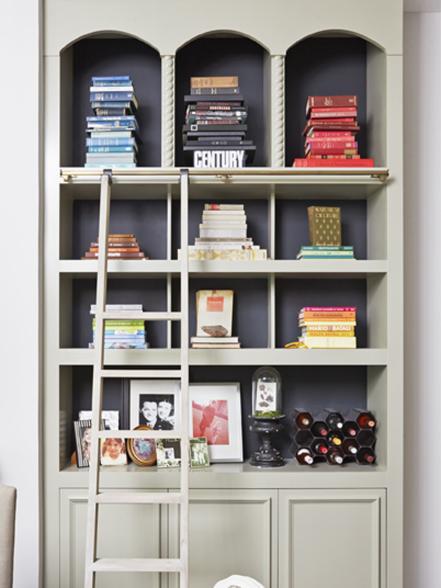 David A. Land
The Key to Built-Ins
Don't let them look too perfect. The controlled chaos of these stacks of books makes me happy. Painting the back of the shelves black makes books and photos pop.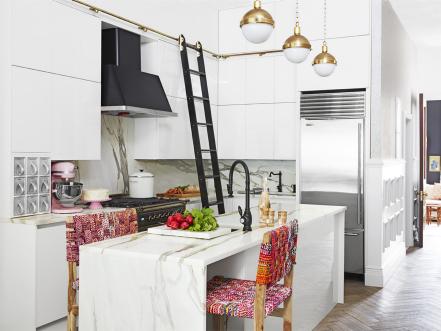 David A. Land
Kitchen
To-the-ceiling glossy lacquer cabinets serve as a pseudo basement. "They store everything—Christmas ornaments, my silver, even bed linens," says Genevieve, who installed a rolling ladder for easy access. To break up all the white, she added a Calacatta Borghini marble backsplash and island, accented with streaks of gray and gold. Watermark makes the matte black faucets, and the shiny brass pendants are from Hudson Valley Lighting. Recycled woven saris serve as upholstery on these Steven Alan stools.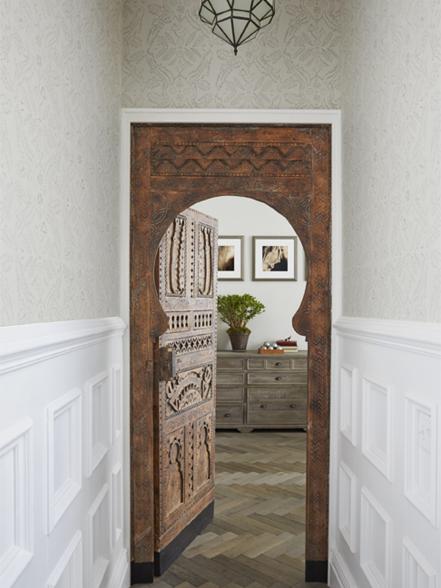 David A. Land
Hallway
Even the doors got special attention. The entrance to Genevieve's bedroom, for example, features this incredible wood piece, which came from a fishing village in southern Morocco. Within the keyhole design are carvings of fishhooks, the sun, and coral. "My bedroom is my sacred space, and this door really makes it feel that way," she says.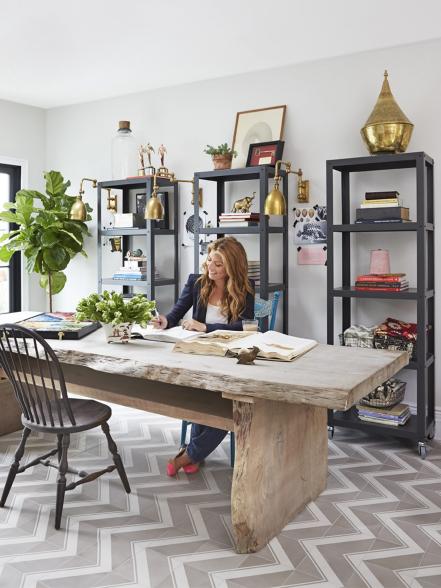 David A. Land
Office
When she's not filming, Genevieve works out of this converted bedroom. At nearly 10 feet long, her desk—which is actually a raw mahogany dining table by Timothy Oulton—offers plenty of room to spread out. Behind her, metal CB2 shelves hold books, fabric swatches, and her Telly awards. Genevieve laid the floor tiles in a chevron pattern that mimics the herringbone hardwood in the other rooms.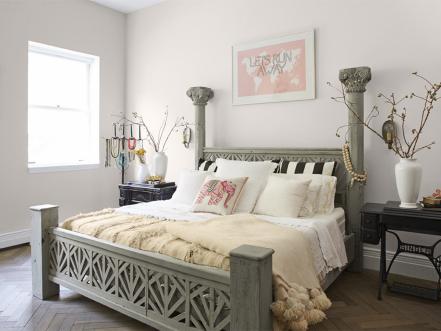 David A. Land
Master Bedroom
Like much of the apartment, the bedroom is painted Ammonite by Farrow & Ball, an oyster-shell gray that lets the eclectic furniture—like this Indian bed made from old wood fences and columns—take center stage. On either side are sewing-tables-turned-nightstands, each from one of Genevieve's great-grandmothers.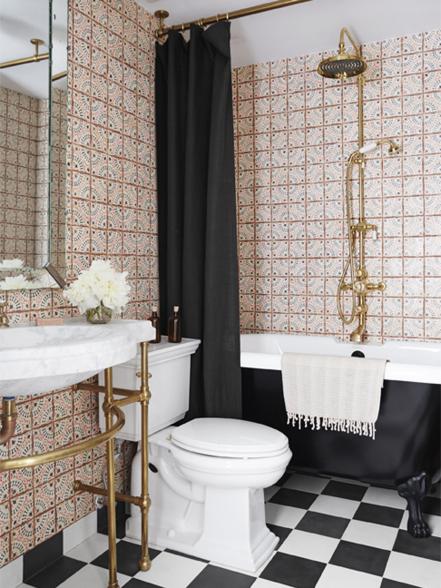 David A. Land
Bathroom
What this guest bathroom lacks in space—it measures only five feet by seven feet, with seven-foot-high ceilings—it makes up for in style. "Using a bold pattern all the way to the ceiling gives the illusion of grandeur," says Genevieve. The wall tiles may look like they're from Morocco or Turkey, but they were actually made by Tabarka Studio in Arizona. The marble sink and brass showerhead feel like luxe versions of antique plumbing fixtures.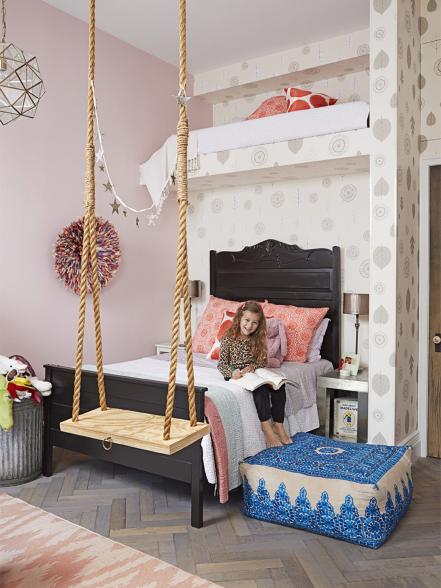 David A. Land
Bebelle's Room
There's lots to look at in Bebelle's room—from the embroidered Moroccan pouf and John Robshaw Textiles bedding to the leaf-print wallpaper from Juju Papers—but the huge swing steals the show. Made from a well-sanded old board and rope mounted securely to the ceiling, "it's the kind of thing Bebelle will never forget having," says Genevieve. Above the bed (a family antique that Genevieve painted black), a lofted platform provides extra storage. "When Bebelle is older, she'll be allowed to have a ladder up to the space," says Genevieve.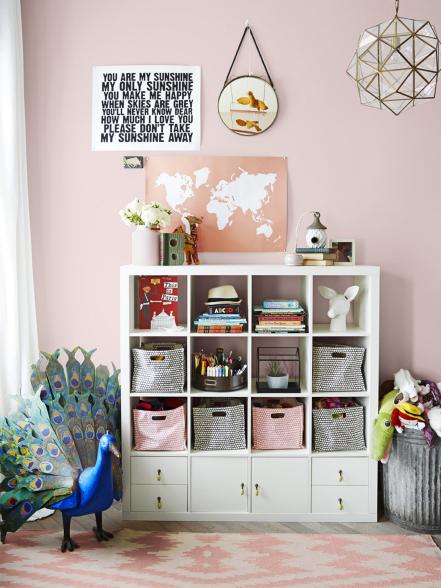 David A. Land
Bebelle's Room
Upgraded with ceramic drop pulls and canvas bins from Hable Construction, the IKEA cubby looks like a custom unit. Bebelle picked out this wood peacock herself at a flea market. Toys go inside a vintage trash can.