Now Viewing
22 Ways to Nab 'Fixer Upper' Style at the Flea Market
Give your home the 'Fixer Upper' treatment with these easy to come by thrift and flea market finds Joanna Gaines herself would approve of.
Keep in mind: Price and stock could change after publish date, and we may make money from these affiliate links.
Sarah Wilson/ Getty Images © 2013, HGTV/ Scripps Networks, LLC. All Rights Reserved.
Church Pews
Church pews are a great addition to the entryway and can be dressed up with seasonal pillows for a fresh look. And with many modern churches switching to theater-style seating, these classic seats are fairly easy to come by. Side note: They are also fairly pricy, so if you find a good deal, you'd better snatch it up.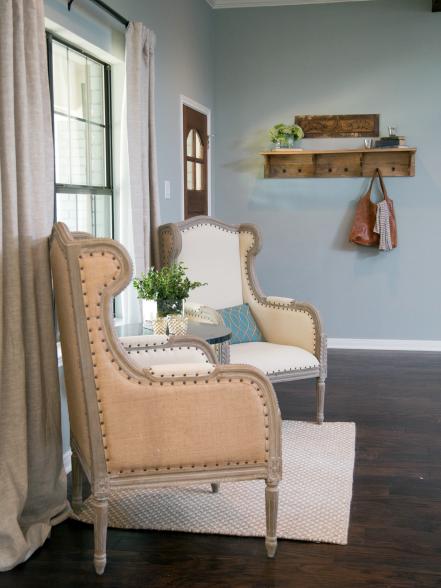 Classic Chairs
While finding two armchairs that are identical and in good shape can be a challenge, traditional wingback chairs always seem to be available. Consider buying two that are similar but not matching and recovering the pair in your favorite fabric.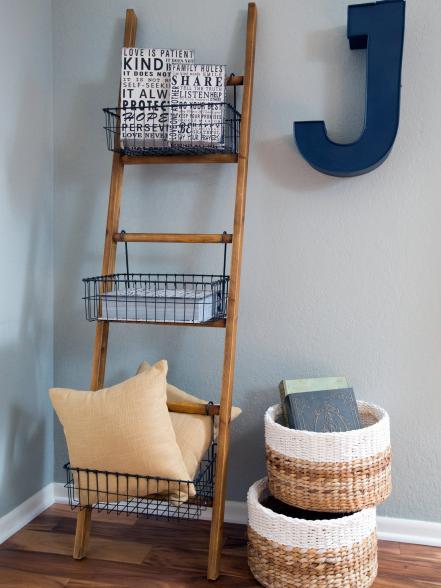 Sarah Wilson/ Getty Images
Wooden Ladders
Wooden ladders are super versatile, and lucky for us, they are also readily available. Great for hanging blankets, magazines and even high heels, these ladders are a cute accessory with major functionality.
Galvanized Everything
From watering cans to buckets to troughs, galvanized containers are a huge flea market staple. And since they are so plentiful, it shouldn't be too hard to find one for the right price.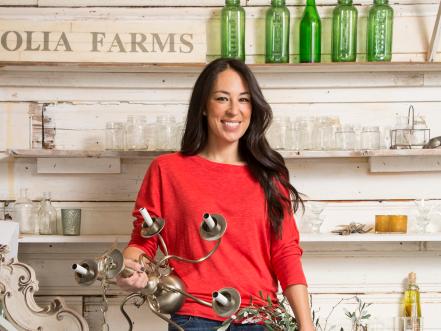 Sarah Wilson for Getty Images
Glass Jars
Glass jars are plentiful at flea markets, and the best thing about them is you can always be adding unique looks to your collection. Like the shelves of green jars and gorgeous glassware seen here, more is definitely better.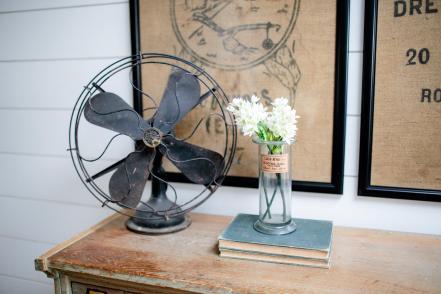 Rachel Whyte
Vintage Fans
Add an instant cool factor to your shelves or buffet table with a vintage fan. Though not difficult to come by, these fans can be on the pricier end of thrift-store merchandise. Opt for one that hasn't been restored to save a little money and still get a great look.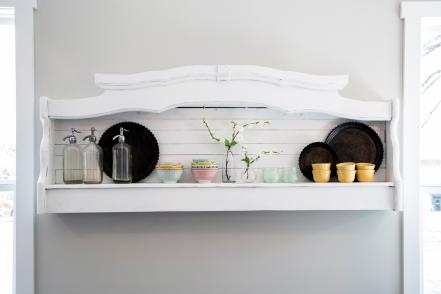 Sarah Wilson/Getty Images
Soda Bottles
Pay homage to the past with a fun collection of vintage soda bottles. But be careful with this one —many stores will sell bottle reproductions that aren't actually worth anything. But if you're just going for the look, new might be a cheaper option.
Sarah Wilson/Getty Images
Bird Cages
Usually all metal, bird cages can add interest to any space. The stunning versions you can find antiquing vary in price depending on size and the condition they are in. If you're interested in adding one to your home decor, this is one item you'll want to take your time to find the right price.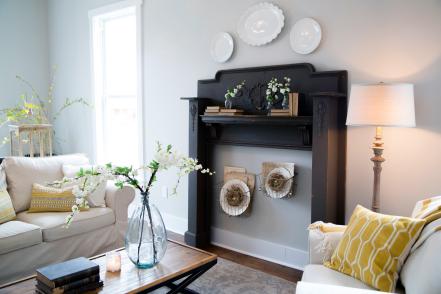 Sarah Wilson/Getty Images
Mantels
Mantels can instantly add depth and architectural interest to your home. Though easy to find, you'll want to consider the style you are looking for rather than buying the first one you see. While the more detailed versions do run a little higher, it may be worth the extra cost in the end. If you plan to paint your mantel, little details and intricate carvings really help it shine.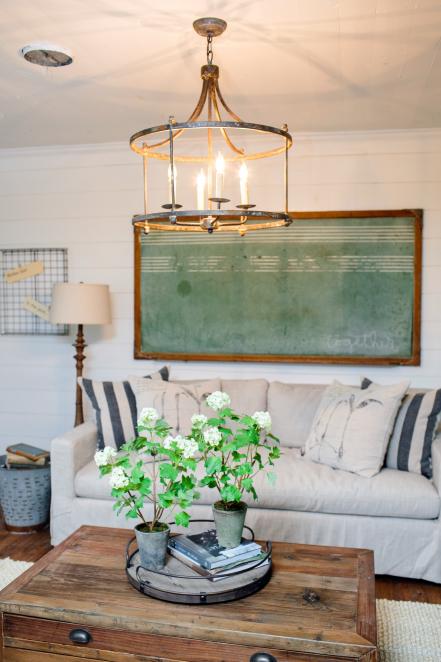 Rachel Whyte
School-Style Chalkboards
While it may seem like everything is chalkboard these days, the green classroom chalkboard is actually more of a rarity. You may find one that is still on the rolling display, which would be great for a kid's playroom. To achieve the look seen here, just remove the screws and hang it wherever you hope to add some schoolhouse charm.
Industrial Scrap Pieces
While you may not be lucky enough to find a portion of a windmill, scrap metal and industrial pieces are a dime a dozen. From metal mattress springs to old metal typeset drawers, these pieces are just waiting to be reused as wall art, furniture beginnings and more.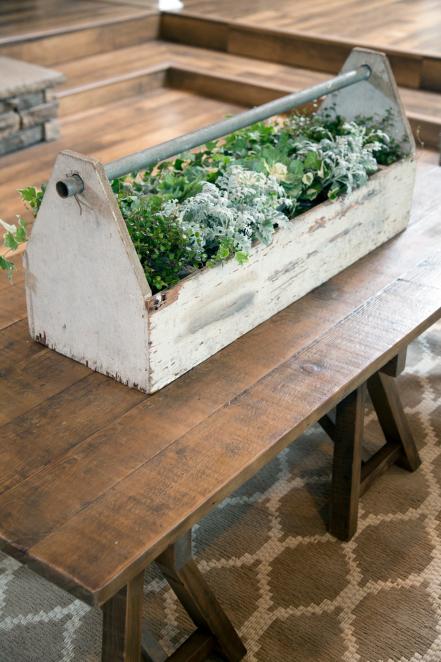 Tool Boxes
Perfect for a long table, Joanna regularly upcycles wooden tool boxes as charming centerpieces. Whether you find a wooden or metal version, tool boxes are easy to find when thrifting and can be used as planters, to hold towels and to keep toiletries corralled. Really, the options are endless.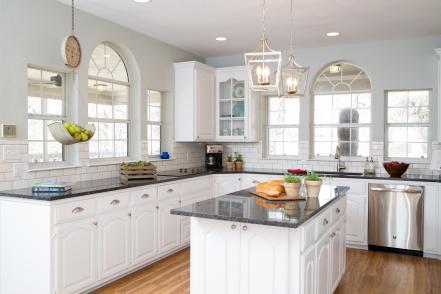 Sarah Wilson/ Getty Images
Vintage Scales
Vintage scales look amazing in the kitchen. The most common versions are countertop scales, but hanging scales like the one seen here are not too hard to come by. Side note: If you actually plan to use a kitchen scale for weighing food, you may want to consider a new version with vintage charm.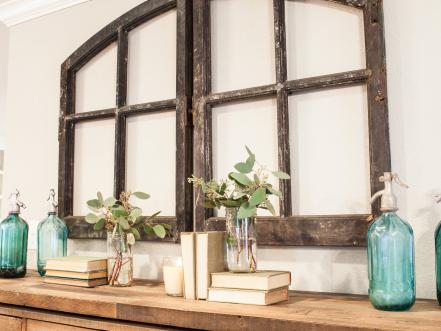 Weathered Books
Books are always a great decor option. And the great part about this design is that the titles don't even matter. Simply pick up a few well-loved books at your local flea market and display proudly for an instant shabby-chic effect.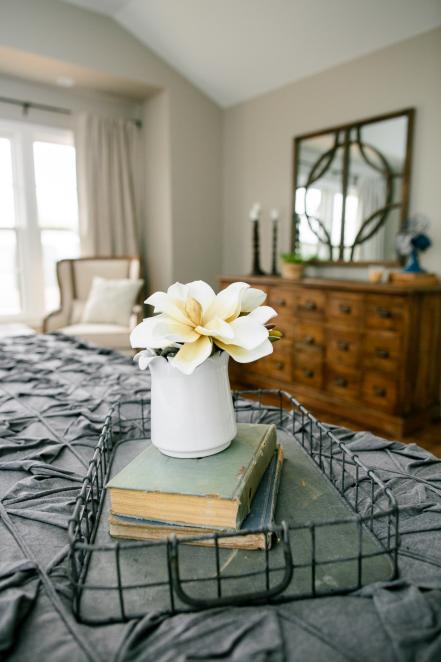 Rachel Whyte
Metal Baskets
One of Joanna's favorite pieces to work with, metal baskets are just as useful as they are stylish. They come in all shapes and sizes. Consider buying an old metal locker basket. These little slices of history are often found in thrift stores and work with many different design styles.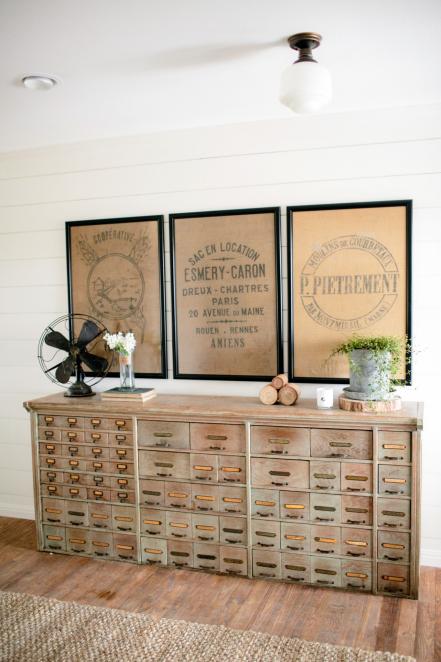 Rachel Whyte
Industrial Furniture
Industrial furniture, such as old post office cabinets and hotel mail slots, is easier to come by than you might expect. The downside with these pieces is that if they are in good condition, (and often even when they are not) they fall on the pricier side of the thrift-store scale.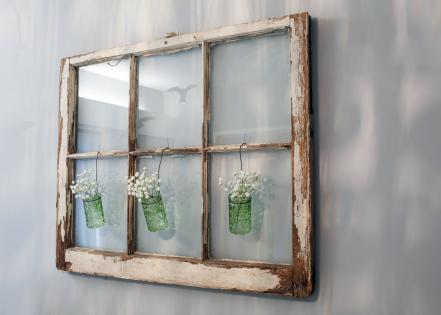 Windows
Small, large and in between, old glass windows are an easy flea market find that can be used to add some rustic charm to an empty wall. And if you're really feeling creative, consider painting them or adding a few colorful jars to display flowers as Joanna did here.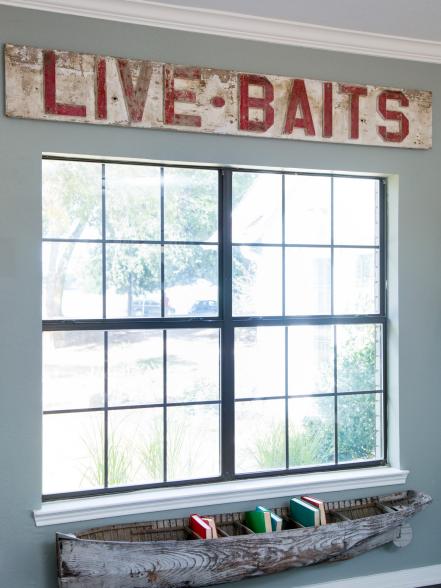 Signs
Vintage signs are easy wall decor that tell a story, and since perfectly-distressed signs aren't readily available at every store, this is the type of thrift store find you want to grab when you find it. Even if it won't work in your house, chances are you'll find a friend or family member that is dying to get their hands on it.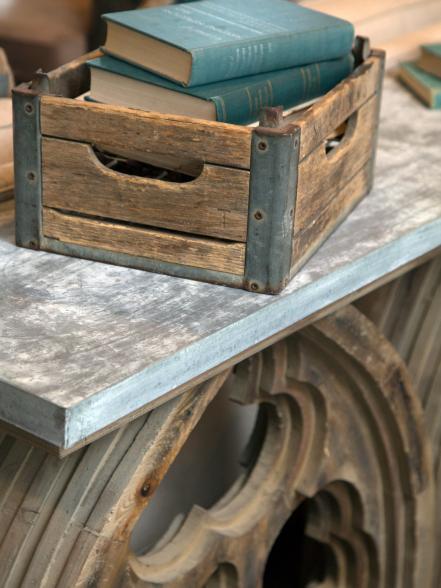 Wooden Crates
Rustic, industrial and perfect for storage, wooden crates are one of Joanna's go-to decorations. You can definitely find these used, but it may be cheaper to opt for new in this case. Side note: If you want vintage, old soda crates are easy to find with typically fair prices.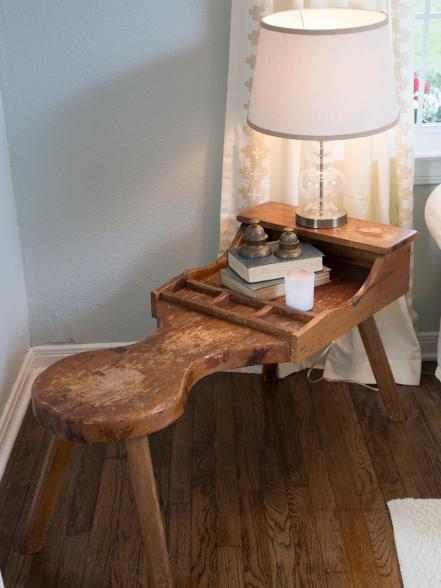 Unique Furniture
If you have something specific in mind, you'll likely leave the thrift store disappointed, but if interesting furniture is your goal, there are so many fantastic options. And don't get stuck on the original purpose of the piece. Here, this antique cobbler's bench works as a unique side table with tons of character.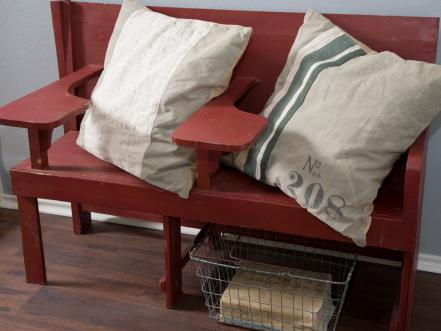 School Desks
Though double desks aren't around every corner, wooden school desks are pretty common. If you like this look, consider buying two and placing them together for a similar effect.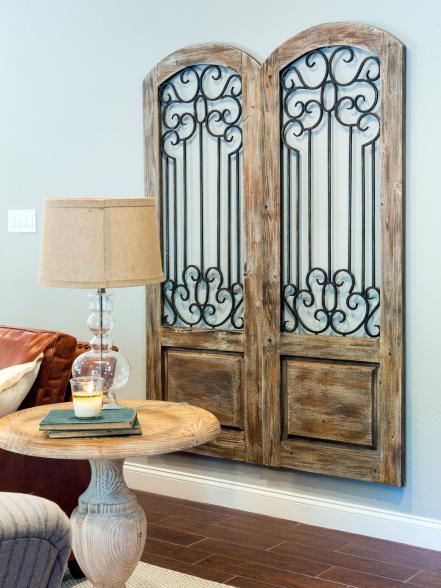 Larsen & Talbert Photography
Doors
While they likely won't be a perfect fit for your front entrance, vintage doors can also be used as a decorative wall hanging like Joanna did here. Old screen doors are a popular thrift store find that can be used as decor or even transformed as a useful spot to hang jewelry, cooking utensils or whatever your heart desires.