Now Viewing
Fixer Upper: A Craftsman Remodel for Coffeehouse Owners
Chip and Joanna Gaines help newlyweds Blake and Kimberly find their ideal fixer-upper and transform a neglected suburban bungalow into a jewel of a first home.
Keep in mind: Price and stock could change after publish date, and we may make money from these affiliate links.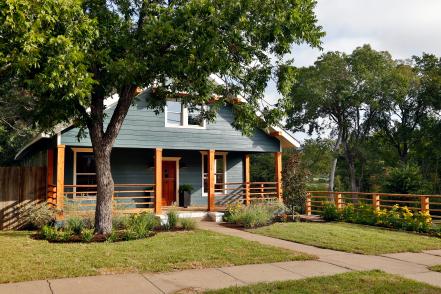 Craftsman Charmer
Chip and Joanna transformed and updated this home's exterior with fresh paint, natural wood support beams, porch railings and a new fence.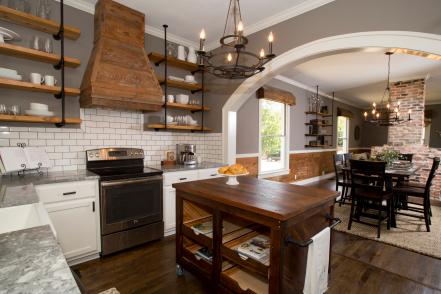 Happily Married Spaces
Formerly separated and cramped spaces, like the home's kitchen and dining room, are now combined to form a living space with lots of breathing room.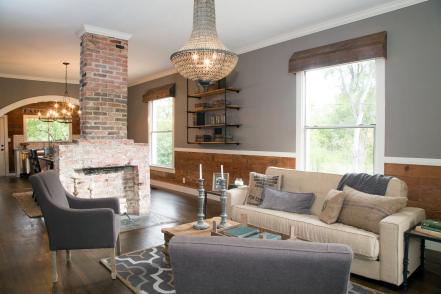 Enhancing the Flow
Continuing the theme of freeing up spaces, the living room now merges directly into the dining area, separated only by a newly freestanding fireplace.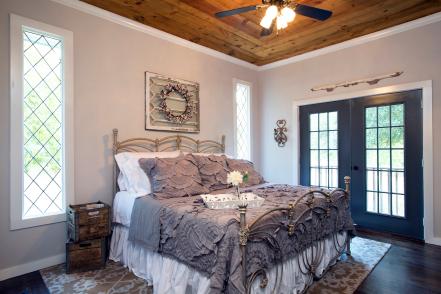 Airy and Rustic
For the Batson's newly remodeled master bedroom, light gray-blue wall paint and white molding offset dark hardwood floors, natural wood ceiling and antique leaded-glass windows that the homeowners discovered at a salvage store.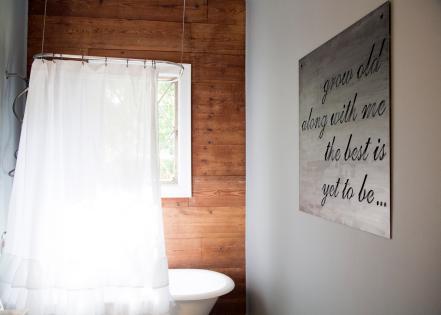 Words From the Heart
A favorite quote etched in script on sheet metal is a focal and thematic highlight in the newly remodeled master bath.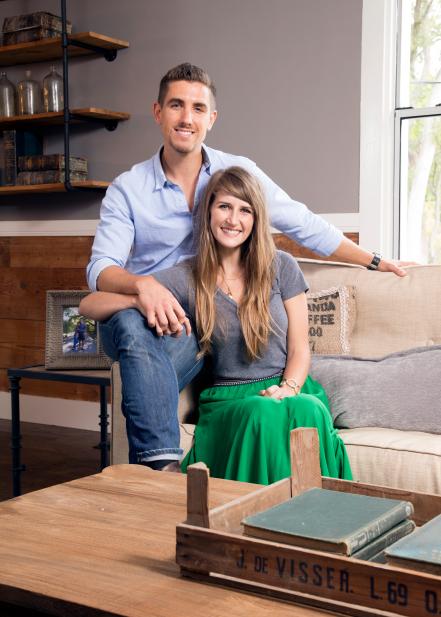 Meet the New Homeowners
Kimberly and Blake Batson, newlyweds and owners of the Common Grounds coffee shop, wanted a home with charm, a yard, trees and -- importantly -- a short commute to work. Their budget: $120,000.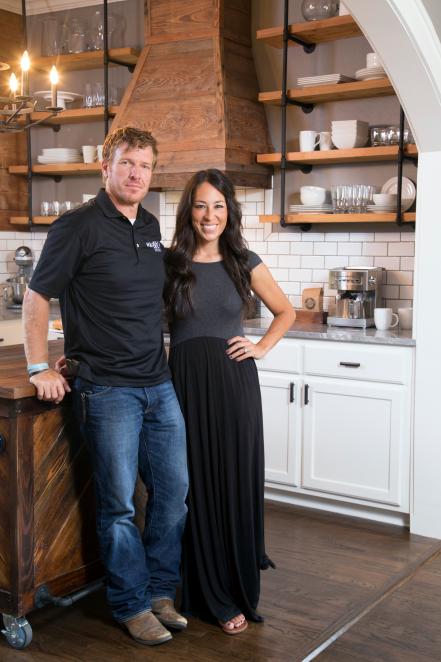 The Dream Team
As always, Chip and Joanna bring a healthy dose of inspiration and energy as they unlock hidden potential in yet another home reno.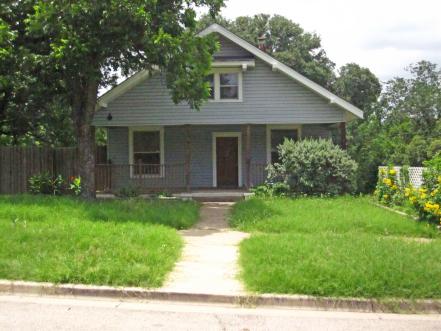 Before
Scruffy, overgrown and looking neglected, this small home nevertheless offers solid bones and a blank slate for an imaginative reno.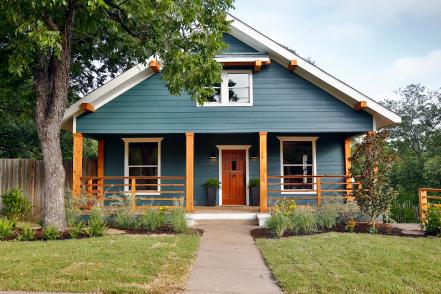 After
Cool slate-blue exterior with white trim, new porch railing and warm wood accents make for a striking redress for the home's exterior.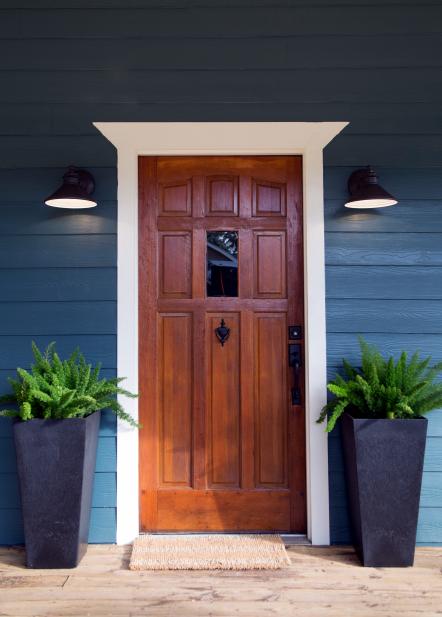 Front Exterior, AFTER
The beautifully refurbished wooden front door, flanked by black sconces and a pair of oversized planters, is a definite curb-appeal booster.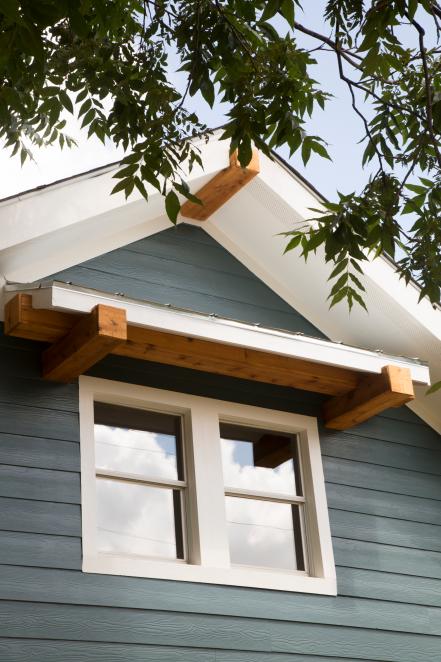 Front Exterior, AFTER
A new metal awning above the second-floor window, supported by natural wood beams, helps to unify the home's exterior profile.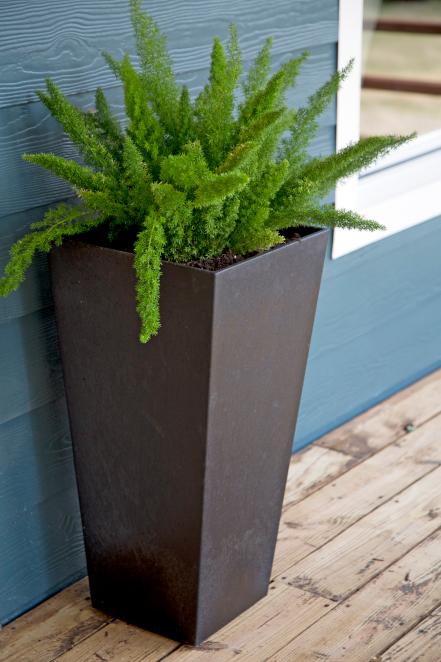 Front Exterior, AFTER
Columnar black planters with bright green foliage accentuate and draw attention to the front door.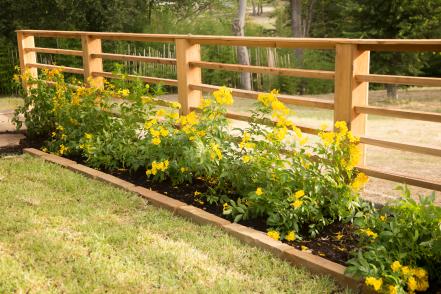 Exterior, AFTER
An old white lattice fence is replaced with natural wood fencing that matches the porch railing and beams.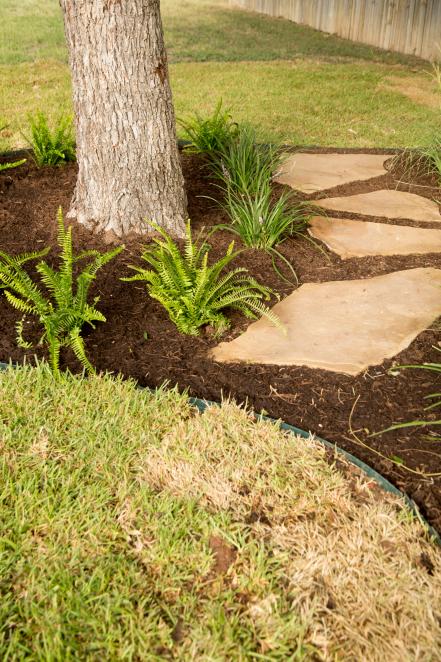 Exterior, AFTER
The yard gets spruced up with fresh sod, accent plantings, flagstone stepping stones and contrasting dark mulch.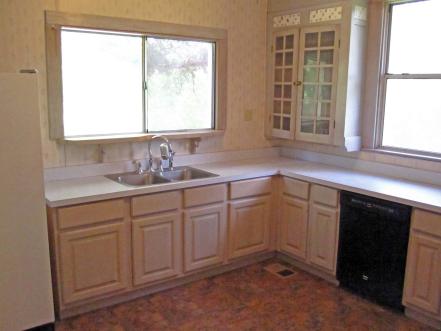 Kitchen, BEFORE
Prior to the renovation, the existing kitchen was basic, bland and unspectacular.
Kitchen, AFTER
A Gaines remedy for kitchen blahs: Open up the space with a new archway, then add natural wood, subway tile, stained butcher-block kitchen island and attractive open shelving.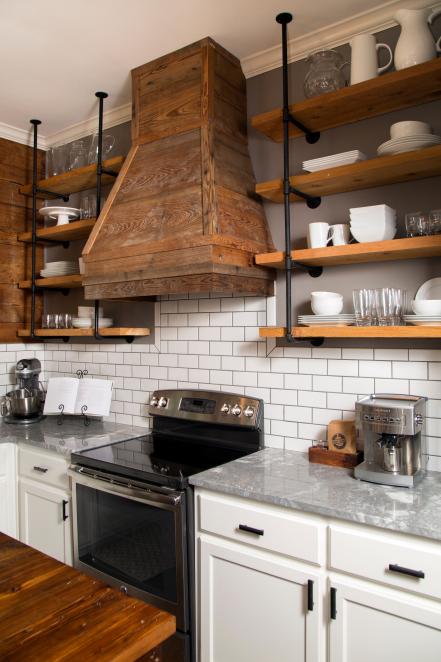 Kitchen, AFTER
Industrial-look shelving made from plumbing pipes and reclaimed wood offers plenty of open storage above the cabinets.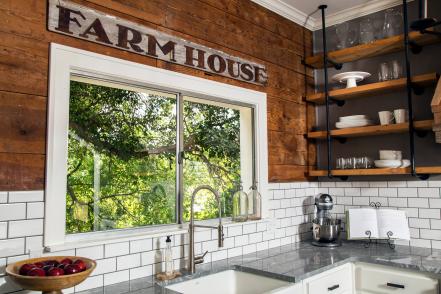 Kitchen, AFTER
Shiplap wood was employed as paneling in the kitchen as well as elsewhere throughout the house. White subway tile with dark grout offers an eye-pleasing contrast.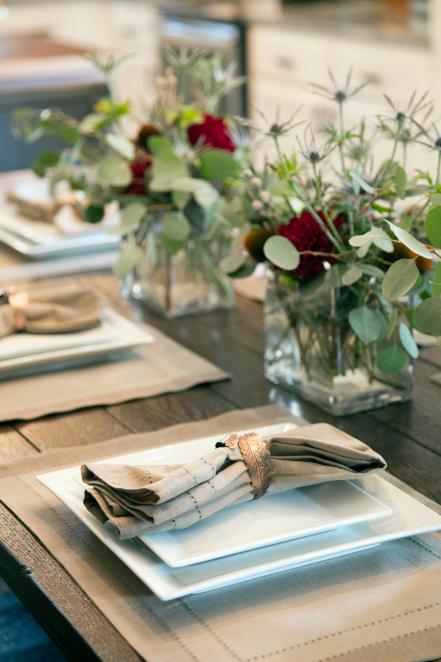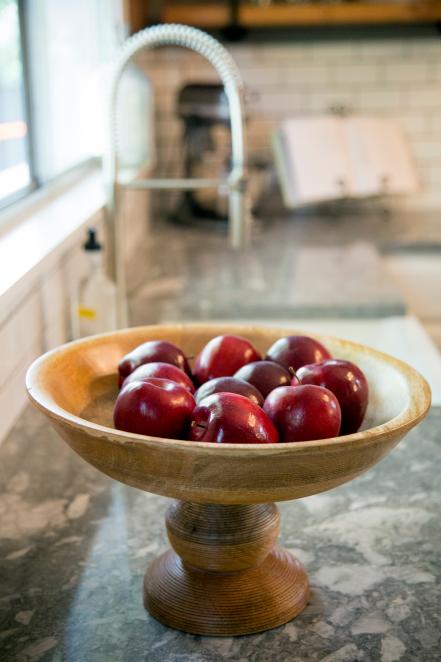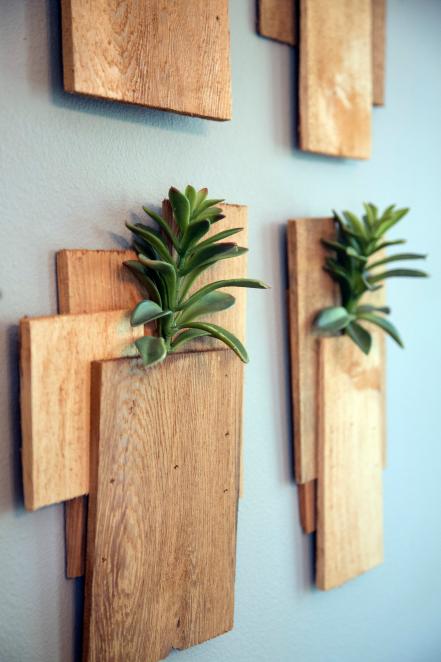 Kitchen Accents, AFTER
A green take on wall decor uses raw wood planks as planters for succulents.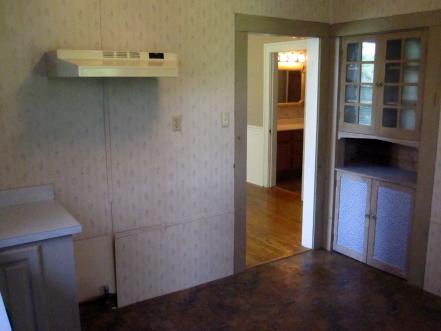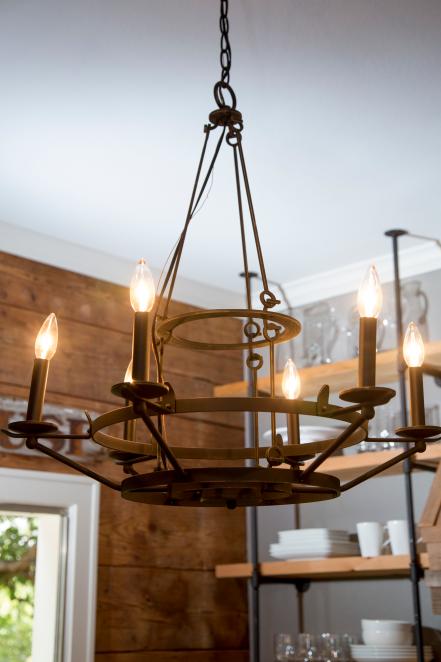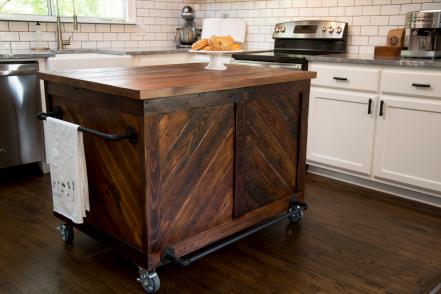 Kitchen Detail, AFTER
A custom kitchen island made from vintage wood, plumbing pipes and industrial casters contributes style and utility and is the perfect fit in this rustic industrial style kitchen, as seen on HGTV's Fixer Upper.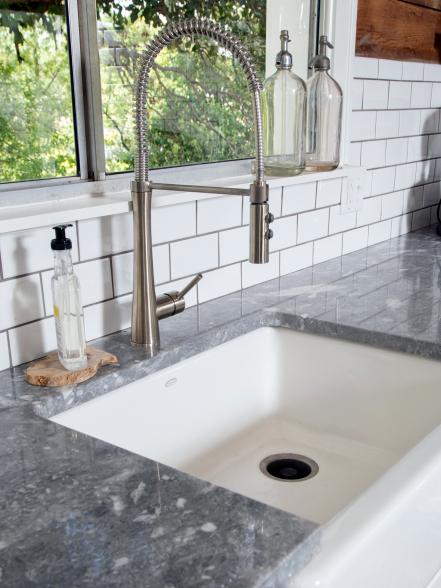 Kitchen Detail, AFTER
Quartzite countertops, under-mount sink, and contemporary faucet bring a utilitarian yet modern aesthetic to the new kitchen.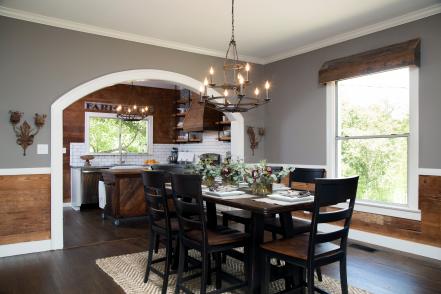 The Big Picture
Chip and Joanna expanded the kitchen entryway by cutting a wide archway, making both the kitchen and the dining room feel larger. Twin modern-industrial style chandeliers illuminate the kitchen island and dining table.
Living Room, BEFORE
The existing living room was livable but visually bare and basic.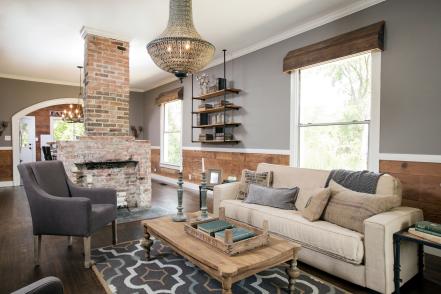 Living Room, AFTER
In the new space, natural-wood box awnings highlight the living room and dining room windows. Walls are painted in neutral gray while exposed shiplap is used on the lower walls in a creative alternative to wainscoting.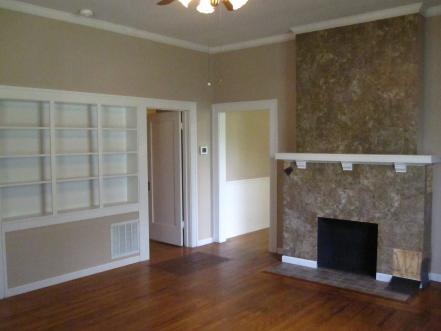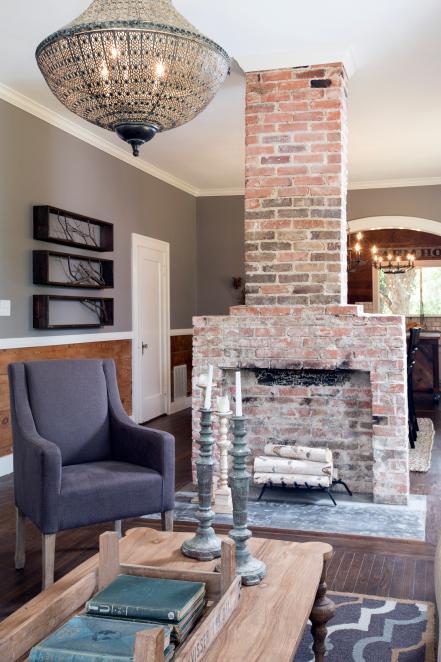 Living Room, AFTER
Removing a wall makes for a more comfortable flow between the living room and the dining room. In the process of removing the wall, Chip uncovered the original fireplace and opted to retain it as a unique design element.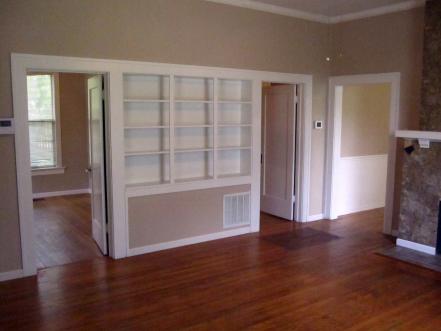 Living Room Bookshelves, BEFORE
Chip and Joanna decided to keep the existing built-ins, but take them visually in a new direction in the redesigned space.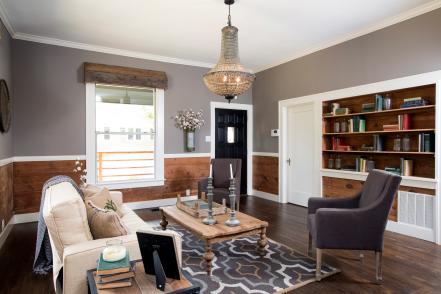 Living Room Shelving, AFTER
The revamped shelves are backed with natural wood to tie visually with the shiplap wall treatment and wood awnings.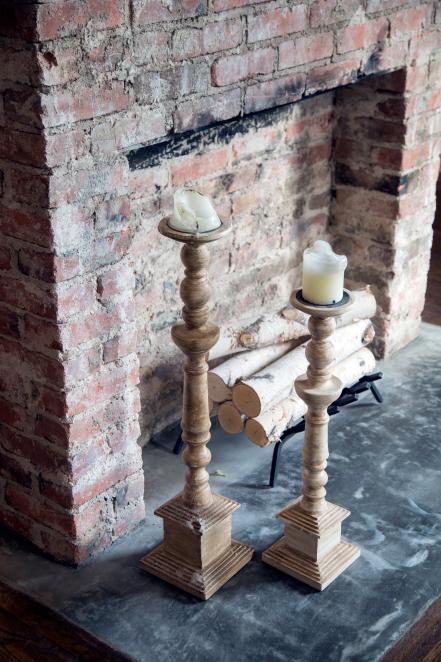 Living Room Detail, AFTER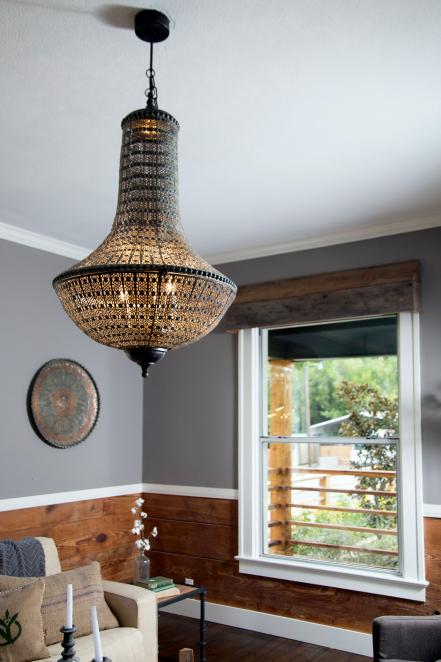 Living Room Detail, AFTER
Joanna selected this stylized pendant light with Moroccan flavor for the living room's overhead lighting.
Living Room Detail, AFTER
In addition to the living room's built-in shelves, this free-hanging industrial shelving installed on the opposing wall provides additional display space while tying in visually with the kitchen's open shelving.
Master Bath, BEFORE
The existing bathroom offered potential but, in its current state, was dated and dingy.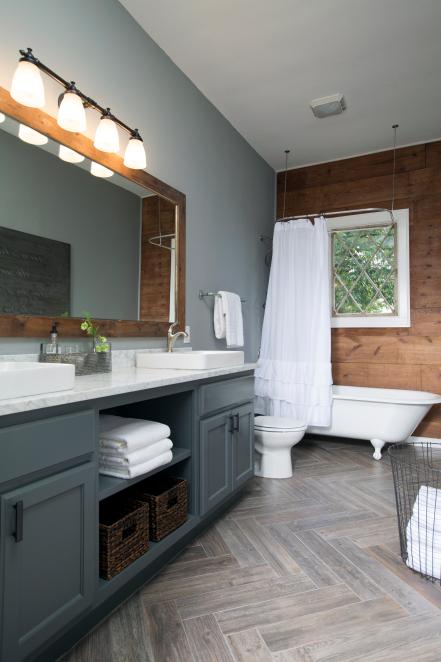 Master Bath, AFTER
In the new bathroom, the original clawfoot tub was retained and refurbished, and new flooring installed. A cool gray wall paint is offset with the warmth of natural wood.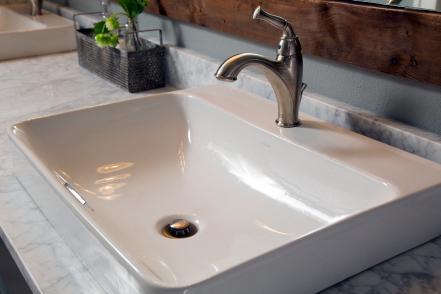 Vessel Sink and Marble Countertop
The redesigned bathroom features twin vanities with above-counter sinks and marble countertops.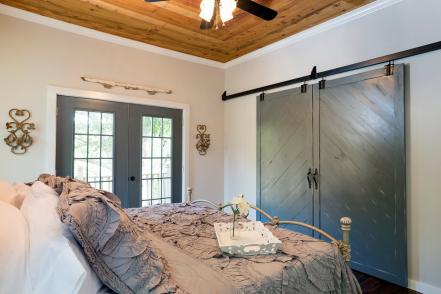 Master Bedroom, AFTER
The master bedroom features natural wood-plank ceiling, architectural accents and closets concealed behind rustic barn doors.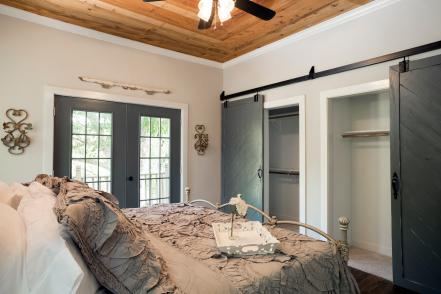 Main Bedroom With Wood-Paneled Ceiling and Sliding Barn Closet Doors
The functional barn doors, seen here opened to reveal the his-and-hers closets, are painted in gray-blue that coordinates with the painted French doors that open to the outside.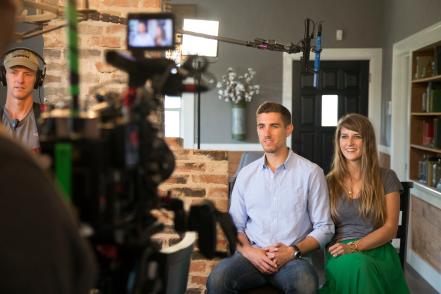 Behind the Scenes
Blake and Kimberly Batson are filmed in an interview during the production of this season 2 episode of HGTV's Fixer Upper.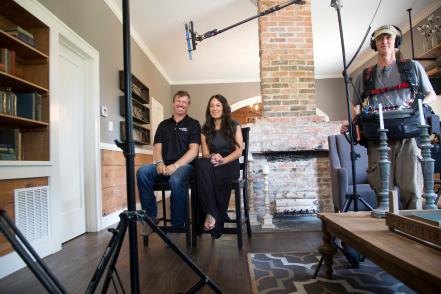 Behind the Scenes
Chip and Joanna attempt -- with only limited success -- to remain serious in front of the cameras during the filming of Fixer Upper.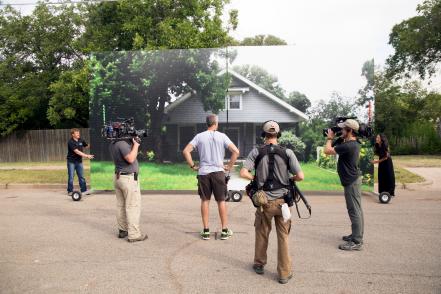 Behind the Scenes
With camera crew standing by, Chip and Joanna rehearse the big reveal -- the series trademark that allows homeowners to see their newly refurbished home only after a giant "before" photo is pulled back.
One Giant Sized Before-and-After
Homeowners Kimberly and Blake Batson are about to get their first look at the newly completed renovation.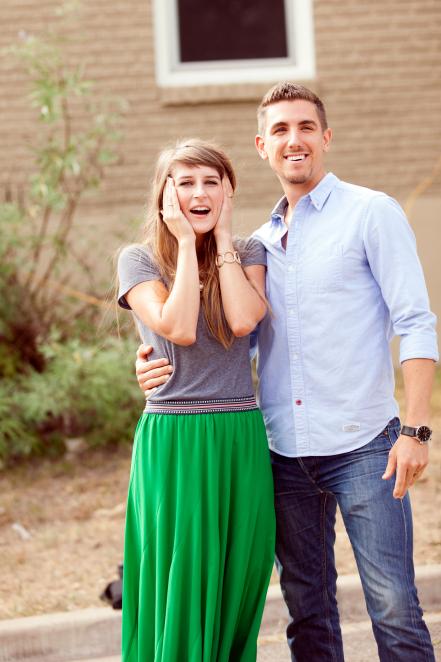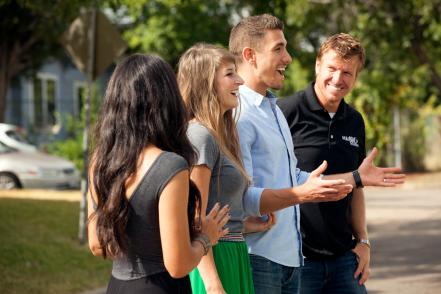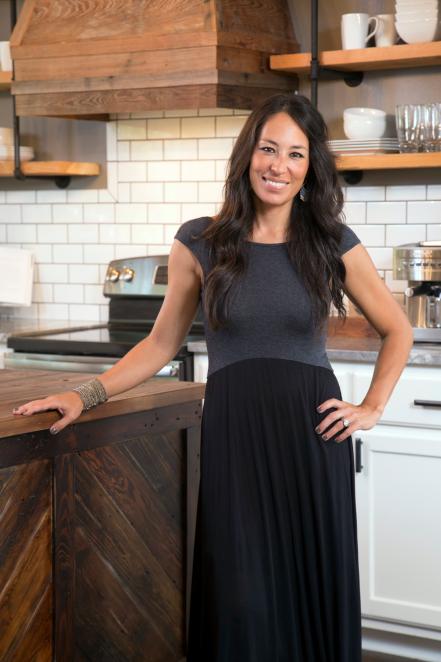 Behind the Scenes
Fixer Upper co-host Joanna Gaines among some of her handiwork in the newly renovated kitchen.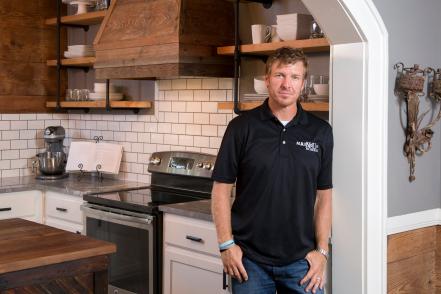 Behind the Scenes
Fixer Upper co-host Chip Gaines