Now Viewing
A Day in the Life of Chip and Joanna Gaines
Tag along with HGTV Magazine as they spend a day with the busiest twosome in Waco, TX — the hosts of Fixer Upper.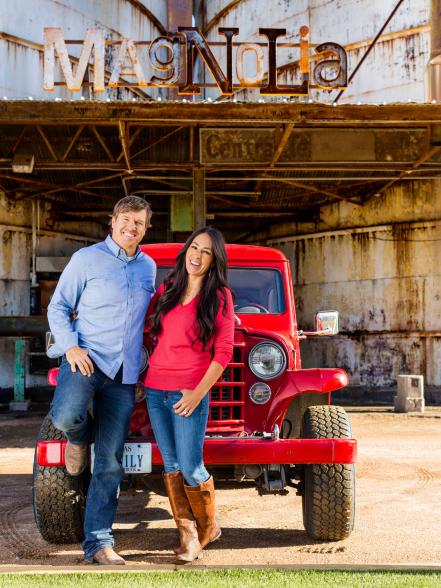 Larsen&Talbert
Chip and Joanna Gaines
The Fixer Upper hosts stand outside their home furnishings shop, Magnolia Market. Their 1953 jeep is stationed by the entrance so customers can take pictures with it.
Larsen&Talbert
Wake Up: 5:30 a.m.
The default alarm ringtone on Joanna's (beat-up) iPhone buzzes bright and early. Chip wakes up on his own around 5 — no alarm needed!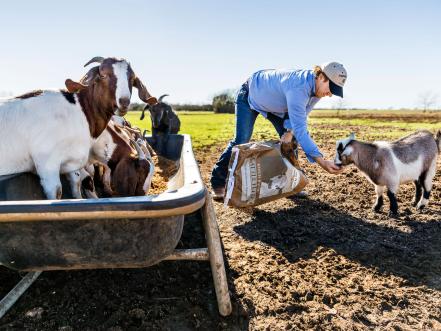 Larsen&Talbert
Feed the Animals: 7:00 a.m.
Chip tends to their extended clan, which includes 23 cows, 21 goats, 1 turkey, 1 horse, 2 roosters, 2 bunnies, 1 guinea pig, 3 dogs, 2 cats, and "infinite chickens," he says.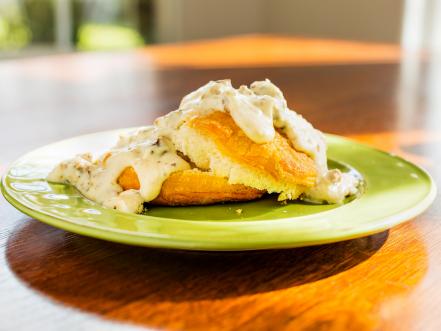 Larsen&Talbert
Eat Breakfast: 7:30 a.m.
Even on weekday mornings, Joanna whips up something hot, and the family eats together in the kitchen. The rotation includes biscuits and gravy, pancakes, and eggs with toast.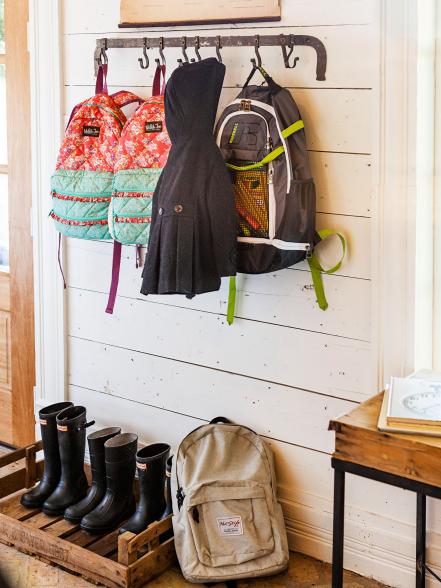 Larsen&Talbert
Get Ready: 8:00 a.m.
With four kiddos — Drake, 11; Ella 9; Duke, 8; and Emmie, 6 — to hurry out the door, Joanna gets dressed before they wake up. Her secret: "At night I shower and dry my hair, so in the morning I only have to curl it."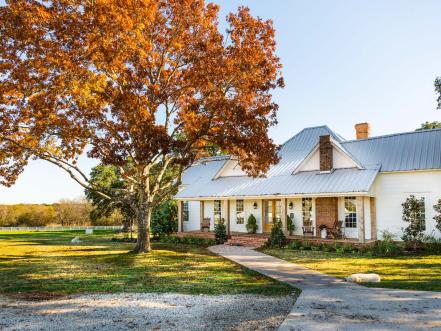 Larsen&Talbert
Leave for Work: 8:15 a.m.
Joanna takes her coffee to go — tons of cream, no sugar — and she and Chip head off for the day. Their 1895 farmhouse sits on the outskirts of Waco, about 20 minutes from downtown.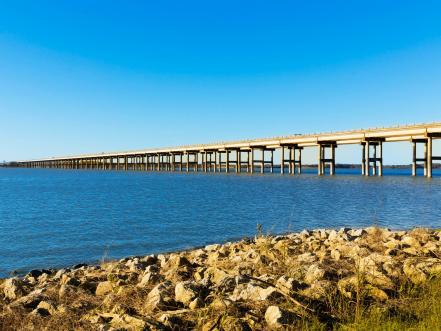 Larsen&Talbert
Drive into Town: 8:30 a.m.
They head across a lake and through pastures — talk about a scenic commute! "Chip always makes me look out the window for deer," says Joanna. "We're usually talking on the way to work. We don't even have the radio on."
Larsen&Talbert
Stop at the Store: 8:45 a.m.
There's usually a line of customers waiting outside the design duo's store, Magnolia Market, before it opens at 10 a.m. About 15,000 people visit the shop every week.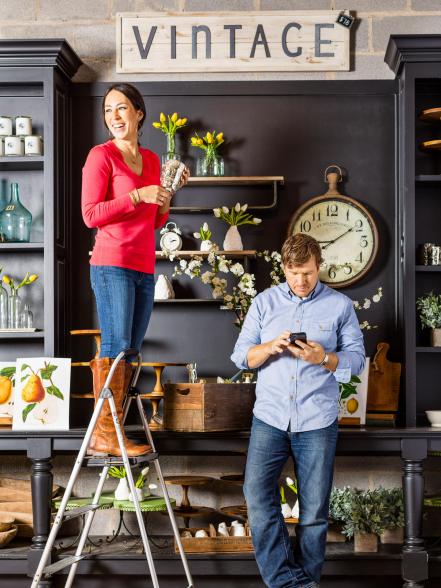 Larsen&Talbert
Style the Shelves: 9:00 a.m.
Before customers arrive, Chip and Joanna get the store ready for the day. Joanna likes prepping the place with fresh flowers from Wolfe Wholesale Florist in Waco.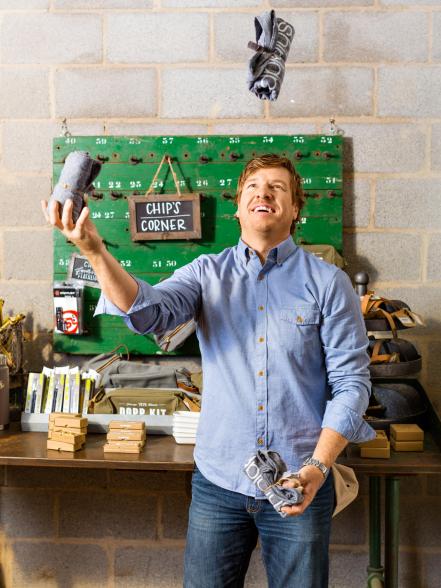 Larsen&Talbert
Chip's Corner: 9:15 a.m.
Chip has his own area in the store, where he sells the tools and gadgets he uses most and his favorite cotton Magnolia tees.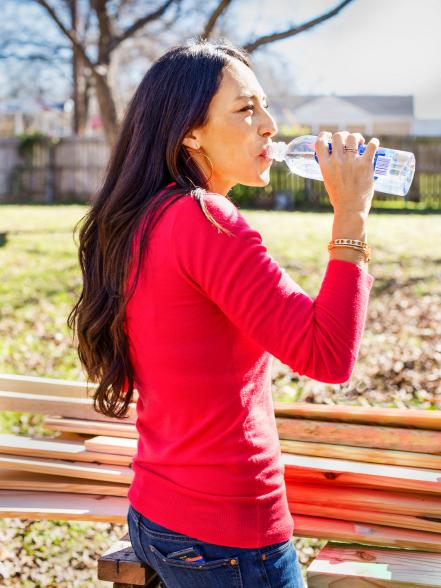 Larsen&Talbert
Water Break: 9:50 a.m.
Joanna constantly has H20 on hand. Her goal is 125 ounces a day. "It used to be 100, but I just bumped it up," she says.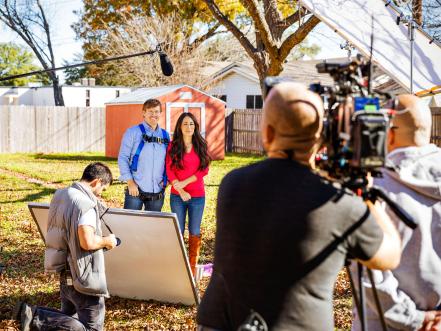 Larsen&Talbert
Film the Show: 12:30 p.m.
The couple spends most of the day filming Fixer Upper, scooting between the five or six houses they're working on at once.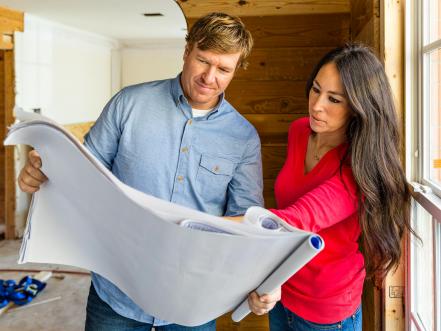 Larsen&Talbert
Go Over Blueprints: 3:15 p.m.
Between takes, the multitaskers approve plans for home renos and for their new bakery, Magnolia Flour, due to open in May.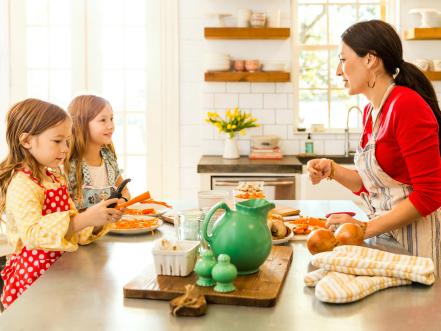 Larsen&Talbert
Make Dinner: 5:30 p.m.
Joanna cooks most nights — today it's chicken potpie — and the kids love to help. "It gets crazy with all four at one time, so I have to split them up," she says.
Larsen&Talbert
Dinnertime: 6:30 p.m.
Perfect for a 40-acre farm, an old-fashioned triangle bell lets everyone know when food is ready.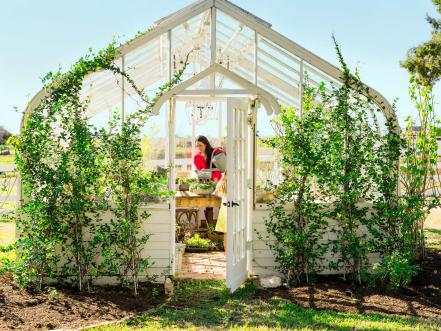 Larsen&Talbert
Work in the Greenhouse: 7:15 p.m.
Joanna scored the greenhouse structure from a client who had planned to tear it down. Inside it she and the girls grow roses; miniature orange, lemon, and lime trees; and fresh herbs year-round.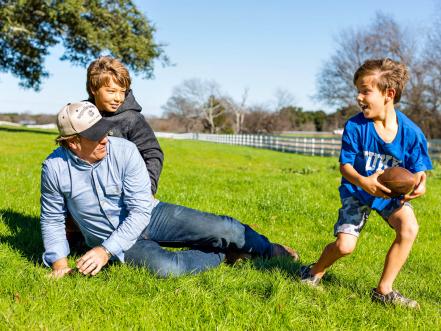 Larsen&Talbert
Play in the Yard: 7:30 p.m.
In the yard Chip and the kids like to throw a ball around after dinner. "He loves sending a football soaring to see how fast the boys can run," says Joanna.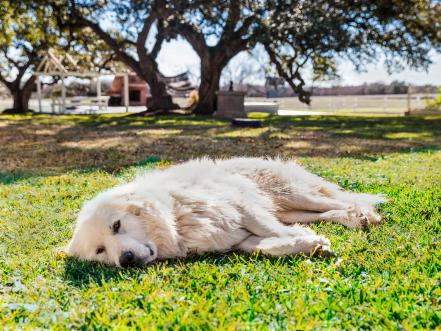 Larsen&Talbert
Almost Bedtime: 8:30 p.m.
By now everyone's wiped out. That's Bear pictured. He's half Anatolian shepherd, half Great Pyrenees.
Larsen&Talbert
Relax on the Couch: 10:30 p.m.
After the kids go to bed, Chip and Joanna chat about the next day's plans, and Joanna finally checks her email. "I return messages so late that my friends get annoyed," she says. "They'll send funny pictures to grab my attention." Lights-out is around midnight.