Now Viewing
A 1940s Vintage Fixer Upper for First-Time Homebuyers
Chip and Joanna Gaines help a young couple update a modest 1941 single-story, giving it a fresh, clean look and transforming it into a charming home for starting a family.
Keep in mind: Price and stock could change after publish date, and we may make money from these affiliate links.
An Inviting Home and One Very Large Door
After. Kelsey and Trip Purks purchased this '40s era home in the Highlands neigborhood of Waco. Fixer Upper's Chip and Joanna Gaines replaced the original white paint paint with a gray-green exterior accented by white trim and black shutters. They retained the original wide Dutch doors, painted them to mimic the look of dark-stained wood, and added an antique brick-paver walkway to match the chimney.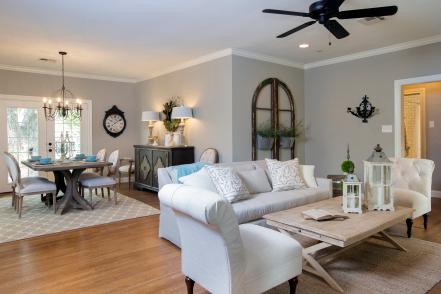 Bigger, Brighter, Better
After. The original living-room gets a full configuration makeover with the removal of a wall and header to create a combined living and dining space with a whole new scale and feel.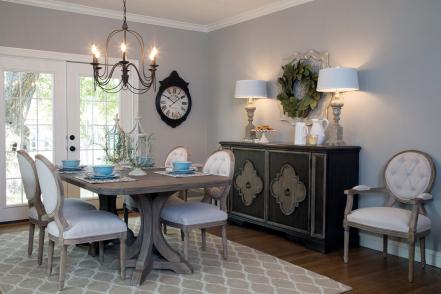 Dining Almost Alfresco
After. The new dining room comes with loads of natural light, and Joanna's design evokes a fresh French Country feel with solid wood table, neutral grey walls, blue accents and a showpiece chandelier.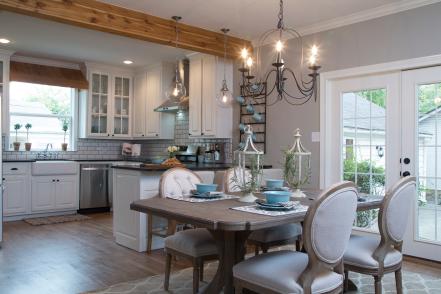 Roomy Transitions
After. In the redesigned space, the kitchen and dining areas are partially separated by a kitchen peninsula. Additional overhead lighting is provided by two glass globe pendants.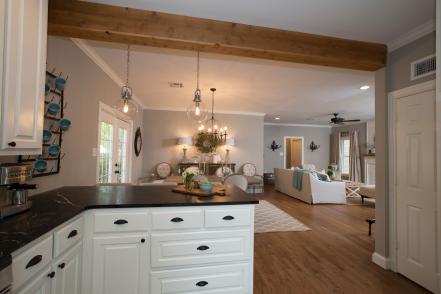 Wide Open Spaces
After. With the wall separating the kitchen and dining room removed, a natural wood header is added to provide both structural support and visual interest. The kitchen gets a new layout, and added counter space provides a spot for casual dining as well as additional prep area.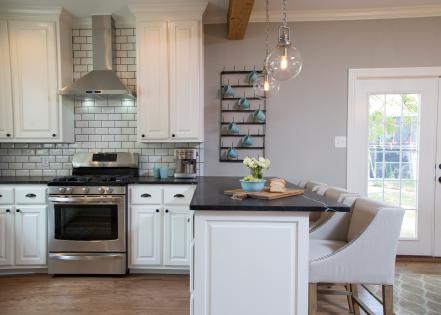 Comfort and Versatility
After. New white cabinets with black marble countertops and black hardware provide a sharp, clean look. White subway tile with dark gray grout and new stainless appliances pick up on the contrasting theme.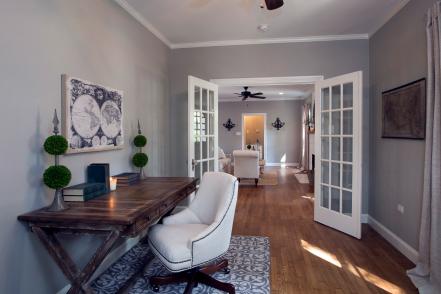 Home Work
After. What was once a bedroom is converted into a home office, with glass-paned French doors keeping the space connected with the main living area.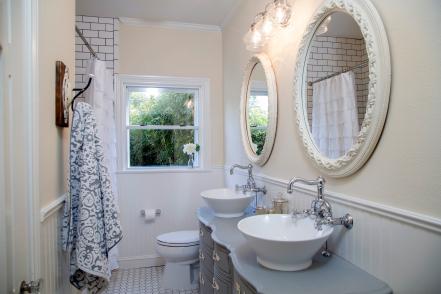 Dramatically Different
After. One of the most impressive updates is the bathroom remodel which turned a narrow, cramped and dated bath into this fresh and inviting space.
Optimizing Utility
After. Chip and Joanna opted to add a wall to convert an underutilized bonus room into this laundry and mudroom. Creative mudroom designs are one of the more popular trends in new homes and remodels.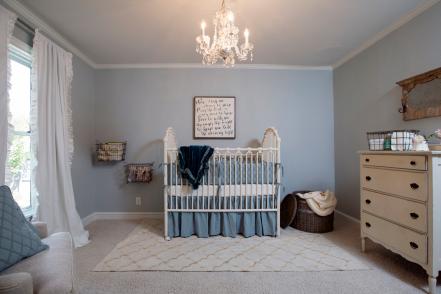 Feathering a Nest
After. With a new baby in the future, a formerly drab space gets transformed into this bright and cheerful nursery.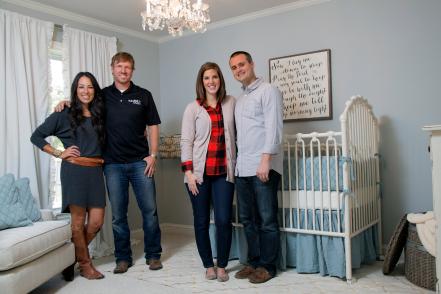 A Couple of Gaines, A Couple of Purks
Meet the Homeowners. Kelsey and Trip Purks (on right) are photographed in their newly completed nursery with Fixer Upper hosts Joanna and Chip Gaines.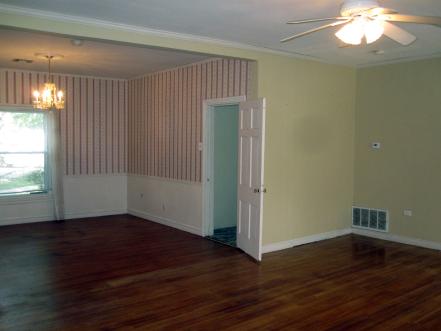 Living Room, BEFORE
"Nondescript" is a term that might have been used to characterize the living room before the renovation. The yellow walls and dated pink wallpaper weren't helping.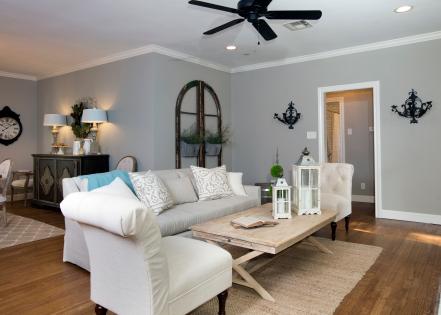 Living Room, AFTER
The room gets a much needed update with a brightened up gray and white palette and dark accent pieces providing a visually crisp and striking new look.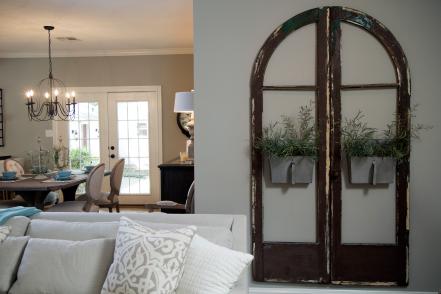 Living Room Detail, AFTER
Architectural pieces like these arched window frames and galvanized metal planters are among the decorative enhancements Joanna brings to the new decor.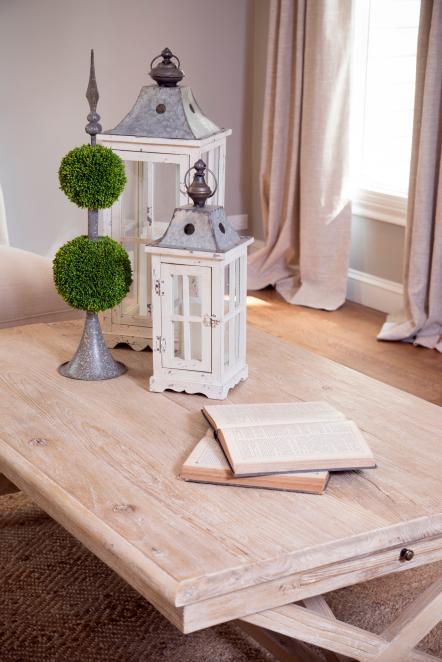 Living Room Detail, AFTER
Topiaries and lanterns as accessories on a rustic wood coffee table lend to a French Country design theme.
Living Room Detail, AFTER
Substantial wood-and-metal shelving, with an antique look and industrial design, provides an eye-pleasing display.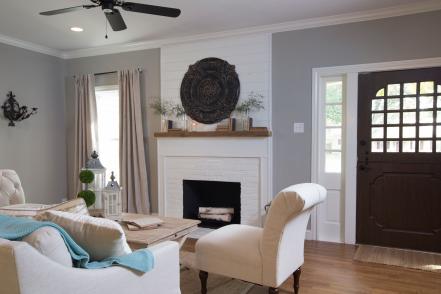 Living Room, AFTER
The brick fireplace gets an update with bright white paint for the hearth and surround, and a new mantle made from a reclaimed wood beam.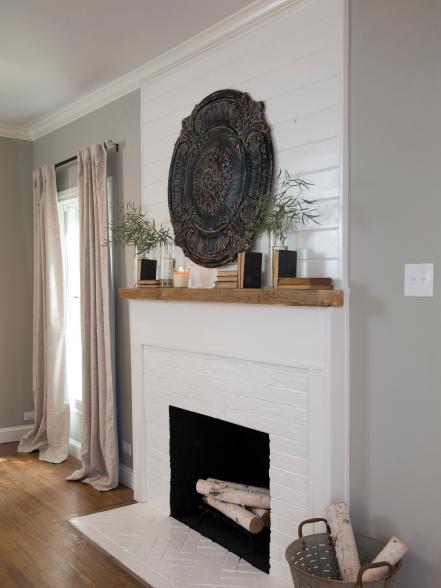 Living Room, AFTER
For this project, Joanna's intent with the decorating scheme was to keep things simple, streamlined and clean. The living room gets freshened up with new linen drapes, neutral gray walls, and bright white for the trim and ceiling.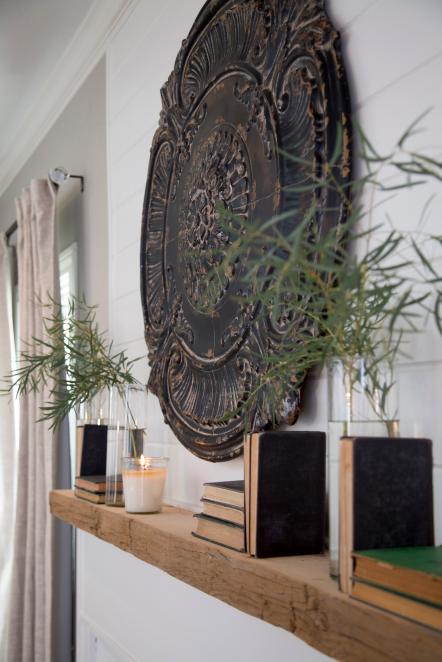 Living Room Detail, AFTER
The mantle gets accessorized with antique books, candles and a large medallion wall hanging.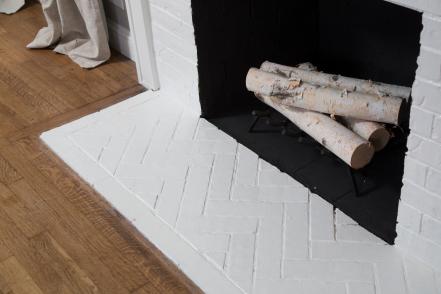 Fireplace Facelift
This fireplace, previously boarded over and not in use, gets resurrected with the original red brick now painted bright white, and with the interior painted black for a bold contrast.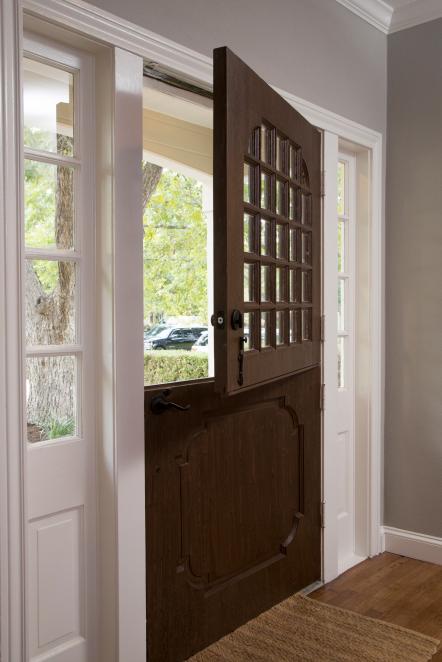 A Keeper: Original Dutch Doors
After. The extra wide Dutch doors at the front entrance were one of the home's most distinctive original features. The doors were retained, but Joanna took them from their former painted-white to a dark-stained wood finish.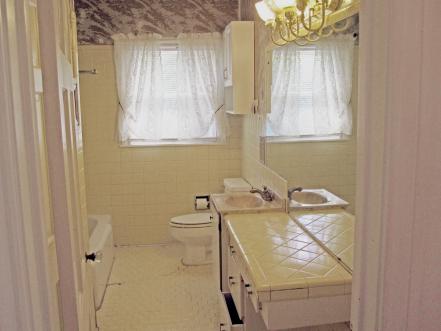 Bathroom, BEFORE
Before the renovation, the bathroom was dated, worn and dirty. There were also tile cracks and foundation issues that needed addressing.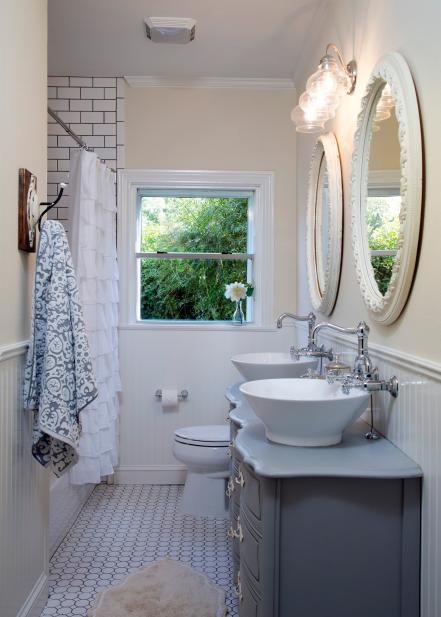 Bathroom, AFTER
The old tile, wall panels, console and vanity have been removed, walls repainted and new beadboard added in bright white finish.
Bathroom, AFTER
The bath gets further brightened up with white subway tile and dark gray grout. Coordinating bath linens and antique wall hooks help complete the look.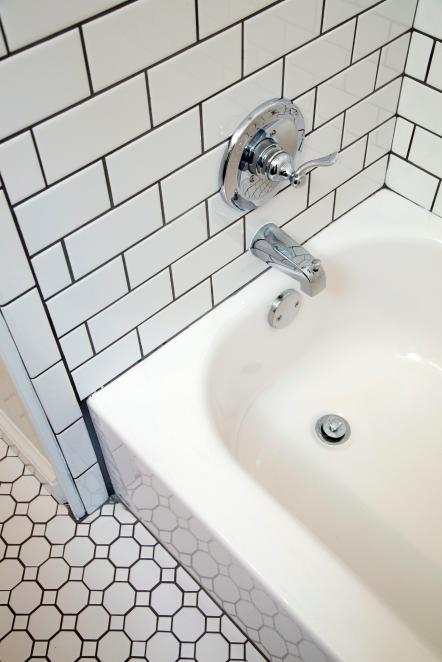 Bathroom Detail, AFTER
The damaged floor tile is replaced by period-accurate hex tile with dark grout. The contrasting theme is carried through in the shower surround surround and bright chrome fixtures.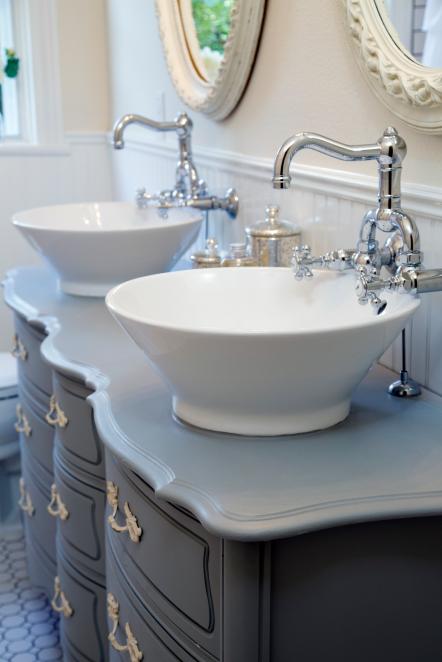 Bathroom Detail, AFTER
An antique dresser, painted in a cool shade of gray, is converted into a new double vanity with twin vessel sinks.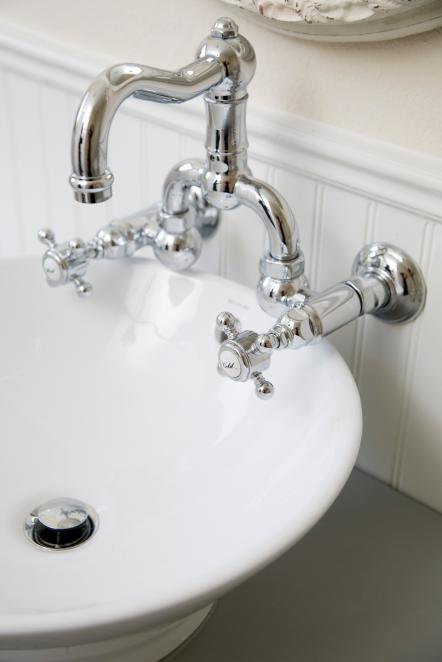 Bathroom Detail, AFTER
New fixtures in retro design help reinforce the bathroom's period theme.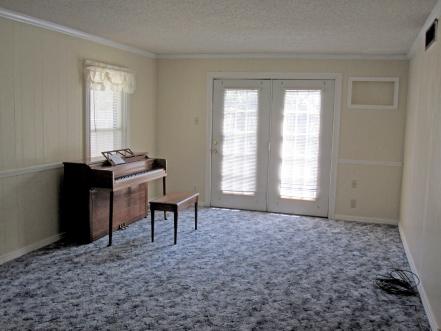 Laundry Room, BEFORE
Joanna's plan for this room, likely an add-on to the original home, is to convert it to a multi-use laundry room/mudroom.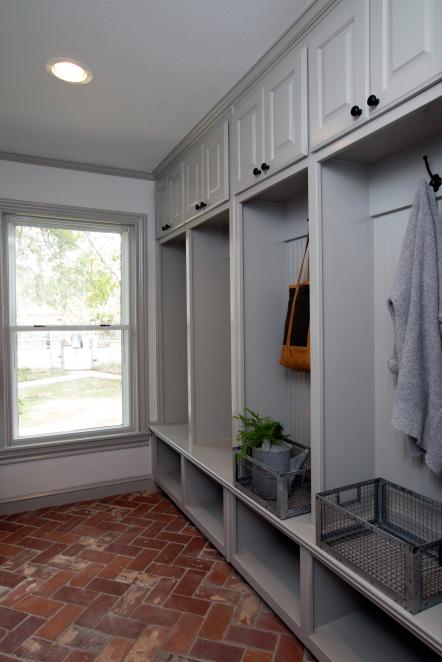 Laundry Room, AFTER
A new wall added to partition off the space allows for the creation of a versatile new utility area. Mudrooms provide a functional transition between outside and indoors, and a convenient venue for storage.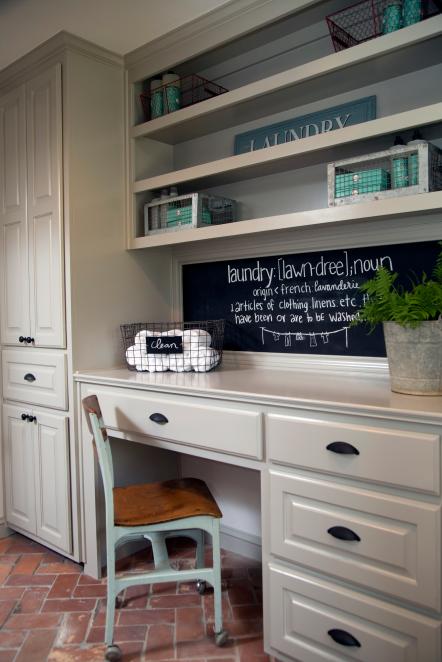 Laundry Room, AFTER
The laundry has plenty of drawers, shelves and cabinets, and a desk that also comes in handy for sorting and folding laundry.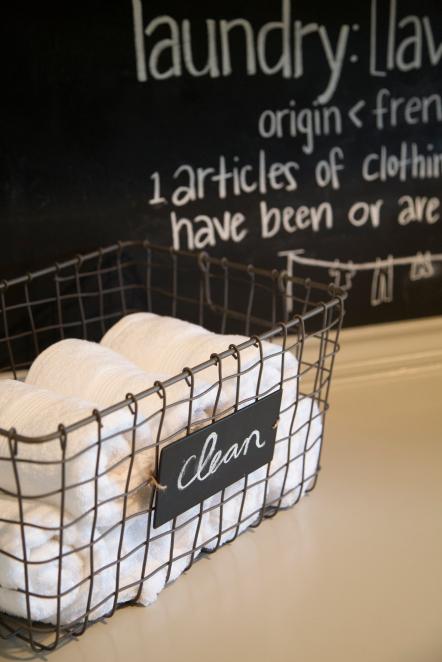 Laundry Room Detail, AFTER
Metal baskets with blackboard tile labels help with organizing laundry, towels and supplies.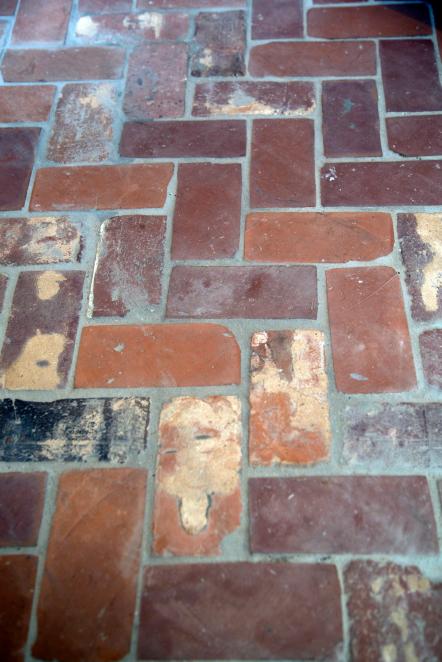 Laundry Room Detail - Brick Floors, AFTER
The wall-to-wall shag carpet that was here before has been replaced with brick floors to provide a durable surface for new the laundry/mudroom.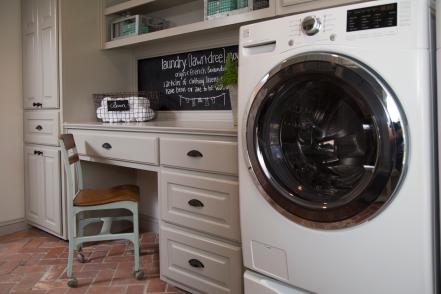 Kitchen, BEFORE
The home may date to the '40s, but the kitchen looked as if it hadn't been updated in 50 years or so. This drab mid-century interior was about to see a whole new light.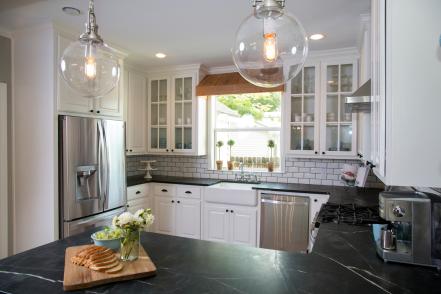 Kitchen, AFTER
White built-in cabinets with glass fronts, white subway tile and an apron sink are just some of the dramatic enhancements in the renovated kitchen.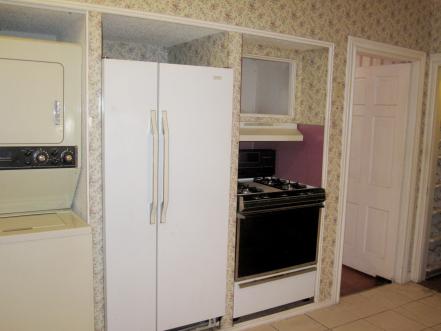 Kitchen, BEFORE
Poor layout, cramped work spaces, dated appliances and a food-prep area that doubled as a laundry were among the kitchen issues in need of solution.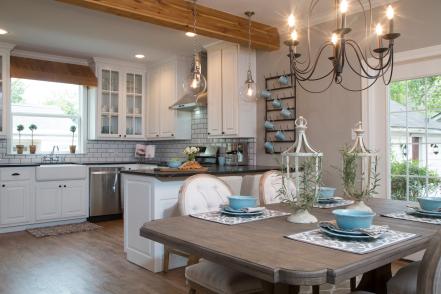 Kitchen, AFTER
After fully reconfiguring and updating the kitchenand opening it up to the adjacent dining room, this space is barely recognizable when compared to what was here before.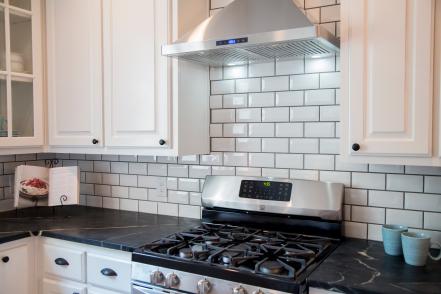 Kitchen, AFTER
Vintage meets modern with period accents sharing space with up-to-date appliances. A state-of-the-art stainless gas range and hood are suitably matched with subway tile, white cabinets and traditional apron sink.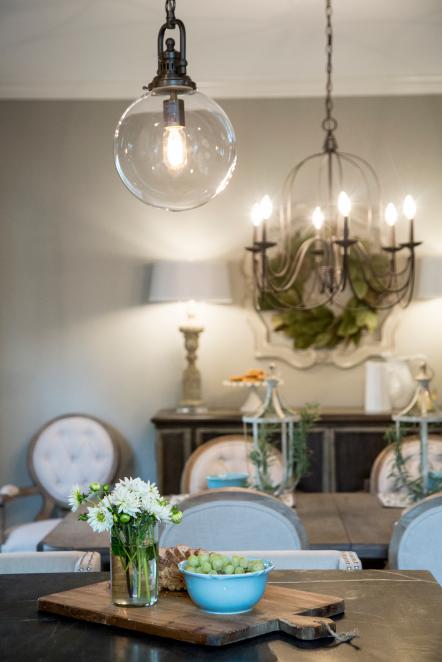 Kitchen Detail, AFTER
Globe pendant lights with antique bulbs and the dark metal chandelier are show-stoppers in the redesigned kitchen.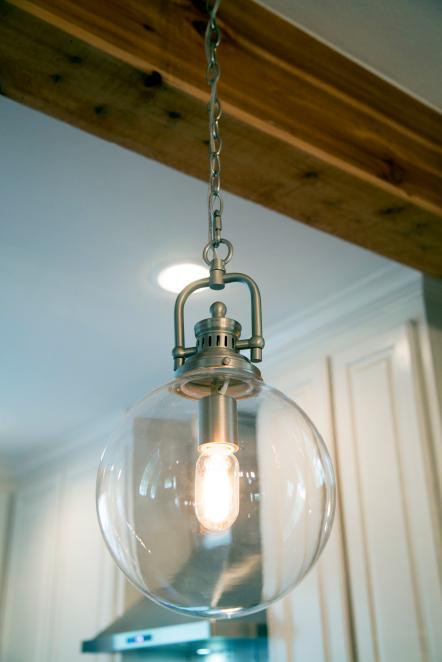 Kitchen Detail, AFTER
The stylized globe fixtures with incandescent bulbs provide soft illumination above the breakfast bar.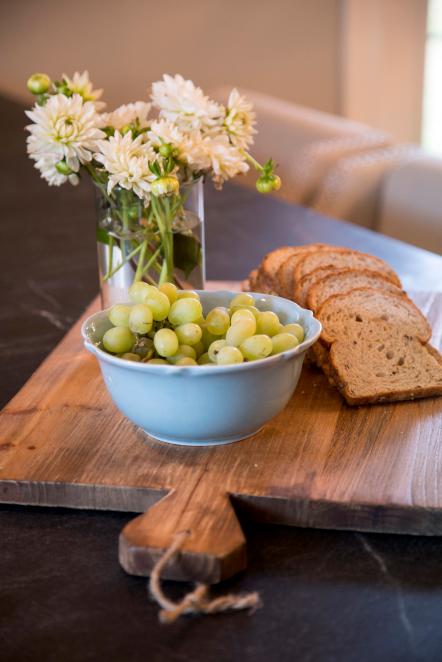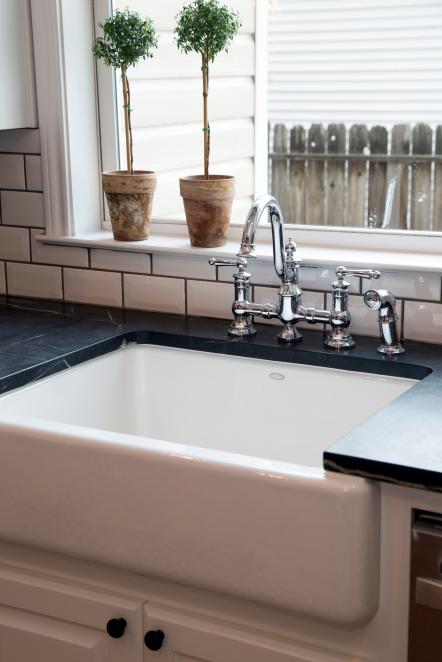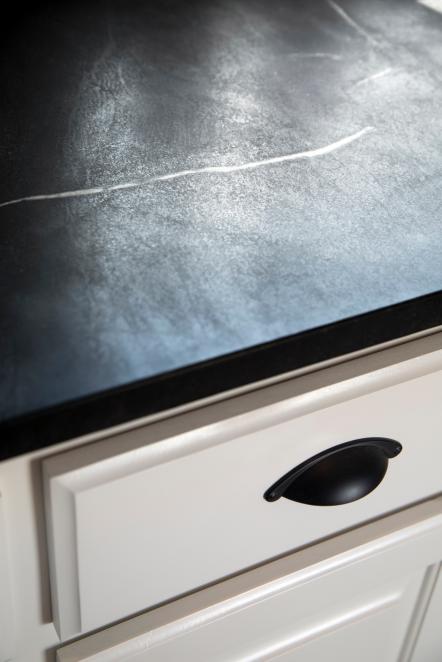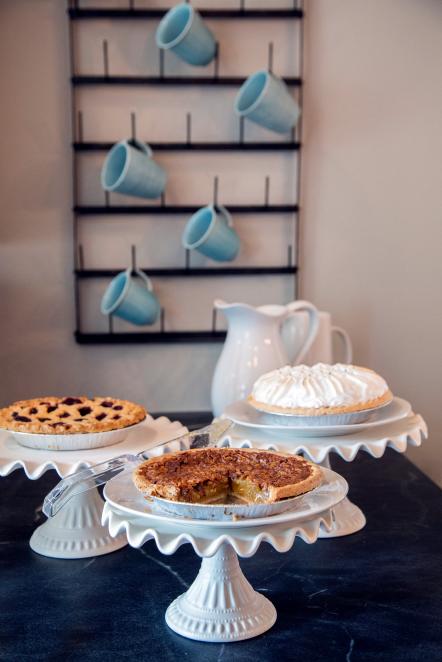 Kitchen Detail, AFTER
Dessert is served.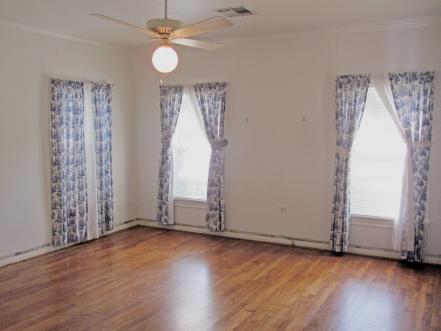 Dining Room, BEFORE
This former dining room provides an ideal blank canvas for Joanna's distinctive decorating skills.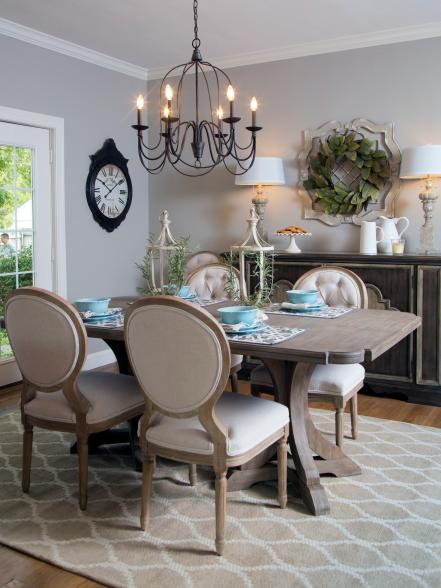 Dining Room, AFTER
A sturdy wood table with comfortable chairs, bold accessories and trademark Magnolia greenery all combine to help define the look of the new space.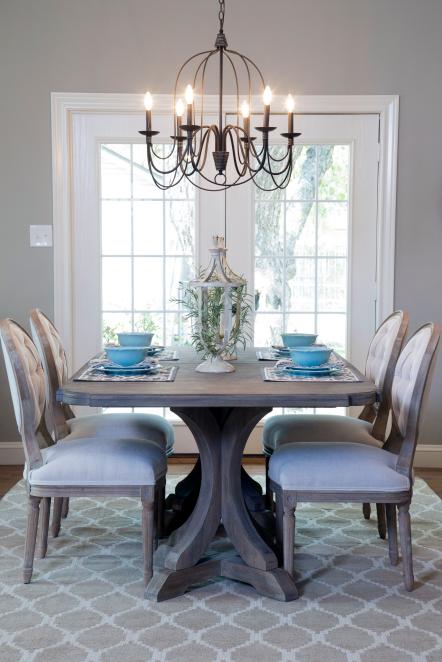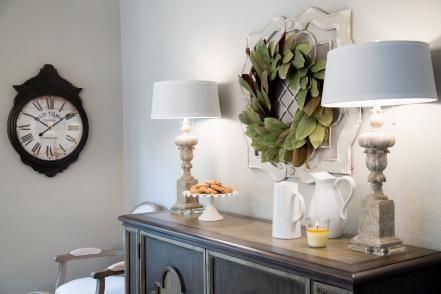 Dining Room Detail, AFTER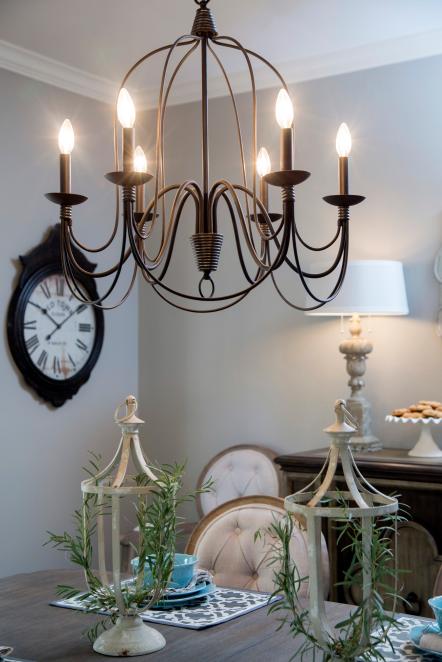 Dining Room Detail, AFTER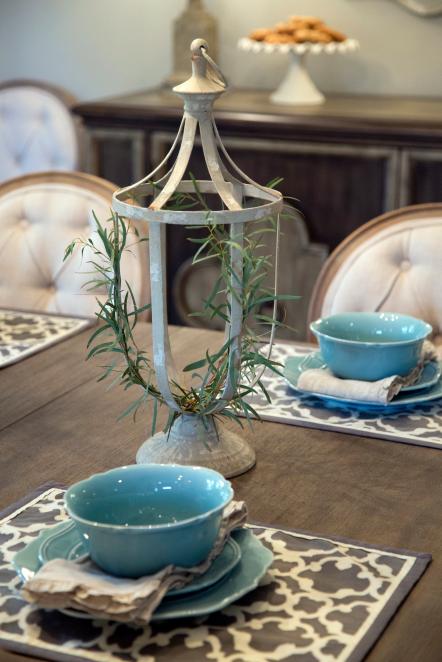 Dining Room Detail, AFTER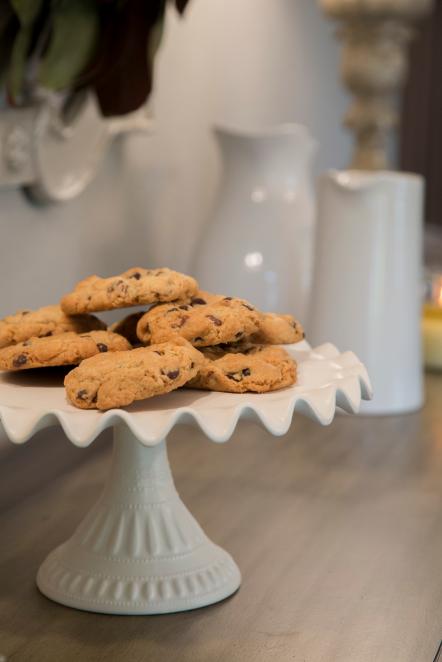 Dining Room Detail, AFTER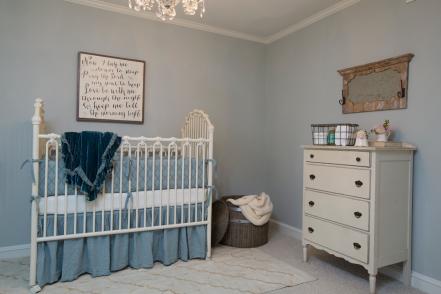 Nursery, AFTER
In the original plan this room, adjacent to the new laundry, was for it to become guest bedroom. Joanna quickly revised the plans for the space when homeowners Trip and Kelsey got some very happy news.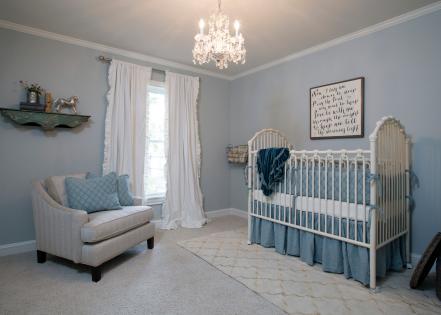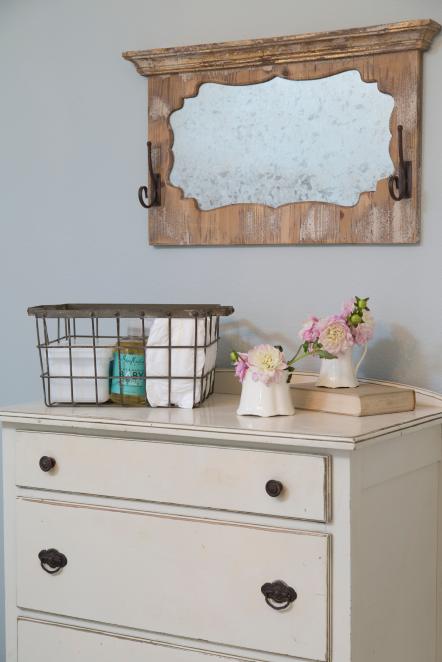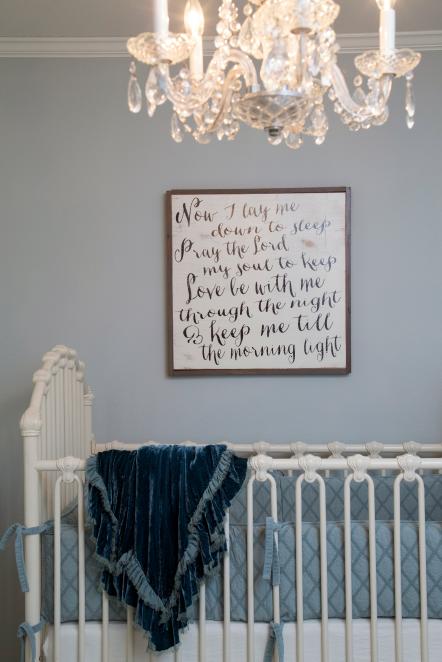 Nursery Detail, AFTER
A child's prayer as framed art hangs above the crib in the new nursery.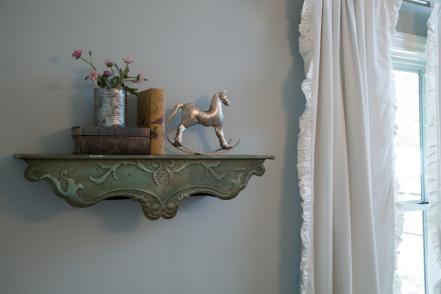 Nursery Detail, AFTER
Not knowing whether the new family addition was a girl or boy, Joanna kept the nursery decor gender-neutral.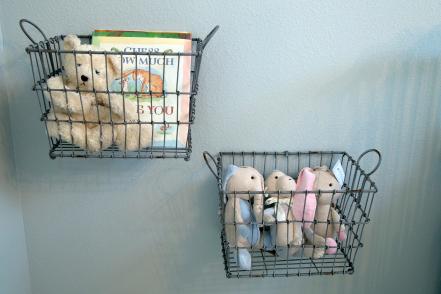 Nursery Detail, AFTER
Metal baskets serve as handy storage for stuffed animals, books and toys.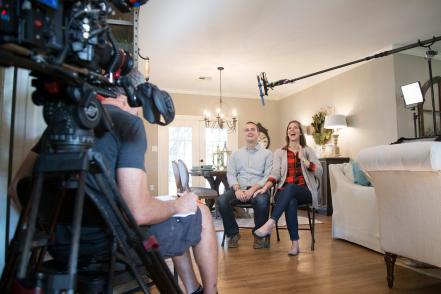 Behind the Scenes: The Homeowners
Trip and Kelsey are interviewed on camera during the production of this episode of Fixer Upper.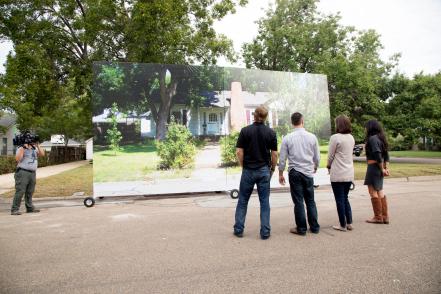 Behind the Scenes: The Reveal
The camera crew stands ready as Chip and Joanna prepare to pull back a very large "before" picture and reveal for the homeowners the real-life "after" -- the newly renovated home.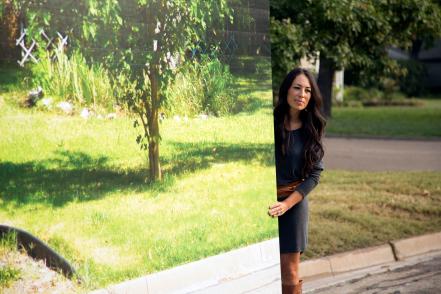 Behind the Scenes: The Reveal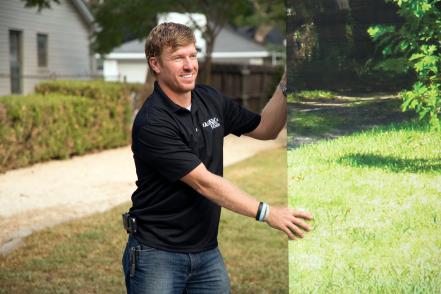 Behind the Scenes: The Reveal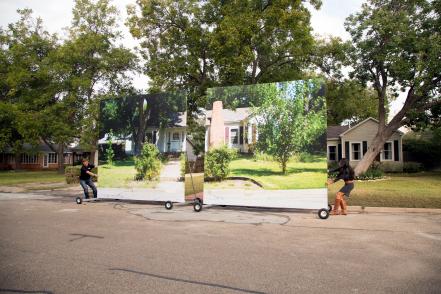 Behind the Scenes: The Reveal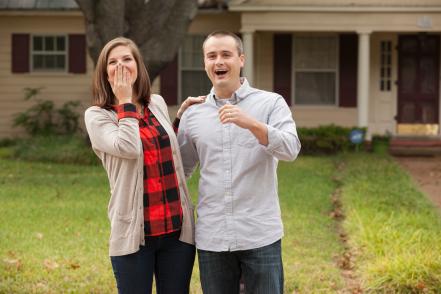 Behind the Scenes: The Reveal
Homeowners Kelsey and Trip Purks see their newly renovated home, for the first time, in its finished state.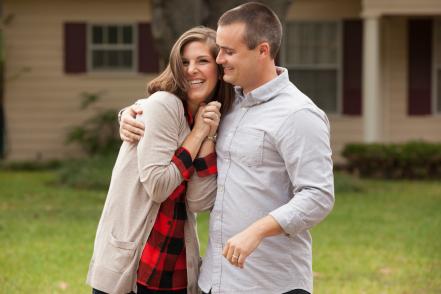 Behind the Scenes: The Reveal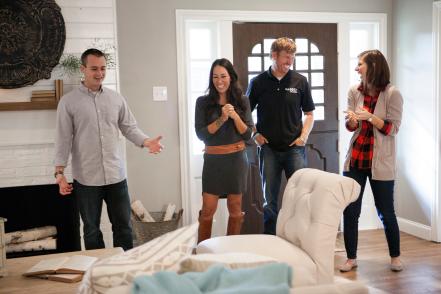 Behind the Scenes: The Reveal
Chip and Joanna show Kelsey and Trip Purks their new living room for the first time.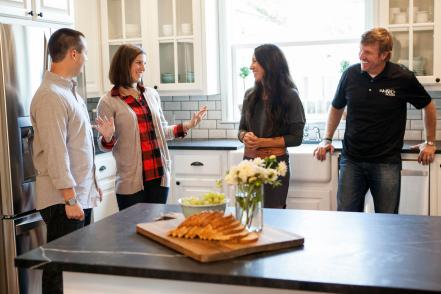 Behind the Scenes: The Reveal
Kelsey and Trip check out their newly renovated kitchen with Chip and Joanna.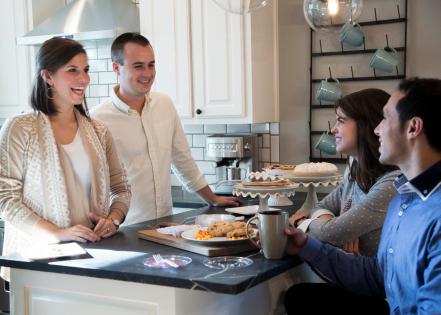 Room for Hospitality
Guests always gather in the kitchen, and here's no exception. Kelsey and Trip Purks entertain freinds in the remodeled kitchen of their newly renovated 1940s-era home.