Now Viewing
Groundcovers That Stay Colorful in Winter
Not all groundcovers are green in winter; some have burgundy, yellow or variegated colors. But these low-growing plants won't quit when the mercury drops.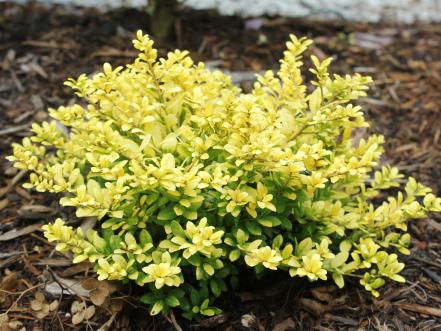 Proven Winners
Brass Buckle Ilex
Hardy in Zones 5 to 8, Brass Buckle is a dwarf Japanese holly (Ilex crenata) with glossy, yellow-green foliage that stays colorful all year. Plant it in sun or partial shade, in moist, acidic soil with good drainage. The plants spread 12 to 18 inches.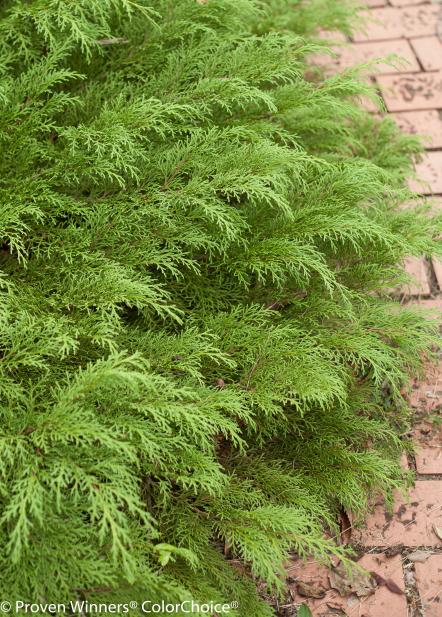 Proven Winners® ColorChoice® Flowering Shrubs
Celtic Pride Siberian Cypress
Although deer will eat almost any plant if they're hungry, they tend to leave
Celtic Pride Siberian cypress
alone. This evergreen shrub grows 1 to 3 feet tall and spreads 48 to 60 inches.
Ajuga 'Burgundy Glow'
Also known as bugleweed, Ajuga's foliage looks good year-round. 'Burgundy Glow' is creamy white, burgundy and dark green, and becomes more bronze in fall. Short, spiky blue flowers open in spring.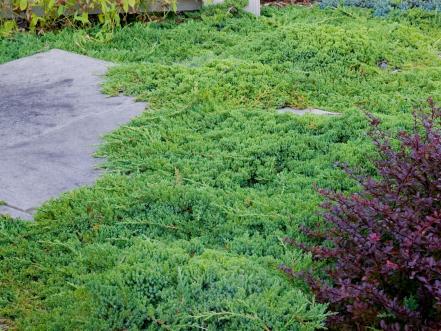 Bailey Nursery
Juniper 'Nana'
Blanket a slope or add year-round greenery to an entry garden with a planting of dwarf Japanese garden juniper 'Nana' (Juniperus procumbens). Deer resistant and shade tolerant, this ground-hugging evergreen boasts an easy growing personality that holds its color all winter long. Hardy in Zones 5-9.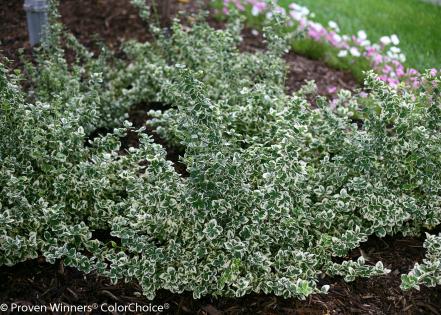 Courtesy Proven Winners® ColorChoice® Flowering Shrubs


White Album Euonymus
White Album euonymus covers the ground with mounds of low-growing, evergreen leaves all winter in Zones 5 to 8. This shrub is easy to maintain, needs average watering and tolerates part sun to sun.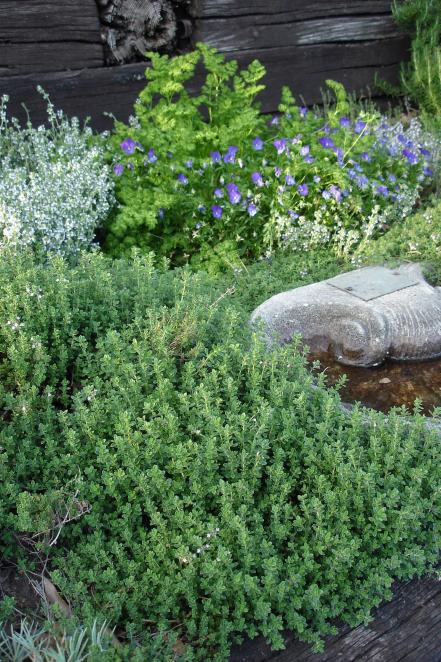 Courtesy Bonnie Plants

Creeping Thyme
Groundcovers don't just provide color and interest in winter; they can also help control erosion and suppress weeds that try to sprout when the weather warms up.
Creeping thyme
(
Thymus serpyllum
, a mat-forming woolly thyme) is rugged enough to walk on and releases a pleasant scent when crushed.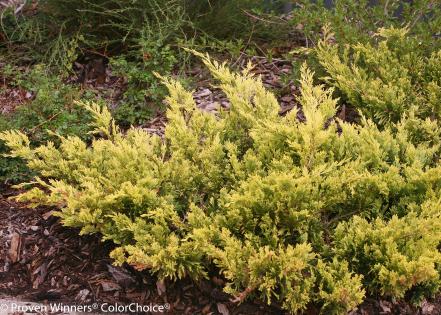 Proven Winners® ColorChoice® Flowering Shrubs
Good Vibrations Gold Juniper
Good Vibrations Gold juniper
tolerates heat and drought and stays attractive in fall and winter, when its foliage turns more bronze. Give these spreading plants sun and average water; they'll reach 12 to 18 inches in height.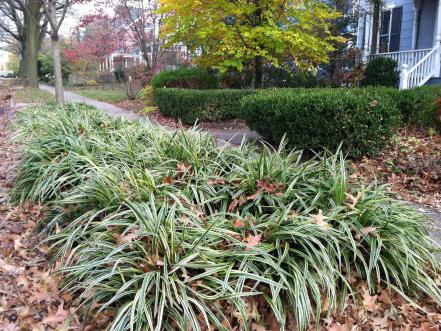 Evelyn J. Hadden
Liriope 'Big Blue'
Clumping 'Big Blue' liriope is a perennial with grassy "straps" that grow up and spill over, like a fountain. Hardy in Zones 5 to 10, it opens lilac-purple blooms in summer.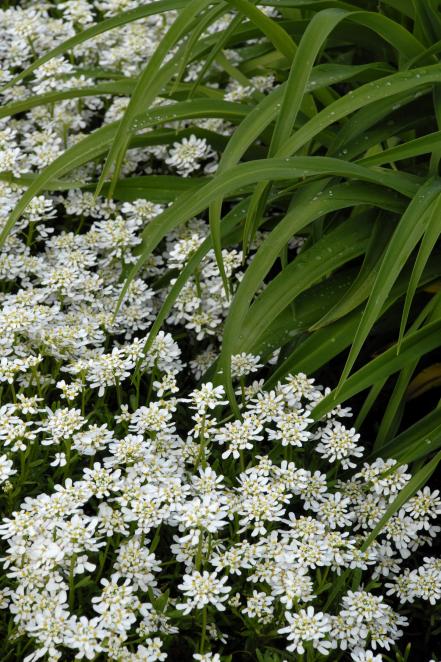 Courtesy Walters Gardens, Inc.

Candytuft 'Snowflake'
Old-fashioned candytuft
'Snowflake'
(
Iberis sempervirens
) stays green all winter; in spring, a carpet of low-growing, white flowers appear. The plants prefer full sun and are drought tolerant.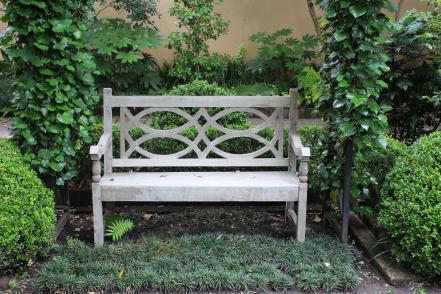 Dwarf Mondo Grass
Slow-growing, "no-mowing" dwarf mondo grass is a tough, evergreen groundcover that tolerates shade and needs little water.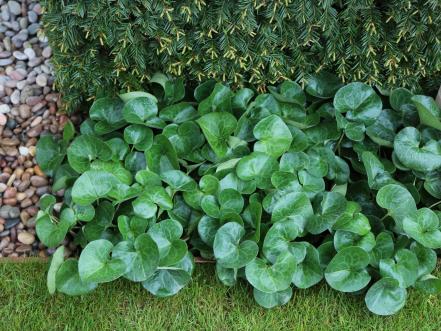 Image courtesy of Felicia Feaster
European Wild Ginger
Also known as
European wild ginger
,
Asarum europeaum
forms a mat of glossy foliage that stays green in mild winter areas. The plants spread slowly and prefer rich, moist soil and shade.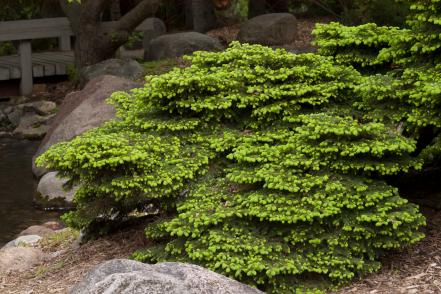 BaileyNurseries.com
Bird's Nest Spruce
Bird's nest spruce (Picea abies 'Nidiformis') is a type of Norway spruce that grows to resemble a flattened sphere. The top of the plant has a slight depression, which gives the effect of a bird's nest. Like its spruce siblings, this shrub isn't afraid of winter weather. Plants grow 2 to 3 feet tall and wide, the perfect size for a foundation planting or rock garden. Hardy in Zones 3-7.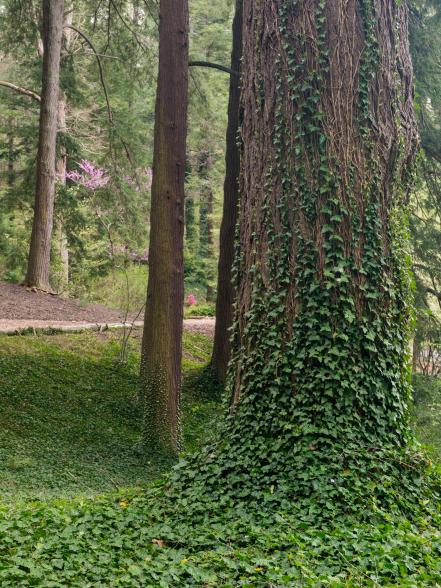 ©2013, HGTV/Scripps Networks, LLC. All Rights Reserved.
English Ivy
English ivy (Hedera helix) keeps its dark green color all winter; the vines can grow as a thick groundcover. But be careful where you plant; this ivy is aggressive enough to climb trees and crowd out native plants.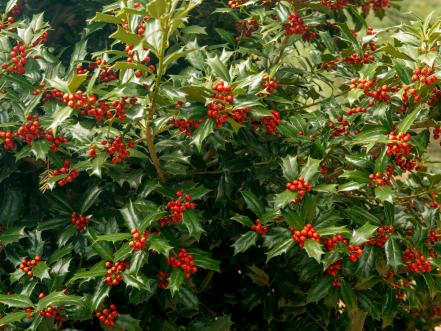 ©2013, HGTV/Scripps Networks, LLC. All Rights Reserved.
Holly Bush
Holly bushes bring an eye-catching display of evergreen leaves that is often punctuated with bright red or gold berries. To ensure your landscape is filled with the bright red orbs, select English holly which thrives in Zone 6. These bushes typically grow to 6 feet tall, but in some cases can reach up to 50 feet.