Now Viewing
24 Can't-Kill Flowers for Beginners
Try these easy-to-grow flowers for your garden and watch your beginner's thumb turn green.
Keep in mind: Price and stock could change after publish date, and we may make money from these affiliate links.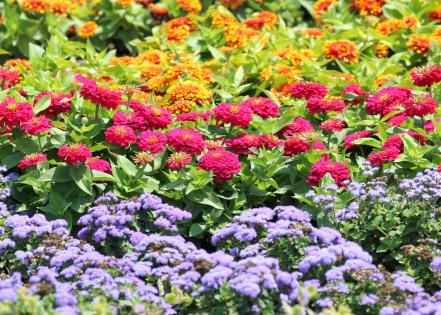 Shutterstock
Plant Easy-to-Grow Flowers, Sit Back and Enjoy the Show
You hear it so often, it's a cliché. "I want to grow beautiful flowers for my garden, but everything I plant dies." Dead outdoor plants can happen for many reasons. Sometimes, we plant flowers for the garden that need more sun or shade than we can give them, or there's a drought, or pests and diseases move in and send our poor dahlias, roses and other flowering plants to the compost pile.
Instead of trying to grow needy outdoor plants, opt for some easy flowers to grow, such as sunflowers and morning glories. You can find easy-care flowering perennials for season-long color, and, when they're finished, fill in with annual flowers for year-round color. Read on for more "can't-kill flowers" for beginners to grow.
PerennialResource.com
Siberian Iris
Plant them in full sun to part shade, and carefree Siberian irises will bloom in early summer. After the flowers finish, don't remove the leaves. They'll soak up the sun to power the next season's blooms and die back naturally. In the meantime, they'll add texture to the garden. You can find Siberian iris in many colors, including purple, blue, gold, pink, white and burgundy. Give them moist soil, and they'll grow 34 inches tall by 18 to 24 inches across. They're hardy perennials in USDA Zones 3 to 9.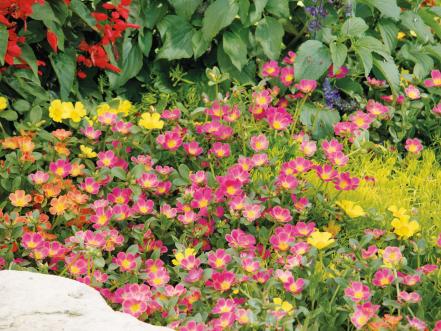 provenwinners.com
Portulaca
Portulaca, or moss rose, is a tough annual that grows happily in full sun and average, well-draining soil. This succulent has thick leaves, so it can tolerate some drought. Use its colorful carpet of blooms as a groundcover or grow portulaca as a bedding plant. This variety, 'Mojave', is a mix of cheerful red, pink, tangerine orange and yellow flowers. It's easy to grow from seed, but don't transplant it into your garden until after your last spring frost.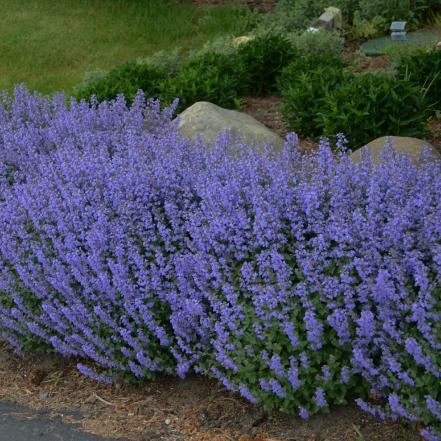 PerennialResource.com
Catmint
Although catmint is an ornamental relative to catnip, its unscented leaves are less likely to attract felines to your garden. (Bees and butterflies love them, though.) This is an easy-to-grow, perennial herb valued for its lavender-blue flowers and gray-green foliage. Catmint doesn't mind drought, heat or average soil and thrives in full sun to part shade. It grows so easily, that it can invade other areas. You may want to grow it in pots or put edging around it. Shown here: Catmint (Nepeta x faassenii) 'Purrsian Blue'.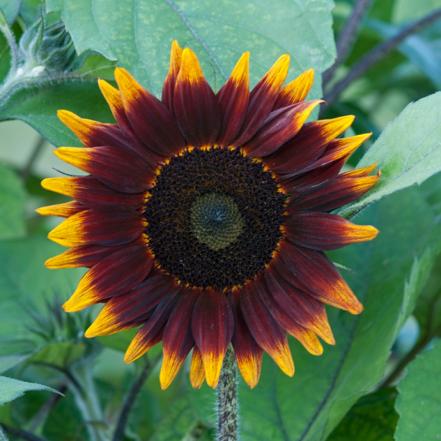 Image courtesy of National Garden Bureau
Sunflowers
'Shock-O-Lat' is a sunflower with giant flowerheads and lots of branches. The blooms are the deep, dark brown color of a chocolate bar, and they're highlighted with golden tips. A gold halo circles each center disk, too. Although each flower is slightly different in coloration, all are pollen-free, so they're fine for vases. This variety tops out at about 6 feet high.
BUY ONLINE: Amazon, $2.69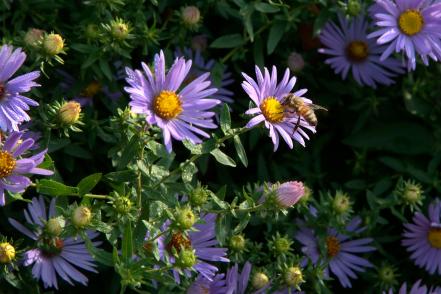 Chicago Botanic Garden at ChicagoBotanic.org
Honey Bee On Aster
Native New England asters hit their stride from late summer into fall, when they bloom in shades that range from deep purple to lavender and pink. These undemanding beauties, which are wildflowers, perform in full sun to partial shade and can grow to 6 feet tall. Try them in a meadow, where they'll attract bees and butterflies. They're perennials in Zones 3 to 8.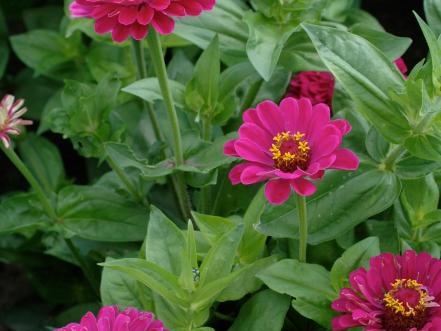 Image courtesy of SelectSeeds.com
Zinnia
Look for zinnias in almost every color except blue; they're also available in a variety of heights. The flowers may look like daisies or dahlias, spiders or pom poms and more. Plant them in the sun and space them as directed on the seed packet or label; good air circulation helps prevent disease.
BUY ONLINE: Burpee, $6.95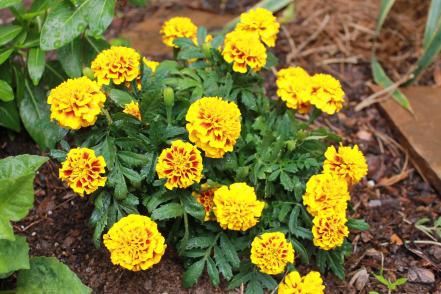 Marigolds
Cheerful marigolds are easy to grow in sunny spots, brightening your garden with shades of yellow, red and gold as they bloom all summer long. African or American type marigolds grow 3 to 5 feet tall, but you can find shorter and more compact varieties.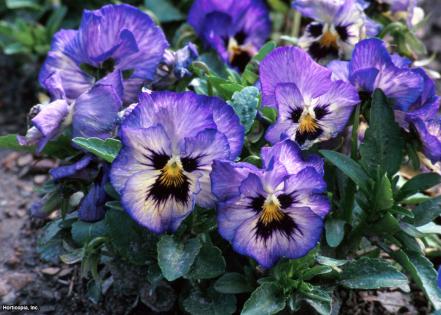 Pansies
Pansies (Viola x wittrockiana) add color to your garden while the weather is cool, in spring and fall. They'll even overwinter in some regions if they're mulched for protection. Give these undemanding little plants sun and soil that drains easily.
BUY ONLINE: Amazon, $6.49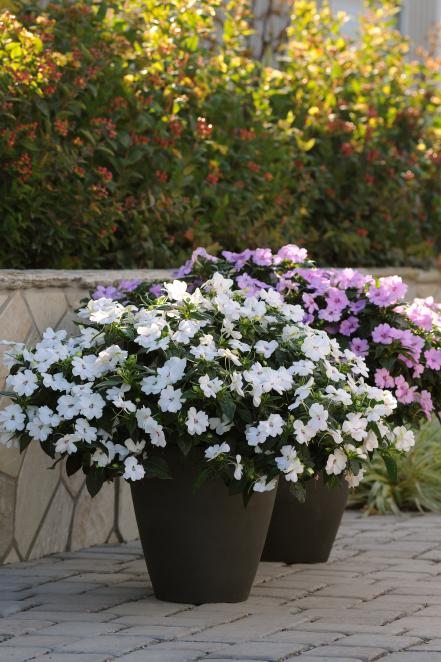 Courtesy of Monrovia

Impatiens
Impatiens ask little more than a shady spot and enough water to keep them from wilting. Plant these pretty annuals when the weather is reliably warm. In recent years, many impatiens (I. walleriana) have succumbed to downy mildew. 'Big Bounce' (pictured) is a new hybrid for shade to partial sun that resists this deadly disease. You'll also find disease-resistant impatiens in the 'Bounce' series.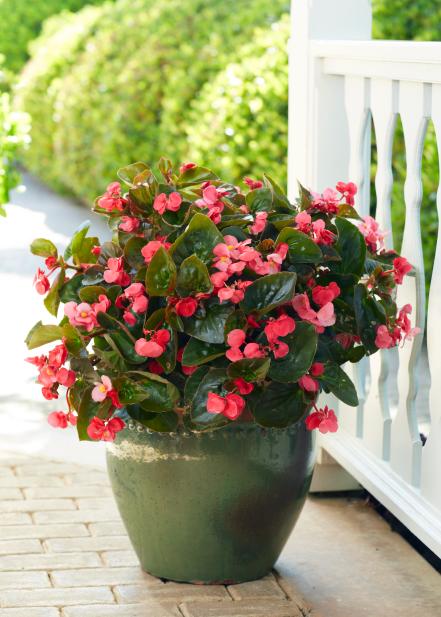 Image courtesy of ProvenWinners.com

Begonias
Tough, can't-kill summer begonias like 'Surefire Rose' are great for hanging baskets, containers or garden beds. Give them sun or shade and they'll reward you with lots of lush color.
BUY ONLINE: Amazon, $17.95, Pack of 3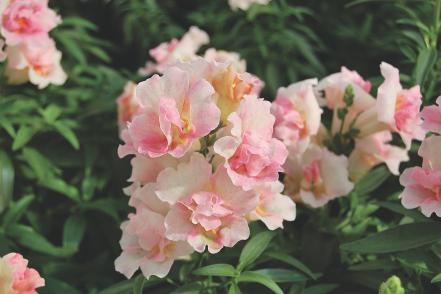 Courtesy of ParkSeed.com

Snapdragons
Bring butterflies to your beginner's garden with pink and cream snapdragons (Antirrhinum majus) like 'Twinny Appleblossom'. These plants bloom heavily and stand up to the often harsh weather in spring and fall.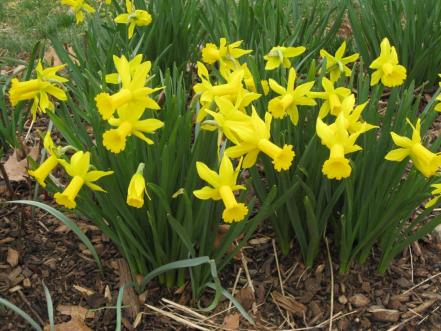 Daffodils
Plant daffodil bulbs and stand back. They'll burst into bloom each spring, filling your garden with color and fragrance. Give these hardy bulbs a sunny or partly sunny home in the garden or in containers; they're best planted in the fall.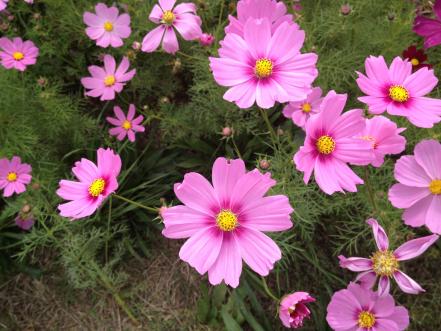 Cosmos
Add cosmos plants to your garden or grow these daisy-like flowers from seeds. These annuals are so undemanding, they'll bloom even in poor soils. They like full sun (but appreciate afternoon shade in hot climates) and tolerate drought once they're up and growing.
BUY ONLINE: Burpee, $4.95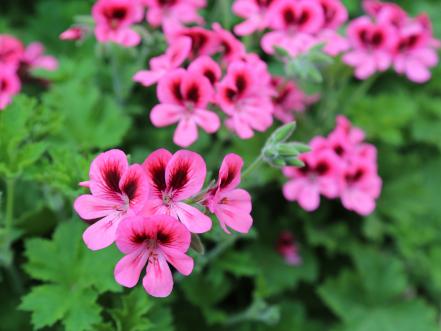 Geraniums
Great in window boxes, hanging baskets, pots or the garden, geraniums are low-maintenance plants. Grow these perky flowers for color from spring until frost; they prefer full sun, but may need some afternoon shade in hot regions.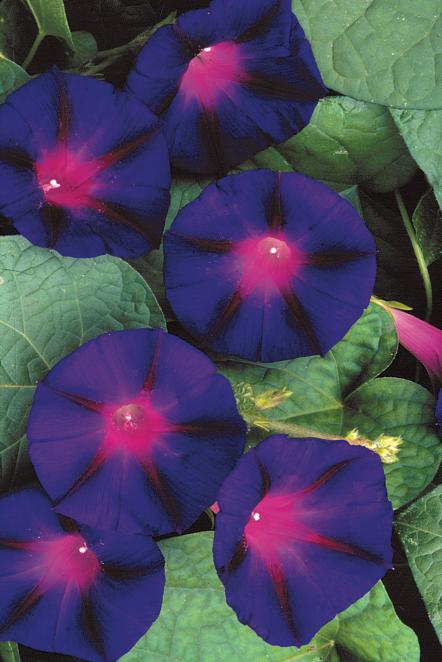 Image courtesy of Seed Savers
Morning Glories
To help morning glory seeds sprout, soak them in tepid water the night before you plant or file the hard seed coat to open it. Once they're started, morning glories can take care of themselves. But because they drop their seeds and self-sow readily, be careful where you plant them or you'll be pulling volunteers for years! To help control unwanted seedlings, mow, rake or heavily mulch the ground underneath the plants.
BUY ONLINE: Burpee, $3.95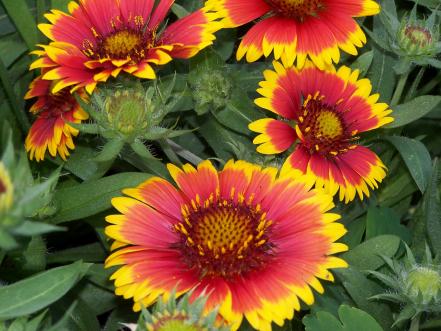 PerennialResource.com
Blanket Flower (Gaillardia)
Blanket flowers (Gaillardia) are native wildflowers in parts of the U.S., and they grow robustly in full sun. These butterfly magnets bloom from early summer into fall.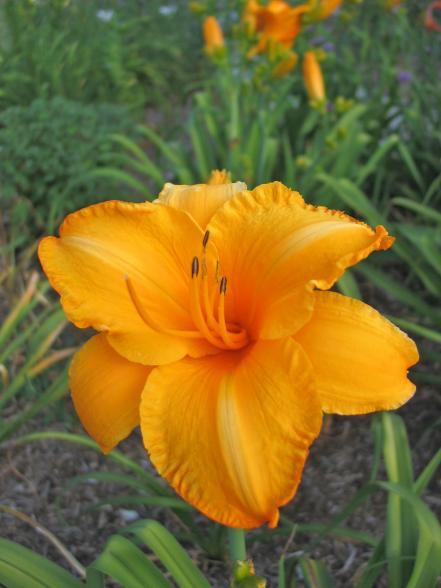 Image courtesy of Oakes Daylilies / Photo by Ken Oakes
Daylilies
These sun-loving perennials bloom dependably in almost any kind of soil, as long as it drains easily. Best of all, you can divide them after a time and expand your garden.
BUY ONLINE: The Home Depot, $38.35, Pack of 2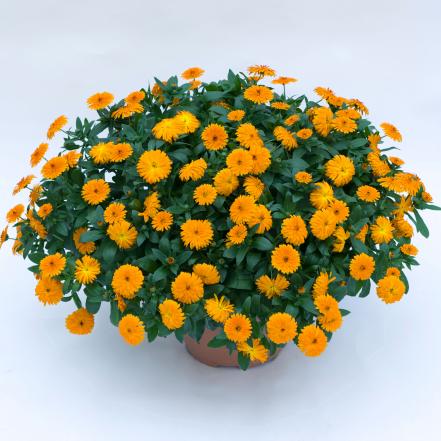 ProvenWinners.com
Calendula
Grow these low-maintenance lovelies from seed or starts. Calendulas are said to lure aphids away from vegetable plants, so if you're using them as insect traps, grow extras as ornamentals. They thrive in full to part sun and tolerate heat. 'Lady Godiva' comes in orange, shown here, and yellow.
Southern Living Plants
Salvia
Put out a buffet for hummingbirds and other pollinators with salvia. Pictured here, 'Amistad' is an award-winner with deep purple flowers and near-black bracts. Once salvia plants are established, they're forgiving if you forget to water now and then.
BUY ONLINE: Amazon, $10.99 1 Plant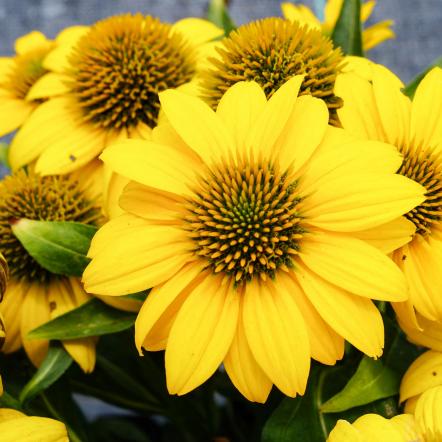 Darwin Perennials/Karl Batschke
Coneflower
Plant low-maintenance Echinaceas, or coneflowers, in the spring. This compact variety, Sombrero Poco Yellow, loves full sun and tolerates some drought. Colors in the Sombrero series include red, pink, coral, white and orange.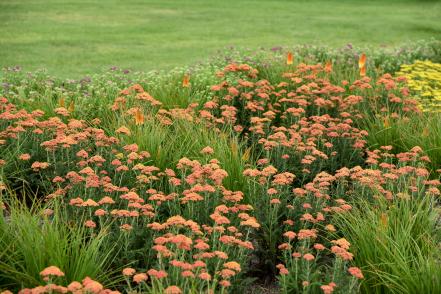 ProvenWinners.com
Yarrow
Achillea is sometimes called common yarrow. The variety 'Firefly Peach Sky' is uncommonly easy to grow in full sun from summer into early fall. Yarrow grows well in average and even poor soils, as long as it has good drainage.
ProvenWinners.com
Columbine
Nearly carefree columbines come in yellow, orange, red, purple and bi-colors. Plant them in sun or light shade for flowers into early summer. Periods of drought don't bother them. 'Songbird Cardinal' columbine has upturned blooms, rather than the usual nodding flowers, so you — and hummingbirds — can see them more easily.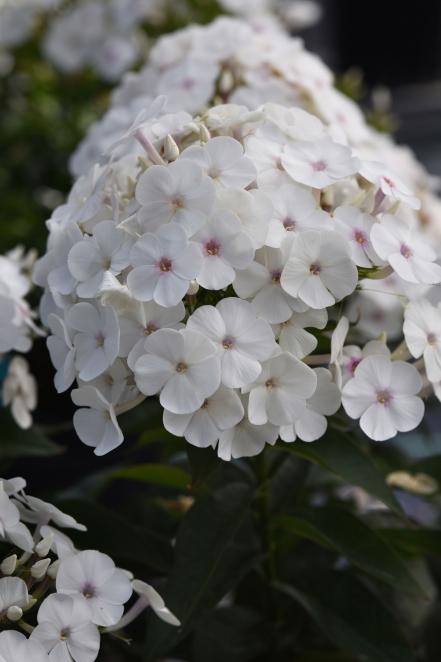 Darwin Perennials
Phlox
Start phlox in the spring, and the fragrant flowers will open into late summer. This easy-to-grow perennial, Super Ka-Pow Fuchsia, stays compact and takes full sun. Plants in this series also come in lavender, white, coral and pink.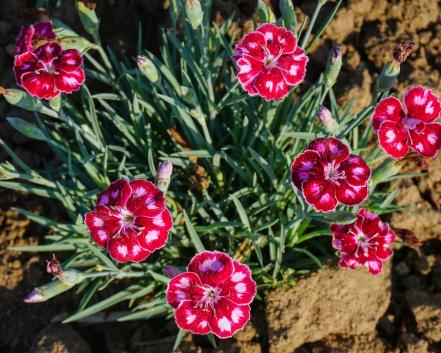 Darwin Perennials/Karl Batschke
Dianthus
Dianthus are undemanding beauties for sunny beds, containers and borders. Dianthus Mountain Frost Ruby Glitter attracts butterflies to its sweetly scented blooms from spring to frost. Once the plants are established, they can tolerate drought. Mountain Frost dianthus are also available in pink, rose and bi-colors.