Now Viewing
High Impact, Low Maintenance Basement Flooring Ideas
Stumped by basement flooring? Take a look at these practical and attractive options and find out which is best for your space.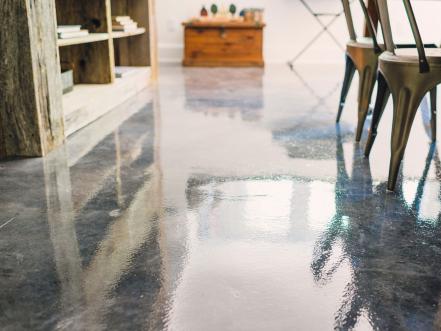 Basement Flooring Ideas That Will Floor You
From do-it-yourself tricks to elaborate refinishing techniques, here are eight affordable ways to add bold and beautiful floors to your basement.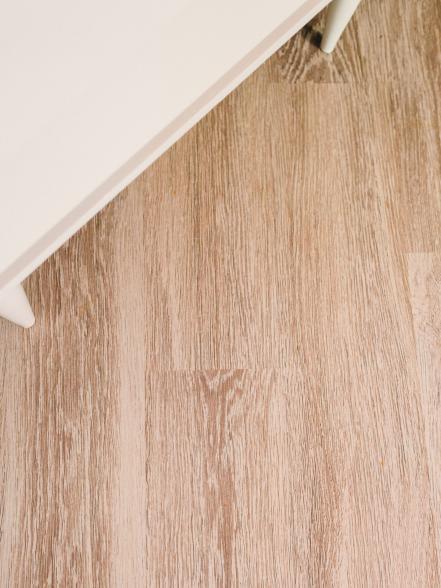 Vinyl Plank
Homeowners eager to add the look of whitewash hardwoods to their basements are often apprehensive due to flooding. Whitewashed vinyl plank is an excellent alternative to hardwood for two main reasons. First of all, the whitewashed plank's off-white coloring helps bounce light throughout the space. Next, since vinyl is waterproof and extra resilient, it can withstand major leaks and floods.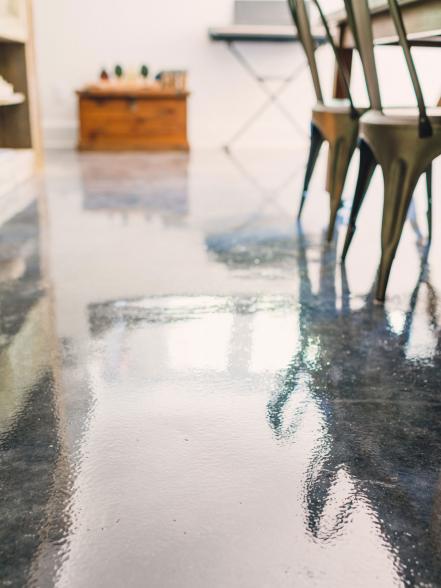 High Sheen Concrete Flooring
Instead of covering this basement's flooring surface with wood, the homeowners simply had it stained and sealed with a high sheen floor sealer. In addition to being easy to clean, the concrete's reflective finish helps brighten the space.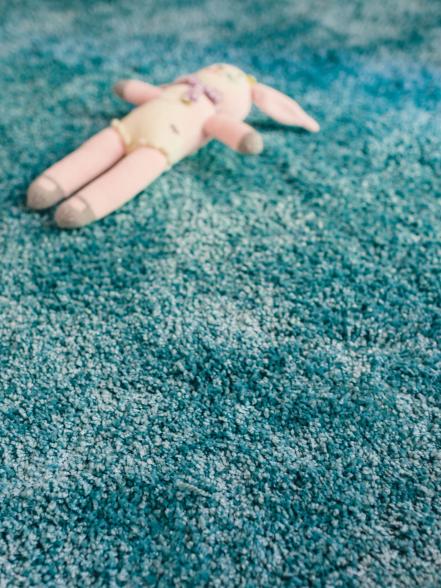 Bright Wool Rugs
Bring a playful touch to your basement with boldly colored wool rugs. Since basements are often much cooler than rooms on higher levels, grounding them with lush wool will help keep the space feeling warm and soft. To keep the basement gender neutral, consider shades of turquoise, orange, red or lavender.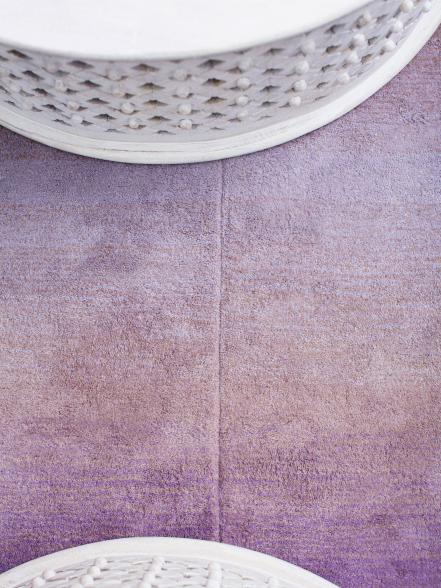 Side-by-Side Rugs
Another great way to add color and soft texture underfoot is to place patterned area rugs side by side. Choose rugs with clean, graphic patterns, then place them next to another, matching up the pattern repeat. Once furniture is placed on top of the rugs, the seams will be hidden from view.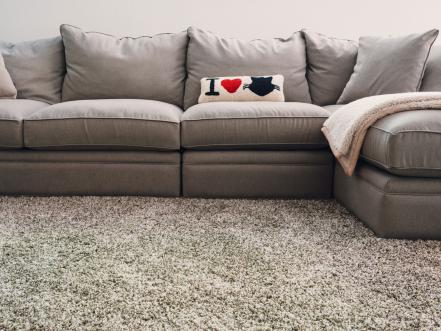 Tone-on-Tone Design
Homeowners interested in a more subtle approach to basement flooring may consider tone-on-tone carpeting. This suggests sticking with a carpet in the same tones as the room's furnishings for a seamless look. Here, the greige coloring of the thick wool shag blends in perfectly with the velveteen upholstery of the sofa.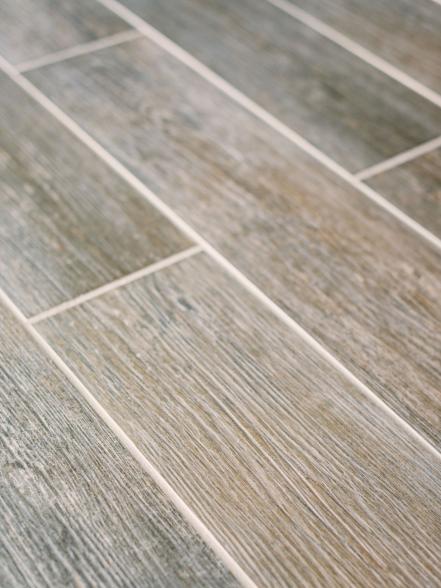 Porcelain Wood Plank
With wood flooring in high demand from both homeowners and builders alike, many tile manufacturers have started creating planks of porcelain which look and feel like true hardwoods, but with more durability. Available at lower cost than hardwoods, porcelain plank is often a more practical choice since it's waterproof, easy to clean and more resistant to scratches than wood.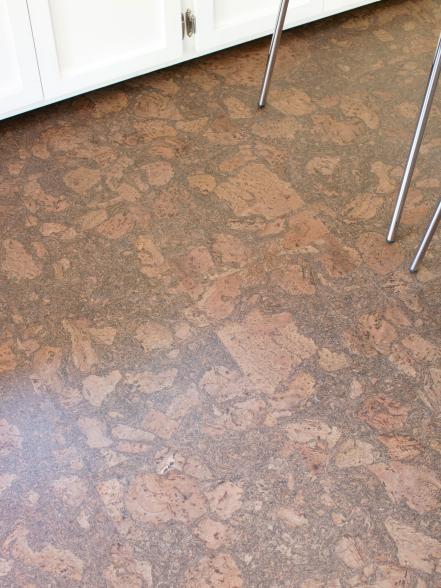 Cork
Cork is an excellent basement flooring option, especially in one used for activities since it's super soft and helps control noise. There are two popular styles of cork flooring: interlocking plank systems and glue down tiles. Homeowners with basic do-it-yourself skills are best fit for tiles since they'll just need to be cut with a utility knife once glue is added to the subfloor. Do-it-yourselfers with advanced skills can install the plank systems by cutting them to size with a circular saw, then fastening them together tongue-and-groove style.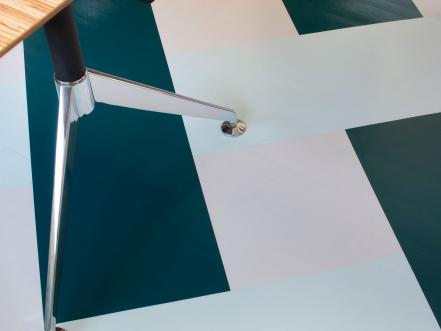 Painted Pattern
A super affordable way to update wood or concrete basement floors is with porch and deck paint. To do this, you'll need paint by the gallon (latex or oil, whichever works best in your climate) as well as a floor primer and a floor sealant. After a thorough cleaning and priming, tape off your desired pattern with painter's tape, then apply the paint using a roller and an extender pole. Reposition the tape as needed as you change from one color to another, then allow the floor 3 to 4 days to properly cure before walking on it.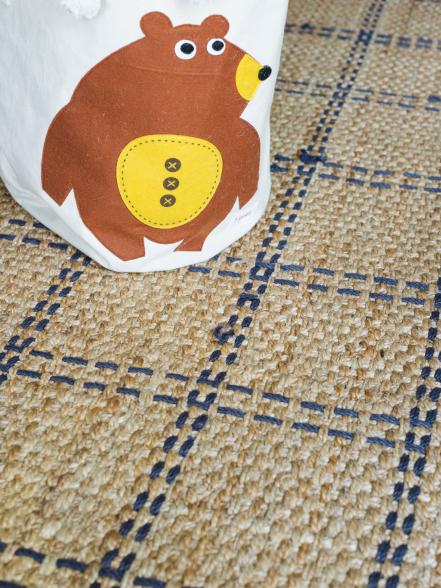 Sisal
Homeowners interested in a textural approach to their basement floors will likely fall in love with the look and feel of sisal carpet. Similar to seagrass, sisal is woven from natural materials and is excellent for camouflaging dust, dirt and hiding accidents.