Now Viewing
15 Open-Concept Kitchens and Living Spaces With Flow
Perfect for casual family living or easy entertaining, these bright, airy, stylish spaces are multifunctional and fun. But for an open layout that's both inviting and efficient, it helps to understand the art and science behind top designers' choices. Here, 15 pros share their best strategies for heart-of-the-home cooking and living centers.
Keep in mind: Price and stock could change after publish date, and we may make money from these affiliate links.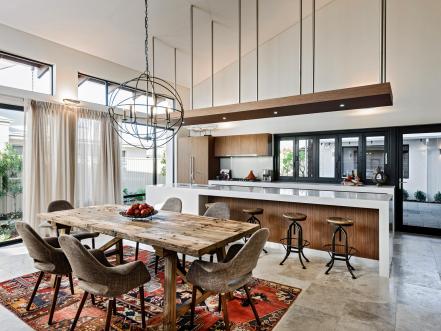 Jodie Cooper, Jodie Cooper Design; Photo by D-Max Photographers
Creative Solution
In a new home,
designer Jodie Cooper
took the concept of dramatic lighting to new heights, using a custom-made "bulkhead" suspended from the ceiling by chrome rods to light the kitchen and dining area. "The bulkhead also helps to visually define the kitchen area without losing the loft-style feel," she says. And, she notes, "having a modern kitchen doesn't need to translate to having modern decor. By blending pieces, such as retro dining chairs, Chinese antiques and a rustic dining table combined with Turkish patchwork rugs, we created texture and layers, which add a kind of Bohemian style to the home to create what I call a 'Global Eclectic' interior."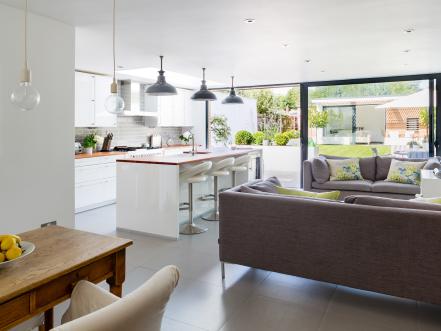 Robert Wilson, Granit Chartered Architects; Photo by Andy Beasley
Details Matter
In a contemporary addition,
architect Robert Wilson
chose materials and fixtures carefully to create a multifunctional space with a unified style. For example, a row of pendant fixtures over the kitchen island not only acts as a visual punctuation mark, dividing the workspace from the adjacent seating area, but also "injects a glow of bright yet polished radiance," he says. Tile flooring throughout the entire room keeps the look simple and pulled-together.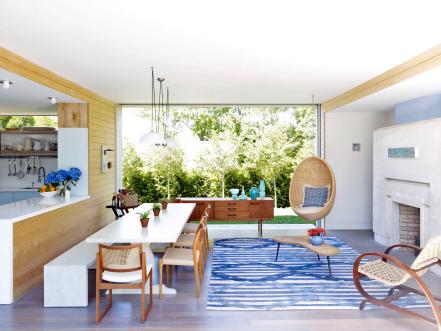 Stuart Disston, AIA, Austin Patterson Disston Architects; Photography: Peter Murdock
Indoor-Outdoor Appeal
Perfect for casual weekend living, this Hamptons beach-house dining/family room has a close connection to the kitchen, as well as to outdoor living areas. Glass doors on the ground level slide all the way into the walls, opening the family/dining room and living room to an expansive deck area. The rooms can be entirely open or protected from mosquitoes with a screen system, allowing for summer breezes, ample entertaining areas and restoring connections to nature. "A consistent — but not overwhelming — thread of blue follows throughout these ground-level spaces: blue kitchen cabinets, blue custom rug and touches of blue walls," note
the architects
.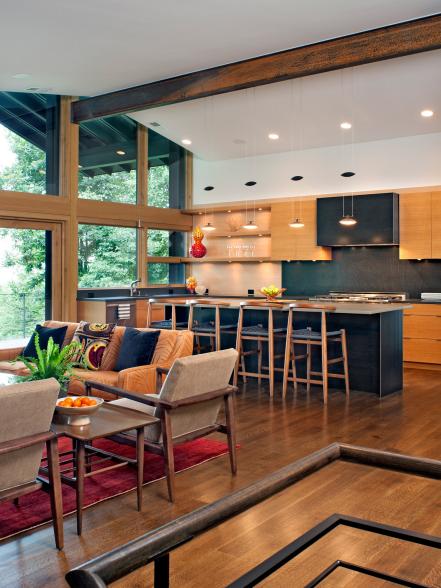 Carlton Architecture + DesignBuild; Photography by David Dietrich
Unifying Design
In an open-plan concept, designers strive not only to create separate zones within one large space but to make the end result feel cohesive. In this home, the designers at
Carlton Architecture
+ DesignBuild did both with finesse. "We divided individual spaces with furniture groupings and circulation. Common materials such as steel, rift-sawn white oak cabinetry, and dark stained oak floors are used to unify the three areas," they explain.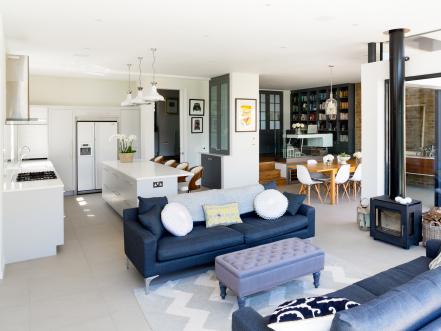 Robert Wilson, Granit Chartered Architects; Photo by Andy Beasley
Let There Be Light
Large glass sliding doors with clerestory windows above stretch across the whole rear elevation of this open-plan space, maximizing daylight in the kitchen, living, dining and study areas. "Light cascading through from the rear of the property lends an airy and fresh feeling, creating an enjoyable space to entertain family and friends," says
architect Robert Wilson
.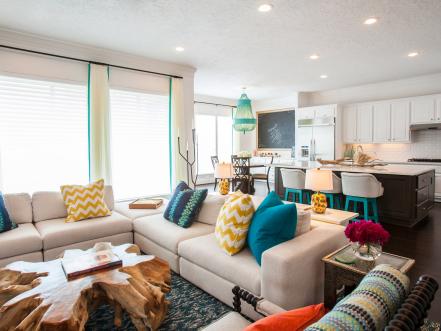 Julie Soefer
Cozy Character
For a family home in Houston, the designers of
Laura U Interior Design
created a comfortable seating area just off the kitchen. The team used color and accessories to create a cohesive look throughout the wide open area. "While the majority of the color palette is neutral, we weave a lively turquoise through each space: pillows and an area rug in the family room, bar stool frames in the kitchen and a show-stopping chandelier in the breakfast space," they explain. "The entire space is further unified through the window treatments which are a combination of Hunter Douglas Silhouette shades and custom drapery with a turquoise band on the leading edge. A cheerful yellow and just a dash of orange set off the color scheme while touches of gold and a natural wood (teak root table and driftwood at the island) add eclectic charm."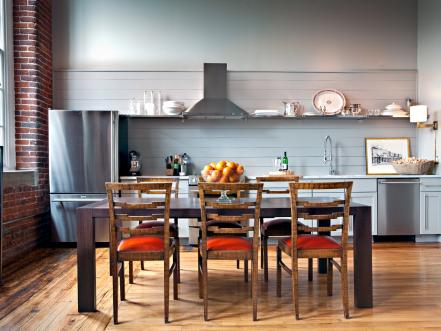 Jason Arnold, Jason Arnold Interiors; Photo by Steven Long
Loft Living, Anywhere
Although this open-concept kitchen and dining area is in a loft — in a converted bag factory in Nashville — the principles
designer Jason Arnold
followed will work in any setting. He says: "The kitchen is opposite the living area, in a large, open space that automatically lends itself to entertaining and family living. We painted the walls, trim and cabinets the same soft grey to make the spaces feel as one. Because it's essentially a large room with a kitchen at one end, I wanted the kitchen to blend seamlessly into the space which is why there are no upper cabinets. Instead, there is a large pantry armoire to the right. The dining table acts as the visual separation from kitchen to living."
Matthew Collins, Uptic Studios; Photo by Oliver Irwin
Twice as Nice
Designing a home for one family can be a challenge, but designing a home to be shared by two brothers' families? That's another proposition altogether — and one
architect Matthew Collins
of Uptic Studios met with the help of an open layout. "The goal of the project was to create a modern log cabin on Coeur D'Alene Lake in North Idaho," he explains. "Uptic Studios considered the combined occupancy of two families, providing separate spaces for privacy and common rooms that bring everyone together comfortably under one roof. And we not only had to take into account the space itself, but also all of the people who would be living there. One of the brothers is a chef, so we kept that in mind when designing the open kitchen and living room. We made sure to create a common room just off the kitchen, to bring everyone together. A delicate balance of natural materials and custom amenities fill the interior spaces with stunning views of the lake from almost every angle."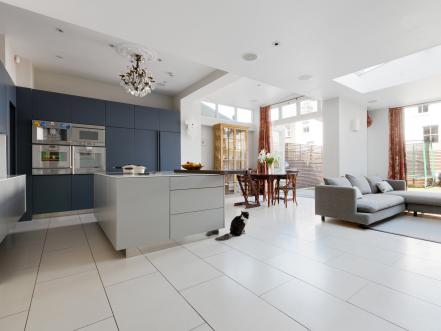 Robert Wilson, Granit Chartered Architects; Photo by Andy Beasley
Going With the Flow
For a family home, open, flowing spaces offer plenty of room for together-time, without anyone feeling cramped. "Large bi-fold doors from the kitchen and living area lead onto a landscaped garden creating the perfect link from inside to out for this family," says
architect Robert Wilson
. "The glass doors ensure natural daylight reflects though the living space across the polished floors, creating a wonderfully bright space."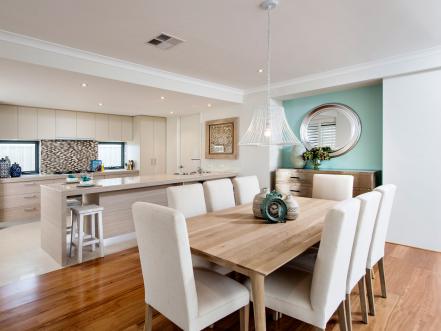 Jodie Cooper Design; Photo by Joel Barbitta
Divide + Conquer
Creating separate zones within an open layout is simple, but making them feel at once distinct and connected can be more complicated, says
designer Jodie Cooper
. Here, she manages this delicate balance deftly, using material — a transition from the practical kitchen flooring to the warm wood in the eating space — and color: A soft blue-green accent wall helps differentiate (and add drama to) the dining area.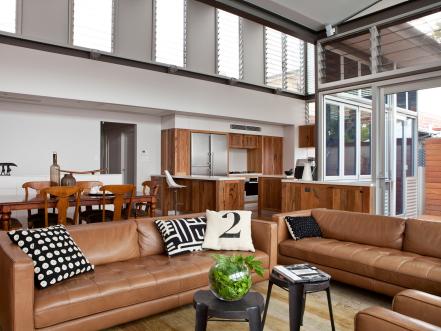 Nelly Reffet, Twinkle & Whistle Interior Design; Heather Robbins of Red Images Fine Photography
Family Friendly
For a family with three boys under the age of 12, a sprawling family center that opens out to the backyard was just the ticket. "An open-plan living space made sense to them as they really wanted a room that would be the 'heart' of the home and where they could all gather together and interact, even if they are doing different activities," says
designer Nelly Reffet
of Twinkle & Whistle Interior Design. To give the space an inviting feel, Reffet took care with her choices of color and material. "One of the possible downsides of open-plan living, especially in contemporary homes, is that the room may feel a little cold and impersonal," she says. "Using 'warm' or earthy materials and/or colors, as well as a mix of textures is a great way to achieve balance, and to create a more lived-in space."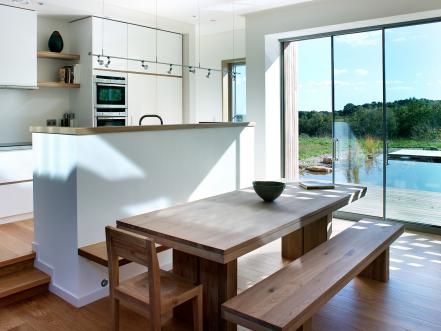 Wendy Perring, PAD Studio; Photo by Nigel Rigden
Natural Approach
For a home set within an ancient woodland and heath in the New Forest National Park,
designer Wendy Perring
of PAD Studio took care to maximize the connection between the home and its surroundings, while minimizing the impact of the structure on the site. "The main living space is open-plan and designed to cater not just to the changing physical needs of its occupants but to provide nourishment and stimulus to the soul through close contact with the home's natural setting," says Perring.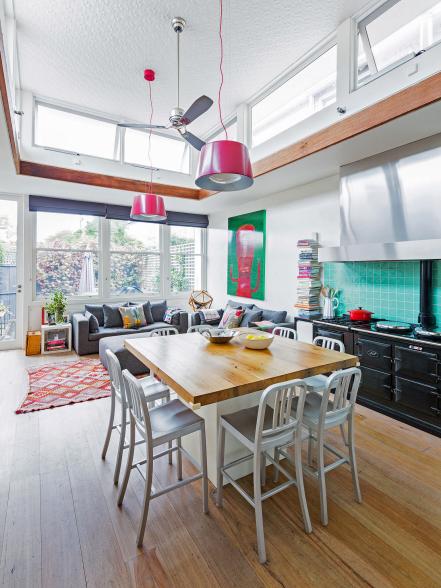 Sophie Gunnersen, Studio Stamp; Photo by Tony Mott
Scaling Up
In a large, open interior — and this is especially important when the space has soaring ceilings — it's essential to choose furnishings and details that fit the large scale of the room. Says stylist Sophie Gunnersen of Studio Stamp: "All the pieces in the room are rather big and bold, and everything has a purpose. The custom-made dining table sits at bar height and is large and chunky. The black AGA cooker is really the key piece in the space — it adds ambience and attracts most people with its warmth. The vertical bookshelf along with the softer green tiles divide the room."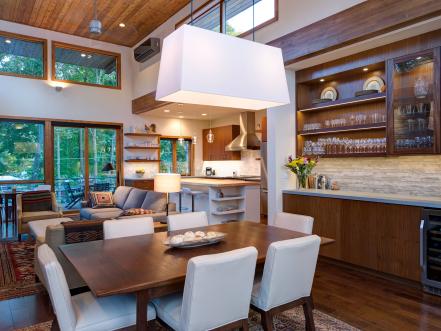 Matthew Collins, Uptic Studios; Photo by Oliver Irwin
All Grown Up
Open-plan living can work on any scale. Case in point: This stylish home
Uptic Studios
designed for a retiree. "After living on the family farm for decades, our client was ready to move into town to be closer to her children and grandchildren," say the architects. "Always the entertainer, she requested an open great room to accommodate dinner parties, as well as plenty of wall and shelf space for family photos and various mementos."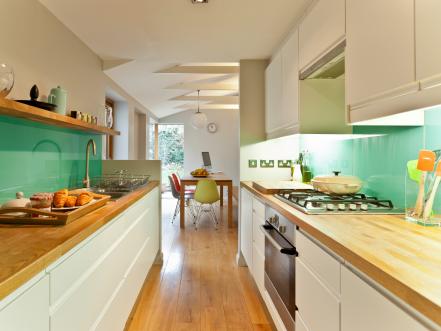 DHV Architects; Photo by William Goddard
From Small to Spacious
Combining two or more spaces can create a sense of flow that makes each individual room seem larger. Case in point: A tight galley kitchen that got a new lease on life thanks to a clever reconfiguration. The
architect
recaps the project: "Knocking out the wall of an attached storage unit transformed the dark and cramped kitchen into a clean and light-filled space complete with a dining room and garden view. A galley layout makes efficient use of the small kitchen and allows for plenty of worktop space. The kitchen walkway leads the eye to the dining room — which has the same width as the kitchen — and the garden end of the space."