Now Viewing
Fantastic Farmhouse Sinks
Apron-front farmhouse sinks are popular fixtures in a wide variety of higher-end kitchens. Their depth gives them greater versatility than their shallower two-bowl counterparts. This versatility, combined with visual appeal, is helping them spread to other areas of the home such as laundry rooms and bathrooms.
Keep in mind: Price and stock could change after publish date, and we may make money from these affiliate links.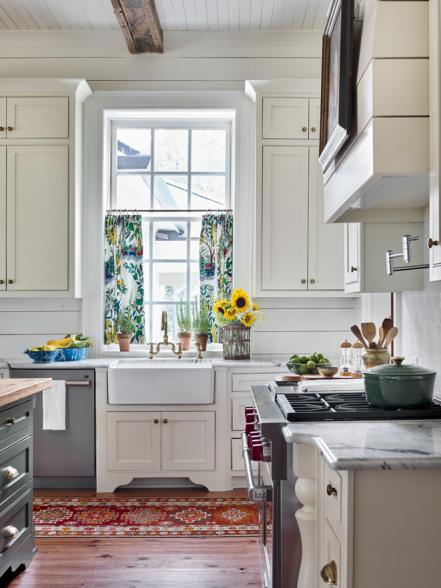 Emily Followill
Farm Sink in Traditional Southern Kitchen
Designer James Farmer used a deep red runner to add a pop of color to the white walls and granite-topped cabinetry in this traditional kitchen. A deep, dusky blue island provides additional countertop space, and a weathered ceiling beam adds contrast.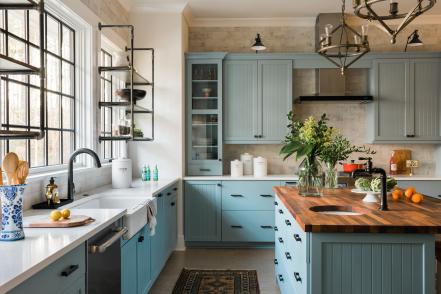 Robert Peterson; Rustic White Photography
Wall of Windows
A huge wall of windows over the sink area brings lots of natural light into this central hub kitchen designed to be both attractive and functional.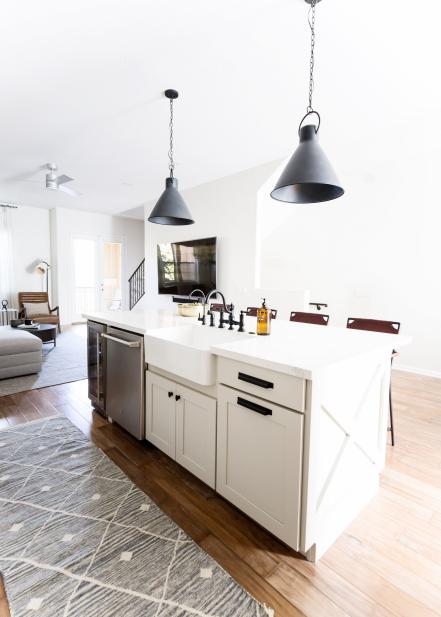 LifeCreated
Transitional Open Plan Kitchen With Gray Pendants
Industrial pendants are an unexpected design twist in this open plan kitchen, a touch of edginess in a dark, contrasting color. A gray runner helps tie the lighting into the rest of the room.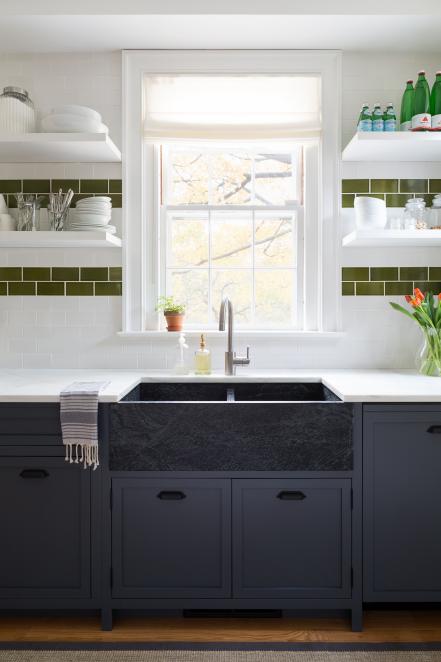 Custom Farmhouse Soapstone Kitchen Sink
This kitchen features marble-topped custom cabinetry, which houses a custom farmhouse soapstone double sink.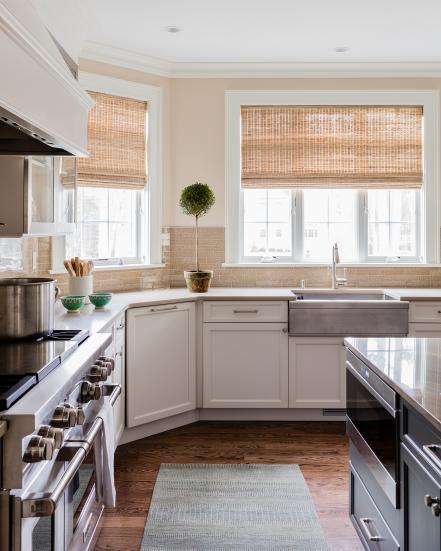 michael j lee
Stainless Steel
This kitchen feels very light and sunny, but in a twist from the often seen all-white kitchen, this one layers neutrals like the soft tan walls, woven shades, brown tile backsplash and hardwood floors.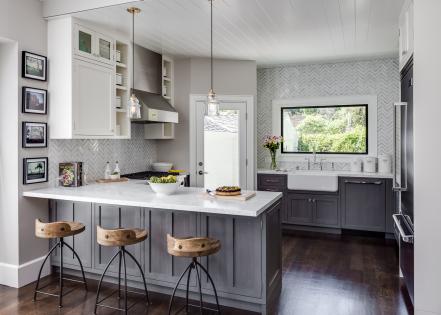 Christopher Stark
Transitional Kitchen With Industrial-Country Flair
Designer Lindsay Chambers sought to update a classic kitchen with an industrial-country approach. The chevron patterned backsplash adds drama and depth to the small space, while white and gray cabinets give the room a rural vibe. And who wouldn't love the wrought iron and repurposed wood barstools?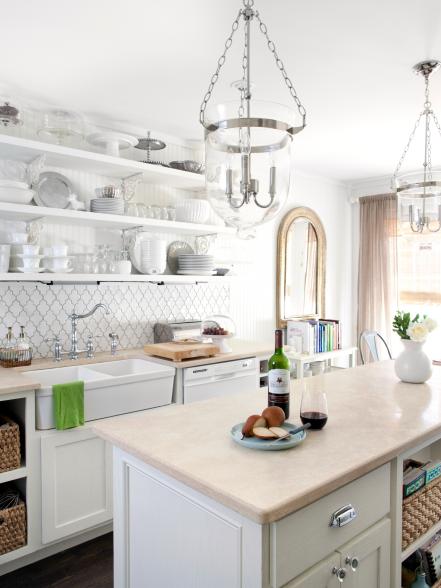 All-White Kitchen With Island
The upper cabinets are replaced with open shelving, which provide storage for all the homeowners' pretty dishes. A pair of pendants hang above the island, which features extra cabinets and open niches. Woven baskets underneath the counters allow for easy-access storage.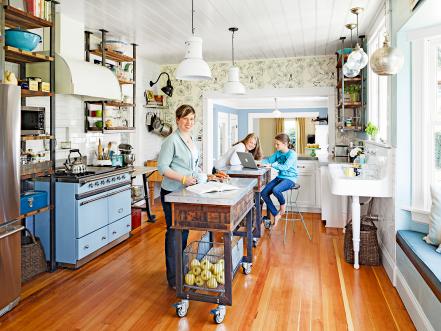 Lincoln Barbour
Freestanding
Most people have two priorities when they're designing a kitchen: counters and cabinets. But Kerri Hoyt-Pack didn't have either of those staples at the top of her renovation list. Instead, she and her husband, Dan, outfitted their 216-square-foot space with unconventional pieces that you might say defy standard American kitchen plans. As a global marketing vice president at Nike, Kerri has traveled the world, picking up unique supplies — and lots of unexpected ideas — along the way.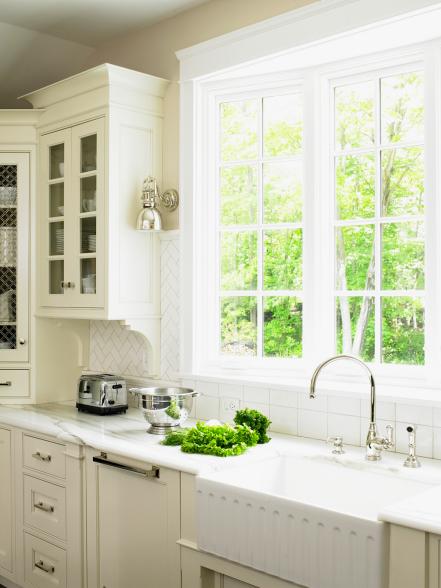 Cottage Kitchen Sink With Window
A farmhouse sinks adds cottage charm to the traditional-style kitchen, while stainless steel sconces flank the window to provide task lighting.
©Photography by Harvey Smith
Gorgeous Kitchen With Copper Farmhouse Sink
This kitchen features a copper range hood and copper farmhouse sink with a granite island.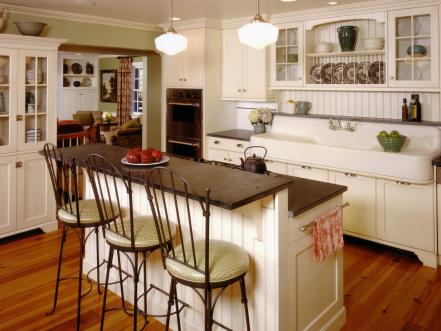 ©Design by Thomas A. Conway.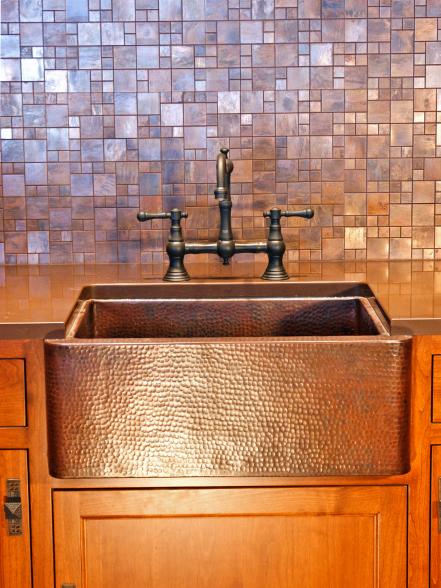 Photography by Tami Holsten
Rustic Copper Farmhouse Sink and Tile Backsplash
This copper farmhouse sink is the perfect rustic complement to the tile wall and wooden cabinets. The reflection of the ceramic tile adds bits of blue, purple, yellow and white.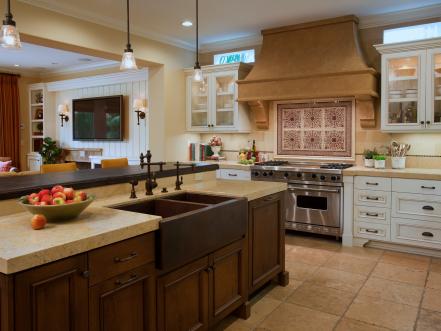 Cindy Smetana
Eat-In Kitchen Island With Farmhouse Sink
This spacious kitchen has everything a cook could want: professional grade appliances, smart storage and plenty of prep space. A farmhouse sink holds court on the center island, the other side of which has three barstools for eat-in dining.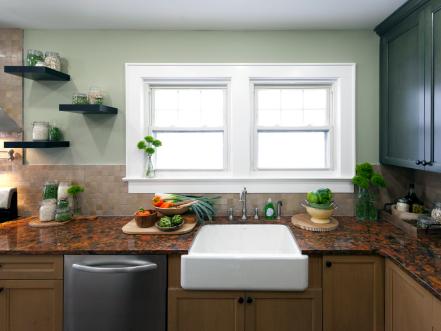 Green Kitchen With White Farmhouse Sink
Red and brown hues in the counters offset a light green wall color. A farmhouse sink pops against dark counters and cabinetry. Floating shelves offer a convenient space for kitchen necessities while still retaining a sleek, clean appearance.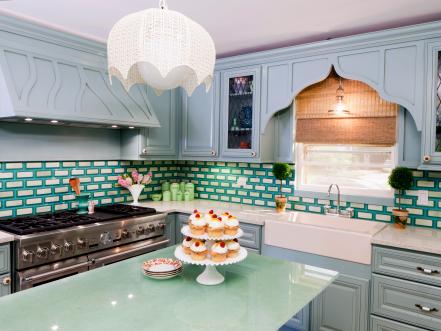 Farmhouse Sink Area in Cottage Kitchen
This cottage kitchen features a bold backsplash, decorative woodwork and a scalloped-shade pendant. The white farmhouse sink complements the white countertops amidst the seafoam green cabinetry and island.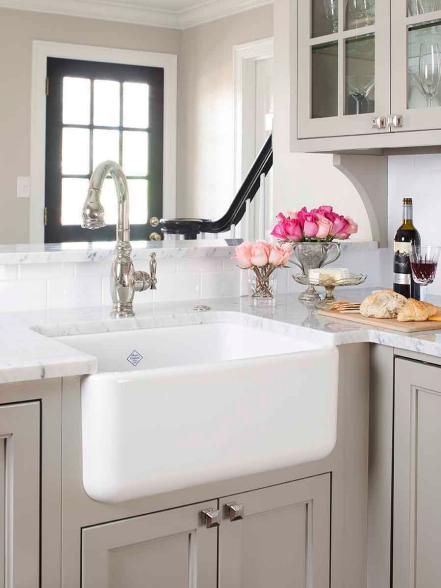 Neutral Kitchen With White Farmhouse Sink
Light gray cabinetry, marble countertops and a farmhouse sink combine traditional charm with a slight nod to modern design concepts.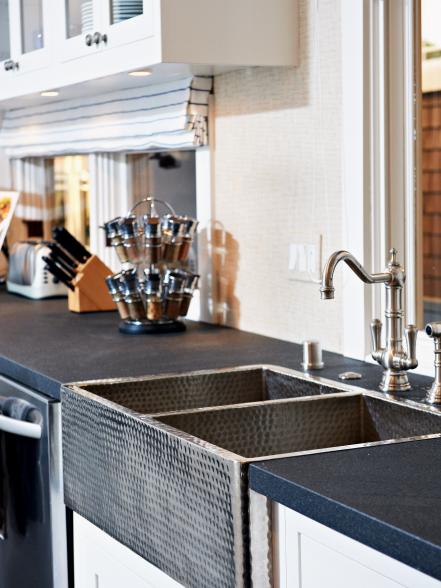 Kitchen With Nickel-Plated, Hammered Farmhouse Sink
One of the most eye-catching details of this transitional kitchen is the gorgeous farmhouse hammered sink sitting in between solid-surface black countertops.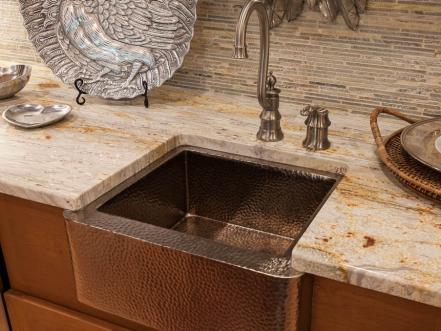 Rustic Copper Farmhouse Sink and Tile Backsplash
A copper farmhouse sink blends well with the tile wall and wooden cabinets of this wet bar.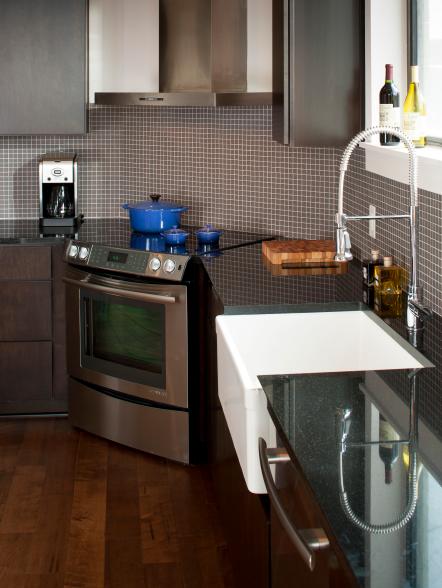 Contemporary Kitchen with Gray Tile Walls and Farmhouse Sink
Wood paneled floor and a farmhouse sink are country accents in this contemporary kitchen with black marble countertops and gray tiled walls.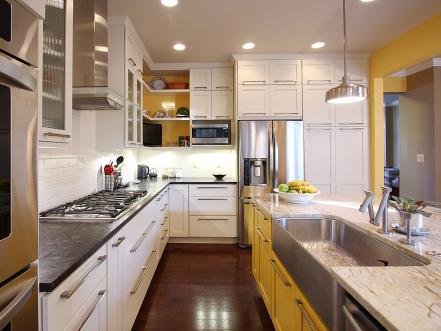 Charles Thomas Photography
Contemporary Kitchen With Wide Farmhouse Sink and Yellow Cabinetry
This kitchen was designed to accommodate an enthusiastic cook and entertainer who wanted a contemporary feel that would not be at odds with her colonial townhouse. To create this look, NVS Remodeling & Design used frameless Dura Supreme cabinetry in maple, painting the perimeter units in a creamy white and the island in a surprising splash of yellow (Sherwin Williams Butterfield with Espresso glaze).
Photo Credit: Ralph Kylloe
Rustic Kitchen With Soapstone Countertops and a Hammered Copper Farmhouse Sink
Warm wood cabinets, soapstone countertops and a hammered copper farmhouse sink give this kitchen rustic charm.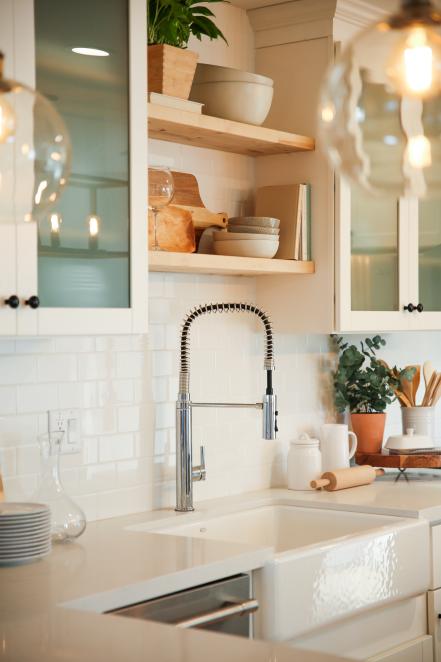 For the Family
With the open concept plan, the Olivares family can spend time together while the parents are cooking or doing laundry. Amy called the modern farmhouse design, "welcoming and warm" and said "The designers made all of their dreams come true." Ernesto said, "I can't wait to see my daughter smile in here, with all of us. It felt like our home." Breegan chose white cabinets with frosted glass for the Olivares kitchen, keeping high style but allowing to diffuse whatever daily life may bring.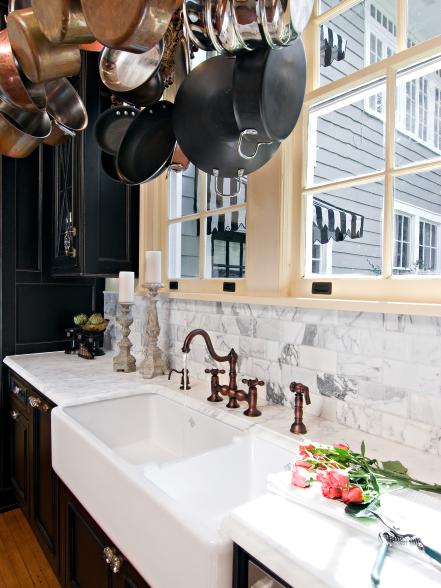 unknown
Kitchen With Custom Cabinetry
A roomy farmhouse sink makes cleanup a breeze and keeps with the classic look of the space.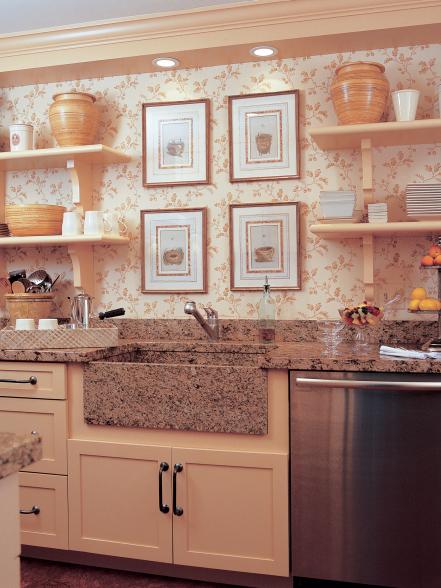 Photo Credit: Jenifer Jordan
Granite Farmhouse Sink in Neutral Cottage Kitchen
In this kitchen, open shelving showcases a collection of dishes above a granite countertop. Recessed lighting illuminates a farmhouse sink that's beautifully coordinated with the speckled countertop. Low contrast wallpaper and framed artwork add to the kitchen's cottage charm.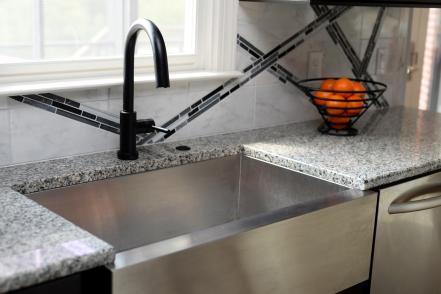 DiFabion Remodeling
Stainless Steel Farmhouse Sink With Black Faucet
A stainless steel apron-front sink looks sleek and chic in this transitional kitchen. The black faucet ties in with the mosaic tile stripes in the eye-catching backsplash.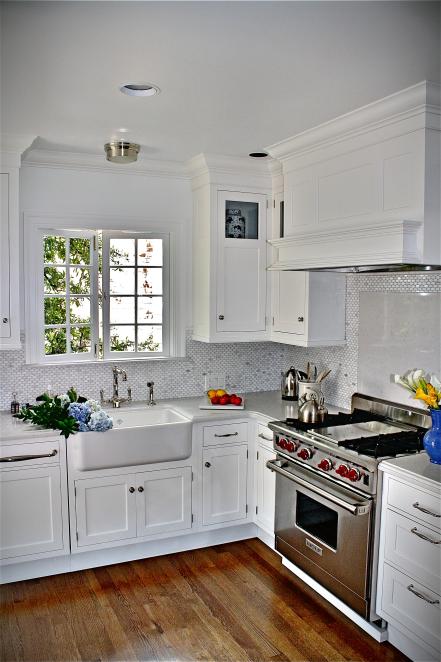 William Adams
White Cottage Kitchen With Farmhouse Sink
Fresh and bright, this inviting kitchen offers up professional quality appliances and a crisp white color palette. Beautiful hardwood floors bring a touch of organic warmth to the space.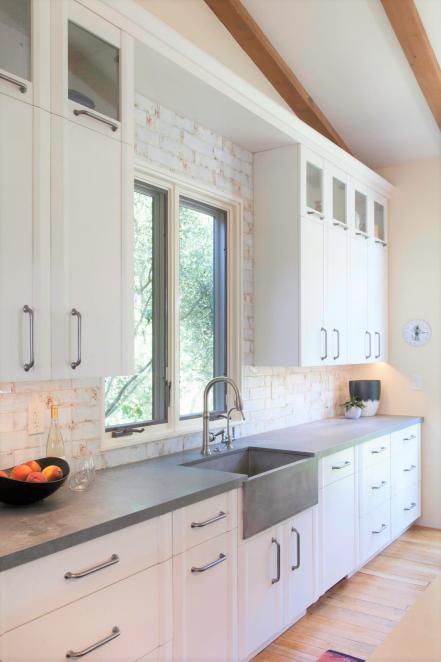 Signature Designs Kitchen Bath
Gray
Gray countertops and a farmhouse sink give depth to all the white surfaces in this gourmet kitchen.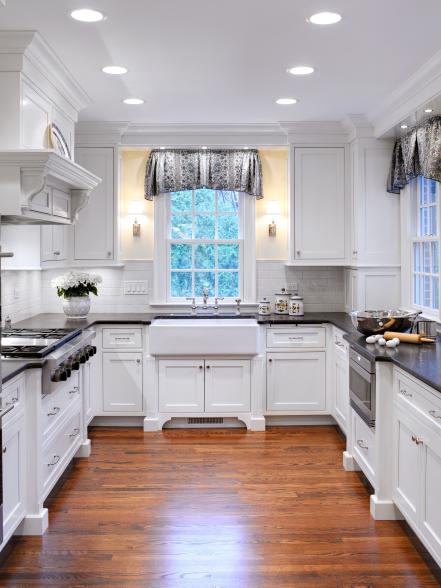 White Traditional-Style Kitchen With Farmhouse Sink
The elegance of this traditional kitchen is carried over to the butler's pantry, which is tucked away in a niche across the kitchen. The butler's pantry features a built-in coffeemaker as well as a dishwasher and under-counter fridge on either side of the sink. Accented with lighted glass cabinetry and walnut tones, the space also incorporates a computer center.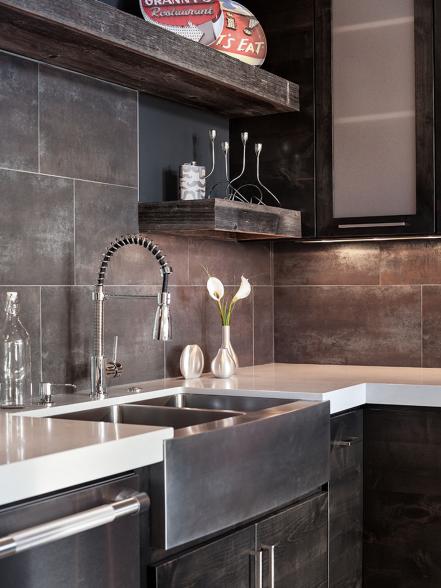 KuDa Photography
Gray Contemporary Kitchen with Farm Sink
A modern farmhouse sink ties together the rustic elements of this contemporary kitchen, including barn wood floating shelves and knotty alder cabinets.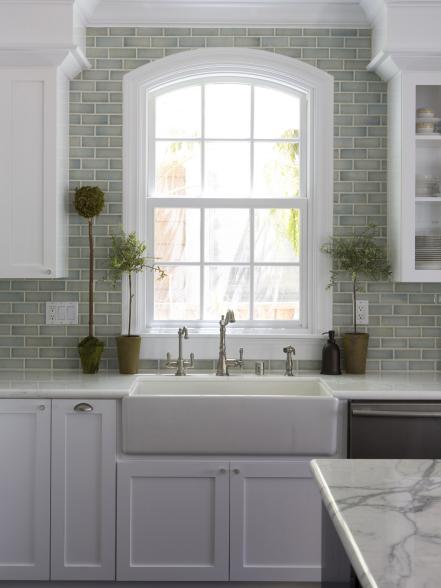 Farmhouse Sink in Transitional Green and White Kitchen
A ceramic farmhouse sink with a brushed-nickel faucet anchors this serene transitional kitchen. Countertop topiaries and a green subway-tile backsplash create an earthy backdrop for crisp white cabinetry and an arched window.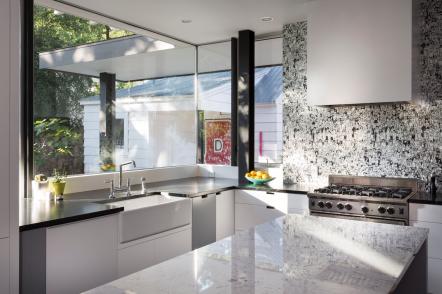 Hugh Jefferson Randolph Architects
Modern Kitchen with Large Corner Windows
This modern kitchen features large corner windows, structural steel columns and a dynamic wallpaper behind a glass backsplash. Marble countertops and a farmhouse sink complete the look.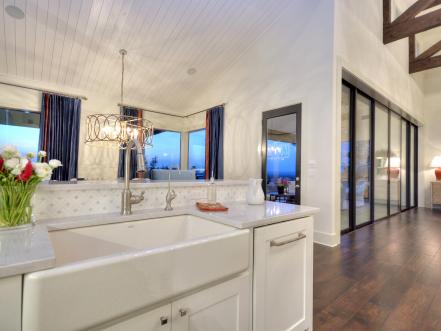 By Design Custom Home Concierge
Farmhouse Sink Steals Spotlight in Bright, Open Kitchen
High ceilings and crisp white walls create an elegant vibe in this open kitchen. A large farmhouse sink overlooks the dining area, while dark hardwood floors provide beautiful contrast.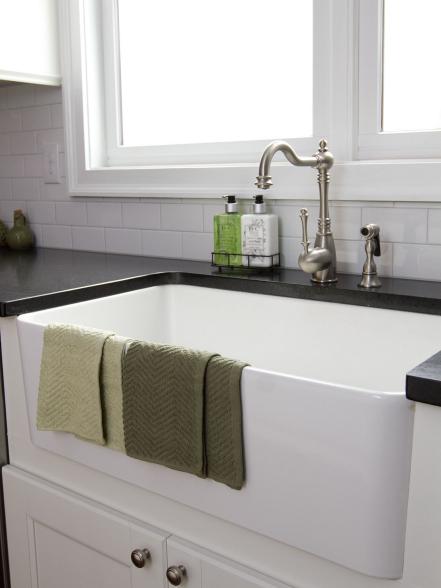 Traditional Farmhouse Sink and White Subway Tile Backsplash
A deep farmhouse sink with a brushed nickel faucet make washing dishes a breeze in this kitchen featured on Property Brothers . The black countertops pop against the white subway tile backsplash in the transitional space.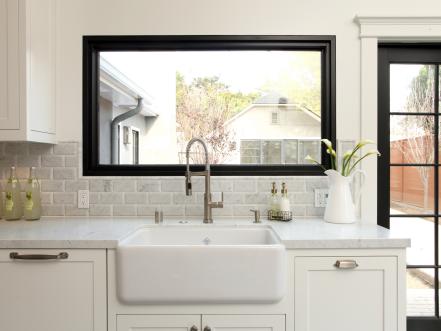 Arch-Interiors Design Group. Inc.
Transitional White Kitchen Features Farmhouse Sink
An apron-front sink is a stunning addition to this updated farmhouse kitchen. Choosing white flows seamlessly with the cabinetry, stone countertops, subway tile backsplash and contemporary fixtures.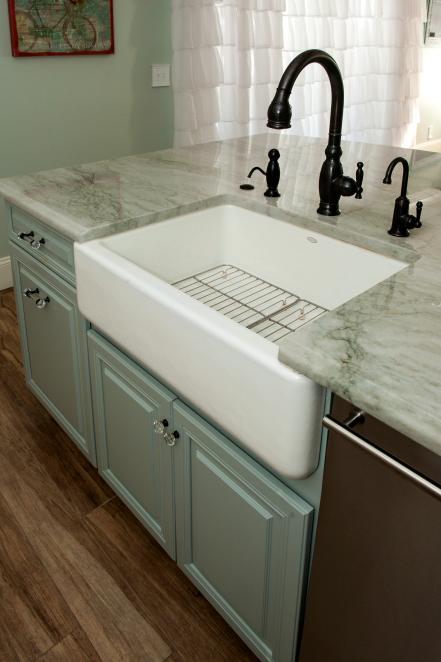 Christine Baumann
White Farmhouse Sink in Kitchen Island
A deep farmhouse sink adds cottage charm to this kitchen island, crisply contrasted by the dark metal fixtures.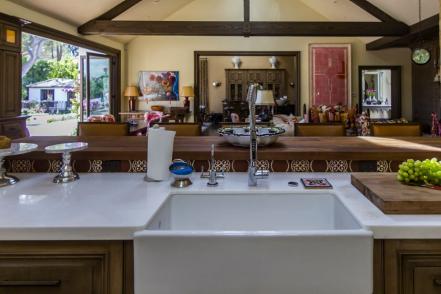 Spenser Bruce
Farmhouse Sink in Mediterranean Kitchen
The two-tiered island features clean white countertops, which flow seamlessly with the farmhouse sink, and an upper wood countertop. Brown Mediterranean-inspired tile creates a small backsplash. The island overlooks the open dining room and living room, making this space the true heart of the home.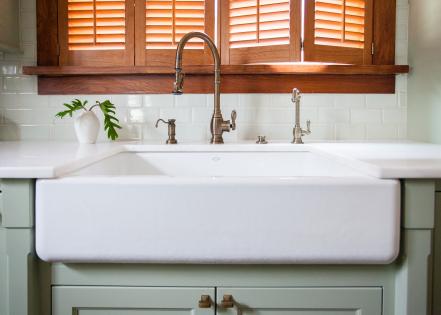 Erin Williamson
White Farmhouse Sink in Cottage Kitchen
The farmhouse sink in this green kitchen adds a unique element to the space but doesn't detract from the original charm of the house. This deep, white sink gives the homeowners plenty of space for prep and washing, and it helps keep the feel of the kitchen soft and inviting. The shutters just above the sink are a more traditional element of the home and help to block light in the evening or bring light into the space in the morning.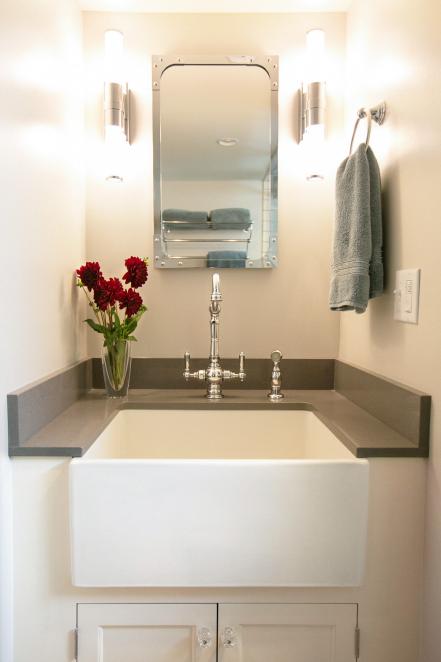 Christina Tello
Apron Front Farmhouse Sink in Retro Bathroom
Typically reserved for the kitchen, an apron front sink makes a striking appearance in this guest bathroom designed by Christina Tello.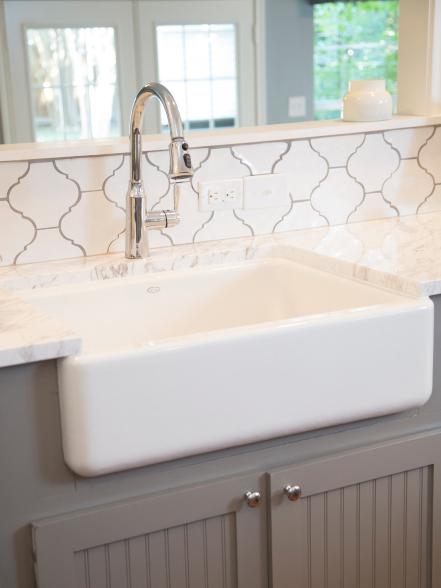 Sarah Wilson/ Getty Images © 2013, HGTV/ Scripps Networks, LLC. All Rights Reserved.
White Farmhouse Sink With White Moroccan Tile Backplash
HGTV's Fixer Upper transformed a worn-out kitchen with Carrara marble countertops and a Moroccan tile backsplash. A farmhouse sink with its exposed front adds timeless character above gray painted cabinets.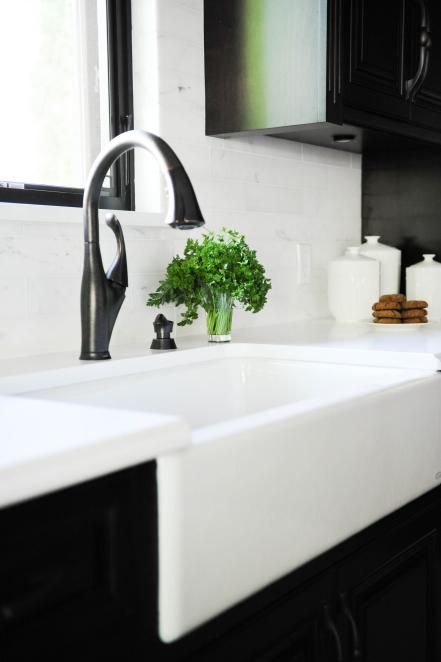 Evolve Designs
Bright White Farmhouse Sink in Neutral Transitional Kitchen
An apron sink is streamlined when paired with white countertops and backsplash. Together, these features create dramatic impact when set against dark-stained, custom cabinetry and dark window moldings.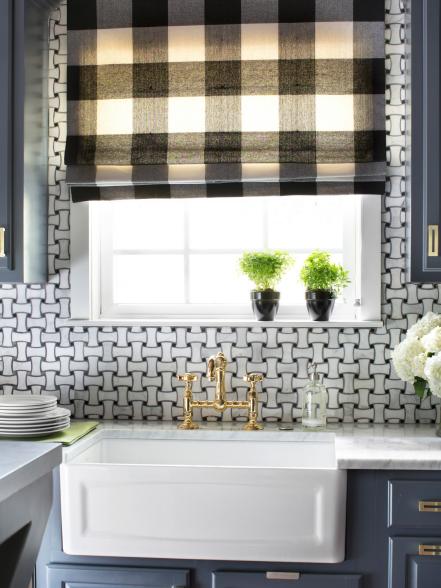 Brian Patrick Flynn
Farmhouse Apron Sink in Transitional Kitchen
Farmhouse apron sinks have become go-tos for kitchens of traditional, industrial or modern persuasions. In this transitional kitchen, a black and white check Roman shade hangs over a farmhouse sink with a gold faucet and intricately patterned backsplash.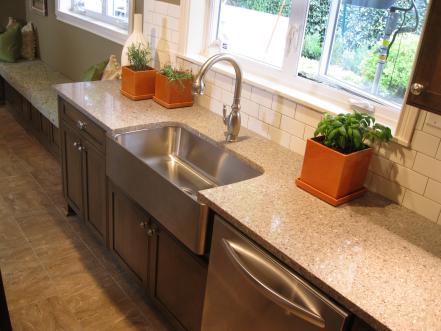 Beige Kitchen Counters With Stainless Steel Farmhouse Sink
A stainless steel farmhouse sink complements the stainless dishwasher and provides contrast to the dark-stained wood cabinets in this kitchen's sink area. A window above the sink provides lots of natural light for the various potted herbs on the neutral stone countertops.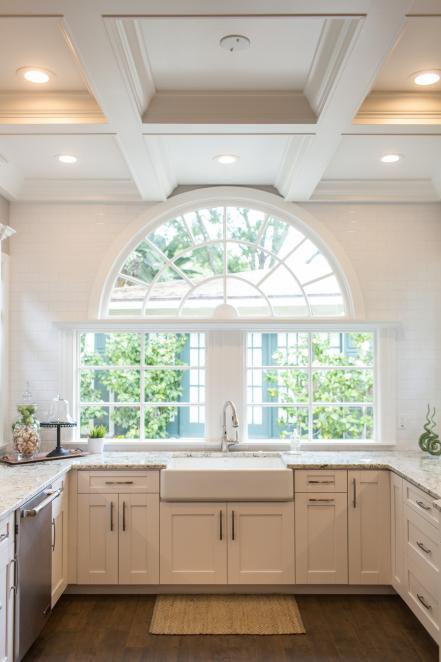 Brandi Image Photography
Clean White Kitchen Features Farmhouse Sink & Stunning Arched Window
A beautiful half circle window is a worthy centerpiece in this sophisticated kitchen with a warm, updated farmhouse feel. A farmhouse sink, subway tile surrounding the window and coffered ceiling all work in stunning symmetry creating a stylish and comfortable feeling of history.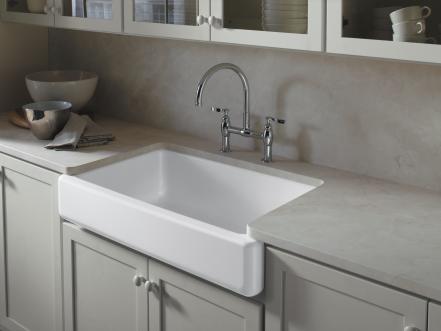 White Farmhouse Kitchen Sink and Gray Countertop
This farmhouse kitchen sink and stainless steel faucet shine against the gray marble countertop and gray cabinets. The top cabinets have glass doors for easy dish storage.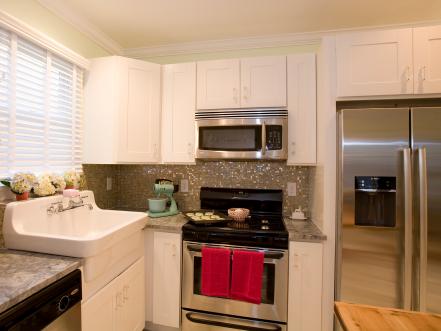 White Country Kitchen with Metallic Glass Tile
This country kitchen has delicate light sage walls, clean white cabinets, a granite countertop, stainless steel appliances, and a metallic glass tile backsplash. A white farmhouse sink completes the look.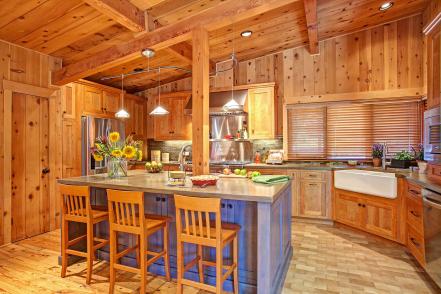 Jackson Design and Remodeling
Rustic Cedar Kitchen With Eat-In Island
This gorgeous rustic kitchen features a cedar ceiling and cedar walls, an eat-in island with a prep sink and modern appliances. A large farmhouse sink works well with the family-friendly space.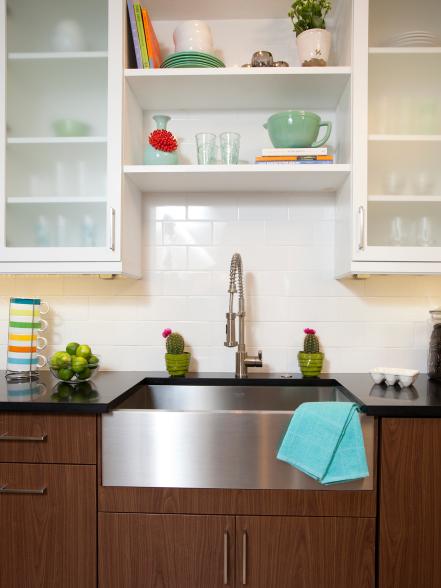 Modern Apron Sink in White Mid-Century Kitchen
A stainless steel farmhouse sink and a white subway tile backsplash add a traditional feel to an otherwise modern space. Frosted glass cabinet doors frame two shelving units above contemporary black countertops.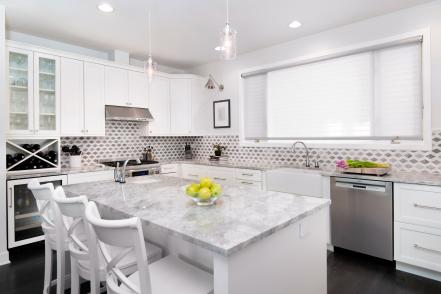 Jim Tschetter, IC36O Images
White Transitional Kitchen With Gray Diamond Backsplash
This light and bright transitional kitchen incorporates super white quartzite countertops, a graphic stone backsplash, unusually shaped pendant lights and a farmhouse sink. Glass cabinetry continues the airy feel of the space.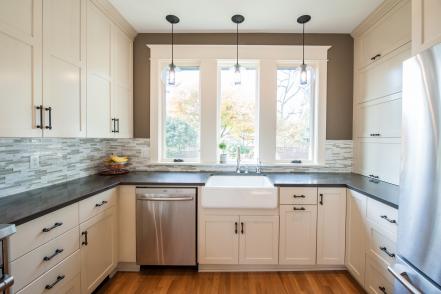 Encircle Design and Build
Symmetrical Gray Kitchen With Ample Storage
Light and bright, this transitional kitchen features white Shaker style cabinets, gray stone countertops, a farmhouse sink and a white and gray glass tile backsplash. Symmetry and storage were important ideas for this stylish kitchen.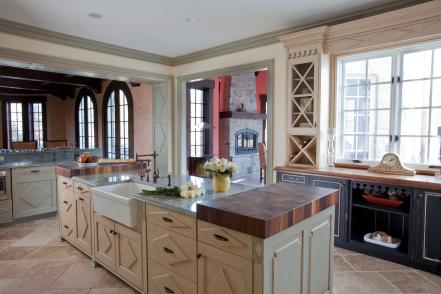 Kitchen Designs by Ken Kelly, Inc.
Black, Green & Off-White Cabinets in French Country Kitchen
Black, green and off-white cabinets pair with granite and cherry countertops for an elegant, eye-catching look in this French country kitchen. Large windows brighten the space, and a farmhouse sink adds a splash of country flair.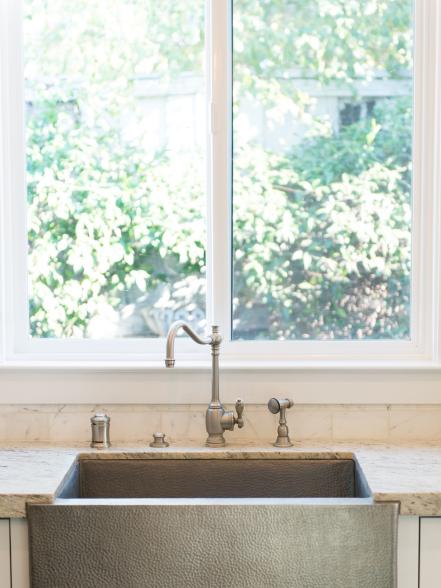 Lulu Designs
Metal Farmhouse Sink With Traditional Faucet
A metal farmhouse sink adds a country vibe to this transitional kitchen with granite countertops.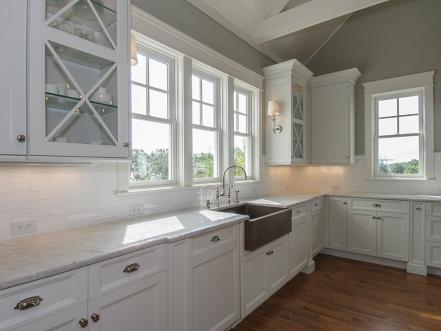 John D Smoak III
Traditional White Kitchen With Subway Tile Backsplash
This traditional white kitchen features an attractive apron-front sink, white subway tile backsplash, and stone countertops.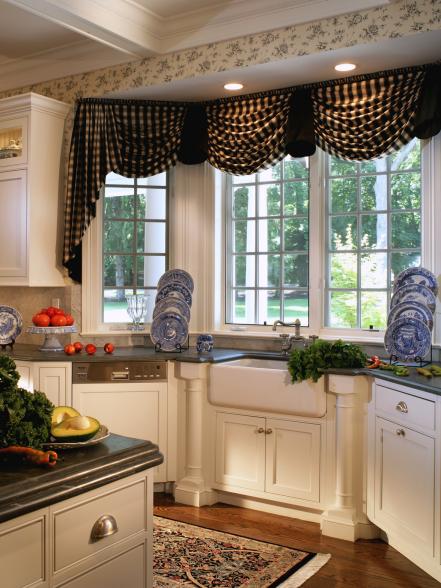 Bay Window With Farmhouse Sink in Country Kitchen
The farmhouse sink in this bright kitchen is flanked by the same columns used on the island and sits into the room's bay window. Details like the checkered valance and plate displays add country charm to the space.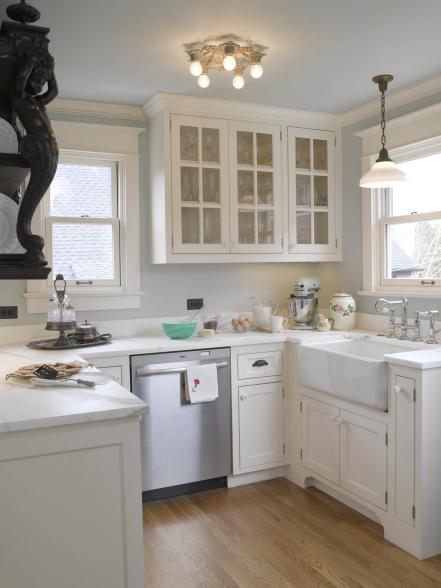 Carol Sundstrom
Charming Kitchen With White Cabinetry & Farmhouse Sink
Cabinets with inset doors and drawers and furniture-style feet were custom-designed to maximize every inch of storage available in this charming light blue kitchen.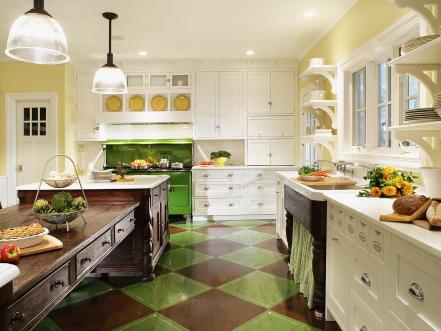 Peter Rymwid
Farmhouse Sink in Country Kitchen
An oversized island and rustic farmhouse sink create warmth with plenty of working space in this country kitchen.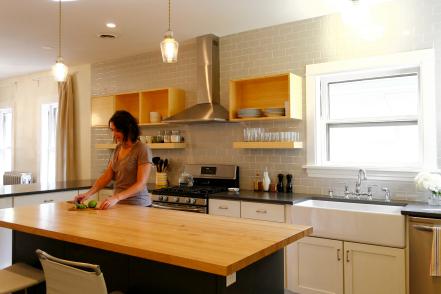 KIMBERLY NIGRO
Light Wood-Topped Island in Stylish Gray Kitchen
Light wood combines with crisp white and soft gray for a stylish look in this bright kitchen. A large island provides plenty of prep space, while a farmhouse sink provides plenty of clean-up space.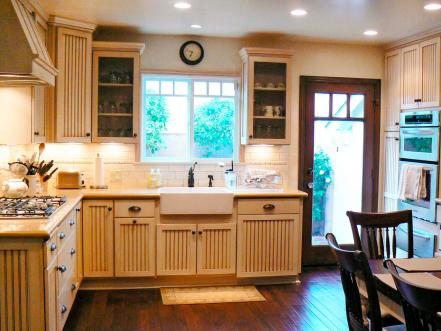 Farmhouse Sink in Beige Cottage Kitchen
This traditional cottage kitchen features rustic wood flooring, neutral tones and modern appliances. Two glass-front cabinets frame a kitchen window that sits above the farmhouse sink.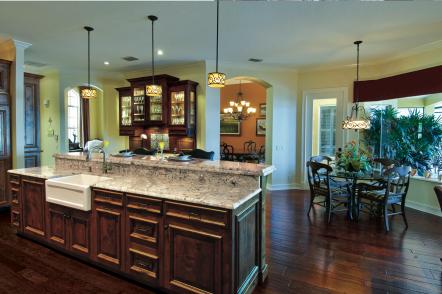 TriplePoint Design Build
Traditional Eat-In Kitchen Features Two-Tier Island
A two-tier island with granite countertops and a farmhouse sink provides ample prep space in this traditional kitchen. Three pendant lights hang above the island, coordinating with the larger pendant hanging above the dining area.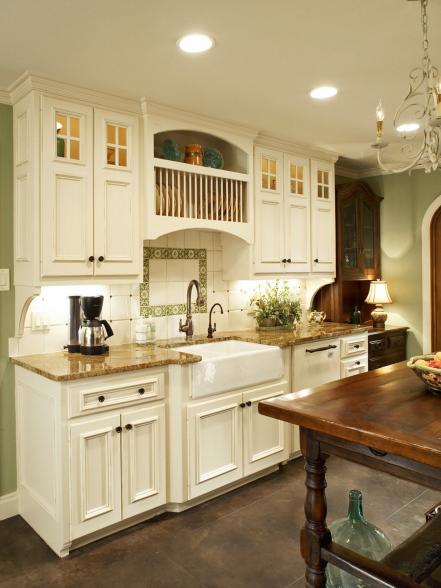 ©Scripps Network
Custom Tile in Green French Country Kitchen
To give this beautiful kitchen a custom look, the porcelain tile backsplash was hand-painted. A plate rack over the farmhouse sink is useful and charming, while Craftsman cabinets incorporate a multi-pane window at the top.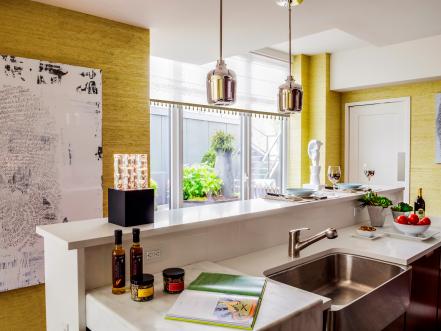 Modern Kitchen with Quartz Countertops
This modern kitchen has a large breakfast bar with white countertop, large wall art, deep basin sink area with new faucet and quartz counters.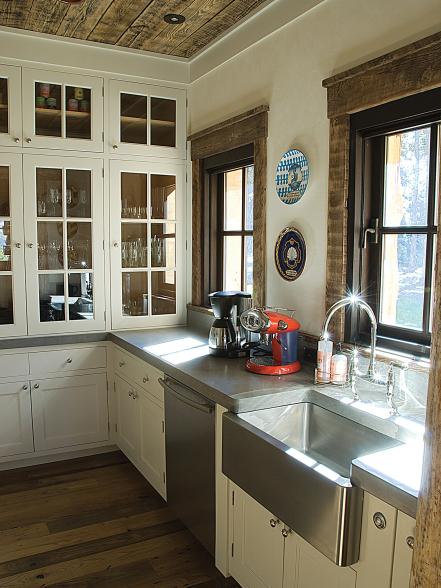 Ralph Kylloe ©2013 Gibbs Smith, Rustic Elegance, Ralph Kylloe
Country Kitchen With Wood Ceiling
This adorable country kitchen features a tongue-and-groove wood ceiling and rough-hewn window trim. Granite countertops, a stainless-steel farmhouse sink and white glass-front cabinets make it a fun and functional place to cook.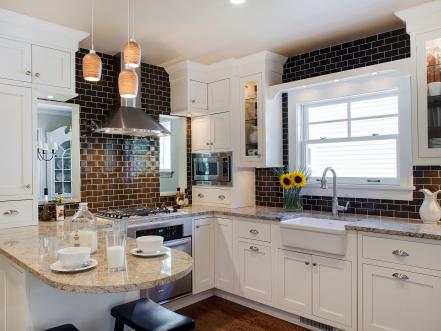 White and Brown Transitional Kitchen With Subway-Tile Walls
Crisp white cabinets brighten dark brown subway tile walls in this transitional kitchen. A white farmhouse sink blends with the white cabinets and neutral countertops, while a kitchen peninsula provides a spot for quick meals without sacrificing space.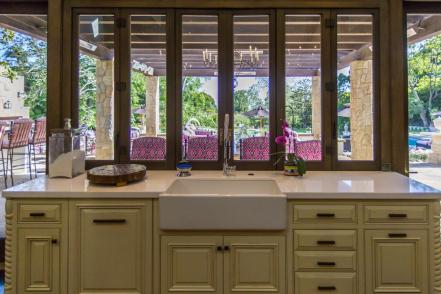 Spenser Bruce
Kitchen Opens to Mediterranean Outdoor Living Space
The connection from the kitchen to the outdoor living area is an integral part of the design. The windows above the sink bi-fold to each side and completely disappear to seamlessly connect the spaces. Cream kitchen cabinets are paired with white countertops and a farmhouse sink for a clean yet warm look.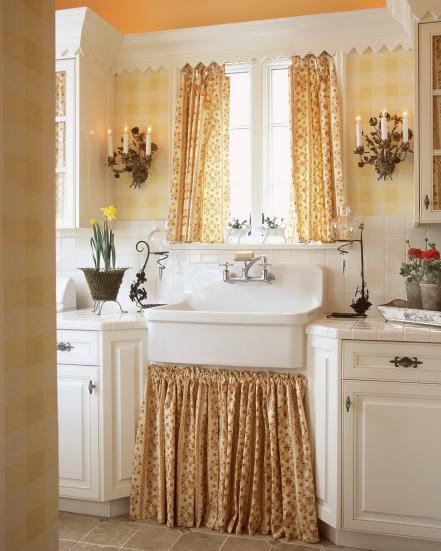 Bright Yellow Laundry Room
Quaint cottage accessories burst with color in this small galley laundry room. An oversized farmhouse sink is great for utility and helps add some character to the space.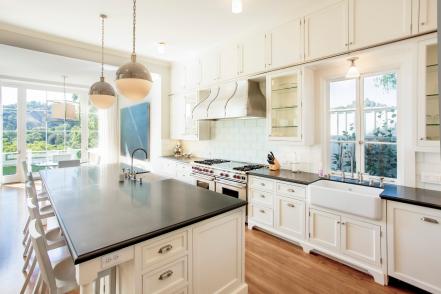 Lisa Vail
Modern Eat-In Kitchen
A chef might feel right at home in this bright, white eat-in kitchen. Featuring an island with barstool seating, mirrored globe lighting and a farmhouse sink -- plus plenty of cabinet storage space -- this space welcomes families and festive gatherings alike.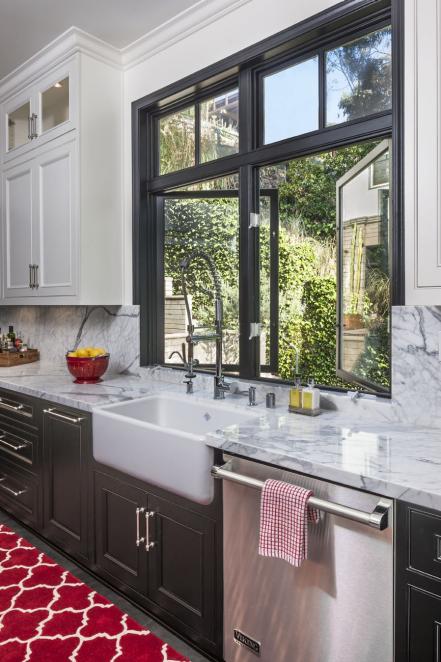 Jennifer Dyer
White Transitional Kitchen With Two-Toned Cabinets
A white farmhouse sink sits below a dark-framed window that opens and looks out over a garden area. White upper cabinets keep the space feeling bright and spacious while dark gray lower cabinets ground the room in a sleek design. A red-patterned rug brings a pop of color to the space for added character.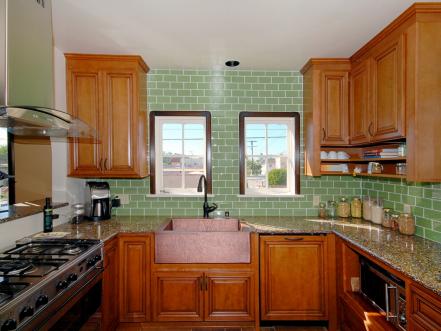 Green Tile Transitional Kitchen
Mint green tile lines the walls of this kitchen, which has medium wood cabinetry. Two modern windows in the room offer subtle cityscape views.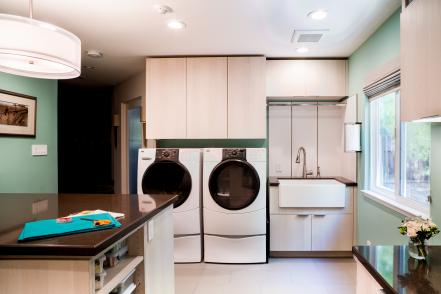 Contemporary Bedroom Retreat Serves as Live-Work Space
A large laundry area and plenty of built-in storage form a uniquely functional space in this blue contemporary master retreat. The homeowner wanted a space to work as well as a space to relax. The design team accomplished both goals by creating this multifunctional suite that connects to the master bedroom.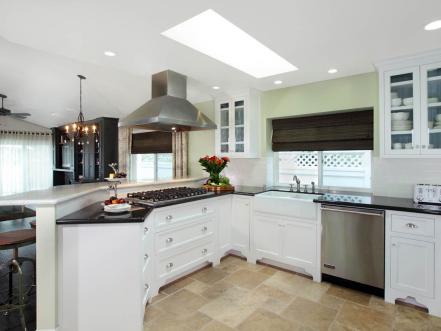 Chas Metivier Photography ©Chas Metivier Photography
Traditional White Kitchen with Viking Appliances
In this traditional kitchen, many details were incorporated to give it complexity since the surrounding cabinets, counters and backsplash were white. Polished nickel hardware and Viking appliances create a chef's paradise.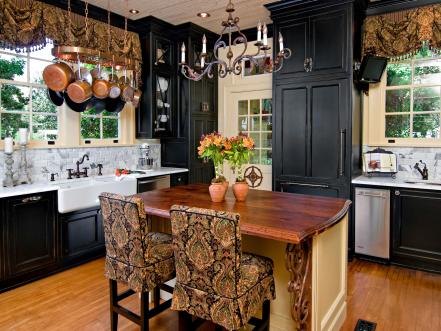 Cheryl Clendendon
Traditional Kitchen with Black Cabinets
The wood-topped kitchen island, black cabinets and marble backsplash are classic details in this traditional kitchen. The chandelier, paisley window treatments and covered bar stools add an elegant touch.