Now Viewing
Check out these beautiful front and backyards and get ideas for your own outdoor space.
Keep in mind: Price and stock could change after publish date, and we may make money from these links.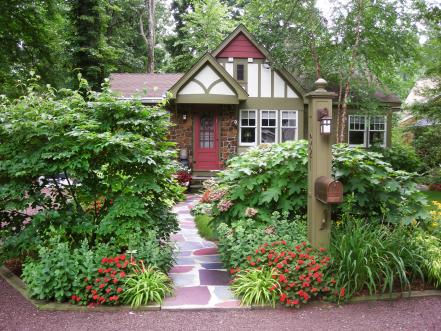 Charming Entry
The plantings around RMSer 66nick's front walk allow only a tantalizing peek at the cottage-style home, but ... (see next photo)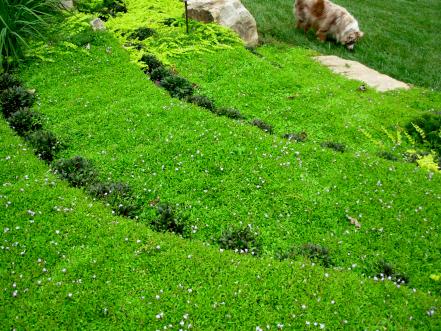 Bank of Color
A carpet of bright groundcover plants secure this terraced hillside.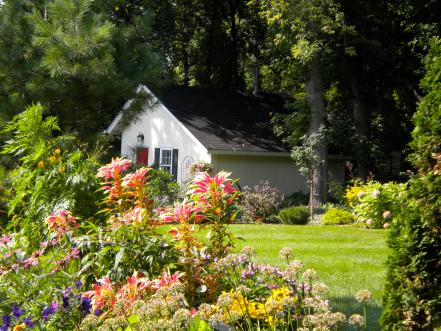 HGTV fan lross7577
Storage Shed Takes On New Life
An exuberant flower garden leads the eye toward a beautiful garden retreat. RMSer lross7577 says that "Toad Cottage," formerly a storage shed, underwent a total renovation, complete with a gas fireplace, bluestone patio and fire pit.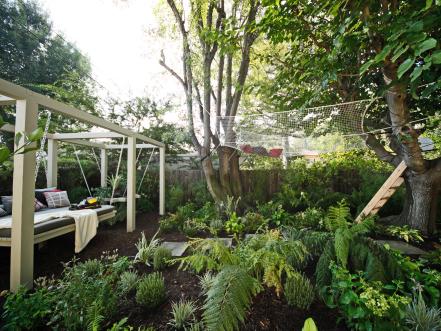 That Jungle Feeling
The play of light and shadow enhances this private backyard oasis amid lush plantings.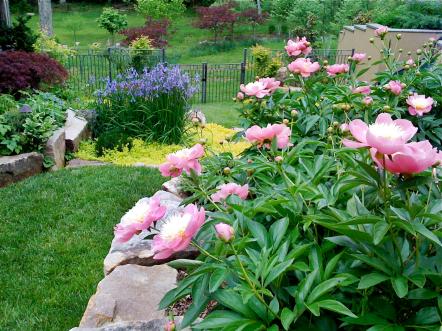 Peonies and More
Designed by Virginia Rockwell, this beautiful garden is a riot of spring blooms leading to a Japanese-style garden of sedums and
adjoining green spaces
.
Jamie Durie
Magnifying a Small Space
The use of multiple levels, diagonal lines in the decking and sinuous curves draws the eye around the space, so you don't "get" it all in one glance. Designed by Jamie Durie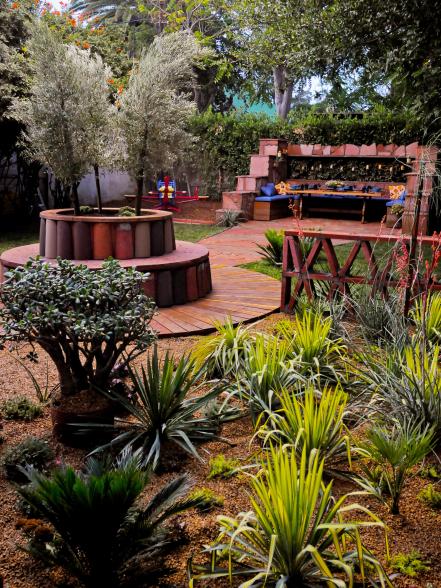 Warm and Inviting
Jamie Durie used Sonoman design details — including Mexican roof tiles — to create this richly hued outdoor space. Colorful drought-tolerant plants complete the look.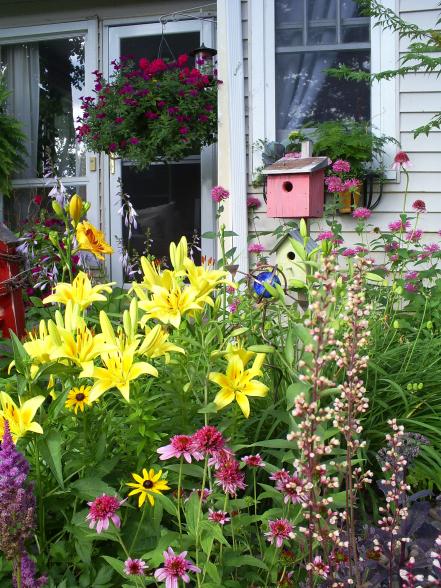 HGTV fan Sunny777
Front Door Gardening
A cottage-style garden welcomes visitors to HGTV fan Sunny777's home.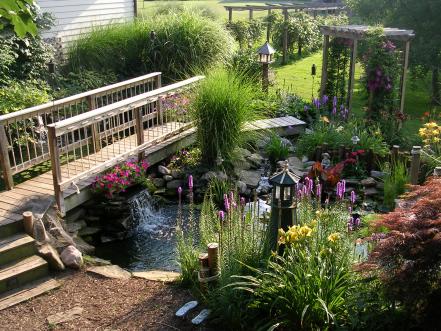 RHGTV fan Tdnuss
Backyard Waterscape
A pond, stream and bridge are enhanced by annuals and perennials in this backyard design by RMSer Tdnuss.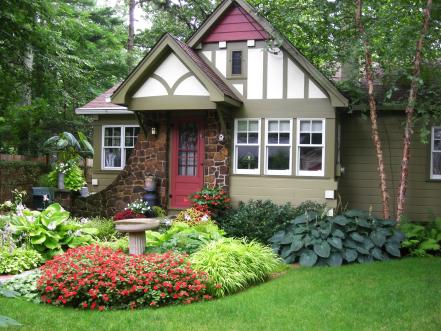 HGTV fan 66nick
Lovely Front Yard
... once past the initial shrubbery, the visitor can only love the rest of the landscape at RMS 66nick's home.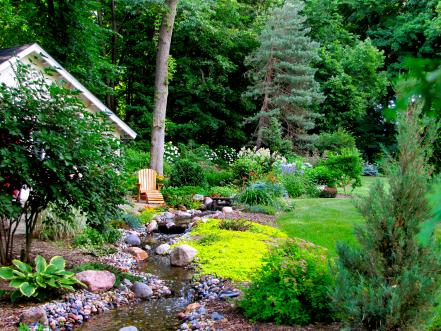 HGTV fan lross7577
On Vacation at Home
This backyard renovation included the installation of a 100-foot stream down one side of the property and landscaping meant to give the feeling of a woodland escape. Says RMSer lross7577, "We don't have to travel far from our suburban home outside the city of Minneapolis to get a wonderful cabin retreat experience. We just walk out our back door."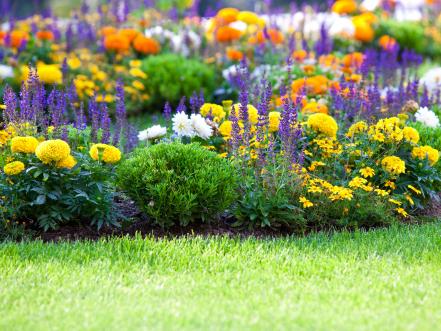 Shutterstock/dvoevnore
Brightening the Yard
High-contrast plantings, using opposites on the color wheel (yellow and purple with a touch of orange), create a vibrant look.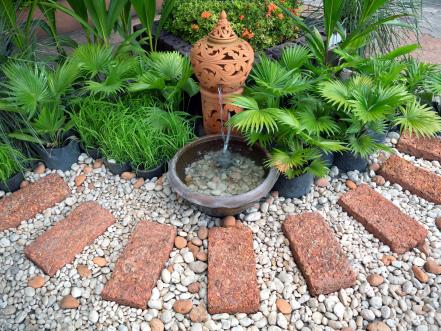 Shutterstock/jeep2499
Cool and Serene
A handsome fountain adds a zen-like feel to this manicured garden area.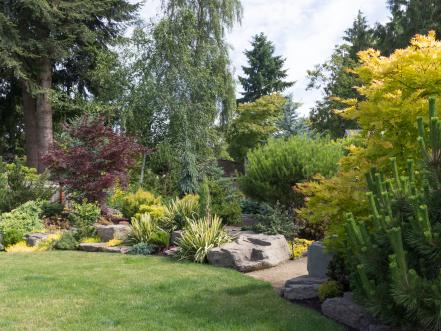 Shutterstock/Jamie Hooper
Timeless Quality
Develop a long-range plan for your garden and include the height and year-round structure provided by conifers and trees. As they grow in stature (and often change hues throughout the seasons), you'll have a framework for your perennials, shrubs and bedding plants.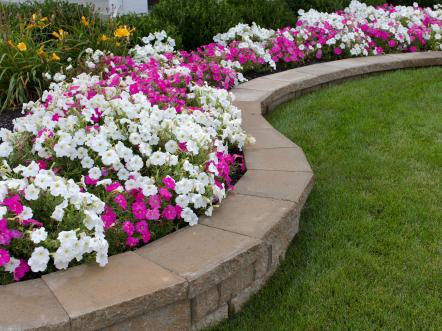 Shutterstock/Ozgur Coskun
Perfect Complement
The sculptured wall and strong lines of this design create the structure for this gorgeous planting bed.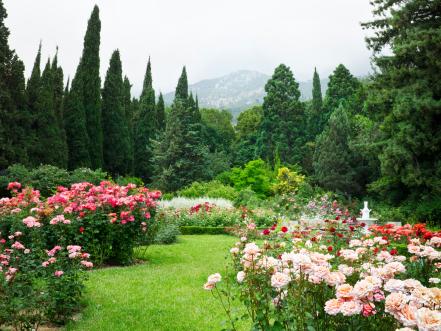 Shutterstock/Triff
Changing Palette
The pinks and mauves present in this garden add an ethereal summery feel to the space. The sweeping views aren't too shabby either.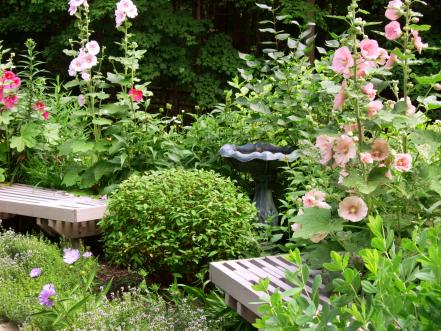 HGTV fan horselady
Timeless Quality
Hollyhocks add a vertical element to this beautiful garden spot, posted by RMSer horselady.
HGTV fan nwphillygardener
Garden Patio
Lush plantings turn this sitting area into a picture-perfect garden oasis. Posted by RMSer nwphillygardener.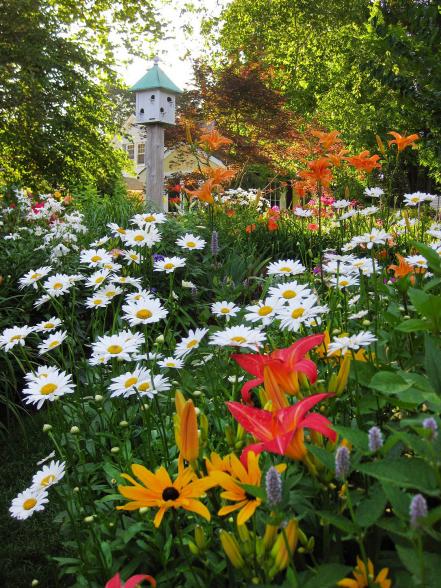 HGTV fan chefboston
Perennial Beauty
At RMSer chefboston's home, the garden overflows with Shasta daisies, daylilies and other perennials. (Next slide: another view of the front yard)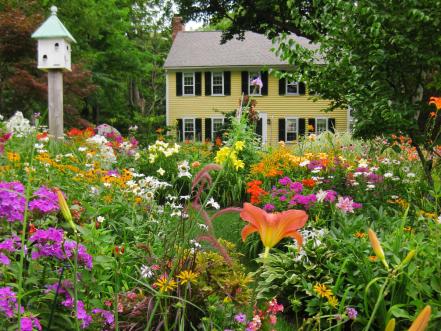 HGTV fan chefboston
Front Yard Color
Rudbeckia and phlox join the daylilies and daisies to create a riot of color in RMSer chefboston's front yard.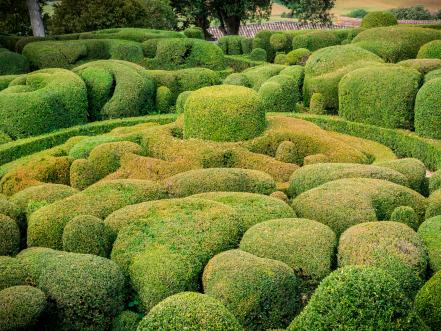 Shutterstock/jo Crebbin
Attention-Grabbing Shapes
A stark contrast with the wild abundance of the cottage-style garden, this topiary garden requires frequent trimming during the growing season.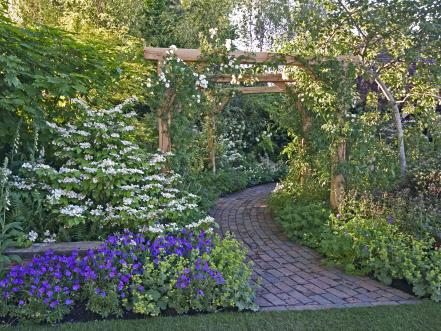 Shutterstock/Del Boy
Garden Path
A pergola helps frame the walkway through this garden. The easy-to-navigate brick path allows maximum appreciation of the surrounding garden.