Now Viewing
8 DIY Gift Baskets for Food Lovers
Get creative with gift baskets this holiday season by creating personalized food-themed bundles for every person in your life.
For the Chef
Kitchen essential gift baskets are a classic choice for homeowners spending their first holiday in a new home. Make the basket as practical as it is stylish by outfitting it with basics every homeowner is sure to need. In addition to tools and gadgets, mix in a few pantry essentials such as spices or gourmet condiments.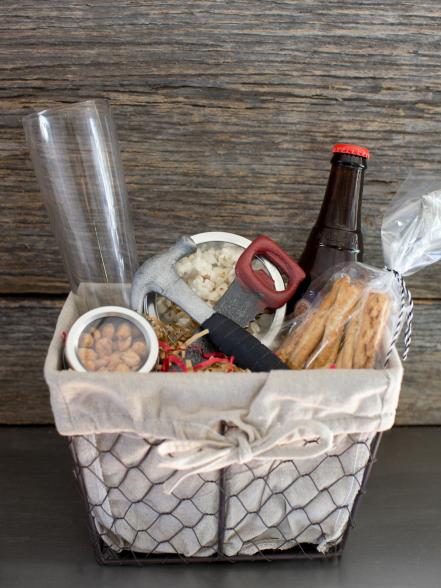 For the DIYer
Do you have a friend or family member who's addicted to home renovation? Create a do-it-yourselfer gift basket filled with a mix of vintage-inspired tools and gadgets, along with protein- and carb-filled foods, to keep them motivated through their next project. For a tough, industrial look, choose baskets made of mesh, chicken wire or galvanized metal.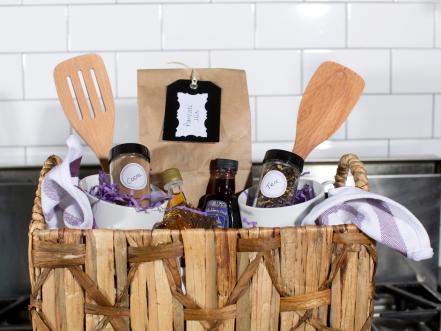 For the Baker
Give the gift of fluffy flapjacks by filling a basket with chef-quality ingredients certain to take Sunday morning breakfast to the next level. Place the pancake mix along the bottom of the basket, then use condiments to decorate the top along with spoons and spatulas.
For the Entertainer
Help friends avoid any last-minute entertaining fiascoes with a thoughtful dry goods dessert basket. Gather an assortment of finger food-style desserts, then present them in clear bags and glass containers. Should extra guests show up to holiday gatherings, the recipient will have more than enough dessert options to end the night in good spirits.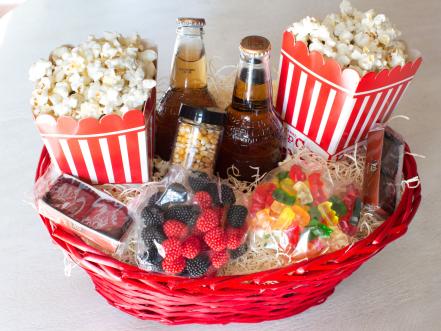 For the Film Buff
Create a fun stay-at-home movie night by filling a basket with sweets and snacks to munch on during the flick. A similar idea can be created for a movie night out on the town by filling the basket with gift cards and small, purse-sized snacks.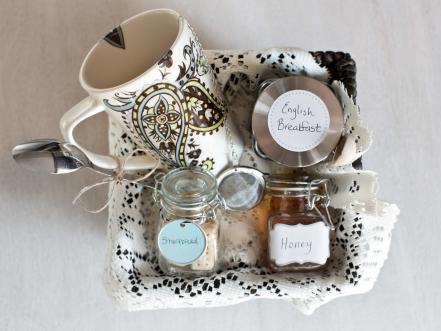 For the Tea Enthusiast
Make waking up much more enjoyable with a tea lover's basket. Add a full set of tea cups (or just one) along with gourmet ingredients and tea bags to a classic basket. For a more polished presentation, showcase the ingredients in Mason jars or small canisters.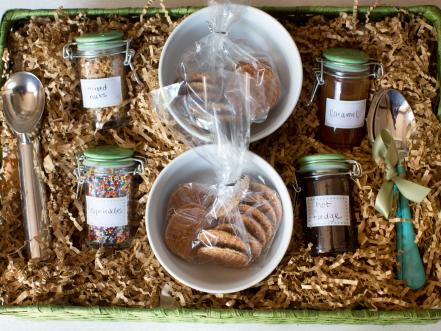 For the Creatives
As cupcakes, cake pops and s'mores continue to dominate the dessert world, why not make your own creation with one-of-a-kind ice cream cookies? Create a gourmet basket packed with ice-cream essentials and air-tight jars filled with sprinkles, nuts, caramel and hot fudge. When it's time for your friend to entertain, they can set up a self-serve ice cream cookie station.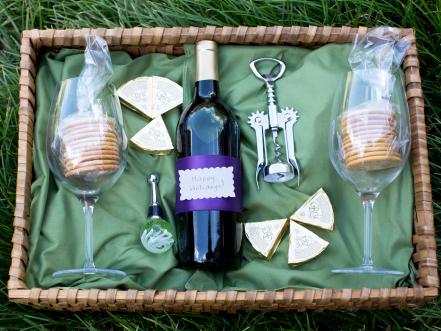 For the Wine Connoisseur
Create a festive wine-based gift by outfitting a picnic basket with their favorite wine paired with the appropriate cheeses and crackers.