Now Viewing
12 Shabby Chic Essentials We Love
No shabby chic design is complete without stunning dishware, whether it's hung on the wall, displayed in a china cabinet or used as traditional place settings. Browse through our favorite displays for inspiring and easy-to-create ideas.
Keep in mind: Price and stock could change after publish date, and we may make money from these affiliate links.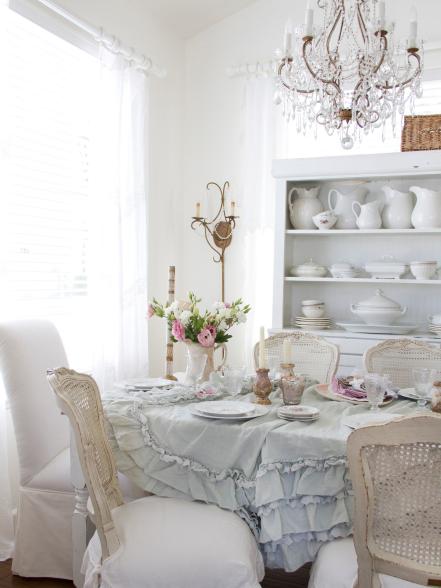 Simple Hosting
One of the most important things to remember when hosting a party or get-together is to make sure your guests feel at ease with their surroundings. "When setting a table for your guests, make it look relaxed and not stuffy, ensuring your guests feel comfortable," interior designer Lulu Tapp says. In this luxurious dining room, a ruffled and wrinkled tablecloth immediately emits a casual feel, while simple table settings are less intimidating and more inviting. Design and photography by Lulu Tapp of DustyLu Interiors. Room accessories and decor from Rachel Ashwell Shabby Chic Couture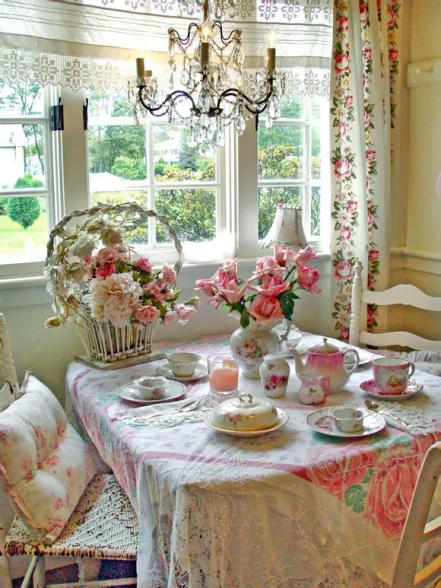 Tea Time
HGTV fan vintagerosecollection brought youthful dress-up tea parties to life with this feminine setup for adults. Layered tablecloths, an antique crystal chandelier and lacy window treatments set the stage for a casually charming midday tea time. An eclectic collection of antique china makes the occasion even more fun.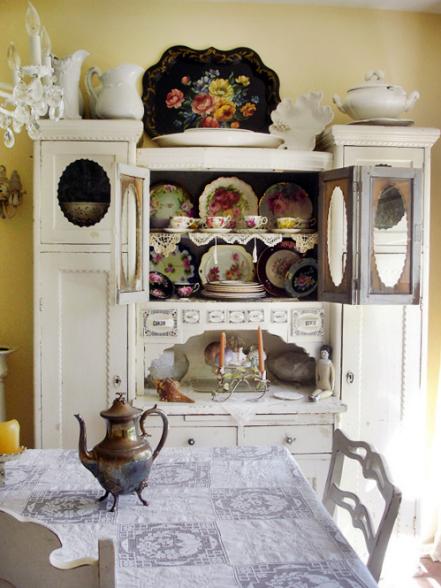 Eclectic Display
If you've been graced with an expansive china collection from family members or estate sales, find a way to show them off with shabby chic appeal. In this dining room, HGTV fan ghiagirl used two small shelves in a distressed white cabinet to display her china variety. Stacked, standing and slightly hidden, the lack of perfection makes for an even more interesting display.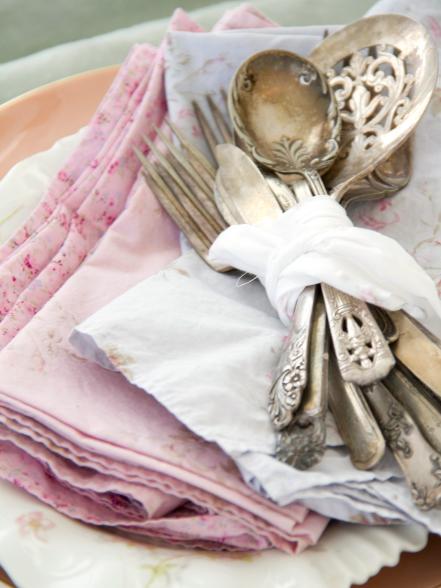 Antique Wares
When you're not hosting parties or entertaining, use antique tarnished silverware to add decorative detail to your "display-only" table settings. Wrap and tie a handkerchief around a bundle of silverware to give your table even more shabby chic-ness. Design and photography by Lulu Tapp of DustyLu Interiors. Room accessories and decor from Rachel Ashwell Shabby Chic Couture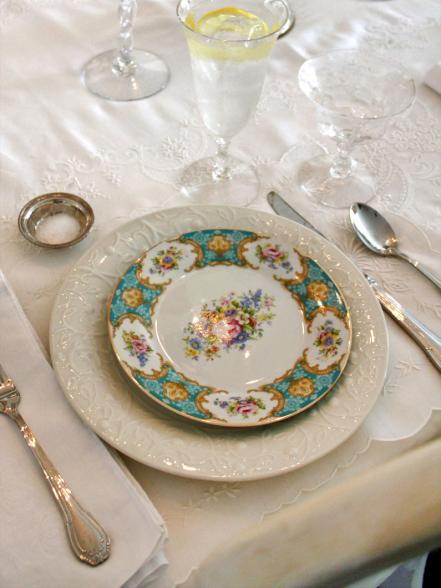 Colorful Floral
With all the subdued hues in shabby chic decor, a nice complementary burst of color is always welcome. HGTV fan single_mom_on_a_budget jazzed up her all-white tablecloths and cream dishware with antique floral china. The teal, gold, pink and blue combination delivers just the right amount of color.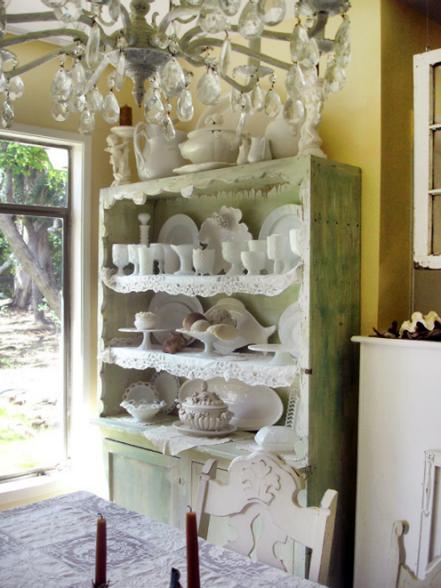 Soft Palette
Keeping soft and subdued in mind, HGTV fan ghiagirl kept her china and dishware display a crisp and pure white. Against sunny yellow walls and a weathered sage china cabinet, the white looks stunning and surprisingly stands out, even in a mostly neutral palette.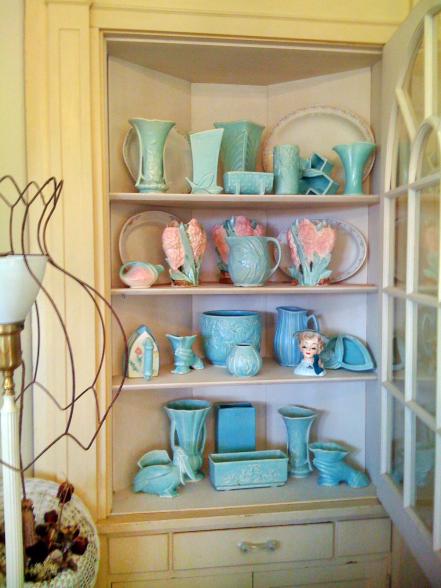 Color Coded
If you're desperate for some color, let vibrant hues shine through your china display. HGTV fan stokeschic used a distressed glass-front cabinet to display her favorite porcelain accessories in aqua, turquoise and pink. Looking to expand your colorful collection? Thrift stores and garage sales are full of similar pieces looking for a new home.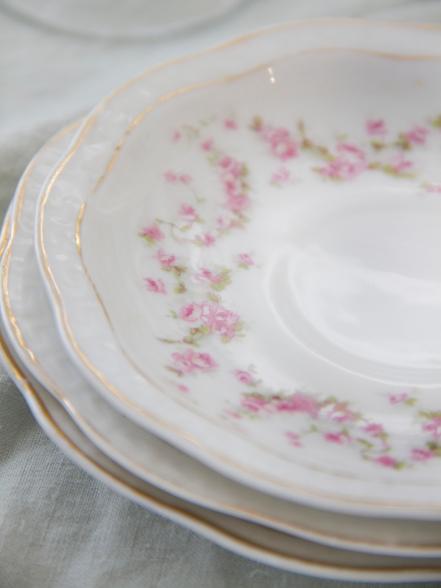 Gold Trim
Known for its charm yet casual grace, shabby chic designs can also emit an air of elegance. Soft floral patterns in pastels are a common detail in shabby chic dishware. These stunning porcelain pieces also feature a simple yet refined double gold trim around the edges of each dish. Design and photography by Lulu Tapp of DustyLu Interiors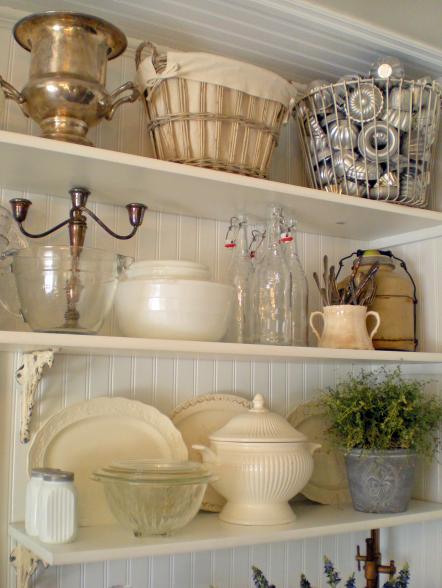 Mixed Company
For an intriguing display with a vintage and collected look, mix your beautiful china pieces with antique accessories. HGTV fan dmfuller integrated glass milk bottles, a bronze candelabra, vintage salt and pepper shakers, and rustic baskets with fine china propped up on the bottom shelf. A basket brimming with mini Bundt pans make for a unique decorative element.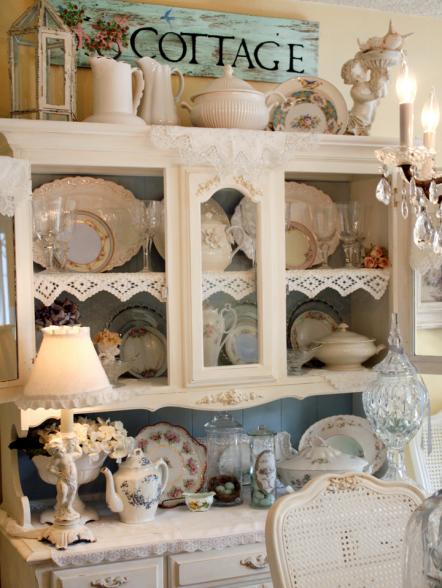 Lively Variety
HGTV fan single_mom_on_a_budget definitely puts her dining room hutch and china cabinet to good use. From ceramic teapots to porcelain serving platters, each piece shares a unique design apart from its full set. One of the best things about shabby chic-inspired china is that loner pieces and individual dishes can instantly fit in with complete china sets or among an eclectic grouping.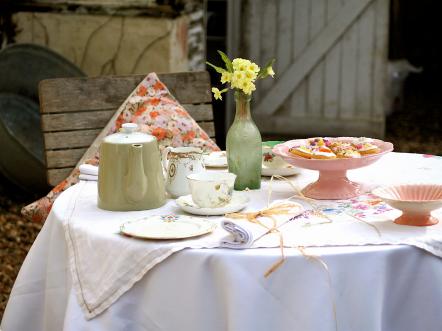 Lovely Simplicity
A shabby chic table setup can be as intricate or simple as you like. This outdoor table setting proves that simple layered tablecloths, subtle floral patterns and plain china pieces can be just as beautiful when used modestly.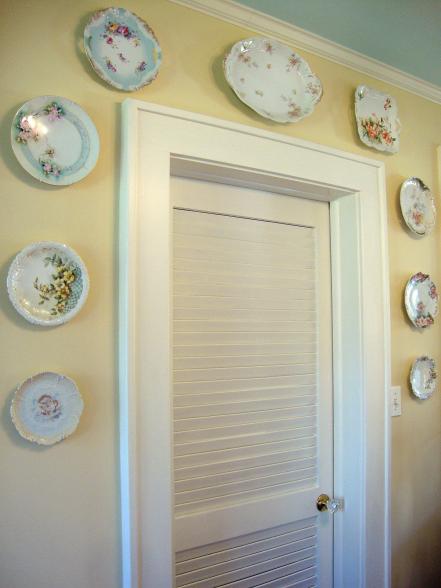 Up the Wall
For a traditional shabby chic look, take your china out of the dining room and turn it into artwork. This is the best way to display favorite pieces or simply make a creative statement in your home. Design by HGTV fan AVintageGirl