Now Viewing
Want to get out of a home decor rut in 2015? See the latest design looks by our favorite tastemakers and get tips on how to incorporate top current trends in your own space.
Keep in mind: Price and stock could change after publish date, and we may make money from these affiliate links.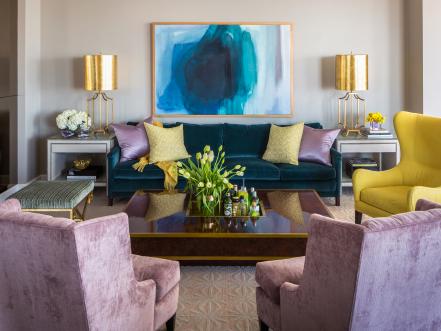 Tobi Fairley
Try Something New in 2015
The top current design trends are all about introducing touches of luxury, color and texture to living spaces. See the latest designs from HGTV's favorite tastemakers and learn how to make your own space look fresh and up-to-date.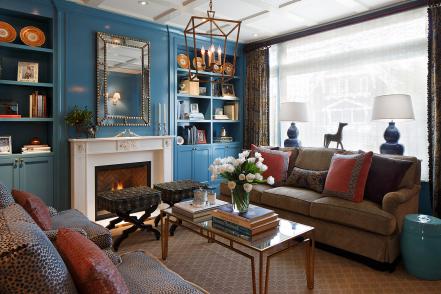 Ann Lowengart
If You Love Color … Try a Bold Blue
Marsala may be Pantone's 2015 Color of the Year, but bold blue is having its moment. There's nothing sad or juvenile about this shade; it's a rich and royal. We love how Ann Lowengart used the color on a wall of built-in bookcases, allowing the collected items on the shelves, the fireplace and the elegant mirror to pop.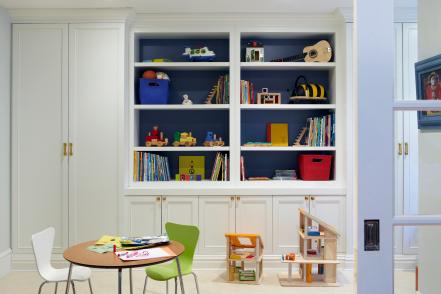 Use Small Doses
If painting an entire wall is too much of a commitment, try navy blue on the inside of a bookcase. In this playroom designed by Fresh Faces of Design nominee Chango & Co., the shade is playful without seeming juvenile. Balancing blue with white or other neutral colors helps keep it from overwhelming a space.
Eric Perry © 2014, Scripps Networks, LLC. All Rights Reserved
Color in the Kitchen
An easy way to refresh a kitchen is by painting kitchen cabinets. We love the navy color of the cabinetry in the HGTV Smart Home. The sharp shade is the perfect match for the marble backsplash.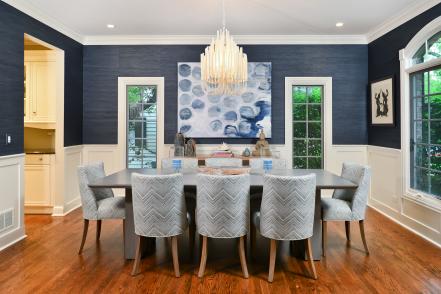 Jim Tschetter, IC36O Images
Dine in Color
A dining room is another spot where trying new trends may feel a bit less scary. We love the blue grasscloth wallpaper selected by Linc Thelen Design. Crisp white wainscotting keeps the space from feeling too moody, and artwork with complementary shades of blue adds depth to the overall design.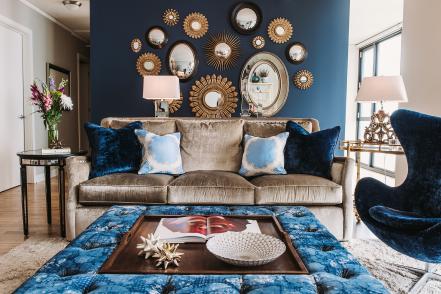 SuzAnn Kletzien
Accent With Blue
Fresh Faces of Design nominee SuzAnn Kletzien pulled bold blue into this living room with an accent wall, rich blue furnishings and blue-hued throw pillows. While the blues dominate the room, the surrounding white walls, neutral couch and gold-framed mirrors balance the look.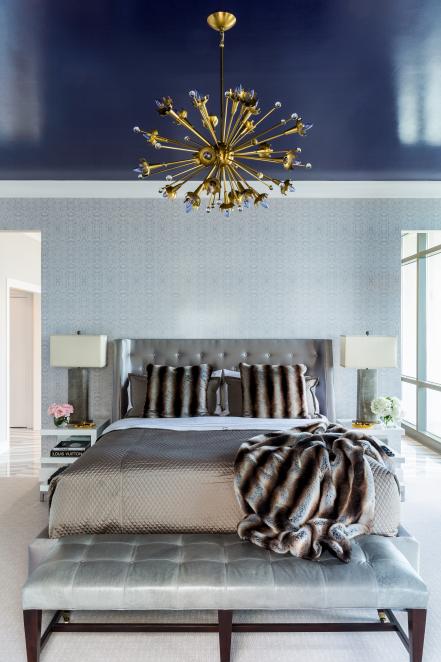 Nancy Nolan
Think Outside the Box
When it comes to color, sometimes you just need to look up. Tobi Fairley took blue to new heights when she used it on the ceiling of this luxury master bedroom, making the room cozier. The high-gloss paint base gives the ceiling a reflective quality, which keeps it from feeling too low.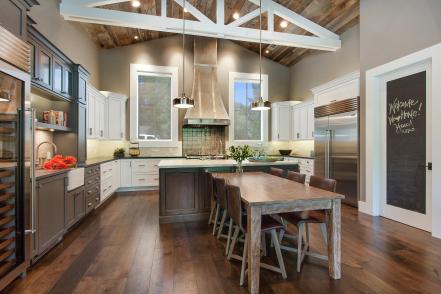 If Prefer Neutral … Try Greige
Not quite gray, but not quite beige, this grayish brown (or is it brownish gray?) is the most versatile neutral in play right now. The NKBA 2015 People's Pick Kitchen does greige perfectly. The shade offers warmth to the space while allowing the crisp white cabinets and ceiling beams to pop -- all without a single bold color.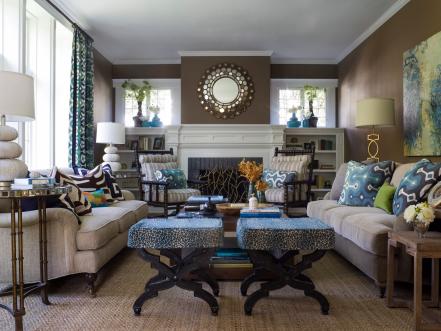 Ann Lowengart
Make Colors Pop
Ann Lowengart shows just how to use a neutral like greige to highlight bolder colors. In this living room, she mixed accents of blue, green and chocolate brown to add interest against the backdrop of the more neutral wall. Colorful accents are easily swapped in and out as color tastes change.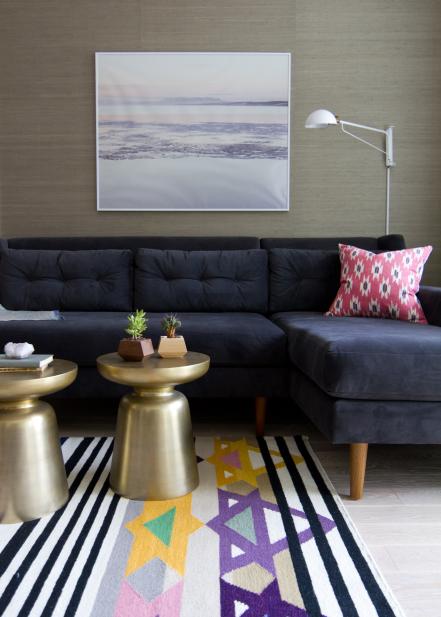 Jenny Norris
Neutral With Texture
The texture of the grasscloth wallpaper in this space designed by Jenny Norris offers both warm tones of beige and cooler tones of gray. The beige tones help the wallcovering relate well to the gold accent tables and wooden couch legs, while the coolor tones mix well with the navy sofa.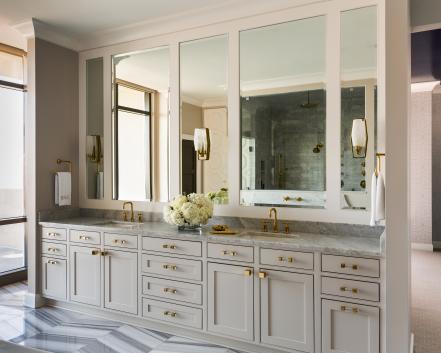 Nancy Nolan
Whispers of Gray
Tobi Fairley takes greige to the lighter side in this stunning master bathroom. This shade is light enough to feel almost white, but has the warmth to mix well with the brass hardware and the coolness to blend with the marble floor and countertop.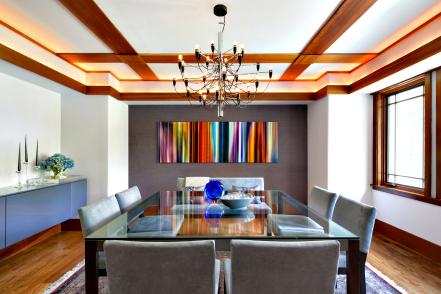 Claire Paquin
If You Like Rustic … Try Warmer Wood Tones
Let's face it, wood accents have always been trendy in one way or another. While the past few years have seen lots of rustic, reclaimed wood with gray, unfinished undertones, our favorite look for wood right now is warm and rich. Claire Paquin not only used polished wood tones to accent the ceiling and windows in this elegant dining room, she also added accent lighting to highlight and enhance the warmth of the grain.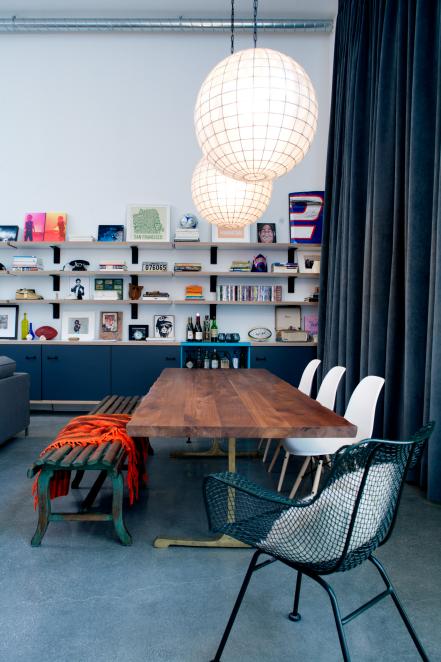 Daleet Spector Design
Table It
This dining table selected by Daleet Spector is distinctly rustic. Instead of the grays and blacks common in rustic industrial design in the past, this table uses wood with a warm red undertone and brass legs for an updated yet time-worn look.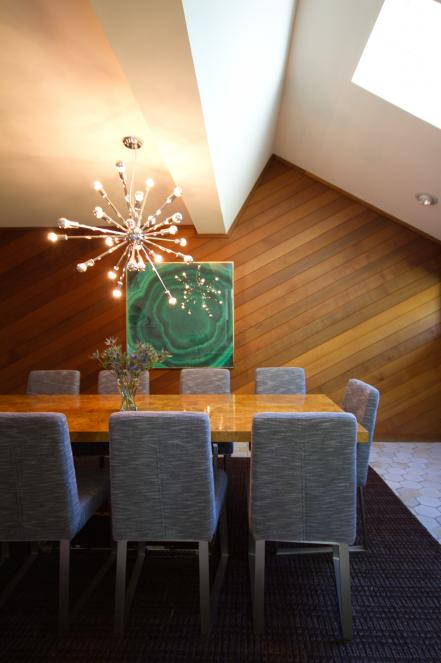 Jenny Norris
Make Retro Modern
Jenny Norris proves that retro can be modern with this midcentury modern-inspired dining room. Installing the paneling diagonally keeps it feeling fresh while accenting the lofted ceiling. Wood tones change from panel to panel but share a warm undertone, making the wall design feel harmonious.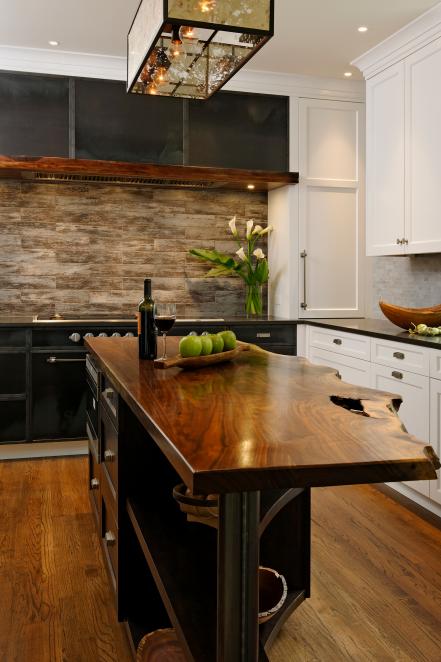 Bob Narod, Courtesy of Jennifer Gilmer Kitchen & Bath
Keep it Raw
This walnut kitchen island countertop designed by Lauren Levant Bland has it all: a rustic live edge with a polished finish. The walnut grain is echoed in the trim of the steel range hood to keep the overall look of the kitchen warm.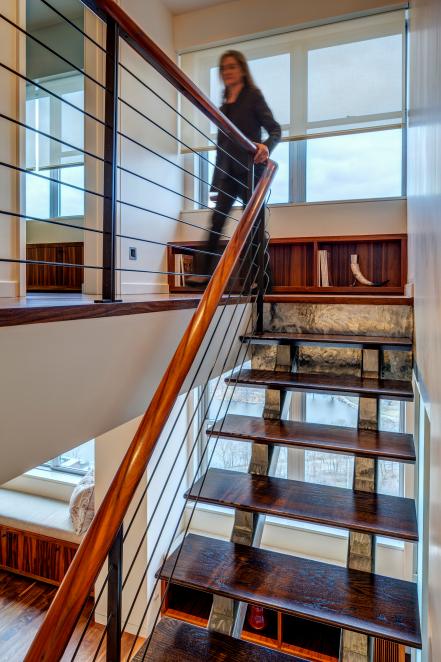 Francis Dzikowski
Highlight the Grain
Warm wood handrails and risers dress up this industrial modern stairway designed by Lilian Weinreich. The wood grain is highly pronounced, differntiating these stairs from those designed in the '80s or '90s.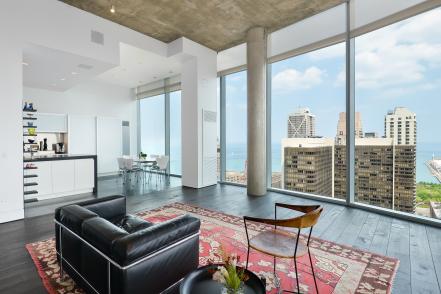 Jim Tschetter, IC36O Images
If You Need a Rug … Try a Global Look
With so much emphasis on craftsmanship in home design, it should be no surprise that today's most popular floorcoverings come from Morocco, Turkey and other Asian countries, home of some of the most skilled textile makers. We love this Turkish-style rug selected by Dresner Design to add color in this minimalist Chicago loft.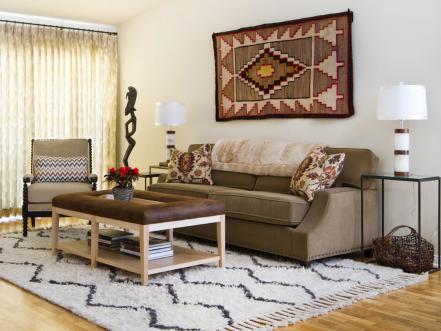 Debbie Talianko
Opt for Texture
The Beni Ourain style Moroccan rug is a popular pick for neutral design palettes. The thick, fluffy pile of the rug adds loads of texture to a space, softening it up and adding visual interest. Debbie Talianko uses one here seamlessly in a Southwestern style living room.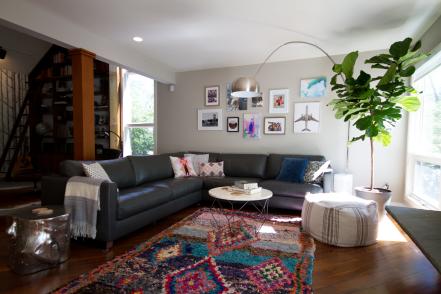 Jenny Norris
Add Some Color
If you like the texture of a Beni Ourain rug but need some more color in your life, try a boucherouite rug. These colorful rugs are often made from recycled materials with the result being a one-of-a-kind masterpiece. Jenny Norris uses a boucherouite rug to add a pop of color to this living room.
Julie Dodson
Look to Tile
To add visual interest with a rug without adding the weight of a thickly textured floorcovering, try a rug with a repeating pattern and limited color range. This room designed by Julie Dodson features a floorcovering inspired by Moroccan tile. The result is a sleek, polished look.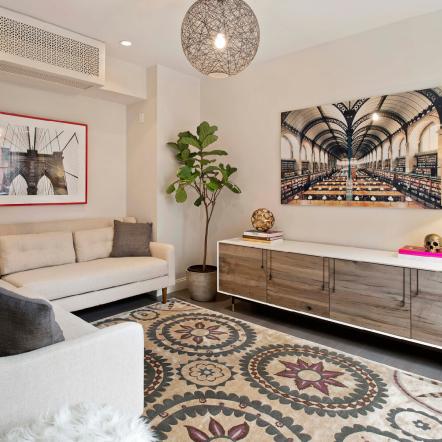 Susan Galvani
Softer Suzani
Suzani prints continue to be a popular choice for home textiles. We like this rug chosen by Susan Galvani because it features a Suzani print in a more muted tone than expected, making it a perfect choice for this living room's understated design.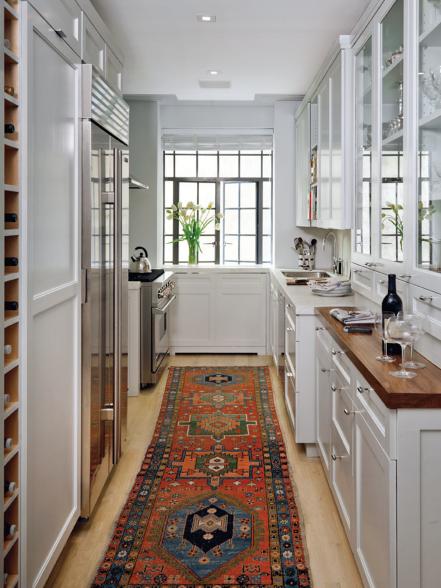 Get Running
Well-made rugs can come at a high price point, but runners are often a more affordable option. Rather than hiding them in a hallway, try runners in other narrow spaces, like this gorgeous galley kitchen by Design Development.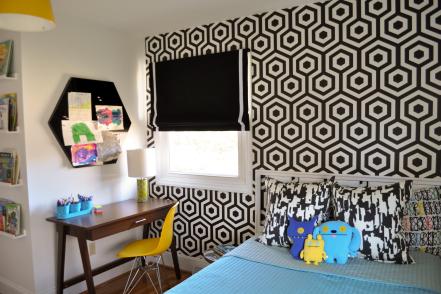 Evaru Design
If You're Tired of Chevron … Try Honeycomb and Other Geometrics
A few years ago, chevron print was everywhere -- and for good reason. It was an easy way to add playful color and contrasting shapes to many kinds of design styles. If you like the idea of chevron but are ready to try something different, look to honeycomb and other solidly geometric shapes. This kid's room designed by evaru shows just how fun and energetic a hexagonal print can be.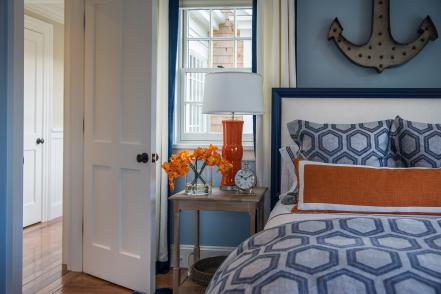 Organic Geometry
Geometric prints aren't just limited to mod styles. The 2015 HGTV Dream Home guest room features bedding with a honeycomb print in soft blue tones for a shapely look that still has an organic feel.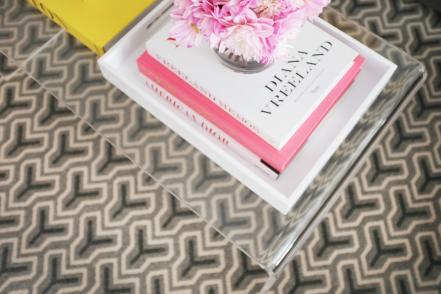 Kapito Muller Interiors
Try New Shapes
Any geometric shape is going to add visual texture to your design, so there's no need to stick to the shapes you learned about in elementary school. This carpet selected by Kapito Muller Interiors adds a punch of detail while still feeling classic and traditional.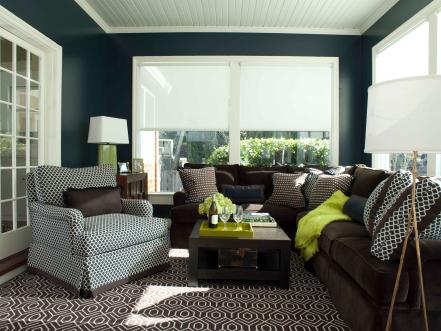 Ann Lowengart
Layers the Look
To keep geometric patterns from feeling too mod or boxy, look for designs where shapes are layered on top of one another. This stunning room designed by Ann Lowengart features a rug that blends different sizes of hexagons with other lines to create a fresh, modern pattern.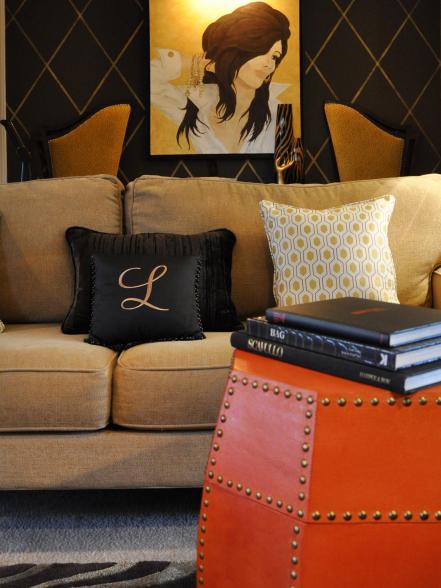 Play With Scale
Not all patterns have to be large and bold. The honeycomb and dot pattern of the throw pillow in this room designed by Elaine Williamson is subtle when paired with the larger-scale x-print of the wallpaper and the shapely orange accent stool.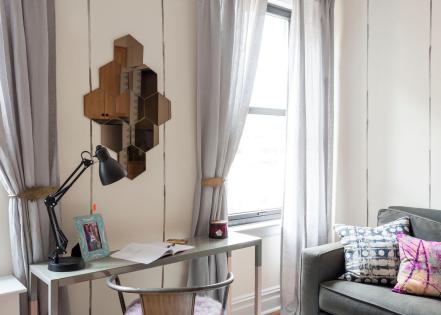 Matthew Williams
Go Beyond Fabrics and Floorcoverings
Pattern doesn't just come from textiles and wallpapers. LABLstudio introduced a subtle honeycomb pattern using mirrored tile in this fun, feminine New York appartment.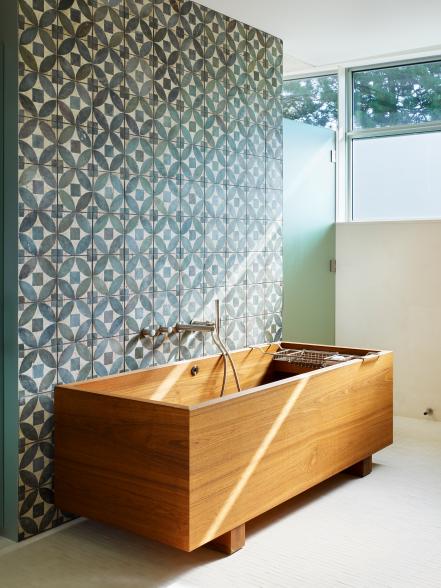 Abramson Teiger Architects
If You're Ready to Redo the Backsplash … Try a Bold Tile Look
Current tile trends are all about something unexpected, be it the design, color or patina of the individual tile or the pattern in which the tile is laid. Abramson Teiger Architects has us drooling over this tile feature wall. The tile blends an understated geometric pattern with a patina that is reminiscent of antique Moroccan tile. The result is an earthy yet sophisticated look at home in any spa bathroom.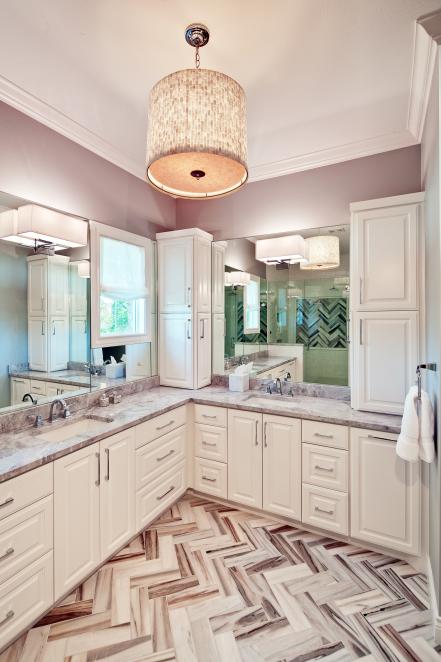 Amy Lutz
Traditional Material, All-New Look
Sometimes all it takes to spice up tile design is to take everyday tile and lay it in an unexpected pattern. Rectangular marble tiles with dark veining are laid in a herringbone pattern in this stunning bathroom design by Amy Lutz. The pattern gives the traditional material an all-new look.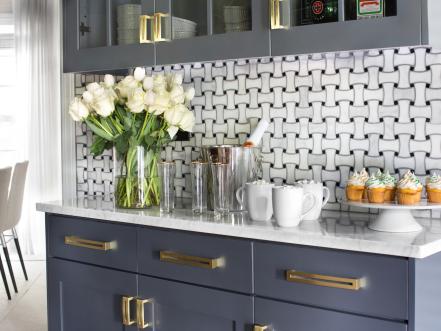 Unexpected Pattern
Another approach for traditional tile materials is to opt for a new shape. This marble backsplash designed by Brian Patrick Flynn is cut and laid to create a basketweave look. The pattern adds an eclectic touch to the backsplash, but the use of marble tile grounds the look to make it at home in a traditional kitchen.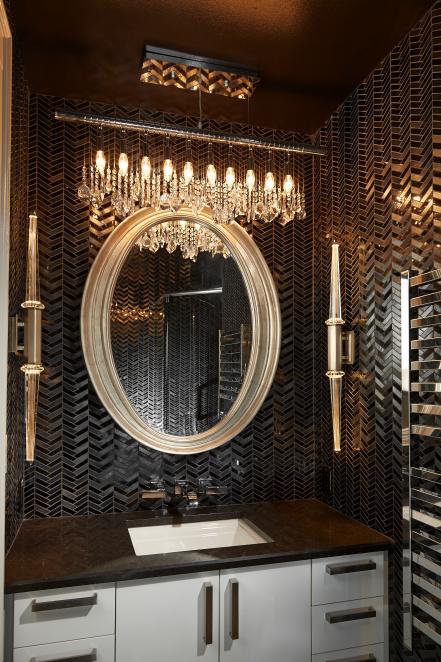 Corey Damen Jenkins
Go Bold With Black
Black is quickly becoming en vogue once again in a big, bold way. Corey Daman Jenkins uses it to perfection with in this herringbone patterned powder room. The irridescent shimmer of the tile adds glamour to the look, keeping it from feeling too moody. Combined with the elegant light fixtures, the powder room is a nod to the opulence of Art Deco design.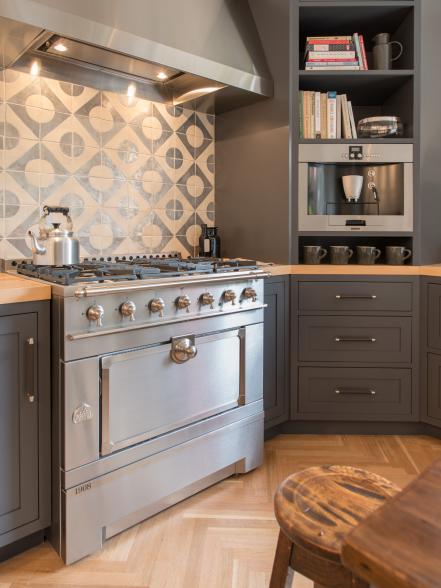 Stunning, Shimmery Shapes
Plain terra cotta tiles have long been at home on kitchen floors and backsplashes, but the geometric pattern of this backsplash designed by Alison Davin offers a bit of a modern surprise in an otherwise traditional kitchen. The soft shimmer is perfectly matched to the stainless steel oven and hood for the ultimate custom look.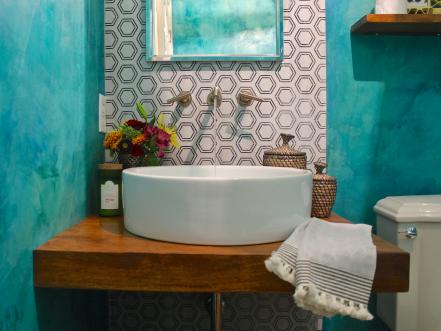 Kara Paslay
Geometric and Organic
Fresh Faces of Design nominee Kara Paslay finds another successful mix of unexpected elements with this bathroom backsplash. The honeycomb pattern is modern and geometric, but the patina is soft and organic. When paired with the rustic countertop and sink basin, the space evokes the look of a Turkish bath.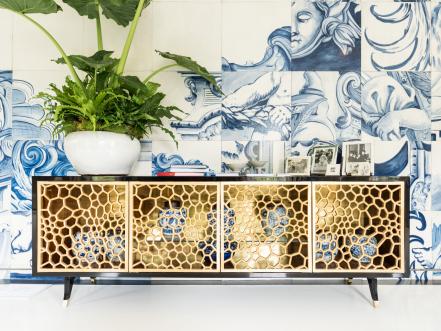 Jason Kisner
Handpainted Detail
Tile design will keep getting bolder in 2015, so if you really want to try something fresh and high-end, opt for one-of-a-kind handpainted designs. This wall feature was created from tiles hand painted by Linda Horning and Katherine Jacobus with designs inspired by Portuguese tiles and set at random to create a custom look in this room designed by Antonio Martins.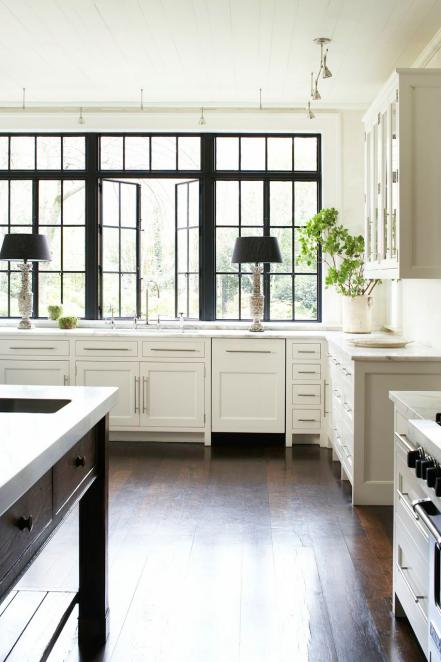 Carter Kay
If You're Over Those Curtains … Go Without
If you've got beautiful natural light streaming into a room or windows with extra architectural detail, then there's no reason to hide them behind curtains. Go au naturel by foregoing the curtains and other adornments, like Carter Kay did in the design of this Atlanta kitchen.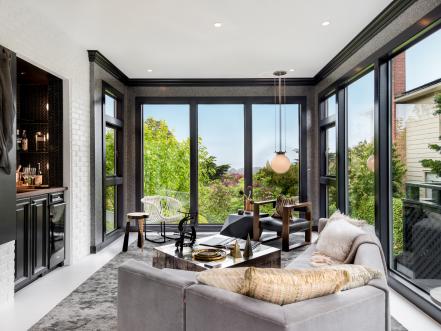 Jason Kisner; Design by Steven Miller ©2014, Scripps Networks, LLC. All Rights Reserved
Paint it Black
Painting window trim black allows the windows to pop and frame the outside view. The family room designed by Steven Miller Design Studio offers a scenic view of the surrounding San Francisco hills that rivals many landscape pantings and photography.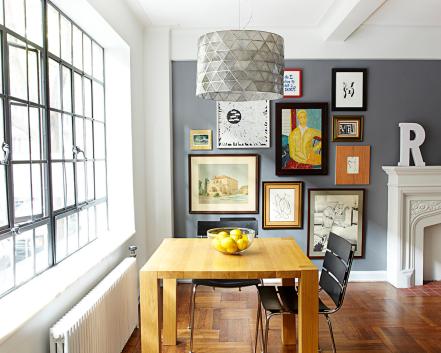 Alyssa Kirsten
Steel Resolve
If you're ready to splurge, consider steel windows, like the ones in this space designed by Lauren Rubin Architecture. Aside from their modern elegance, steel windows are durable, easy to clean and resistant to fire and water.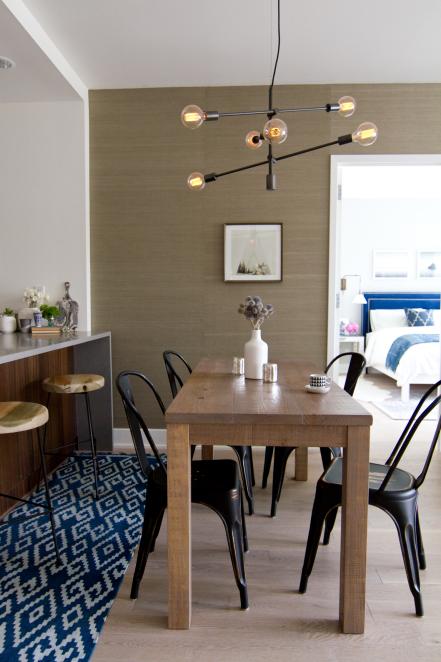 Jenny Norris
If You Like the Industrial Look … Try a Statement Light Fixture
Popular for several years in DIY furniture and light fixtures, the industrial look is extending to higher-end statement pieces. The freshest industrial light fixtures are especially large to balance their pared-down details and bare bulbs, like this stunning selection by Jenny Norris.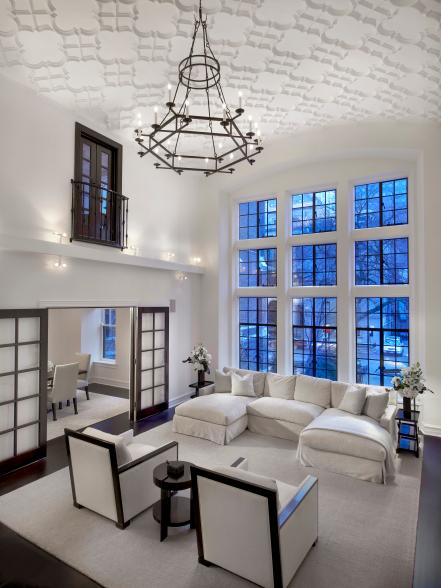 Industrial Parts, Classic Style
Using industrial pieces to re-create more classic chandelier shapes results in a light fixture that's versatile enough to work in contemporary and traditional room design. This iron chandelier evokes a touch of Mediterranean design which is at home with the Juliette balcony and ornate ceiling design while effortlessly matching the modern furnishings in this room designed by Lauren Coburn.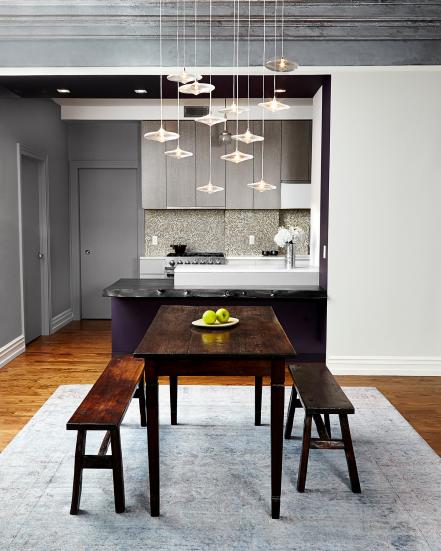 Alyssa Kirsten
Simple Yet Stunning
This showstopping light fixture swaps the bare-bones light bulb for handblown glass pieces that hang like small crystals from the ceiling. The light fixture, selected for this space by Lauren Rubin Architecture, still has industrial appeal thanks to the simple stems from which the bulbs hang.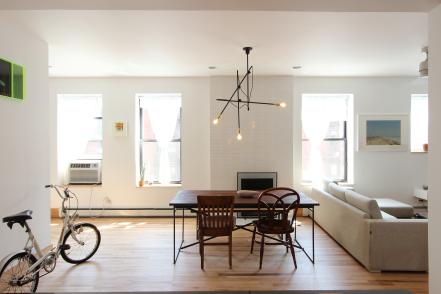 Tana Nesbitt
Flexible Design
The beauty of many industrial chandelier designs is that they can be adjusted and reconfigured to suit any space. Designer Tana Nesbitt selected and arranged this light fixture to balance the off-center fireplace in this Brooklyn home.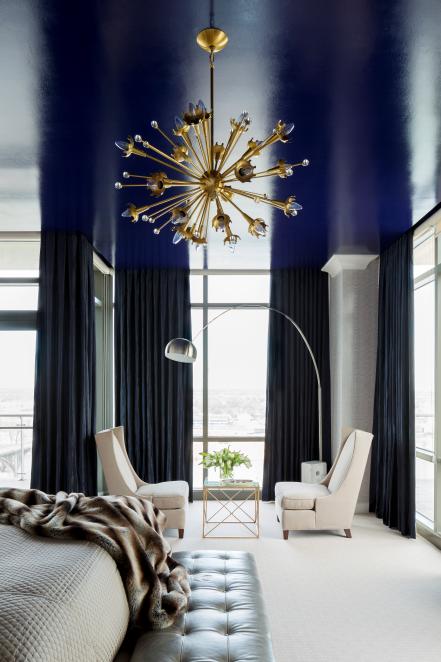 Nancy Nolan
Sputnik's Return
The industrial statement light trend isn't anything new. The look was a popular feature in midcentury design, making the mod-style sputnik chandelier the prime for a comeback. Tobi Fairley selected a sputnik light with a brass finish to pop against the moody hue of the ceiling in this bold master bedroom suite.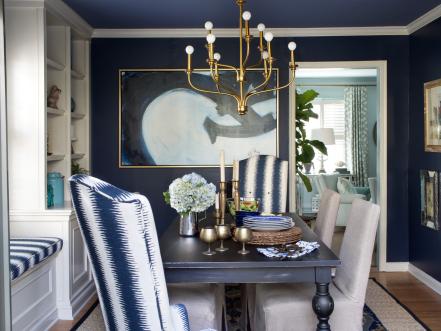 ©Sarah Dorio Photography
If You're Tired of Industrial … Try Warm Metals
If the look of iron pipe fittings has lost its lustre to you, try the look of warmer, shinier metals. Designers are opting for brass, warm nickel and gold to counter the coldness of the more common features of the modern, industrial style. Brian Patrick Flynn selected a brass chandelier and matching candlesticks for this dining room to add a touch of high-end luxe to the space.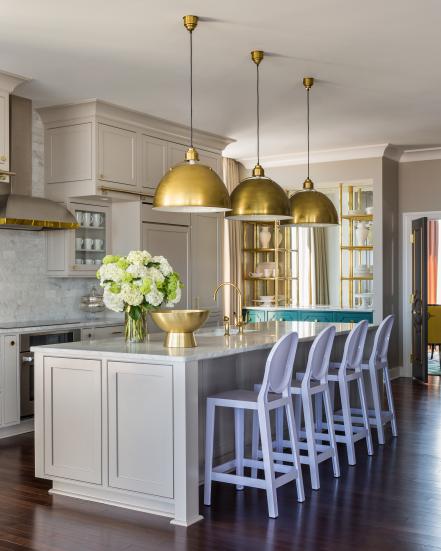 Tobi Fairley
Not Too Shiny
The key to using warm metals while avoiding a '90s look is to choose metals with low shine. The brass pendant lights and fixtures in this gorgeous Tobi Fairley kitchen have a bit of a weathering to them for the right kind of vintage touch.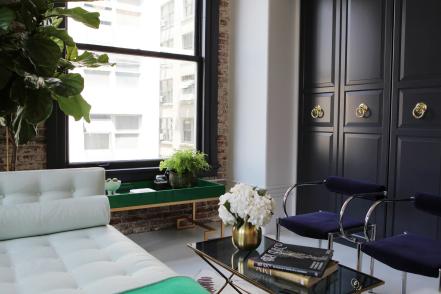 Jessie Webster
Keep it Small
Another way to introduce warm metal to your space without looking dated is to do it in small doses. Fresh Faces of Design winner Caitlin Murray added brass handles to the covering of a murphy bed for a small touch of shine. A brassy vase and coffee table base also add hints of the metal without going overboard.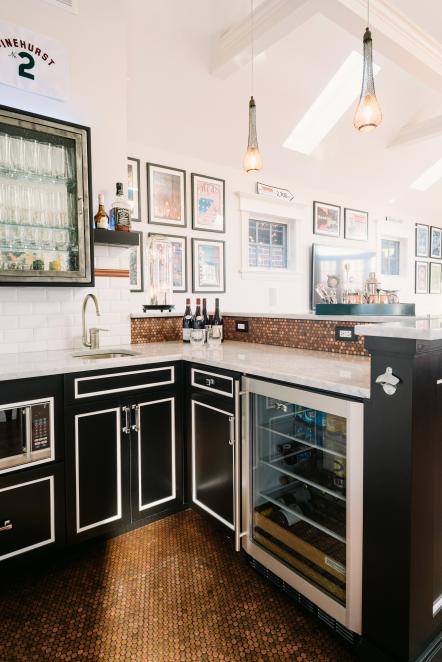 SuzAnn Kletzien
Copper Toned
The deeper tones of copper are a good bridge between the heavier look of industrial design and the brighter touch of warm metals. SuzAnn Kletzien put a homeowner's penny collection to work in her design of this entertaining space by using it to tile the backsplash and floor of the kitchenette.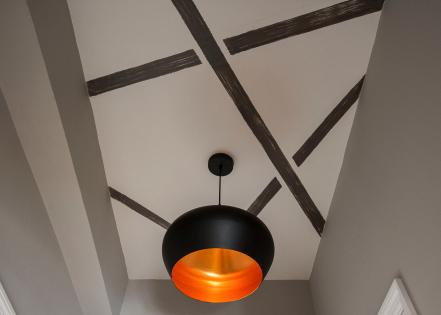 Matthew Williams
Take it Inside
Usually the outside of a light shade gets all the love. Not so with this brass-lined pendant light selected by LABLstudio for this New York City home. The brass is in full effect when the light is on and reflecting in the shiny interior finish, while the black finish on the outside of the light suits industrial tastes.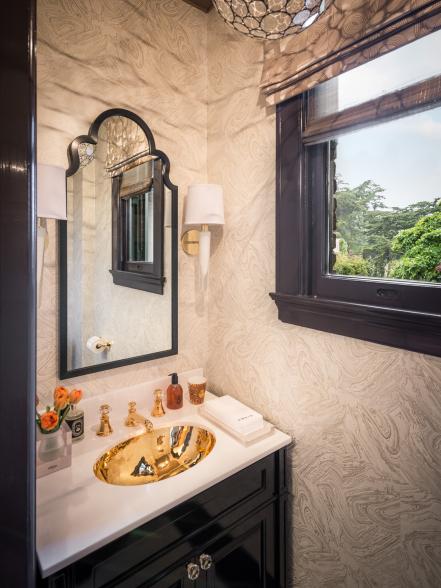 Jason Kisner
Break the Rules
Gold faucets? Sure. Gold door handles? OK. A gold sink?? Sometimes the best way to make your design fresh is to do something completely unexpected. Kristi Will chose this 24-karat gold for the powder room at the 2014 San Francisco Decorator Showcase as a nod to opulent Art Deco design and a touch of ultimate luxury.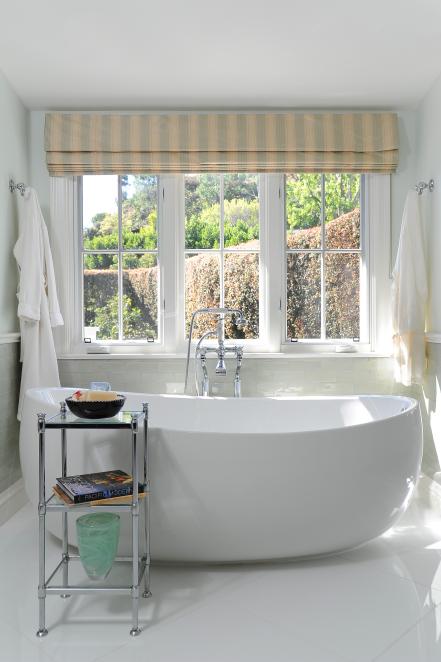 KellyBaron Design
If You're Ready for a Bathroom Upgrade … Try a Freestanding Tub
Soaking tubs are showing up in all of our favorite designer's bathroom spaces. Homeowners who were once after rain showerheads and wall sprayers are now installing freestanding tubs. We could spend all day in this tub selected by KellyBaron Design.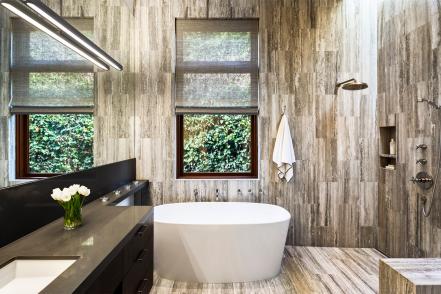 Ciro Coelho
Modern and Rustic
Freestanding tubs come in all shapes and sizes to suit any bathroom design. This simple, modern tub sleekly contrasts the wood-look tile that lines the walls and floor of this modern, rustic bathroom designed by Neumann Mendro Andrulatis Architects.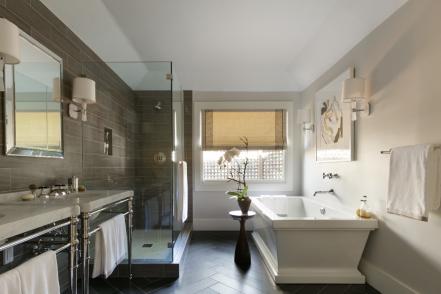 Ann Lowengart
Classic Bathroom Design
Soaking tubs also come in classic styles, making them at home in traditional design. This master bathroom designed by Ann Lowengart boasts a full range of modern features while maintaining a timeless appeal.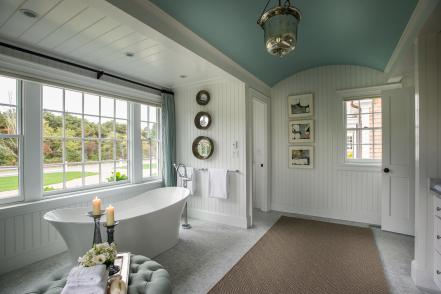 Freestanding Fixtures
With freestanding tubs come freestanding fixtures, like the faucet seen in the 2015 HGTV Dream Home. Vintage-style pipes help the modern convenience feel at home in a cottage-style interior.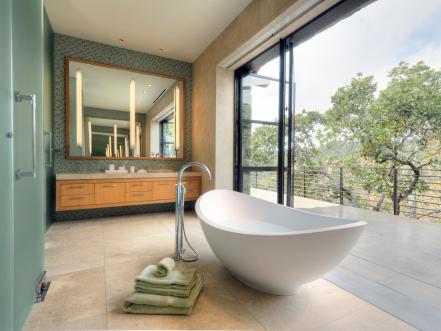 Gregg De Meza
Don't Forget the View
With a freestanding tub, you'll probably want to spend more time bathing -- so don't forget your view! Gregg De Meza knew there was only one place for this soaking tub: right in front of retractable doors with a view of private lands.