Now Viewing
Lifestyle Blogger's Spatially-Challenged Loft Design Tips
Learn how Apartment 34 lifestyle blogger and publicist Erin Hiemstra and her husband make their 900-square-foot loft feel liveable.
Keep in mind: Price and stock could change after publish date, and we may make money from these links.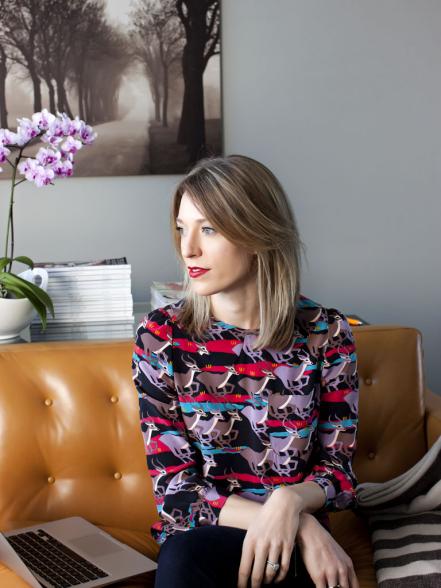 The Blogger
Lifestyle blogger Erin Hiemstra packed her modern SoMa neighborhood loft with much-needed storage solutions to house her extensive wardrobe pieces as well as her huge collection of fashion magazines and design books.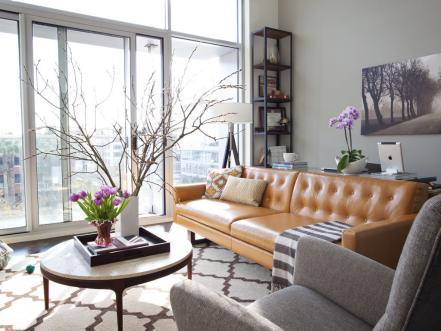 Open, Airy Loft
When Erin first moved into her loft, it was packed with clunky furniture and had orange walls that made the space feel busy. In order to make the space open, airy and serene, she came up with clever storage solutions that keep everything well organized and clutter free.
Elegant Entry
In seeking a central storage system to use just inside the loft's entryway, Erin fell in love with one piece that serves several functions. It offers open storage for things like keys and mail, concealed storage for bags and umbrellas, and nooks for shoes and books.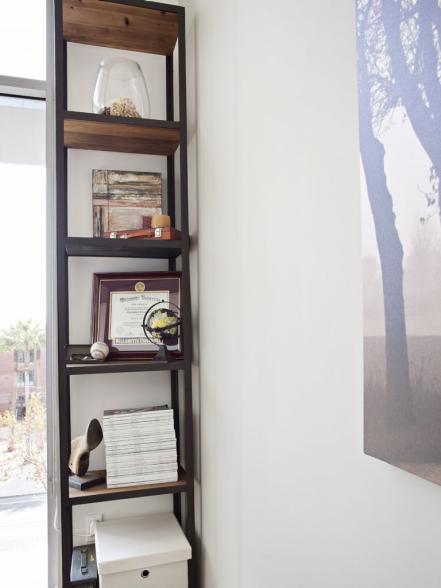 Tall Shelf
To take advantage of dead space just off the living room's sliding glass doors that lead out to the loft's small Juliet balcony, Erin and Chris opted for an 8-foot-tall bookshelf. It houses their important belongings, including diplomas and family keepsakes. "Vertical space is something really important to take advantage of. You'd be surprised how storing things upwards frees up space for other things. A combination of horizontal and vertical storage is key in maximizing square footage," Erin notes.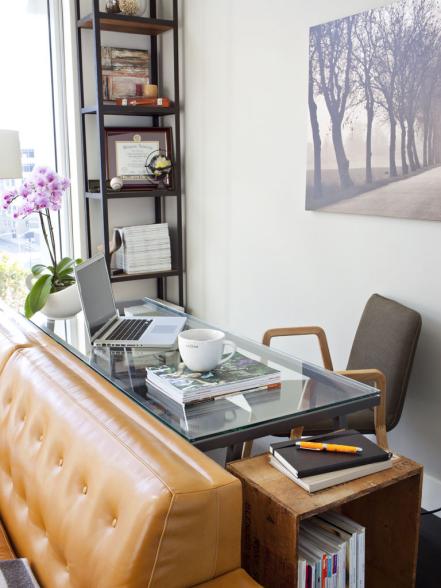 Clear Console Desk
Instead of opting for a standard console table to place behind her sofa, Erin chose a clear glass table with a metal base that doubles as a full-fledged workstation.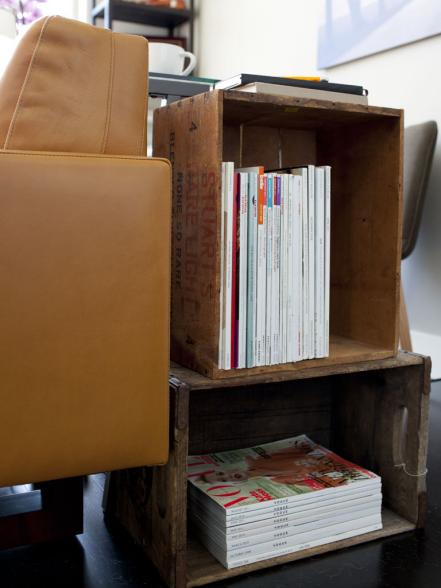 Repurposed Shelves
Adding personal touches throughout the loft were important to Erin. By repurposing wooden wine crates left over from her wedding in Baja, she created an area to keep her favorite fashion magazines within arm's reach of her workstation.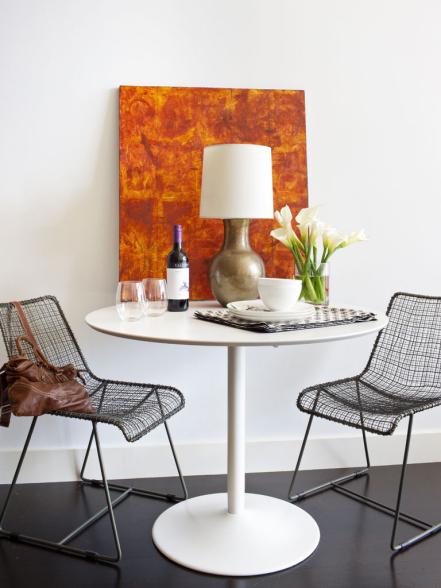 Dining Area
Lovers of cooking and baking, Erin and Chris were adamant about incorporating a small dining space into the corner of their living room. To do this, Erin chose a table with a pedestal base and a round top that would allow up to six chairs for dining.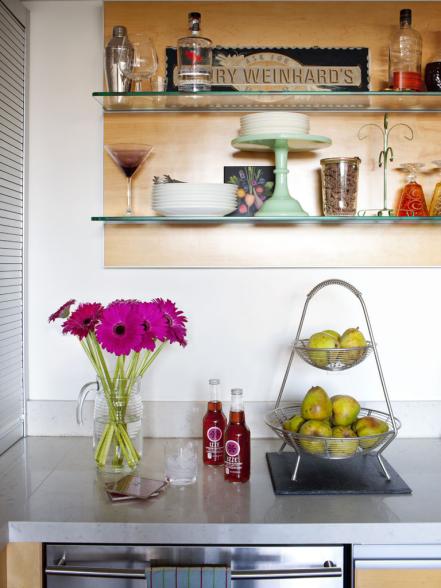 Open-Shelf Kitchen
The open shelving in Erin's kitchen displays many of her favorite kitchen items such as glasses, plates and a cake stand – pieces that have sentimental value to the style blogger.
Appliance Garage
An appliance garage in the kitchen keeps small appliances within arm's reach, yet concealed and clutter free.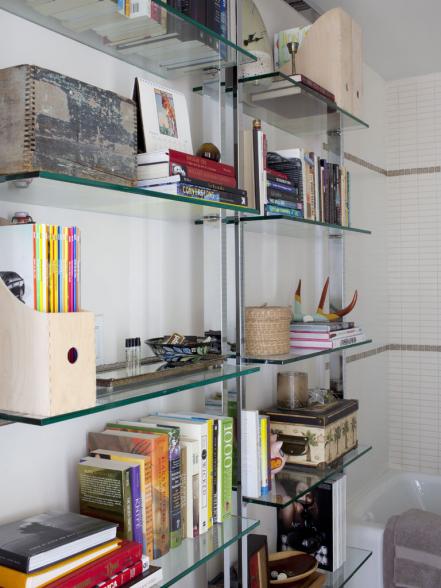 Books in the Bathroom
With no obvious place on the loft's first floor to store her huge collection of design books, Erin turned to a 6-foot wall in the first-floor bathroom. She notes, "I had about 10 inches of depth along a wall perpendicular to the glass-enclosed shower. To put it to good use, I installed a ready-made wall system made of a chrome base and glass shelves. Now what had been unusable space is maxed out with all of my favorite stuff."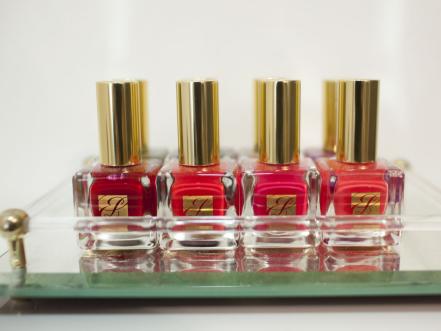 Polish on Display
Erin considers her collection of colorful nail polish bottles almost like sculpture or art. To do them justice visually, she keeps them on display in a mirrored tray above the commode. The blogger notes, "It may be cliché to say this, but everything looks better in a tray. Once contained, pieces instantly take on an orderly look."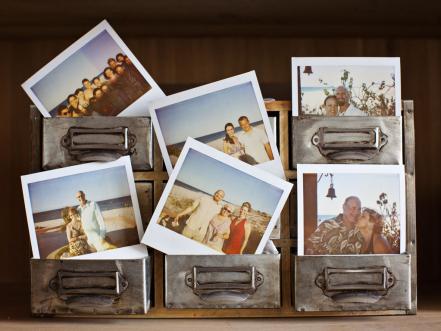 Polaroid Snaps
Being newlyweds, images from the couple's wedding are a primary source of art throughout the loft. In addition to framed professional images, Erin uses a vintage library catalog to display Polaroids taken by wedding guests.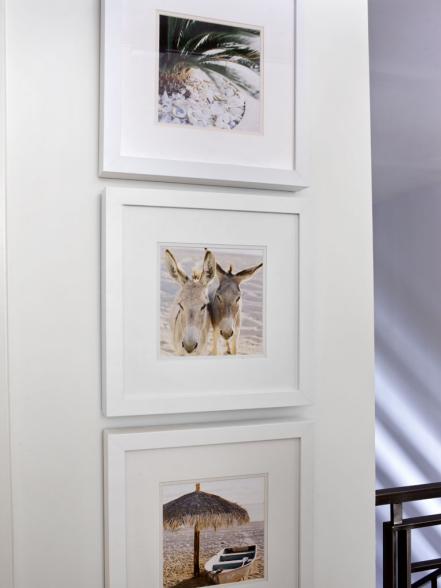 Wedding Photos
Erin's wedding inspiration also graces dead space just off the entry wall to the upstairs bathroom. The stylista blogger notes, "While I've designated lots of areas to more practical usage, it was important to take advantage of dead space for purely decorative reasons. I put my favorite art pieces — images from our poolside deck wedding in Baja — to good use in an area that couldn't be blocked by furniture due to the heating vent. The vantage point is ideal since I can see it directly while laying in bed." The three framed images include: a vignette of seashells and palm fronds, a pair of burros that her wedding photographer stumbled upon on the beach, and a rowboat perched underneath a hut.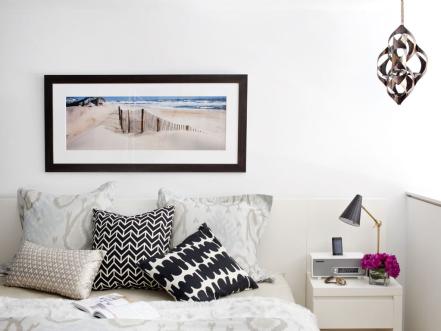 The Bedroom
When Erin first moved in, the accent wall behind the bed was painted a loud orange tone, the previous tenant's homage to the San Francisco Giants that play just across the street at AT&T Park. To keep the space open and airy, she and Chris painted the walls a classic white (Benjamin Moore 01), then selected a palette of light grays, muted blues and creams. To add a personal touch in keeping with the airy aesthetic of the room, Erin added photographs with special meaning for her and her husband, Chris. "I don't like having photos of people everywhere. I like photos that are more landscape or locale-based, but hold personal meaning," Erin explains. "The photograph print of Outer Banks, North Carolina means a lot to Chris and me because that's where we first met, at a friend's wedding. I gave it to him for our first anniversary. I think it's the perfect inspiration piece for creating a bedroom that's calm, serene and all about Chris and me."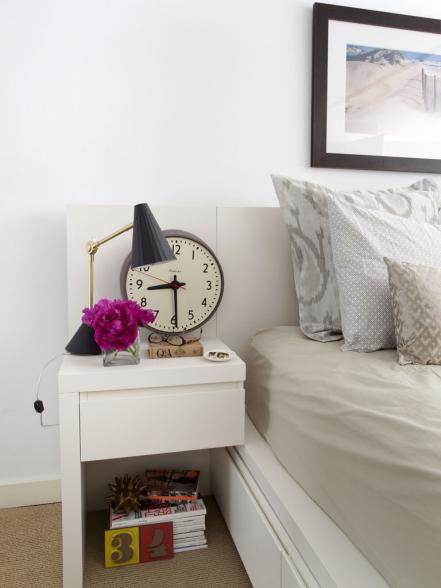 Beautiful Bedside
With limited space in her upstairs bedroom, it was important Erin keep her furniture simple, low profile and minimal. A white platform bed from West Elm was ideal for several reasons: nightstands are integrated into the headboard for a seamless look, the white finish keeps the room feeling airy and open, and the low profile doesn't detract from the gorgeous view of AT&T Park just outside the bedroom windows.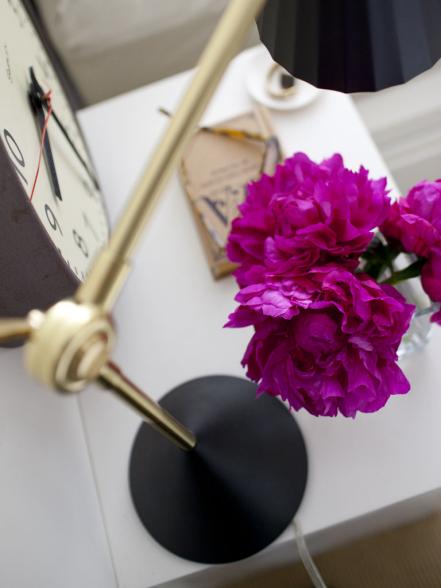 Swing-Arm Lamp
To free up surface space on the nightstands, Erin chose streamlined, thin, adjustable swing-arm lamps that keep the surface lit from above, allowing breathing room for much-needed bedside items such as books, jewelry and glasses.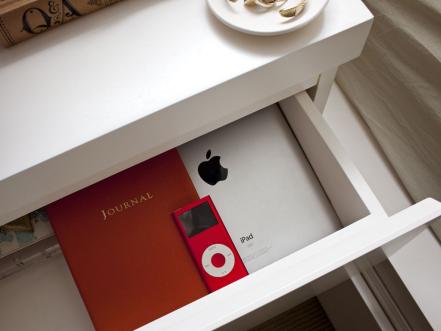 When Inspiration Strikes
Since Erin often blogs from bed or while lounging on the sofa, having a place to store her iPad and notepads nearby ensures she can jot down ideas and bookmark web pages as they come to her.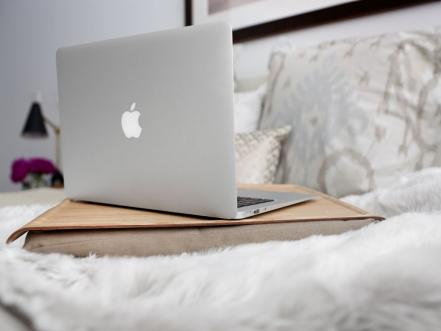 Handy Laptop Tray
Erin prefers to blog from the most comfy spots in the loft. Although her living room desk gets its fair share of use, the writer composes the majority of her blog posts while sprawled out in bed. By investing in a laptop tray, the blogger instantly adds a desk-like surface on which she can type away while lounging comfortably.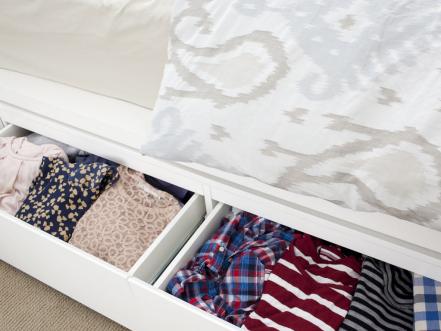 Beneath the Bed
Determined to maximize every square foot of the loft's bedroom, Erin's bed is packed with concealed storage just below the mattress. The drawers house everyday clothing for lounging around the house, including cotton T's, athletic wear and cotton button-ups.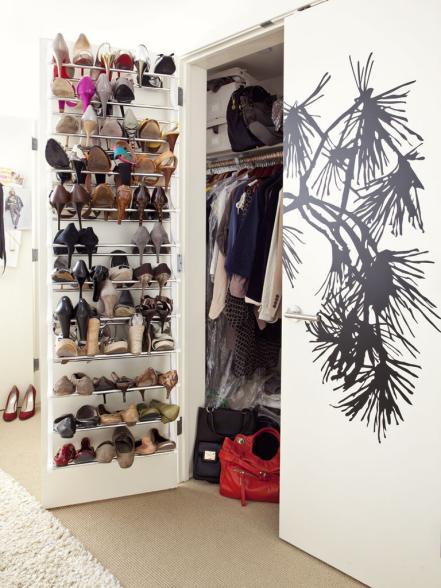 Chic Storage
The upstairs bedroom is the only area in the loft that has closets. In order to take full advantage of their interiors, Erin outfitted the backs of the doors with full-length shoe storage. This frees up precious closet space for sweaters and bags.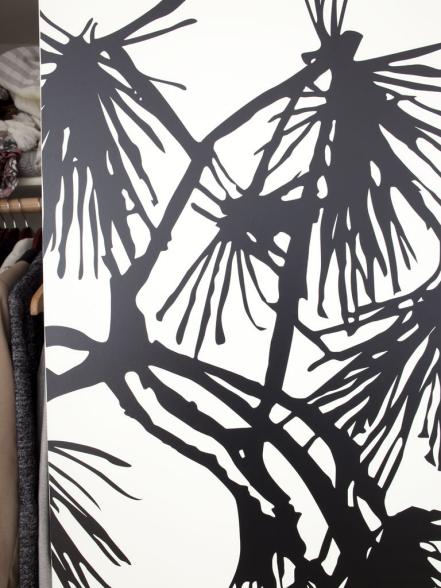 Door Decal
To dress up the drab walls of closet doors that are the focal point from the bed, Erin adorned them with vinyl decals depicting palm trees. "Although we're renting, I really wanted the loft to feel like a permanent place," Erin comments. "By simply dressing up random things such as closet doors, I've packed personality into areas that otherwise would be deemed dead space."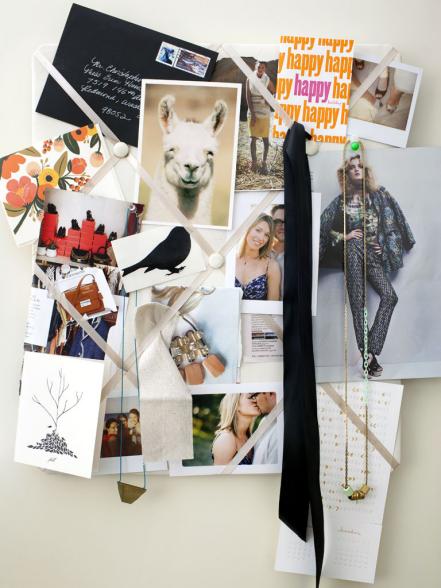 Inspiration Board
The inside of Erin's closet doors also doubles as inspiration boards for blogging. Erin explains, "People may think it's weird to open my closet and find inspiration boards hanging on the back of a door; however, it's truly the perfect spot. Since I blog about fashion a lot, it's a great way for me to put outfits together based on tearsheets I'm inspired by. It pushes me to think outside the box and create ensembles I wouldn't have thought would work well together."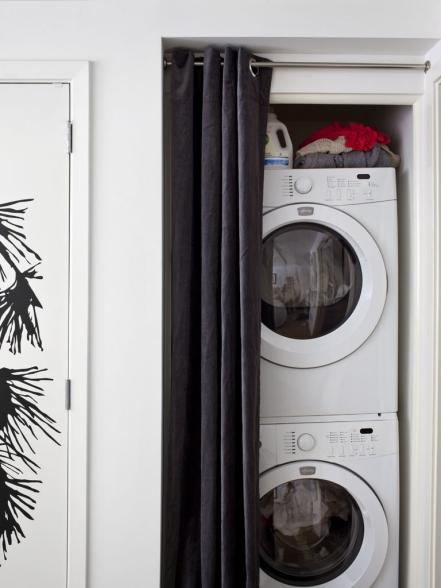 Laundry Nook
With a laundry nook right smack in the middle of their bedroom, Erin and Chris decided to mask it with a simple drapery panel that easily slides open for instant access. Erin notes, "While staring at a washer and dryer isn't ideal for a design enthusiast like me, I really couldn't complain since having a washer and dryer in a San Francisco rental is a total luxury. So we just worked with it!"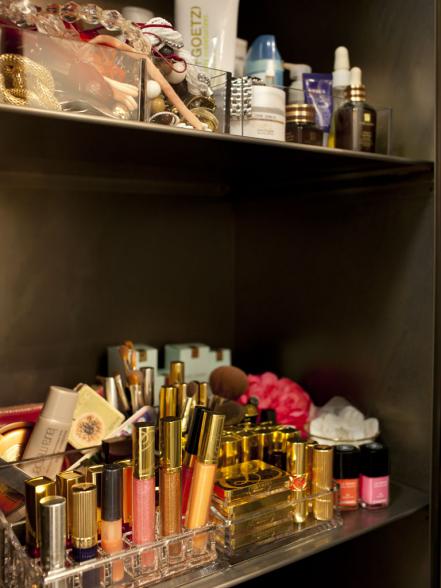 Industrial Cabinet
In order for the upstairs bedroom to house all of Erin's daily necessities, such as makeup, perfume, jewelry and linens, the couple picked up an industrial style, free-standing cabinet that Chris assembled.