Now Viewing
30 Dreamy Kitchens and Bathrooms
Your home's two hardest working rooms can be both functional and stylish. Be inspired by these designer spaces to breathe new life into your kitchen and bathroom.
Keep in mind: Price and stock could change after publish date, and we may make money from these affiliate links.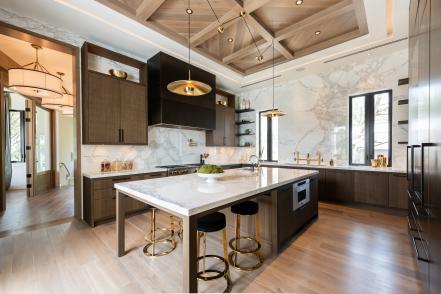 EWM Realty International, a member of Luxury Portfolio International
Beautifully Balanced
Nothing adds a luxurious look quite like marble. Flowing from the countertop to the ceiling, rich Calacatta marble lends a luxe atmosphere to this designer kitchen. Warm tones, found in the wood cabinets and brass fixtures, add a pitch-perfect balance to the stone's cool polish.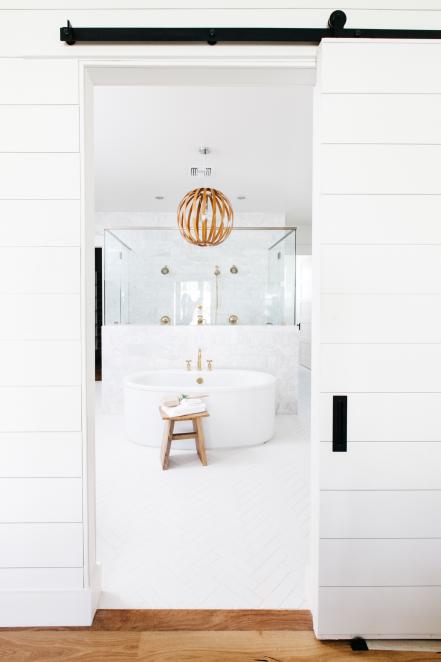 Rennai Hoefer
Framed View
Never underestimate the view from the door. As soon as the shiplap barn-style door slides out of the way, this bathroom gives off the grandest of shows. A spectacular soaker tub is centered on a marble half-wall, which is backed by the equally stunning double-head shower. The spherical chandelier brings a touch of nature to the all-white space while floor tiles, laid in a herringbone pattern, add movement and pattern.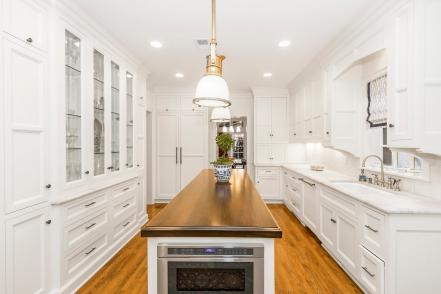 ReeceNichols Real Estate, a member of Luxury Portfolio International
No Tight Quarters Here
Who says a galley layout has to feel narrow and constrained? In this kitchen, pristine white cabinets stretch to the high ceiling while a wall of glass-front cabinets helps to visually stretch the space and show off favorite dishware. A long, slender island adds extra prep space and house appliances.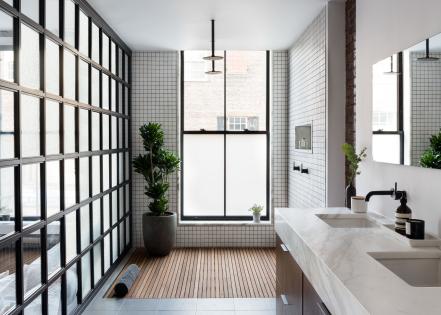 Claire Esparros
Living on the Grid
A spa-like escape in the middle of the bustling city, this master bathroom is a modern oasis. Squares act as a central design element: Small tiles flow around the open shower in a grid-like pattern while the wall of window panes divides the bathroom and bedroom. The window glass is a mix of frosted and clear to provide privacy and soften the natural light.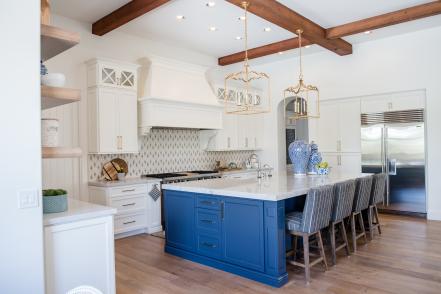 Courtney Lively Photography
The Cottage Life
Completely charming, this pretty-in-white kitchen is anchored by a cheery blue island. Comfy pinstriped barstools tuck under the counter for a quick nibble or handy homework station. Graphic, patterned tiles create an interest-grabbing backsplash behind the range, while gold light fixtures bring in a trendy metallic tone.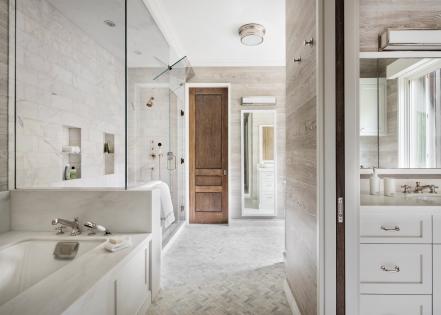 Steve Freihon
Take Me Away
Having all the amenities of a five-star resort automatically constitutes a dreamy bathroom. The marble-surrounded bathtub is designed to fit two, and the glass-enclosed shower, which doubles as a steam shower, is utterly deluxe in its own right. Reclaimed wood walls add a rustic juxtaposition to the grand surroundings.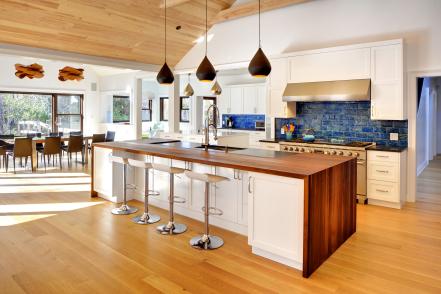 Chris Foster
Dynamic Style
Divided into two distinct zones, this kitchen can handle anything you throw at it. Two islands — one of which is clad in a stunning waterfall wood countertop — provide major prep space, double as food buffets and deliver extra seating. Cobalt blue subway tiles bestow a jolt of color to the warm-meets-cool palette. Lights throughout the space, from the teardrop pendants to the wavy wood fixtures over the dining table, convey movement and soften the room.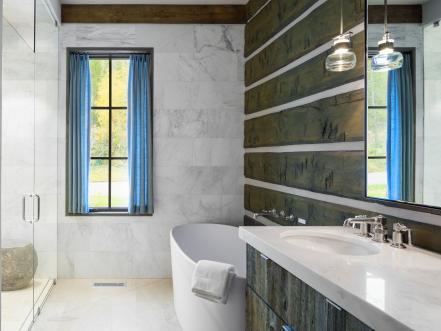 Aaron Kraft, Krafty Photos
Old Meets New
The look and feel of timbers and chinking may be the same, but this master bathroom is a considerable step up from the log cabins of Little House on the Prairie days. A simple freestanding tub also pulls from the past while being totally of-the-moment. A modern foil to the rustic timber wall is the clean-cut effect of the curbless shower.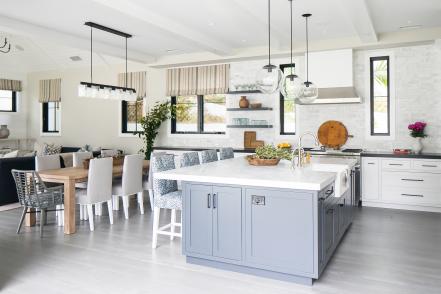 Ryan Garvin
Soothing Hues
This open floor plan seamlessly joins the dining room with the kitchen where the island provides extra seating. Clean white cabinetry, topped with contrasting black countertops, borders the wall, while the island adds a soft shade of blue-gray to the muted palette.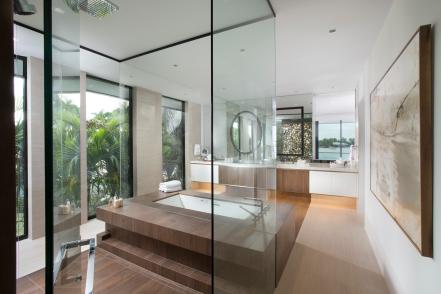 Alexia Fodere
Seeing the Whole Picture
Pared down but altogether opulent, this modern bathroom takes full advantage of the surrounding waterfront scenery. Even the mirrors reflect glimpses of the home's breathtaking views. All the furnishings — the bench seat in the shower, the low-profile bathtub and the floating vanity — are kept close to the ground to provide wholly unobstructed views.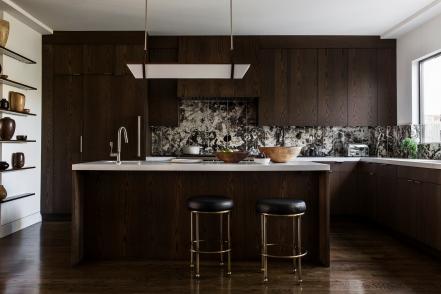 Laure Joliet Photography
Hello Darkness, My Old Friend
In a sea of bright-white kitchens, there are still a few that embrace the darker side. Floor-to-ceiling deep wood tones create a rich and welcoming environment in this oh-so-edgy kitchen. The sleek lines of cabinetry and fixtures keep the space from feeling too heavy, while doses of white in the countertops and backsplash break up the monochromatic scheme.
Jackson Design and Remodeling
Putting on the Ritz
Because sometimes you have to go full-on posh. Wide-plank herringbone floors and a timeless clawfoot tub combine with lavender walls, a floral mural and a glass-beaded chandelier in this lavishly feminine bathroom. Behind the tub, the two arched doorways lead to an extra-long and extra-glam shower with glossy subway tile flowing from the walls to the rounded ceiling, all of which is grounded with graphic black-and-white hexagon tiles.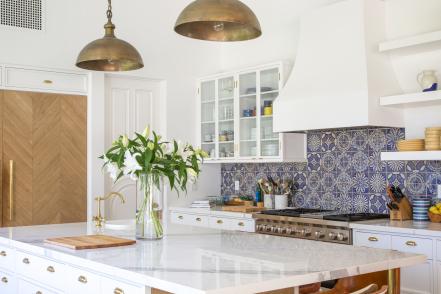 Bethany Nauert
Globe-Trotting Style
Blue-and-white Moroccan tiles are an eye-catcher in this global-meets-vintage kitchen. Unlacquered brass cabinet hardware and pendant lights boast a collected-over-time vibe, and the refrigerator and freezer are hidden behind custom-designed doors that showcase oak planks laid in a chevron pattern.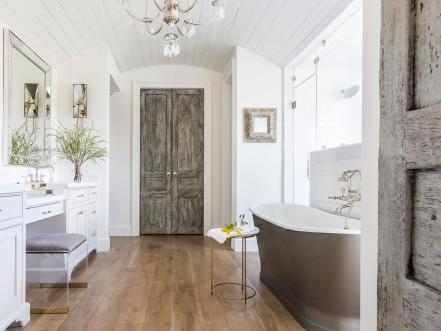 Julie Soefer Photography
What's Old is New
Vintage meets modern in this serene master bathroom where whitewashed wood planks overhead and a chandelier dripping in crystals feel old fashioned — but in the best way possible. Traditional double vanities are paired with beveled mirrors, continuing the timeless aesthetic, while the mocha slipper tub is reminiscent of an antique but with a decidedly modern take.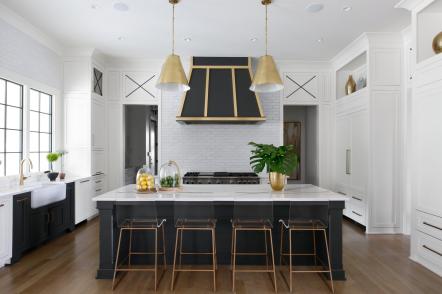 Paige Rumore Photography
Ebony and Ivory
A high-contrast color palette + splashes of gold = this seriously stylish kitchen. Subway tile in the softest of grays fills the space behind the range and over the windows for added texture, while see-through barstools are a contemporary addition to the glossy black island.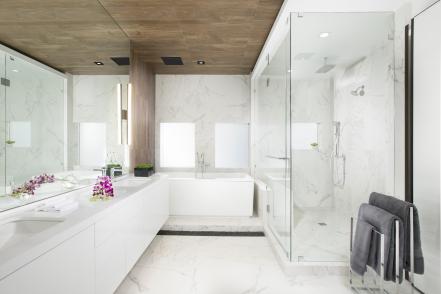 Alexia Fodere
Understated Elegance
Clean lines combine with bright white for a crisp, spa-like environment in this bathroom where the squared-off corners of the soaker tub mimic the edges of the floating vanity and glass shower. The wood-clad ceiling and tub surround add organic texture and an earthy color.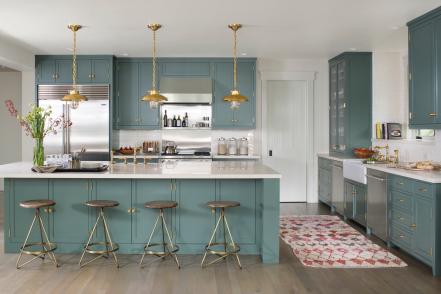 Kimberly Gavin
Deliciously Full of Color
Although blue-green cabinets may be the star of this kitchen, a liberal use of white keeps the space from feeling overwhelmed with color. Brass pendants reflect the finish of the cabinet hardware, as well as inject a bit of vintage charm.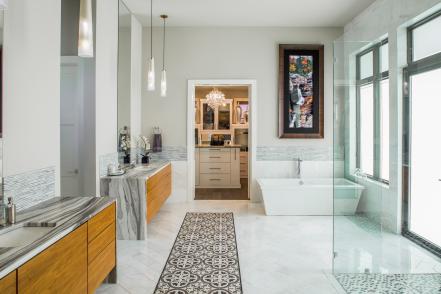 Fine Focus Photography; Interior Design: Amanda Stephenson
Tile: More Is More
Why settle for one great tile when you can use several, instead? A herringbone marble grounds this bathroom with graphic, quatrefoil-patterned tiles laid to resemble a runner. Large rectangular marble tiles cover the outer wall and wrap around as a half-wall behind the bathtub where they're topped with a contemporary linear backsplash. Finally, the shower floor features penny tile in variants of black and white.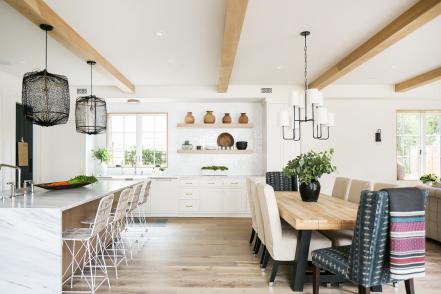 Ryan Garvin
Perfectly Illuminated
Statement-making fixtures may get all the glory, but we know the importance of hard-working recessed lighting. In addition to prominent black mesh pendants and a sleek chandelier, this open-concept kitchen has rows of recessed lighting between the natural wood beams to ensure the space is always well lit.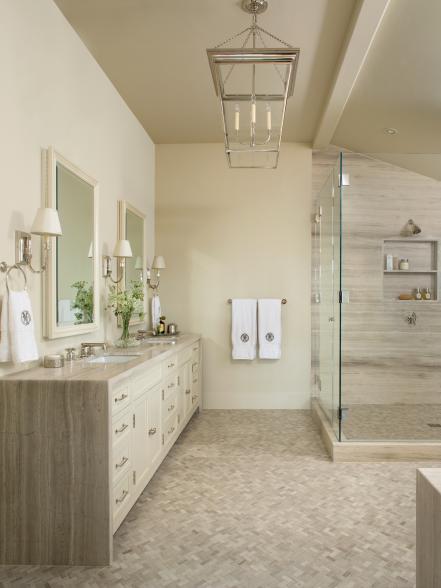 Stay in One Lane
Unlike our living rooms where we can easily switch out pillows, textiles and furnishings, bathrooms are a bit more permanent in their design. Opting for neutral surfaces ensures your space will stand the test of time, plus a tone-on-tone palette is visually appealing and calming. To keep the look from feeling flat, use a variety of textures, like this sandy-hued bathroom that plays with a mix of tiles, paint shades and finishes.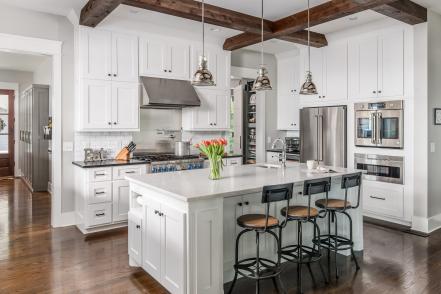 Garett + Carrie Buell of Studiobuell/ studiobuell.com
Equipped for a Home Chef
Bright and airy, this entertaining-ready kitchen has all the high-end appliances one could need. Exposed beams overhead contribute a rustic note to the mostly white space, while chrome pendants and wood-and-metal barstools bring in an industrial edge. The large island not only serves as a prep area and dining spot, but also has cabinets all the way around to provide bonus storage, including a built-in paper towel holder.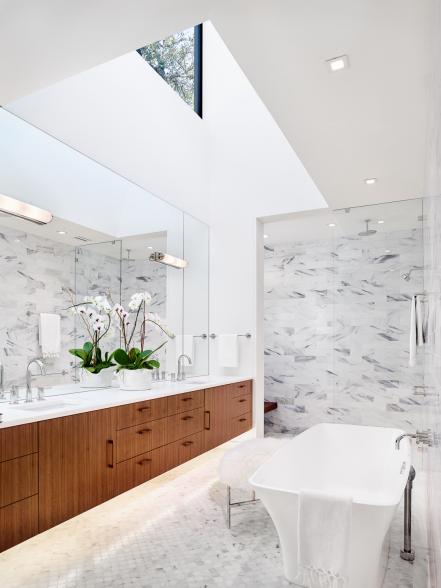 Casey Dunn
Lightened Up Design
All about light, this chic bathroom boasts natural light flooding in through the skylight, small-but-powerful recessed lights throughout the ceiling and even bulbs that illuminate the area under the floating vanity. The custom oak vanity is topped in a simple white countertop. And, of course, our favorite luxurious material — marble — plays a major role in this space continuing from the diamond-patterned flooring to the rectangular tiles of the shower walls.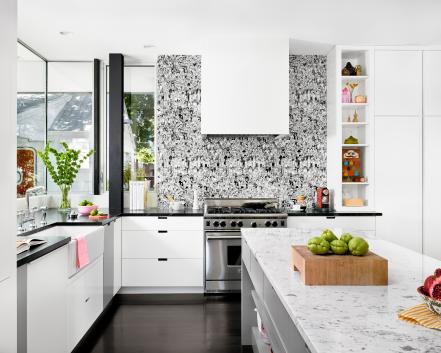 Hugh Jefferson Randolph Architects
Upon Closer Inspection
Tile is not your only option when choosing an eye-catching backsplash. Here, black-and-white wallpaper was hung behind a protective layer of glass to create a one-of-a-kind installation. From afar, the paper looks like a striking abstract print, but once you step nearer, you'll find it cleverly features drawings of hundreds of people.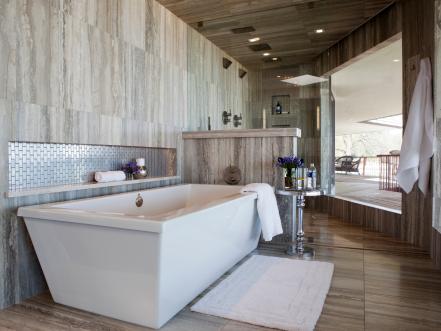 A Place to Unwind
With a dozen rainfall showerheads in the expansive shower and a deeply relaxing tub, this bathroom is an experience in luxury. Brushed nickel tile fills a niche above the tub and in the shower creating a metallic contrast against the earthy-inspired stone walls.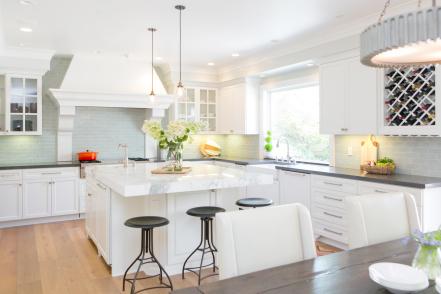 Braun + Adams
Simply Splendid
A massive picture window pours natural light into this crisp, white kitchen and offers a lovely view while tackling the dishes. An extra thick marble slab makes for an impressive surface atop the eat-in island. Nestled between the upper and lower cabinets and surrounding the range hood, the subway tile backsplash adds a serene hint of pale blue.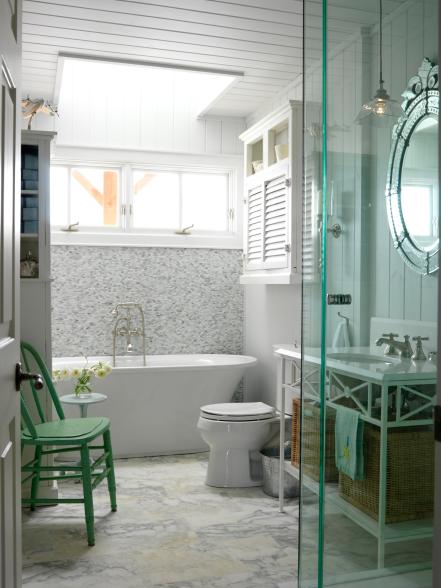 Cue the Charm
Small bathrooms can be just as fanciful as their larger, spa-like counterparts. Here, mint-green mosaic tile stretches across the back wall for a cool focal point. Tongue-and-groove boards cover the walls and ceiling and are paired with shutter-style cabinets to give the space an appealing cottage vibe.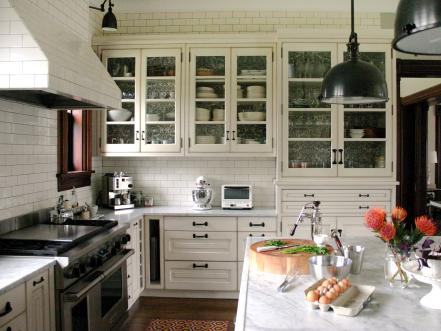 Timelessly On-Trend
Classic antique white cabinetry and Carrara marble countertops combine in this traditional kitchen. White subway tile extends from the backsplash to above the cabinets — covering the range hood, too — for a cohesive look. Industrial-style pendants, glass-front cabinets and elegant hardware finish the space with a vintage quality.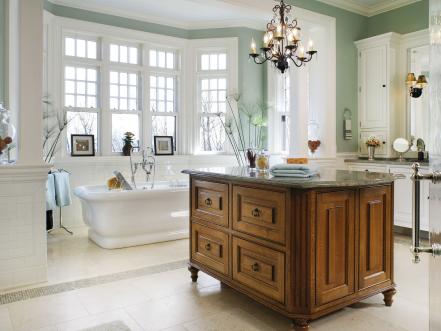 Refined Flourishes
Islands aren't just for kitchens. This quarter-sawn island adds storage and style to the large bathroom, but the true focal point is the spacious slipper tub nestled into a sunlight-filled niche. A natural stone floor is accentuated by a mosaic tile border, while sophisticated moldings highlight all the architectural elements of the space.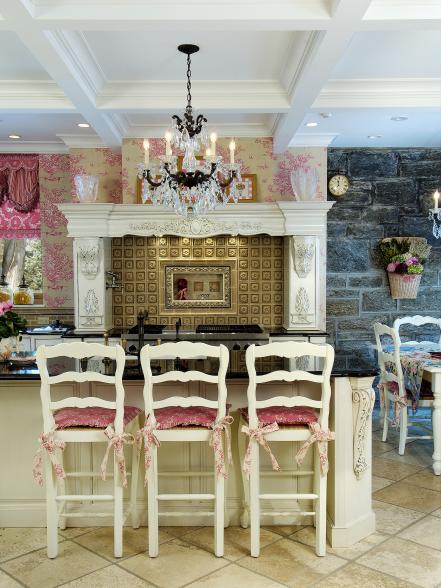 Over-the-Top Tradition
A color palette of gold and pink sets the scene for this kitchen that combines opulent, feminine design with elements like toile wallpaper, detailed moldings and an ornate crystal chandelier.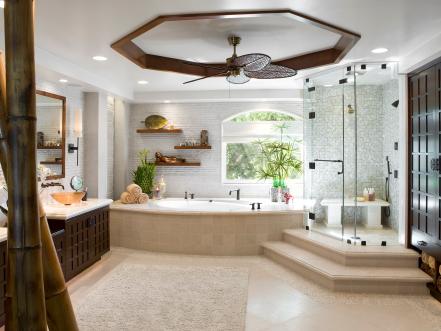 Scott Mayoral
Serene Sanctuary
The latest in technology allows homeowners to create their own personal spa. This mosaic-tiled steam shower features all the modern amenities, including body jets and a sound system. The soaking tub has a subtle waterfall wall and includes a chromatherapy option. To top it all off, the space doesn't skimp on stunning architectural elements, like the coved ceiling and oversized window.