Now Viewing
Decorating Ideas for Small Spaces
Every inch of this 400-square-foot apartment is packed with style. HGTV Magazine shows you how to make the most of your small space.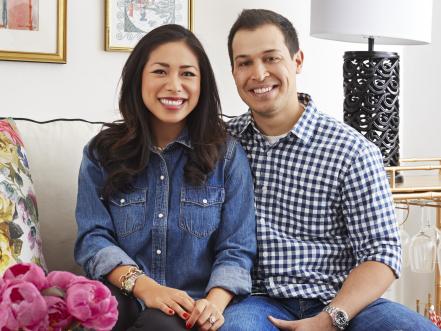 David A. Land
Downsized Design
Roxy Te Owens, founder of Society Social, a furniture and accessories line, and her husband, Alan Owens, an engineer, share this tiny NYC apartment with loads of cute, practical stuff. And thanks to Roxy's innovative decorating, the home doesn't look one bit cluttered. "My secret is trays," Roxy says. "When you put a pile of stuff on one, it instantly looks neat and stylish — even if you're just stacking remotes."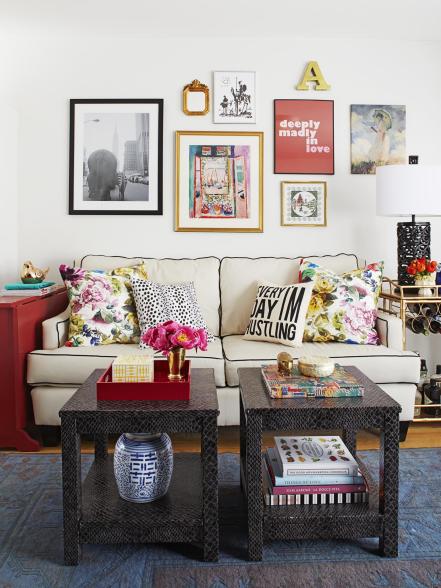 David A. Land
Small-Scale Furniture
"If we'd gone with a typical overstuffed couch, we wouldn't have had space to walk!" says Roxy. Instead, she chose an off-white two-seater from her own line, Society Social. The coffee table is actually two end tables placed next to each other and can be scooted out of the way for more room. A lower shelf on each table means twice the storage. Roxy hung the frames with removable adhesive hooks instead of nails, so it's easy to move the pictures around.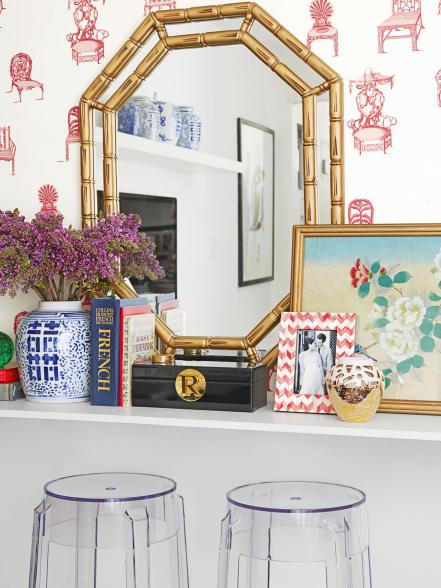 David A. Land
A Shelf Turned Countertop
On a living room wall, Roxy installed a 12-inch-deep painted wood shelf from a hardware store. It not only holds pieces like frames and vases but also serves as a vanity table for Roxy's morning makeup routine. Don't be scared of wallpaper, even in a tight space. "Think of it like a big piece of art," says Roxy. She used Chairs in red by Thibaut above her counter. Clear stools get strutted out for parties when they're not being used with the makeshift vanity.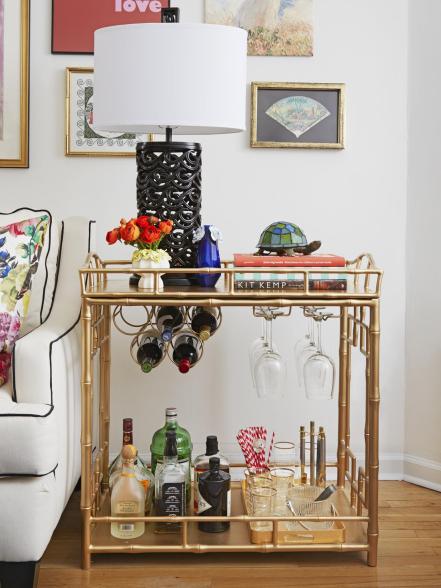 David A. Land
A Double-Duty Table
"I love a bar cart, but I didn't want to choose between one and a side table," says Roxy. Rather than sacrificing one of her favorite pieces, she put the cart to work next to the couch holding a lamp, books and knickknacks on its top shelf, and bar basics on the bottom.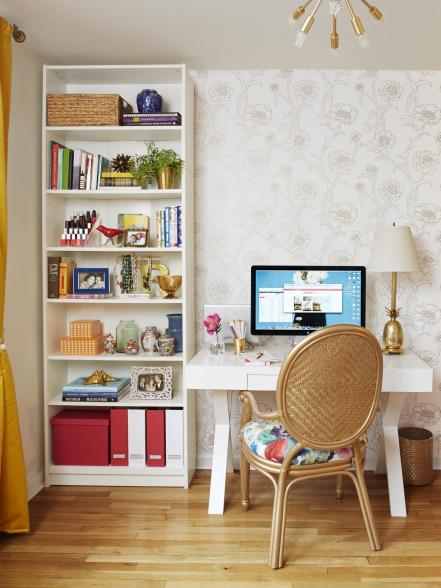 David A. Land
A Mini Home Office
An 8-foot-wide wall in Roxy and Alan's bedroom serves as a workspace. The lacquered desk from World Market and curvy gold chair with a floral seat are pretty enough for a bedroom. A bookcase that goes to the ceiling — rather than stopping short — makes a small room feel bigger. Roxy's shelves hold a mix of office file boxes, trinkets, nail polish and jewelry: a half-work, half-play station.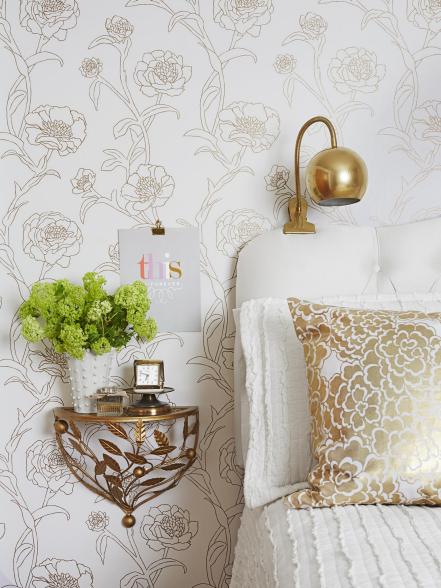 David A. Land
Freed-Up Floor Space
The small metal shelf, a $10 flea market find that Roxy spray-painted gold, is mounted on the wall, so it doesn't take up room like a nightstand. Roxy also chose a clip-on lamp from The Land of Nod. "If they made clip-on vases, I'd have one of those, too!" she says. The Tempaper wallpaper (Peonies in Gold Leaf) is like a giant removable decal — it can easily be peeled off, perfect for rental living.