HGTV Urban Oasis 2014: Frequently Asked Questions
Start and End Date
Eligibility
Daily Email Reminder
Methods of Entry and Requirements
Duplicate Online Entries
How Winner Is Chosen/Notified
Troubleshooting
HGTV Urban Oasis 2014 (Taxes, Products, Tours, Apartment Plans)

Giveaway Start and End Dates
The HGTV Urban Oasis 2014 Giveaway begins on August 28th, at 9 a.m. ET and ends October 10, 2014, at 5 p.m. ET.

Eligibility
•Per the official rules, product sponsor employees and their respective family members are ineligible to enter the giveaway.
•Entrants must be legal U.S. residents, 21 years of age or older.
•Eligibility Requirements – Military
Members of the US Armed Forces are eligible to enter the HGTV Urban Oasis 2014 Giveaway. On the enter page, the "State" field contains AE, AA and AP.

Daily Email Reminder
•Sign up to receive a daily email reminder from us so you won't miss a single day of entry. Be sure to add our email address of hgtv@reminders.hgtv.com to your safe senders list. If there are issues with the entry links in the reminder, feel free to contact Customer Service for assistance.

Methods of Entry and Requirements
•Online: Each eligible member of a family may enter online once per day (once on hgtv.com and once on frontdoor.com), as long as each member has his or her own unique email address. If family members share one email address, only one family member is eligible to enter online.
•U.S. Mail: In addition to entering the Giveaway online, individuals may also enter via US Mail. There is no limit placed on mail-in entries, however, only one entry per envelope or per postcard will be accepted.
•Street Address or PO Box
Entrants must provide a street mailing address for prize delivery purposes.
•Address for Mail-In Entries
Mail entries to HGTV Urban Oasis Giveaway, PO Box52226, Knoxville, TN 37950.
•Postcards
Postcards may be mailed as-is or sent in envelopes. Each postcard must meet the USPS minimum size requirement of 5 inches long x 3 ½ inches high.
•Duplicated Address Labels
Printed address labels are considered mechanical entries and are therefore not accepted. Mass-produced entries are not accepted. The return address can be a stamp or a sticker.

Duplicate Online Entries
The first daily online entry per person per site is retained for the Giveaway; duplicates are deleted.

How Winner is Chosen/Notified
For specific information on when the winner of this year's HGTV Urban Oasis Giveaway will be chosen and how they will be contacted, please see the official Rules when they are posted in late August.

Troubleshooting
Having trouble? Consider these tips when submitting your entry.

•Web Browsers/Mobile
Desktop browsers:
Firefox – latest version preferable
Google Chrome – latest version preferable
Internet Explorer 8, 9 and 10 (IE users will also need Adobe Flash version 11.3 or higher)
iOS Mobile devices

How do I know my entry has been successfully submitted?
You will receive a Thank You page following a successful entry.

HGTV Urban Oasis 2014 (Taxes, Products, Tours, House Plans)
•Taxes
To determine taxes associated with winning HGTV Urban Oasis 2014, please seek legal counsel and base calculations on the approximate retail value of the prize.
•Products
See the complete list of available resource information for products featured in this year's HGTV Urban Oasis when it becomes available.
•Public Tours of the 2014 HGTV Urban Oasis
Information about public tours of the apartment will be posted in the Dreams Happen blog when dates and times become available.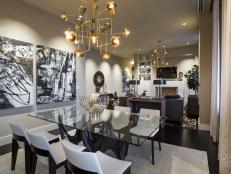 Did you see something you liked at Urban Oasis 2014? Browse a list of products featured in the apartment.