Tips for a Successful Back-to-School Season
By: Kelsey Graves at We Heart Parties for the Chinet® brand
Sponsored content courtesy of the Chinet® brand.
It is HARD to get back into the swing of things after the schedule-free, lazy days of summer.
The abrupt transition from a fairly lax summer life to early mornings, bus stops, after-school activities, homework, and more can make me feel like a total crazy person!
There is one small corner of my house that saves my life when it comes to planning out my weeks and staying on track, especially in the back-to-school season.
It is no coincidence that this magical corner of my house includes my beloved coffee bar. First we have the coffee, then we do the things! Am I right?
I am sharing my top 4 tips for taking weekday mornings from crazy to calm.
1. SET UP AN AT-HOME COFFEE BAR
This "coffee corner" has been crucial to my husband and me getting out the door on time.
We stock Chinet® Comfort Cup® insulated hot cups because they are made to take on the go, they are strong and sturdy, their double-layer insulation keeps my coffee hot, they are cool to the touch (no extra coffee sleeve needed), and they are disposable.
I also host a lot of playdates at my house, and it's so nice to offer fellow moms a coffee that they can take with them when it's time to go.
Our home tends to be somewhat of a hotel. We live far from family and friends, so we always have a lot of visitors coming and going. Having Chinet Comfort Cup insulated hot cups allows our guests to serve themselves coffee and take it with them to whatever adventure or outing we are all headed to.
Also—they came out with a new design, and they are just plain cute! We also use glass canisters on our coffee bar to organize our coffee pods and sugar packets (we prefer "stevia" sweetener).
2. LAY OUT CLOTHES THE NIGHT BEFORE
This is important for everyone - even YOU! Layout the entire family's clothes the night before. Even if I am going to be in my "mom uniform" of black leggings and a hoodie, it's out the night before.
This keeps everyone moving in the morning and keeps you from having to spend any brain power on figuring out what you are going to wear.
Less time choosing an outfit means MORE time to enjoy your coffee. My kids will even get dressed before leaving their bedrooms in the morning, which is SO helpful!
3. MAKE LUNCHES THE NIGHT BEFORE
This tip helps SO much! Check the school lunch menu the night before. If your kids will be bringing lunches, put them together the night before and store them in the fridge.
For peanut butter and jelly sandwiches, you can put peanut butter on both sides of the sandwich, and jelly in the middle, to keep the bread fresh overnight. Or make the sandwich in the morning, and have everything else in its place ready to go.
4. MEAL PLAN, MEAL PLAN, MEAL PLAN!
Meal planning has changed my life.
On Sunday, I write down what we will be eating every night of the week. At the same time, I create a grocery list (I'm a big fan of the "All Out Of" lists, where you just check off the items you need).
I will also write down if the hubby or I will be out one night on this dinner plan. Then on Sunday, I go to the grocery store and get everything we need for the week.
The weekly meal plan is so helpful because everyone in the family knows what we are eating each night, and I NEVER have to think "what's for dinner tonight?".
I created a free printable weekly dinner planner for you so that you can start planning out your weeks. Print a bunch, fill them out on Sundays, and tape them to your fridge for the week. I promise it will make your weeks so much easier!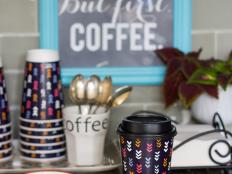 By: Haeley Biambalvo at Design Improvised for the Chinet® brand Sponsored content courtesy of the Chinet® brand.