How To Make Over Your Fireplace
Click here to see the full project and video on Sherwin Williams®.
Sponsor content courtesy of Sherwin Williams®
1. With the wire brush, clean the debris from the fireplace brick and mortar.
2. Once you've cleared all accessible debris with the brush, use an industrial vacuum like a Shop-Vac® to vacuum the area around the fireplace.
3. After vacuuming, use the sponge to clean the fireplace with cleaner/degreaser.
4. Deep cleaning is essential, as any dirt or debris left on the bricks will cause your paint to chip or peel.
Tip: Use painter's tape and a drop cloth to keep walls and floors clean.
5. Use the 1" flat stiff bristle artist brush to press the Loxon Concrete & Masonry Primer into the crack and crevices of the mortar and brick. Then use a mini roller to cover the remaining surface area, ensuring that the primer is applied as evenly as possible. Priming is especially important when painting brick because the primer offers adhesion with alkali and efflorescence resistance for masonry surfaces.
Tip: Using a roller makes painting go faster and helps you apply primer evenly.
6. Use the 2" brush and ProClassic Interior Acrylic Latex Paint to paint the mortar along with any cracks and crevices of the brick. Then use the 6 ½" roller with ½" nap to paint the rest of the fireplace, ensuring that the paint is applied as evenly as possible.
Tip: Always clean your brushes for future use. Learn how to properly store and dispose of paint here.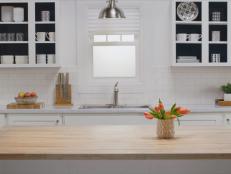 Click here to see the full project and video on Sherwin Williams®. Sponsor content courtesy of Sherwin Williams®