By: Kate Bowler at Domestikateldlife for the Chinet® brand
Sponsored content courtesy of the Chinet® brand.
Recently, we've been having family stay over for the weekend often. Most of my family lives in New York, and they come up to visit often since we've had Jane. She's the main tourist attraction in these parts (and living close to the beach is an added bonus to lure them up!). I love it that they love to visit; it's an awesome excuse to fill the house with people and food and drinks. We talk for the entire week leading up to their visits about what we're going to eat; it's a favorite tradition of our food-loving crew.
As these fun weekends come to an end, Sunday morning is usually a whirl of activity as everyone showers and packs bags, deflates their airbeds and starts to load up cars. A big, sit-down brunch isn't usually in the cards (which is too bad because I love brunch). Instead, I try to set up a little, self-serve breakfast station with some homemade treats and coffee. It works out that everyone can grab a bite and a cup of coffee as they wake up and come downstairs.
For my family members who might be late sleepers (you know who you are), I also like to make sure this grab-and-go style breakfast can actually be easily transported on the go. One of my favorite homemade breakfast treats to make is mini donuts. I've tried lots of different recipes and have this classic recipe for vanilla-flavored donuts, sweetened with a bit of honey, and topped with a buttery sweet glaze and sprinkles. You can mix up the batter the night before and then store it in the plastic bag or pastry bag used to pipe them into the pan. Mix up the glaze during the short time they're baking, and you can have warm, homemade donuts on the table in about 10 minutes.
Once the donuts are glazed and ready to serve, I set them out with small glassine bags so that everyone can scoop up a few to take with them on their ride home. Alongside the donuts, I have a pot of coffee and some Chinet® Comfort Cup® insulated hot cups set out with milk and sugar so that everyone can have a warm cup of freshly brewed coffee for the road. I always get compliments on the Chinet® Comfort Cup® insulated hot cups because they have such a cute, stylish design (and they're made in the USA!). They're great for on-the-go use—I sometimes use them when we're heading out for weekend errands and I need my mom-fuel!
Setting up this little to-go coffee and donut station is a simple gesture to send off our houseguests with some treats and caffeine to make their journey home as enjoyable as their stay! Get the recipe for my homemade baked mini donuts with sprinkles below.
Yield: About 24 Mini Donuts
1 cup of all-purpose flour
1 tsp. of baking powder
¼ tsp. of salt
¼ tsp. of nutmeg
¼ cup of whole milk
2 Tbsp. of melted butter
1/3 cup of white sugar
2 Tbsp. of honey
1 tsp. of vanilla extract
1 large egg
1 cup confectioners' sugar
2 Tbsp. melted butter
2 Tbsp. of milk
Sprinkles
Preheat oven to 400 degrees.
Whisk together flour, baking powder, salt, and nutmeg.
Combine milk, butter, sugar, honey, vanilla extract, and egg.
Fold together dry and wet mixtures until just combined.
Fill a pastry bag (or Ziploc bag with the corner cut off) with the donut batter.
Spray donut pan with nonstick spray and pipe mixture into the tins until ¾ full (try to do two spins around the donut circle with the bag of batter).
Bake at 400 degrees for 6 minutes and then immediately remove from oven and flip the donuts quickly (use a fork to handle the donuts) and return to the oven for an additional 2 minutes until a light golden brown.
While donuts are baking, make glaze: combine confectioners' sugar, milk, and melted butter until smooth.
Drizzle slightly cooled donuts with glaze and top with sprinkles.
Let the donuts rest for 15 minutes before serving to allow glaze to firm up. Serve warm with coffee.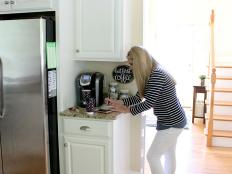 By: Kelsey Graves at We Heart Parties for the Chinet® brandSponsored content courtesy of the Chinet® brand.