Take flooring to new heights.
Sponsor content courtesy of Armstrong Flooring
Does your flooring remind you of a work of art? If not, it may be time to raise your expectations of what flooring can do to beautify your home. While adding tile treatments and wood paneling to walls has been around for decades – designers are now expanding their portfolio of possibilities with wood and luxury vinyl flooring.
Take an accent wall to the next level with visually engaging flooring. Create definition in a dining room by adding flooring below wainscoting. Add visual contract to bookshelves, entryway or mudroom and breathe new life into a backsplash.
When adding flooring to your walls, it's important to consider which direction you'd like to take. Flooring can be installed horizontally, vertically or diagonally – so be sure to consider how the pattern will visually impact the overall look of the room.
If your style is more classic, Alterna™ engineered stone is the perfect choice for stone, ceramic and porcelain accents and can be installed in any room including kitchens and bathrooms. This collection also offers Grain Directions, reminiscent of a luxurious mountain retreat, as well as Historic District, which has the vintage feel of weathered wood, with the warmth and charm of a quaint seaside cottage. Use Alterna, with or without grout as a decorative backsplash, accent wall or other focal point to bring added style to your space.
Adding flooring accents to your walls is a cost-effective way to transform any space in your home. Many of Armstrong's flooring styles can be installed in any room to create a unique visual statement. Flooring is also budget-friendly way to conceal imperfections or give aesthetic appeal to outdated wall hangings. Give this trend-setting look a try and fall in love with your walls!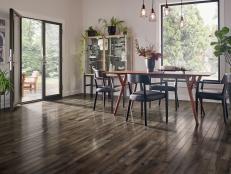 What's new, what's hot and what's not. Sponsor content courtesy of Armstrong Flooring