Rehab Addict Akron: Nicole Curtis + Lebron James
See how Nicole Curtis worked with the LeBron James Family Foundation Promise Project on a full-house renovation for a deserving Akron family.
When NBA superstar LeBron James calls, you answer! In six special episodes of Rehab Addict, Nicole Curtis takes her renovation skills to Akron, Ohio to help the NBA star James and the LeBron James Family Foundation Promise Project do a top-to-bottom renovation for a deserving family.

Lauren Noess, © 2014 HGTV/Scripps Networks, LLC. All Rights Reserved
Nicole Curtis poses with a group of volunteers from the LeBron James Family Foundation staff.

The lucky winner? Sixth-grader Mariah Riley and her family earned a total home makeover for meeting all her goals and working hard in school.

Flip through behind-the-scenes photos to see how Nicole, Lebron and a host of volunteers transformed the Riley family's home.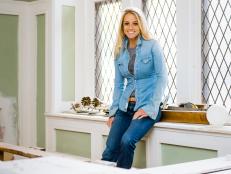 Steal these tried-and-true home remodeling tricks from the queen of rehab.