How to Have an HGTV Holiday
These inspired moves can fill any space with the spirit of the season.
Itching to deck your halls with the je ne sais quoi that seems so effortless on holiday specials? You don't need to be a pro to infuse your festivities with that ready-for-prime-time feeling: Just follow our lead and you're on your way to year-end revelry HGTV-style.
Don't panic: You don't need to rescue old church pews or turn bowling lanes into a kitchen island to cultivate a Home Town mood. Any old supplies can get festive when you're in the right frame of mind (hello, old roll of twine from the back of the garage)!
No, not literally (though if you're capable of really going Cousin It this year, you do you). Forestall any nosy-relative you might not want to have to dodge around the eggnog by drawing all attention with an out-there 'do. Chip Gaines created such a buzz with his look this year that he's now raising money for charity simply by talking about cutting it—not too shabby for a humble head suit, hmm?
Find yourself bickering with your mom over Christmas casserole techniques? Make like Mina on Good Bones by suggesting a DIY project based on the stack of castoff sweaters taking up room in a drawer.
Present a Plethora of Gifts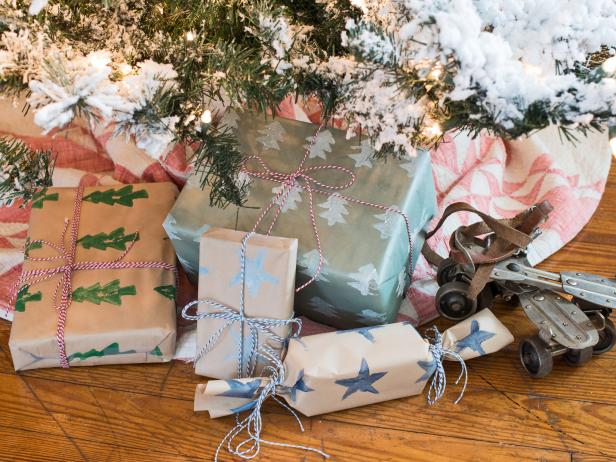 Custom Wrapping Paper
Instead of purchasing a roll of wrapping paper at the store, bring your kids around the table to make custom hand stamped paper with potatoes and paint. What a great way to get this children involved in the holiday season.
Finesse your way through gifting kiddos you haven't seen all year by approaching presents like a House Hunters scenario: Offer each little one a choice between two or three goodies and let them pick the one that catches their eye.
Make Liberal Use of "Before" Images
Your visitors might not be able to wrap their minds around what your place looked like prior to your holiday-cleaning blitz, but doesn't all that work deserve a little recognition? Show 'em a snapshot or two of your home at its funkiest to foster appropriate awe for the current state of their guest room.
Dodge Winter Dreariness by Channeling Hilary Farr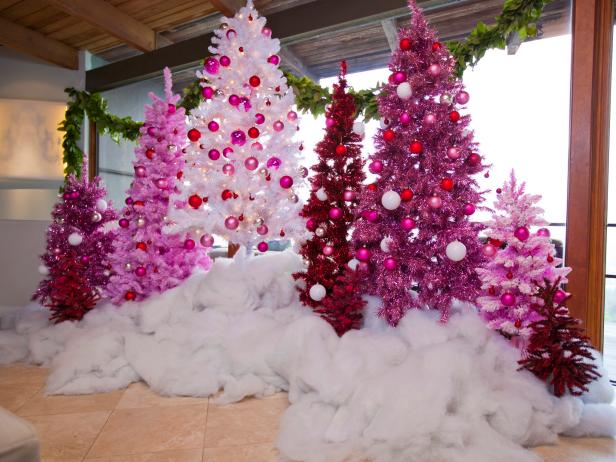 Celebrate Christmas in Shades of Pink
Cheryl Burke, dance coach extraordinaire on Dancing With the Stars, takes her sense of glamor to new heights with a collection of pink Christmas trees that adorned her home over the holidays. The look is a little bit retro, a little bit sweet, and so very Cheryl.
Love It or List It's resident drama queen never met a live-out-loud color she didn't love. If tone-on-tone snow and slush get you down, crank the saturation on your decorations way up.
Prepare a (Karaoke) Playlist
If a holiday doesn't include a bit of questionable crooning, is it a holiday at all? Drew Scott won Linda Phan's heart years ago by belting out The Lonely Island's "I'm on a Boat" in mixed company—and while that particular selection might not go over well with your nana, we're pretty sure she's ready for, say, Bing Crosby and David Bowie's Christmas duet.