7 Ways HGTV Could Save You From Family-Holiday Awkwardness
Our seasonal gift to you: Fancy footwork and coping strategies.
Isn't it festive when an extended clan piles into a single space and all the too-personal questions and strange comments everyone's been saving up since last year's get-together come tumbling out at once? Okay, maybe "festive" isn't the right word, but this is a family site. We can't spare you the avalanche of awkward altogether, but we might be able to help you tunnel out of it. When the going gets tough...
Channel the low-maintenance flexibility of people who live in tiny homes
If they can cram their entire lives into single-car-garage-sized spaces, surely you can share a bathroom with your nana for a long weekend, right? (This home in Selby, South Dakota is all of 204 square feet, total: On Christmas Eve and every other night of the year, its owners go to sleep right above their kitchen. That is some hardcore minimalism right there.)
Budget for more than you need—time, money, dinner rolls, whatever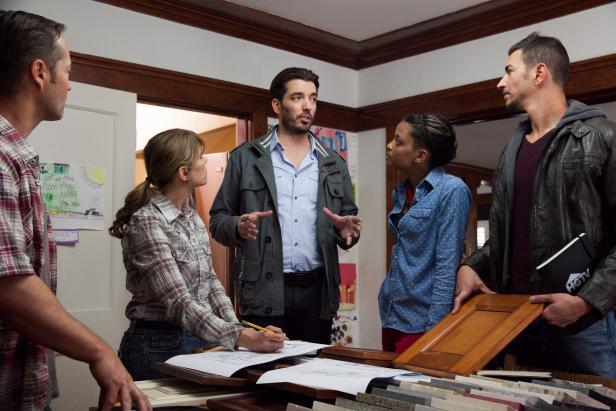 As seen on HGTV's Brother vs. Brother, host Jonathan Scott, center, talks with his team (from left) Rick Schwarz, Stayce Smith, Peggy Tart, and Adi Shuruk in the dining room of the Espy house as they pick project rooms and talk about the budget. Ultimately the group decided to remodel the kitchen and the upstairs bathroom. Jonathan reminded his team that it was crucial that they finish whichever project areas they started, since they hadn't managed to complete all of the finish work in the last challenge. (Action)
Stephanie Diani / Getty Images
Jonathan Scott builds wiggle room into his Brother vs. Brother projects as a matter of course—that's what pros do. Know that gifts will inevitably cost a bit more than you think they will, that someone is going to show up hours late for dinner even though you know there was no traffic, and that you're going to have to run to the store for a last-minute something, possibly several times—and plan accordingly. In your case, the finished project is, well, your sanity.
Distract your wedding-hungry relatives with Drew and Linda updates
No engagement in your immediate or distant future? No problem! Redirect the conversation to the latest on Drew and Linda, perpetually adorable newlyweds-to-be. Can you believe they're televising their own renovation project and planning a destination wedding and frolicking in Santa hats in the ocean while the rest of us are bundled up in novelty sweaters? D'you think Drew has picked out his wedding kilt yet? (We know there are going to be some serious wedding kilts at that party.) It will totally work. They're like baby animals in clothes.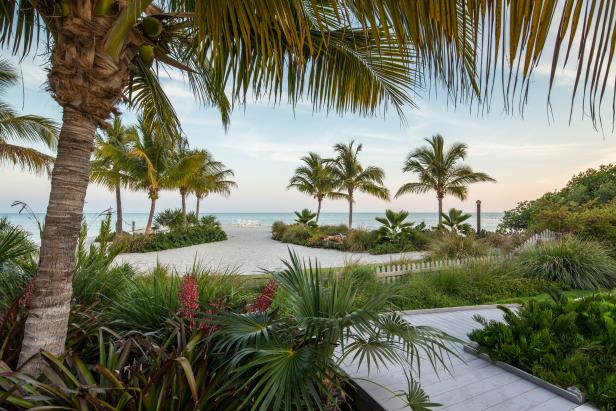 Boardwalk View of Beach
The boardwalk at this ocean-front resort boasts 180 degrees view of white sand beaches and turquoise water. Palm trees and beach grass line the walkway to paradise.
Yes, your body might be wedged at an eight-person table set for 12 between your chain-smoking uncle and your cousin who refuses to discuss anything but video games, but your mind can be anywhere. Might 2018 be the year you undertake a Beachfront Bargain Hunt of your own? What if you moved to the islands—any islands, really—and just stopped wearing shoes? Deep breaths. Slow, deep breaths.
Walk around the block and pretend you're house hunting
Don't think of your relatives' town as an unfamiliar sprawl where no one can hear you scream—think of it as a place that's just waiting for newcomers. Which property could you choose for yourself? Which do you think you could flip most dramatically? What would, say, Chip and Joanna Gaines do in a neighborhood like this? (Bonus: If your family continues to get on your nerves, just imagine covering them with shiplap.)
Compare your own drama to HGTV's twists and turns—and appreciate the hijinks accordingly
In a perfect world, raccoon families would never take up residence in attics, foundations would remain intact for decade after decade, and couples would dive into purchases like synchronized swimmers. That's well and good, but real-estate shows would be lost without that kind of drama. When the going gets rough, consider your own situation as a viewer would—and know that while your holidays might not be restful, they're in no danger of being boring. (Also, try to avoid demolishing load-bearing walls. It's solid advice for renovation projects and family holidays).
We are not above a shameless plug. When the going gets tough, the tough sometimes just give up and resort to shiny distractions like those seen on primetime HGTV. It's practically guaranteed that Mom and your sister-in-law will halt their passive-aggressive conversation about using teal chalk paint on Grandma's heirloom china cabinet once that familiar House Hunters "DING DONG" reverberates from the flat-screen. Because nothing brings together a bickering family better than a couple of bickering potential buyers who don't agree on rustic coastal finishes.