How to Make Dip-Dyed Photo Blocks
Dan Faires shows simple instructions on how to make dip-dyed photo holders using scrap pieces of wood.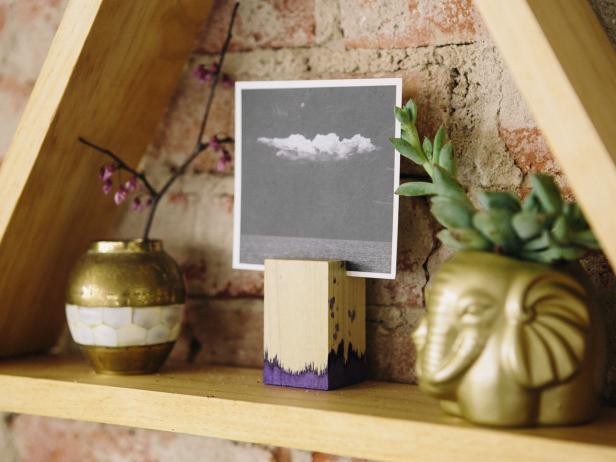 Dyed Photo Block
Dye a standard wood block in a bold color to make a cute photo holder.
DIY Photo Blocks
02:10
Dan Faires shows how to use wood scraps to create rustic colorful photo holders.
scrap pieces of wood
miter box and saw or 2x2" lumber
dye
warm water
shallow tray or bucket
stirring stick
sanding block
rubber gloves
Cut lumber into blocks in desired lengths with a saw and miter box. We made ours 3" so the photos' edges stick out.
Saw a thin slit in the top of each block where the photo will go, and sand any imperfections until smooth.
Mix powder dye with warm water following the instructions on the label. Place blocks into the warm dye bath, and let them sit for at least 30 minutes to an hour or overnight. The longer they sit, the more saturated the color will be.
Remove the blocks, and let them dry for several hours. Once they are dry, insert your photos.