HGTV Launches Third New Digital Series 'Back Home With the Bradys' as Part of 'A Very Brady Renovation'
Ever wonder what the six actors who played the Brady kids in the iconic series 'The Brady Bunch' are up to today? HGTV has the answers in a new and exclusive digital video series.
Heads-up Brady Bunch fans. (And, come on, who's not one?) The latest in HGTV's ongoing compendium of video extras connected with the upcoming TV event, A Very Brady Renovation, is a six-part exclusive digital series titled Back Home With the Bradys.
Back Home With the Bradys
Barry Williams
J. Pickens stops for a day of entertainment with Barry Williams.
In this latest short-form series, HGTV host J. Pickens travels the country, visiting the homes of each of the actors who played the Brady siblings – Greg, Marcia, Peter, Jan, Bobby and Cindy – to find out firsthand just what each one of the former child-actors is up to today. The answers, in some cases, may surprise you.
J. Pickens catches up with Maureen McCormick ("Marcia Brady") in SoCal
It's been more than four decades since the iconic ABC primetime series ended, but the show's firmly rooted pop-culture legacy endures. What's more, there's something positively enthralling about seeing those oh-so-familiar "Brady kids" today — in real life. It's a little like seeing a unicorn.
Take the two eldest Brady siblings, Greg (aka Barry Williams) and Marcia (aka Maureen McCormick). Here's a preview of what you'll see in their respective installments of Back Home With the Bradys.
So what has Barry Williams, known to most of the world as Greg Brady, been up to for the last 45 years or so? In this particular case, the answer isn't terribly surprising -- given that Barry's a born performer, an accomplished actor, musician and a showbiz natural. Over the years, Barry has continued to work in television and, most especially, on stage. He's performed in about 85 different stage productions, including musical theater classics like Oklahoma, West Side Story and The Sound of Music. He came to Branson, Missouri a few years ago as a performer. Once there, he fell in love with the place, and just never left. When Jason got the opportunity to visit Barry at his lakefront Ozark home, the two got along just famously.
For his part, Jason relishes the opportunity to just casually hang out with one of his boyhood idols. And Barry, wearing his trademark Hawaiian shirt, graciously opens up his home, showing off the beautiful lake view and even bringing out some of his more over-the-top the stage costumes. (The opportunity to try some on is not missed.)
Over the course of the afternoon, the two discuss 60s/70s fashion, the durable appeal of Hawaiian shirts and something called "Brady Soul". And for true diehard Brady aficionados, there's even a "Johnny Bravo" flashback.
(Editor's Note: For those less versed in Brady lore, in the Season 5 episode "Adios, Johnny Bravo", the anticipation of fame goes to Greg's head when a talent agent, of dubious intent, signs him to perform under the rock-and-roll pseudonym Johnny Bravo – dressed in a blue and bedazzled matador-styled suit. Things eventually come crashing down, and Greg gets a lesson in humility, when it becomes clear that he was essentially selected for the part, not for his talent, but because "the suit fit".)
I'm doing the same thing that I was doing when I was a kid. I'm still acting. I still work at television. Most of my adult life has been in musical theater.
Barry Williams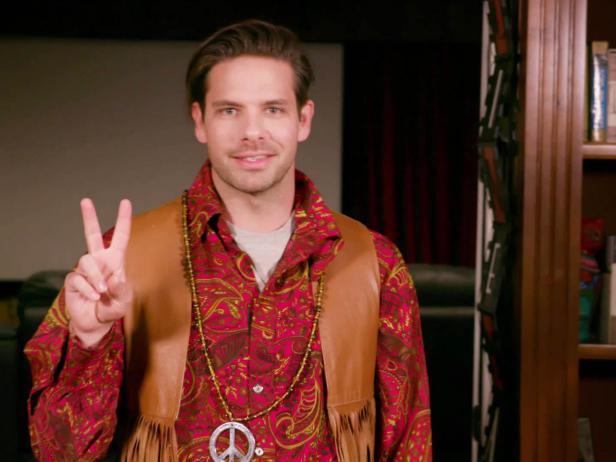 Back by popular demand. Jason strikes a pose familiar to anyone who grew up in the era of the Brady Bunch. (And The Beatles. In fact, there's a pretty famous shot of one John Lennon in similar stance.)
Back by popular demand. Jason strikes a pose familiar to anyone who grew up in the era of the Brady Bunch. (And The Beatles. In fact, there's a pretty famous shot of one John Lennon in similar stance.)
Getting real for a few minutes, Barry discusses his passion for performing and connecting with a live audience. He also talks about his love of the outdoors, Ozark native wildlife, cave exploration and (wait for it) a soft spot in his heart for the local tarantulas. Throughout the day, Williams is the consummate host — funny, engaging and charismatic with his infectious smile paired with a wry and subtly deadpan wit.
Next on the day's agenda, Jason attends – and participates in – band practice for Barry's band, The Traveliers, where the musical foursome tears into in an impromptu bit of rockabilly-inspired jamming. Barry's wife Tina joins in on vocals and tambourine as the boys play and strike guitar-hero poses. This may be home, but it's a pure showbiz moment.
It might surprise you to know Maureen McCormick became a child actor, and ultimately landed the role of the eldest Brady sister Marcia, after winning a local "Baby Miss San Fernando Valley" talent contest at around age six. The following day she got a call from a talent agent who wanted to represent her for potential TV appearances. And the rest is Brady history.
Today, Maureen resides in Southern California in a lovely home, and leads an equally lovely life. She's also an avid crafter and DIY'er. When Jason visited with Maureen, he first met her at one of her favorite haunts where she revealed one of her personal passions — quilting. Maureen introduced Jason to Mary Petersen, her crafting mentor and owner of the quilting shop Cotton and Chocolate. "I spend so much time here, and it's kind of like my happy place," Maureen said.
Maureen and Mary give Jason a crash-course in the history and basics of quilting, and the nuances of various quilt patterns — all served with a side of homemade cookies. As an avid crafter himself, Jason welcomes these new insights on the art of quilting, as well as the cookies. More to the point, Maureen talks about some of the reasons that she's so passionate about this craft and how it has sentimental ties to her family history and, especially, memories of her mother. Moreover, Maureen has created a very special quilt as gift for her daughter's upcoming wedding so, for her, this endeavor is something that's multigenerational.
Speaking of family, Jason shares with Maureen that, when it first aired, The Brady Bunch was one of his own mother's favorite shows. Because she had herself come from a broken home, and had lived part of her early life in foster homes, the family-oriented storyline of the show gave her hope and inspiration as a child. Living a life as a "Brady kid", this is likely not the first time Maureen has heard stories of this type. "I have to say," she says, "that it is such a gift that I was a part of a show that brings such happiness to people. If you can bring happiness to people — I mean, that's really what it's all about, right?"
After a morning of fabric selection and quilting instruction, Maureen takes Jason along for a taste of another of her favorite activities, birdwatching in the woods near her home. As a dedicated nature lover, Maureen cherishes time spent outdoors and has a sweet and endearing sense of wonder about the natural world and about living things.
All in all, the day comprises a sweet and touching interchange that shows what a truly warm, genuine person Maureen is. It's also a reminder of how satisfying it can be to discover that that an actor or celebrity you've long admired is, in fact and in real life, a downright wonderful person. Maureen McCormick is decidedly one of those.
I'm still learning so much every day. I love to just keep learning, and keep growing, and pushing myself, and spreading love, you know?
Maureen McCormick
So there you have a hint at what Greg and Marcia Brady are up to today in their individual lives. But that's just for starters. We've still got Jan, Peter, Bobby and Cindy to go. For that, you'll need to rely on the digital series Back Home With the Bradys. Go here to see all six installments on HGTV.com – and get an insider's look at what each of the actors is doing today. And check out HGTV's Brady Central to see two more exclusive digital series, Building Brady and Sunshine Upcycle.
The Brady Bunch has been an omnipresent part of life, and it's never gone away. People, you know, the new generations see it, and it's like a ride, a really cool and fun ride that we've all been on. And it goes on...and on, and on.
Barry Williams
And lest you thought that was all, fear not. Stay tuned for updates on the TV series, A Very Brady Renovation, premiering in September. And keep an eye out for more exclusive digital series online. Be assured that we've still got some surprises in store. And as always, stay groovy!