HGTV Launches New Digital Series 'Sunshine Upcycle' as Part of the Brady House Renovation
In this second digital companion series to HGTV's upcoming 'A Very Brady Renovation', designer Dylan Eastman salvages items from the real-life Brady house and uses them to create modern functional and decorative pieces -- but with a vintage '60s and '70s aesthetic.
What to do with that old '60s-era wall-mounted home intercom recovered from a midcentury home in the LA suburbs? We've all asked ourselves that question, right? Fortunately, designer Dylan Eastman knows just what to do in situations like this – and he's here to share his ideas.
It's all part of Sunshine Upcycle — a new video series providing exclusive bonus content as part of HGTV's celebrated restoration of the famed 'Brady Bunch' house. HGTV currently has a multifaceted renovation in the works to make the real Brady house as gloriously '70s and unmistakably Brady as possible. This digital companion series is the second in an assortment of thematic video collections specially created to accompany the upcoming HGTV show. The first companion series, Building Brady, took users behind the scenes of the renovation — with original Brady cast members joining forces with HGTV designers and hosts like Property Brothers Drew and Jonathan Scott, Leanne and Steve Ford of Restored by the Fords and others.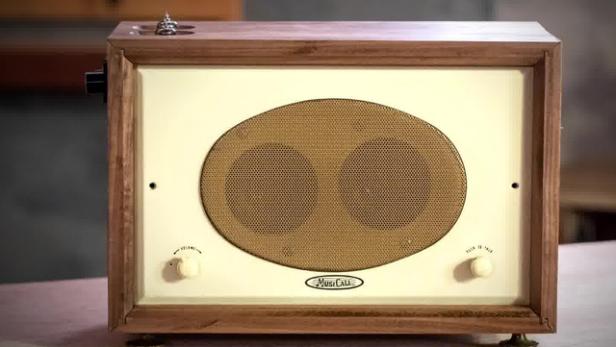 Sunshine Upcycle
8 Videos
The latest digital series has more of a DIY focus – and a name with a suitably upbeat Brady-esque ring to it. Sunshine Upcycle is a sly reference to "Sunshine Day", that infectiously effervescent pop song performed by the Brady kids in the classic Brady Bunch episode, "Amateur Nite". (And if you haven't heard the song, you owe it to yourself to check it out.)
In each installment of Sunshine Upcycle, professional designer and Brady-house build manager Dylan Eastman takes a vintage item that was removed from the house and updates or modifies it to fashion a cleverly updated creation. All of the items are original vintage pieces from the actual home but were deemed not quite "Brady" enough to make the cut as part of the authentic recreation — one that's intended to faithfully mimic the show's familiar home interiors.
So for example, in one project Dylan takes seriously dated and bright pink-and-white patterned wallpaper, removed from one of the home's bedrooms, and uses it to create distinctively stylish picture-frame mats. Matched with simple frames in natural wood finish, the colorfully vibrant mat borders provide a surprisingly appropriate visual complement when paired with black-and-white photos.
In another installment, Dylan repurposes the cedar-shake shingles removed from the home exterior to make a birdhouse – one reminiscent of the shingle-covered dog house that was home to Tiger, the Brady's beloved family dog.
And what about that retro-Radio-Shack-esque intercom system, with its brushed bronze finish and "space-age" buttons and knobs? At one time systems like this were considered among the most advanced of modern home amenities – essentially a precursor to smart-home technology. Most of the ones that are still around basically artifacts that have long since quit working. Dylan transforms this one into a Bluetooth-enabled sound system for streaming digital audio. The networked system, with modern tubed amplifier, can be used to play music throughout the house in in full, rich audio, but the components retain their midcentury look. How groovy is that?
The original "MusiCall" intercom system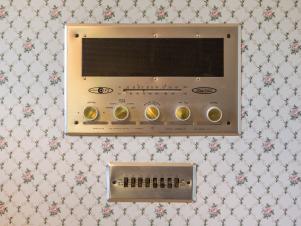 Gilles Mingasson/ Getty Images
gets updated to play streaming audio.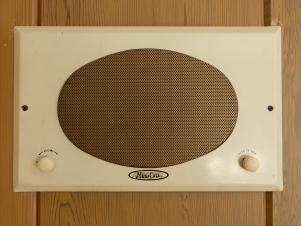 Gilles Mingasson/ Getty Images
Check out all the Sunshine Upcycle projects for some retro-influenced DIY inspiration – and with an authentic Brady connection. And get caught up on all the exclusive behind-the-scenes webisodes from the first companion series, Building Brady. Keep checking back at HGTV's Brady-House Central for more exclusive video, photo galleries and updates leading up to the premiere of HGTV's A Very Brady Renovation.