HGTV Is Restoring 'The Brady Bunch' House to Its '70s Glory and Reuniting the Original Cast
The sitcom that was a TV touchstone for millions is getting a fresh reveal as HGTV sets its sights on renovating the iconic ranch house that served as the show's backdrop — and, while they're at it, bringing together all six siblings from the show's original cast. It's a story that's just beginning, but here's a first look.
Matt Harbicht/Getty Images
The Brady Bunch original cast members: (left to right) Maureen McCormick (Marcia), Christopher Knight (Peter), Susan Olsen (Cindy), Mike Lookinland (Bobby), Eve Plumb (Jan) and Barry Williams (Greg) in front of the original Brady home in Studio City, CA.
There's something fabulously far-out happening at HGTV. Maybe you've heard the rumblings. The network has purchased one of the most universally recognized homes in America — the 'Brady Bunch' house — and plans are underway to restore it to its full, resplendent, unabashedly '70s grandeur.
So, here's the story. (Surely you didn't think we'd pass up the opportunity to use that line.) Back in August, HGTV officially became the proud new owners of that quintessentially suburban split-level ranch seen in virtually every episode of The Brady Bunch. And you can rest assured that, with its penchant for magical, mind-blowing home makeovers, the network has some very special things in mind for this particular home transformation. It's all part of — and will be documented in — a new series, A Very Brady Renovation, scheduled to air on HGTV in September of 2019. And we suspect that even the most ardent Brady Bunch enthusiasts and purists will not be disappointed.
The whole adventure officially kicked off in the Los Angeles neighborhood where the actual house is located, and the kickoff was itself something pretty extraordinary. For the first time in 14 years, all six siblings from the show's original cast were reunited as they joined up with some of HGTV's most well-known on-air talent. It was all part of an event to announce plans for the renovation and the accompanying series. TV siblings Barry Williams (Greg), Maureen McCormick (Marcia), Christopher Knight (Peter), Eve Plumb (Jan), Mike Lookinland (Bobby) and Susan Olsen (Cindy) gathered with Jonathan and Drew Scott (Property Brothers), Mina Starsiak and Karen E Laine (Good Bones), siblings Leanne and Steve Ford (Restored by the Fords), Jasmine Roth (Hidden Potential) and Lara Spencer (Flea Market Flip) for an on-camera walk-through of the home.
It was quite an all-star affair and a "sunshine day" to be certain. (Avid Brady Bunch enthusiasts will get that reference. Those who don't are encouraged to do a quick Google search.) Wild and groovy, right? We certainly think so.
And like we said before, this is just the beginning of the story. There are plenty more surprises in store. As one of the biggest programming events that HGTV has ever undertaken, the high-profile renovation will feature additional celebrity guests and drop-bys throughout the course of production. Already stirring up social media buzz from fans and A-listers alike, the upcoming series will showcase the famous house as it undergoes a full-blown '70s-inspired rehab with input from some of HGTV's most recognized design talent.
"What's so exciting about this project is that we are creating one of the most iconic homes from many of our viewers' childhoods," said Loren Ruch, senior vice president, HGTV programming and partnerships. "It will be the first time in history that the house from all of our memories will be created in a real brick-and-mortar location. It is certain to be a trip down memory lane."
For anyone in need of a refresher, The Brady Bunch was the creation of TV producer Sherwood Schwartz – also creator of another iconic TV comedy from the era, Gilligan's Island. The series ran for five seasons, from 1969 to 1974, and its popularity led to multiple spin-off series, specials and feature films. Following its original run in network prime time, it lived on as a mainstay of TV syndication, frequently running in afternoon time slots — coinciding perfectly (and strategically) with kids just arriving home from school. As such, it is ingrained within the psyche of generations of TV viewers and pop culture enthusiasts. It is now considered by many to be a hallmark of American television and a genuine cultural icon. As far as the house itself, here's an interesting fact: the home is reputed to be the second most photographed house in the United States — second only to that one at 1600 Pennsylvania Avenue.
As just about everyone everywhere will recall, exterior shots of the house were routinely used as a device to establish a sense of time and place for the action taking place at Brady household. (You know the shot. Chances are that you're picturing it right now in your mind's eye, and hearing that theme music – whether you intended or not.) Over the course of the coming months, HGTV will execute a dramatic transformation of the actual house, retooling spaces and adding 2,000 square feet to the home's original footprint — all without compromising that instantly recognizable street view.
HGTV's home renovation stars will reimagine the show's set designs within the context of the real-life interior spaces, working to ensure that the final renovation and décor stays true to the spirit of the Brady family home that everyone loves and remembers. From the unforgettable signature wood-paneled living room with floating staircase to the orange and green kitchen and the kids' Jack-and-Jill bathroom,The Brady Bunch house will forever retain a special place in television history and American pop culture.
Curious to see what the real-life house looks like right now – in its current state and prior to the period-inspired restoration? (Spoiler Alert: It may not be exactly what you pictured.) Check out this collection of 'before' pics ...
... You'll just have to wait for the 'after' photos. In the meantime, just let visions of the '70s dance in your head. That's what we did. As soon as news broke around HGTV that this renovation was in the works, members of our editorial team couldn't wait to envision the kinds of things they'd love to see in a restored and reinvented — but period-authentic — Brady house. (As well as a few things they hope they won't see.) Check out their predictions and wish lists here.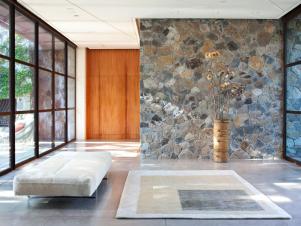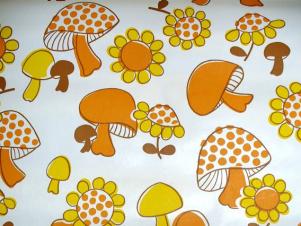 Native Stone Creates Lovely, Natural Foyer
A fieldstone wall continues from the exterior of this contemporary California home to the interior foyer, literally bringing the outside in. The 24-inch walls are built from stones gathered on the site, embracing the home's wine country setting and fulfilling the owners' desire for indoor-outdoor living.