HGTV Announces the Winner of 'A Very Brady Contest'
North Carolina Brady-Bunch superfan Lisa Shaw will be spending a six-night vacation at the real Brady Bunch house -- now completely restored by HGTV as part of the HGTV series 'A Very Brady Renovation'.
"Some people say I take it too far," says Brady contest winner Lisa Shaw, "and even live like a Brady. But I grew up with the Bradys, and it brings me back to a better, wholesome time in my life and reminds me of my childhood."
Now Lisa, a Charlotte, NC native and bona fide Brady Bunch fanatic, is getting an uber-fan's chance of a lifetime — a six-night stay at the iconic mid-century ranch house that's located in the Los Angeles suburbs and is actually the second most recognized residence in America. (The first being that house on Pennsylvania Avenue in Washington, DC.) In addition to a vacation stay in the house, Lisa and up to seven guests will receive roundtrip airfare, and an special insider's tour of LA. Lisa will also receive a $25,000 cash prize.
During the airing of the episodes of HGTV's hit series A Very Brady Renovation, HGTV invited viewers to enter for the opportunity to win a highly-coveted prize: a chance to "live like a Brady" in a stay at the fully restored house. To enter, viewers were asked to submit homemade videos making the case that they were, in fact, the ultimate and most-deserving Brady fan.
In addition to Lisa's grand prize win, eight runners-up in 'A Very Brady Contest' were awarded $500 each. And HGTV viewers who participated in the finalist voting process were entered in a sweepstakes for a chance to win one of ten framed, limited-edition, commemorative posters for A Very Brady Renovation autographed by the series' stars.
Sometimes superfandom pays off. The votes are tallied, and we think you'll agree that winner Lisa Shaw came through in spades. Soon she'll be realizing a lifelong dream and living like a Brady.
In her winning video, Lisa professes her abiding love for The Brady Bunch as evidenced by the '70s-era furnishings and Brady memorabilia throughout her home — including an original painting of the Brady house.
Her video also follows her as she visits her local butcher "Sam" (Sam is not his real name) to buy his juiciest pork chops, then as she heads to the beauty salon for a Carol Brady-inspired haircut. Lisa really is ready for a week-long stay in the Brady house. Now if she can just find a dog-sitter for her two dogs ...
Restoration of an American Classic
A Very Brady Renovation, the highest-rated series in HGTV history, featured the full-scale overhaul of the real Brady Bunch house located in the Los Angeles suburb of Studio City, CA. In the show, exterior shots of that house were often used to establish a sense of time and place for the Brady family, though the interior scenes were actually filmed on a studio soundstage.
HGTV executed a show-stopping transformation of the home by adding 2,000 square feet to its original footprint and faithfully re-creating all the memorable Brady home interiors — all without compromising its instantly recognizable street view.
The house was replicated down to minute details as seen in the original '70s series — including the familiar floating staircase, the orange-and-green kitchen, Greg's groovy attic bedroom, Mike and Carol's master suite, the kids' Jack-n-Jill bathroom and many more memorable spaces.
Forever Groovy; Forever Brady
Brady Bunch and HGTV superfans can continue to follow A Very Brady Renovation on the network's digital platforms. Fans can visit HGTV.com/Brady to find exclusive digital video series, in-depth articles, photo galleries and more.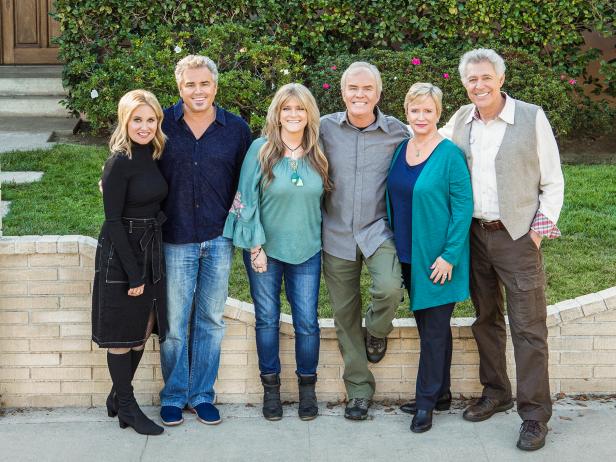 The Brady Bunch cast left to right Maureen McCormack/Marsha Brady, Christopher Knight/Peter Brady, Susan Olsen/Cindy Brady, Mike Lookinland/Bobby Brady, Eve Plumb/Jan Brady, and Barry Williams/Greg Brady, and HGTV Stars Steve Ford, Leanne Ford, Jasimine Roth, Karen E. Laine, Mina Starsiak, Jonathan Scott,Drew Scott and Lara Spencer in front of the original Brady House in Studio City, CA, as seen on A Very Brady Renovation.
Gilles Mingasson/Getty Images
Brady fans also can follow along on the dedicated Brady Bunch Instagram account, @verybradyrenovation. Across HGTV's social platforms, the #verybradyreno hashtag offers an unscripted glimpse into this one-of-a-kind makeover. HGTV GO provides Brady fans 24/7 access to full episodes of A Very Brady Renovation and A Very Brady Renovation: Behind the Build, as well as the digital series Building Brady, Back Home With the Bradys and Just Ask Brady.