How to Make a Passport-Style Party Invitation
Invite friends to join you for an adventurous evening with these globetrotting party invites.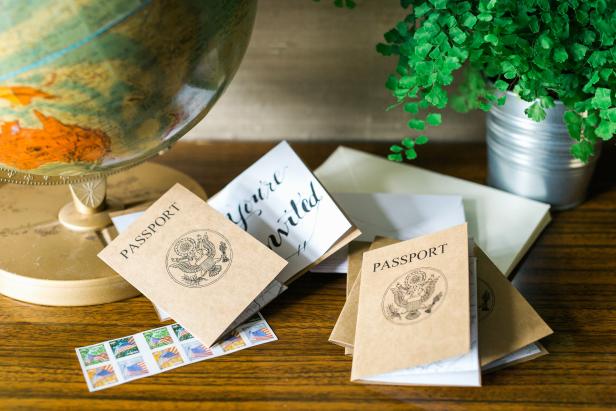 DIY Passport Invitations
Passport-style party invitations are a stylish way to invite friends to join your next adventure. Gather the following materials for this project: brown card stock, printed map pages, scissors, felt-tip pen, stapler and downloadable invitation cover art template.
brown card stock
8-1/2" x 11" printed map pages
scissors
felt tip pen
stapler
invite template
Create the Passport Cover
Print the template attached above onto brown card stock. Cut the card stock in half, width-wise, then fold it in half.
Give Invites a Global Theme
Fold a printed map page in half, then cut along the fold to make two pieces (Image 1). Fold one of the cut pages in half to create two pages (Image 2). Place the map page face down on the inside of the cover, lining up the folded creases. Staple inside the creases to attach the pages to the cover (Image 3).
Use a felt tip pen to write in party details (Image 1). Slip finished invites into a color-coordinated envelope and mail out to guests at least 2 weeks before your get-together (Image 2).