How to Make a Paint Chip Party Invite
Easily turn colorful paint chips, from your local hardware store, into an ombre-hued party invite and change-of-address announcement.
DIY Paint Chip Invitations
These easy ombre colors found at any hardware or home improvement store provide a splash of style to announce your next gathering. You'll need the following materials for this project: paint chips, printed or handwritten party invitations and change of address information, craft knife, scissors, metal ruler or straight edge, pencil and a glue stick.
paint chips (you'll need 2 for each invite)
white card stock
craft knife
scissors
metal ruler or straight edge
pencil
glue stick
Create Change of Address and Party Details Cards
Print or hand-write info onto white card stock, making sure that the block of copy is at least 1/2" smaller on all sides than the paint chip. Use a ruler to mark cut lines, then use scissors to cut out cards. Create one change of address and party details card for each recipient.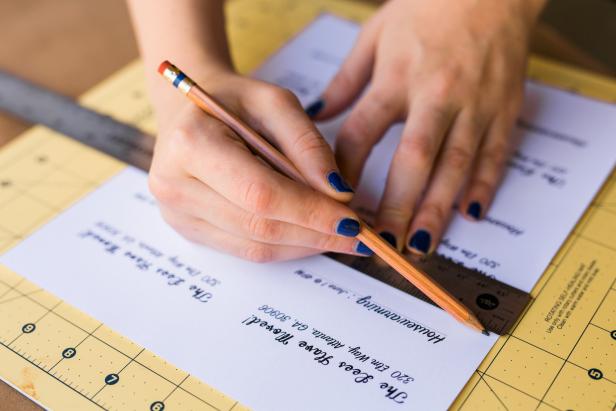 Measure Annoucements for Paint Chip Invitations
Use the ruler and pencil to draw lines on the invitation and change of address announcement. These items need to be cut smaller so they will fit on the paint chips. Cut along the pencil lines with a craft knife or scissors to resize the announcements. TIP: You may want to measure the paint chips first to get an idea of how to resize the announcements.
Place change-of-address card on back of paint chip and mark its outside dimensions. Use the ruler to find the center of the paint chip and mark a 1"-wide strip that will act as a slot for inserting the card. Use the craft knife to cut out the slot (Image 1). Apply glue to the back of the paint chip (Image 2), then attach a second paint chip to create a colorful back to your invite (Image 3).
Slip the change-of-address announcement into the cut slot (Image 1) and glue the cut-out party info to the invite's back side (Image 2). Place each finished invitation in a colorful envelope and send out 2 weeks before your party.