I Never Knew a Pillow Could Be This Luxurious
Give a loved one (or yourself!) the gift of good sleep this holiday season.
Keep in mind: Price and stock could change after publish date, and we may make money from these links.
Sponsored: Our editors independently choose products they love from the sponsors' product lines. Price and availability could change after publish date, and we may make money from these links.
We all need better sleep and more of it, especially during the holidays. A recent survey from Mattress Advisor found that 64% of responders get less than eight hours of sleep during the holidays. Of those people, 32% reported only getting three to five hours per night due to stressors like holiday pressure, family and travel — yikes! A comfortable environment is crucial for getting good sleep. While a good mattress is obviously important, if you already have one you love or are looking for more budget-friendly sleep aids for yourself or to gift, a quality pillow is the best place to start.
You may know the direct-to-consumer company for their mattresses, but Purple released a new pillow they've dubbed "the best pillow ever invented," and after testing it out, it truly does feel like sleeping on a cloud.
As a side sleeper, it seems like I'm always stacking multiple pillows to find just the right amount of incline and firmness to support my head and neck comfortably, which gets more and more difficult when basic $30 pillows lose their fluff and fall flat after several months. As soon as I laid my head down on the Purple Harmony Pillow, I could tell it was made to last.
What makes the Purple Harmony Pillow so unique is the 360º Grid™ Hex technology around a hypoallergenic Talalay Latex Core that gives it a firm-but-soft feel. No matter if you're a side, back or stomach sleeper, it conforms to your neck and head to give support where you need it, but it bounces back to its original shape every time. The design is also very breathable and the cover wicks moisture, meaning you won't have to continually flip over the pillow to the "cool" side. The pillow is also machine washable.
Regularly priced at $159, it's not cheap for a pillow, but when you consider all of the cheaper pillows you won't need to replace regularly when they fall flat, the investment will pay off. Shipping and returns are both free, and right now, Purple is offering 10% off one pillow and 15% off when you buy two. Plus, this pillow is covered under Purple's 100-Night No Pressure™ Guarantee trial period, as well as a one-year limited warranty.
More Sleep-Inducing Products
For a budget-friendly item for better sleep that's perfect for gifting, try a weighted mask. It adds about half a pound of evenly distributed weight to your face, mimicking the deep touch pressure effects of weighted blankets. It also helps block out light, which would come in handy for frequent travelers and frequent nappers who want a similar effect of a weighted blanket without the extra, well, weight.
High-quality sheets are also essential for making a bed more inviting. My colleague T.K. Brady, a senior editor over at Food Network, gave Purple's bamboo sheets a try and had rave reviews. "I LOVED the sheets! They are super soft and so luxurious," she says. "They're not too hot and not too cold. I woke up at a perfectly comfortable temperature, which never happens."
Purple teamed up with Gravity on an exclusive weighted blanket, one of the hottest trends in bedding right now. HGTV Assistant Editor Molly Miller tried out this blanket and says, "The material is soft, and it feels well-made." At 35 pounds and 90 x 90 inches, Molly found moving this blanket is definitely a two-person job and would be ideal for couples looking for a weighted blanket that can span an entire queen to king bed. You can get a weighted sleep mask for free right now with the purchase of Purple's weighted blanket.
Give a loved one or yourself the gift of better sleep this year, and go into the new decade well-rested.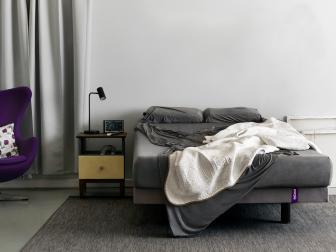 The average person spends up to one-third of their life asleep. It's time to find your mattress soulmate.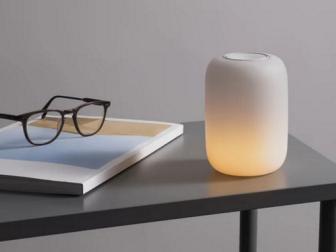 Tossing and turning at night? Check out these products to help you fall asleep and get a better night's sleep.