Here's How to Find the Best Grill for Your Household at Walmart Right Now
The best grill is out there for your home, and we'll help you find the perfect one at Walmart.
Sponsored: Our editors independently choose products they love from the sponsors' product lines. Price and availability could change after publish date, and we may make money from these links.
If you're looking for a grill this summer, it can feel like quite the undertaking. With all the different types of grills out there, it's difficult to figure out which one will be perfect for you and your household. Here, we break down the types of grills you can find at Walmart that suit your every need, from limited outdoor space (or no outdoor space) to those who want that perfect sear or aim for low and slow. Everyone from beginners to experts can find their perfect grill at Walmart. All of the options can fit every budget and need, but all promise one thing — you're going to have delicious meals all summer long. Here are some of Walmart's best options below:
Gas grills are convenient and offer more control than other kinds of grills. They require either a propane tank or a natural gas line (natural gas grills need to connect to your home's gas line, but you'll never have to refill a tank) to work, they light up instantly and can be heated to exact temperatures, making them easier to use for beginner cooks. Heat them up to a high temperature to get the sear without the smoky flavor, or let things cook low and slow. This has a large surface area for bigger meals, and the burners ensure even, easy cooking.
Perfect for: Families and beginners, because you can use this quickly and without fuss.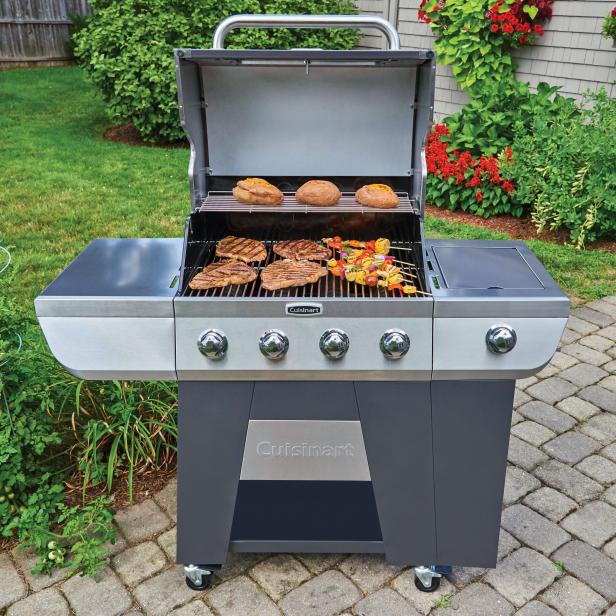 With durable steel cooking grates, a viewing window to monitor food without opening up the lid and precise temperature control, this propane gas grill ensures perfect food every time. It also has four stainless steel burners, two cooking areas, and a flip-up warming rack for an easy meal for any household.
Buy It
Charcoal grills are your classic choice; they burn with charcoal briquettes or lump charcoal and require lighter fluid, an electric starter or instant lighting charcoal to begin working. Charcoal grills don't have temperature dials, so you can't control the heat to an exact temperature, but you can achieve higher heat with these over any other grill type. This means you'll get that perfect sear on proteins like steak or veggies without overcooking them. You'll also get that classic smoke flavor in everything you cook on this. This is the perfect grill if you're looking for a simple, affordable option that doesn't have a ton of bells and whistles — just smoky goodness. They're best suited for patio spaces and not the best for small balconies because of the embers that can float up. You'll need to keep a close watch on your food, as the coals don't always burn evenly.
Perfect for: Patio spaces and those who want high heat and classic, smoky flavors.
Another subtype of charcoal grills are Kamado grills. They're egg-shaped so they have more internal temperature control, and the grates are typically ceramic, so they'll ensure more even cooking (but still not as even as gas). They still require charcoal, but the temperature is a little easier to control because of the lid.
Perfect for: Smoky flavor with a little more control over temperature.
Combo — or hybrid — grills are exactly what they sound like: they're a combination of gas and charcoal grills (or other types of grills). If you want the ease of a gas grill to get a big meal done with precise temperature control but you still want the option of a high-heat, smoky steak or shrimp dinner, this is the easiest way to never have to choose between one or the other.
Perfect for: Those who can't choose between charcoal and gas grills and love certain elements of both.
Electric grills are the only type of grill that can be used indoors — as long as you buy an indoor model — because all it needs is a simple outlet to work. They're a fun, easy way to make a few burgers or chicken breasts when you're bored with your stovetop, but they're not going to have the same sear and versatility as other kinds of grills. However, this is the one for you if you don't have significant outdoor space or you're a household of one.
Perfect for: Small households and apartment balconies. The indoor grills are great for those without outdoor space.
Pellet grills are basically a combination of smokers and grills, and they require wood chips to get to work. This is the grill for you if you love barbecue and you're willing to spend a little more to get the versatility of using different kinds of wood pellets for different kinds of flavors. Use applewood or cherry for a sweet smoke, or try out maple or hickory for something different. The pellets sit in a storage container on the side and are fed into the cooking chamber and heated up. There's also an element of temperature control that you don't see in charcoal grills, so you can use high heat for searing or low and slow for real-deal barbecue.
Perfect for: The family that wants to barbecue in addition to grilling their food and love to experiment.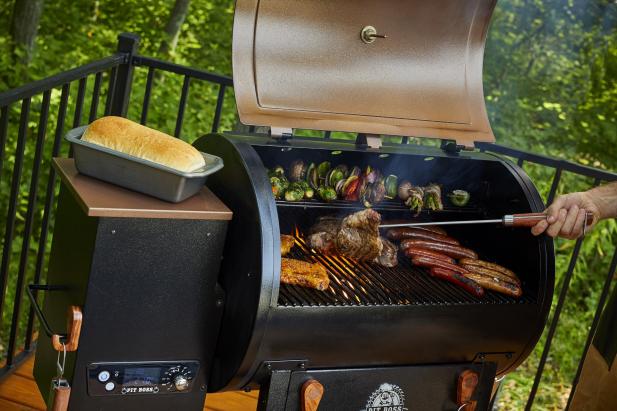 This classic, modern pellet grill has 700 square inches of cooking surface — along with an upper rack — and a flame broiler for direct flame cooking. It's perfect for grilling, smoking, chargrilling and barbecuing. There's an LED control board, and the grates are made from powder-coated steel.
Buy It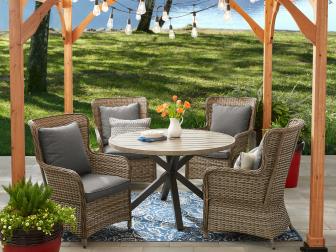 UPGRADE DINNER
UPGRADE DINNER
If you're looking to upgrade your next household dinner, try out a grilling station right in your backyard.
Shop Our Favorites