The Best Weighted Blankets for Every Budget and Style
Weighted blankets help stimulate pressure points to naturally improve mood and relaxation. Add one of these weighted blankets to your home and start reaping the benefits.
Keep in mind: Price and stock could change after publish date, and we may make money from these links.
Our Top Picks for Weighted Blankets:

Weighted blankets have been the hottest thing in bedding for a few years and at this point, a lot of people you know probably use one and swear by it. From easing insomnia to reducing anxiety and stress levels, weighted blankets can help address an array of health problems common in adults, kids and even pets. These heavy blankets, typically ranging from about five to 25 pounds, are designed based on deep-touch pressure stimulation, which helps release serotonin in the brain to help you feel calm, leading to a better night's sleep and a general feeling of next-day restfulness.
What to Look for in a Weighted Blanket
Shopping for a weighted blanket isn't like shopping for any throw you'll toss at the foot of your bed; there are several important factors to consider, including material, weight, size, care instructions, cover options and price.
While the plush fleece blankets can feel cozy for cooler months, if you plan to sleep under your weighted blanket, we recommend choosing a more breathable material like cotton for the blanket itself for more versatility and year-round use. Most of our recommendations are designed with loops that give the option to add a duvet cover, which means you can customize the look and fabric for different seasons with cover options in linen, bamboo, fleece and more. Adding a cover also means you don't have to wash the blanket itself as often, which will prolong the life of the blanket and ensure the filling and stitching stay intact. If you opt for no cover, most of the blankets themselves are washable but expect it to take several dry cycles, and possibly some air-drying time too, to get the job done.
When it comes to picking the right size, the standard rule of thumb is that the blanket should weigh roughly 10 percent of your body weight. The most common size blankets for adults are 48 inches x 72 inches and 60 inches x 80 inches, and, with the exception of king sizes, weighted blankets are usually designed for individual use. Depending on the style, size and weight you choose, weighted blankets can cost anywhere from $50 to $300. Adding a duvet cover does add to the cost, but many brands offer discounts for bundling the blanket with a cover.
We've rounded up the best weighted blankets on the market, from a stylish, splurge-worthy blanket we use and love to top-rated budget-friendly options with thousands of positive reviews on Amazon. Check out our top picks below and give yourself or a loved one the gift of better sleep. Note: Prices listed are based on a 15-pound size blanket, excluding the kids' blanket.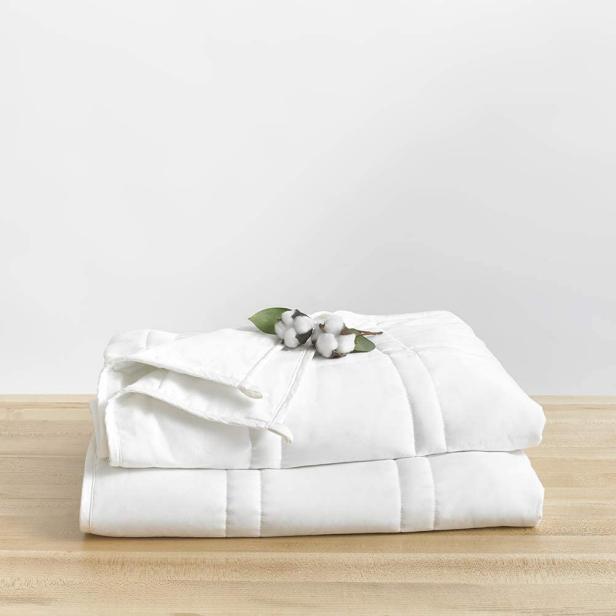 At a mid-range price point, Baloo's cotton weighted blanket is a solid pick overall for adults. It's made of breathable cotton, perfect for year-round use, comes in 12-, 15-, 20- and 25-pound sizes and contains glass beads. Thanks to the stitching pattern that helps keep the glass filler beads evenly distributed, we love that this blanket looks and feels more like a quilt than a duvet. While we like this blanket on its own, Baloo does sell 100-percent stonewashed French flax linen duvet covers that are also machine washable. One happy reviewer says, "I'm experiencing a deep sleep that has eluded me for years." We'll take it!
Buy It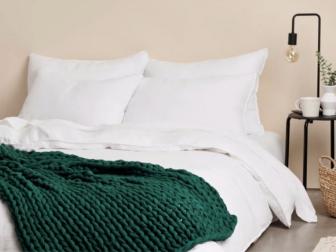 Want to feel calmer and sleep deeper without getting overheated? Check out our favorite cooling weighted blankets under $300 that are best for hot sleepers.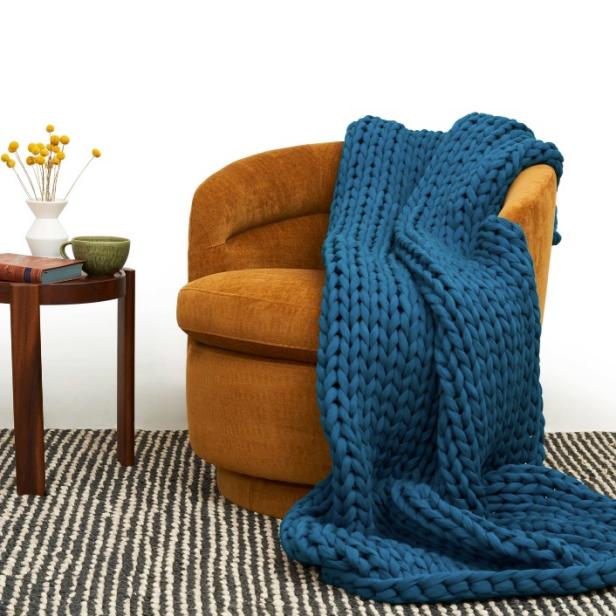 Launched in 2018, Bearaby's weighted blankets have garnered rave reviews, including from HGTV editors, and for good reason: Bearaby makes the most stylish, bead-free, sustainable and cooling weighted blankets you can buy. While not the most expensive weighted blankets on the market, the $249 - $279 price tags are still steep. After testing both the Cotton Napper and the Tree Napper (a more cooling option designed for hot sleepers), we, along with the many glowing customer reviews, can confirm these blankets are worth every penny. The Cotton Napper is available in neutral colorways, plus limited edition fall-inspired hues from their Harvest Collection. Color selection is more important for the Napper since it's the only blanket on this list that doesn't offer the option to add a cover (because it doesn't need one). The brand also recently launched an 8-pound kids' cotton blanket called the Nappling for $149.
Buy It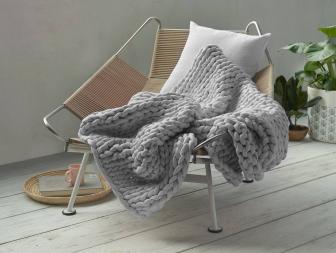 Editor-Tested
Editor-Tested
It feels like a comforting hug and looks like those cozy chunky knit blankets all over the internet. Read our full review to find out why HGTV editors are obsessed with Bearaby's Napper weighted blankets.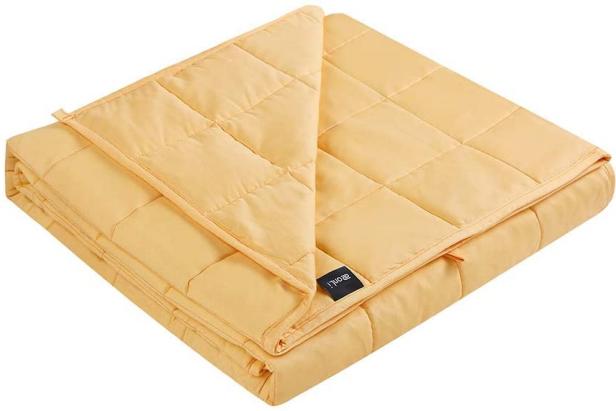 Available in 5-, 7-, 10-, 12- and 15-pound options, plus more adult sizes, ZonLi's cotton weighted blanket consistently ranks as a top-seller in the kids' weighted blanket category on Amazon. It's available in several fun bright colors like this mustard yellow, and when your kid's favorite color inevitably changes, ZonLi sells cotton, bamboo and minky duvet covers you can purchase to change up the look or fabric down the road.
Buy It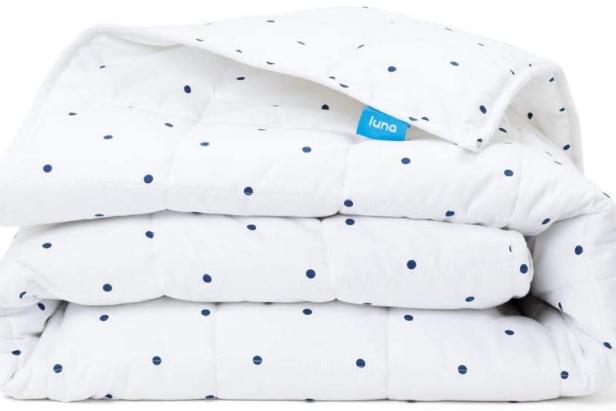 Like most of our other recommendations, this blanket is cotton and contains glass beads, but what stands out is the color and pattern options available for the blanket itself. This brand does sell covers separately as well, but if you want the blanket itself to make a statement, take a look at Luna's stylish options from this minimal polka dot pattern to a whimsical space-inspired print that'd be perfect for kids.
Buy It
With more than 20,000 reviews, this affordable cotton weighted blanket from YnM holds the title of the best-selling weighted blanket on Amazon right now. This blanket is made with Oeko-Tex-certified cotton and glass beads, and the brand sells a wide variety of cotton, bamboo and minky duvet covers (use the drop-down to choose from 46 cover options). We especially like the wide variety of sizes, 15 total, that this blanket comes in, ranging from five pounds all the way up to 30 pounds.
Buy It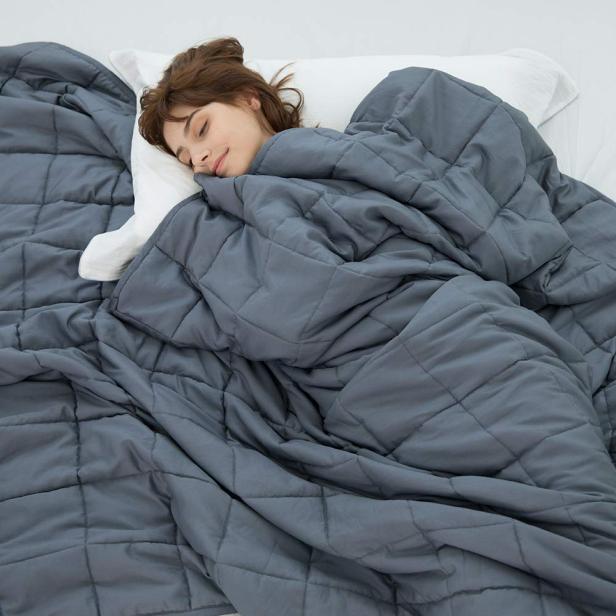 These gravity blankets are available in a wide variety of colors and weights ranging from five pounds to 25 pounds. This cotton blanket is hypoallergenic and features an extra liner to avoid any leakage of the beads. On the lower end for price point, this top-rated blanket is a great pick if you're new to weighted blankets and aren't ready to spend a lot. Even with purchasing a duvet cover separately, the total cost still rings in at less than $100.
Buy It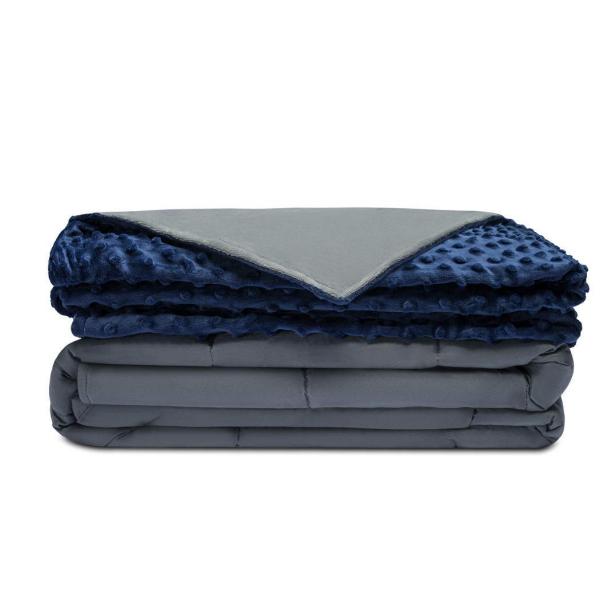 This cotton weighted blanket comes with an ultra-soft cover to preserve the life of the gravity blanket itself. Perfect for cooler months, the extra-plush minky cover features textured dots on one side and a solid alternate color on the flip side. If you get too hot, simply remove the cover and use the cotton blanket by itself. It's available in a variety of weights, from five pounds to 30 pounds, and a few solid color options. "This blanket is amazing. I've tried a few other weighted blankets and this one takes the cake," says one happy Amazon reviewer.
Buy It
How Much Should You Spend on a Weighted Blanket?
02:10
HGTV staffers blind test two cooling weighted blankets, one more than $100 and one less than $100. Watch their reactions and find out which weighted blanket they'd save or splurge on after trying them out and weighing the pros and cons.