Now's the Time to Try a Weighted Blanket Thanks to These Cyber Monday Deals
Check out our number one pick for the best Cyber Monday deals on weighted blankets. Plus, browse more top-rated options on sale at lower price points.
Keep in mind: Price and stock could change after publish date, and we may make money from these links.
If you've been curious about whether or not weighted blankets really work, I'm here to tell you they do. I recently tried and fell in love with Bearaby's Napper and several of my fellow sleep-deprived editors have also recently jumped on the weighted bedding trend. If you're new to weighted blankets, check out our guide to learn how they work.
The one downside to weighted blankets? Their calming effects and promise for better sleep often come at a high price tag. Thankfully, the Gravity Blanket, another weighted blanket we've tried and love, is offering 40 percent off today for Cyber Monday! Just in time for the holidays and winter hibernation, you can save on weighted blankets, sleep masks and more on Gravity's site with code HOLIDAY2019. A weighted blanket would make the perfect gift for anyone on your holiday list, including yourself.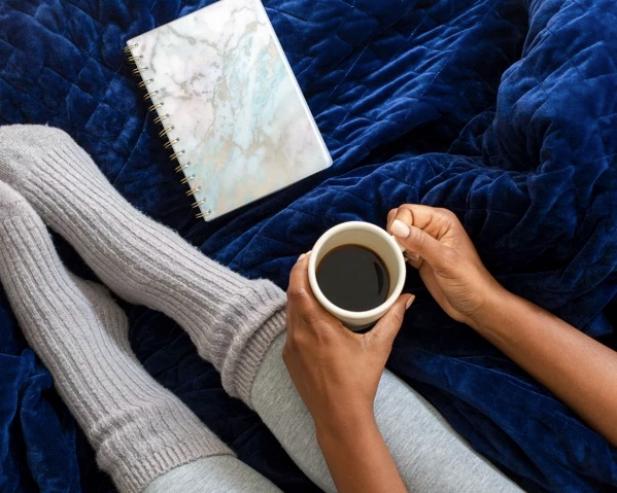 40% off with code HOLIDAY2019!
Simulating the feeling of being held (like a hug!), Gravity Blankets utilize the power of weight to relax the nervous system and will help you achieve faster, deeper sleep. This revolutionary and science-backed method is called "deep touch pressure stimulation." The Gravity Blanket is available in a single size (72" x 48"), three weights (15, 20 and 25 lbs) and a selection of three colors (grey, navy and white). It features a premium micro-plush duvet cover and an inner weighted piece containing fine-grade glass beads. Gridded stitching ensures the glass beads remain uniformly distributed, and two types of internal clasps, ties and elastic-button connectors, secure the inner weighted blanket inside the duvet cover. The cover is machine washable (wash in cold water, tumble dry on low), while the inner weighted blanket is hand-wash-only and air dry.
Buy It
While the Gravity Blanket deal is the best deal we found, here are some other top-rated weighted blankets that are also discounted for Cyber Monday, including some at lower price points and ones specifically designed for kids.
Find the Perfect Weighted Blanket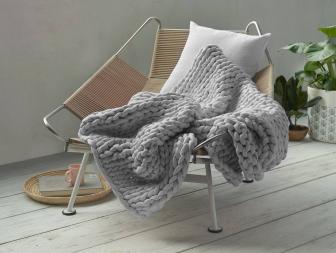 EDITOR FAVORITE
EDITOR FAVORITE
It feels like a comforting hug and looks like those cozy knit blankets all over the internet. Read our review to find out why we're obsessed with Bearaby's Napper weighted blanket.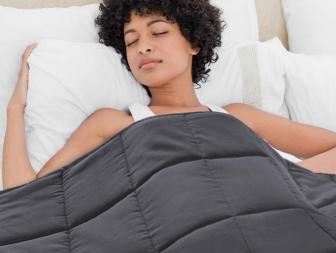 Weighted blankets help stimulate pressure points to naturally improve mood and relaxation. Add one of these luxe covers to your home and start reaping the benefits.