The Best Water Filter Pitchers, Tested by HGTV Editors
Keep in mind: Price and stock could change after publish date, and we may make money from these links.
A water filter pitcher is the easiest, most cost-effective way to make sure your home always has filtered water without the need to continually buy wasteful single-use plastic water bottles. Beyond price, these are important factors to consider when shopping for a water filter pitcher:
Capacity: The capacity will determine how often you need to refill the pitcher and also how easily it will fit in your fridge or on your countertop.
ANSI/NSF Standards + Certifications for Filters: Whether you want your filter to improve the taste and smell of tap water or are more concerned with potential downstream contamination, which the EPA says is a higher concern for older homes with old piping built before 1986, the best and most reliable way to know what a pitcher filters out is to look at the industry-standard certifications they meet. The American National Standards Institute and NSF International (ANSI/NSF) are private, non-profit organizations and the two main certifying labs are NSF International and the Water Quality Association (WQA), both accredited by ANSI. As a general rule of thumb, the more certifications from these organizations, the more contaminants the product filters out. All of the filters included with our pitcher or dispenser picks are certified by these organizations.
Filtering Time: The standard filters with which all of our recommendations include usually take just a few minutes to filter, with the exception of about 10 minutes total for the 18-cup dispenser. If you upgrade to a lead-reducing filter like the Brita Longlast, expect the total filter time to almost double.
Replacement Filters: Replacing the filters is part of regular maintenance for the pitchers and an ongoing cost to consider. Most standard filters included in our picks need to be replaced after 40 gallons of use or about every two months.
Filter Replacement Indicators: Most pitchers come with a sticker indicator, and for slightly more money, you can opt for a pitcher with an electronic indicator. Since most filters have the same two-month timeframe recommendation, we didn't prioritize an electronic indicator as a feature in our picks. You may not even find the sticker reminder necessary — you could simply enter a reminder in your phone or set up reoccurring orders every two months for replacement filters.
Pour Functionality + Ease of Use: A comfortable, easy-to-hold handle and a spout that's precise are important features. If you plan to fill narrow-mouth water bottles frequently, the accuracy of the spout is especially important.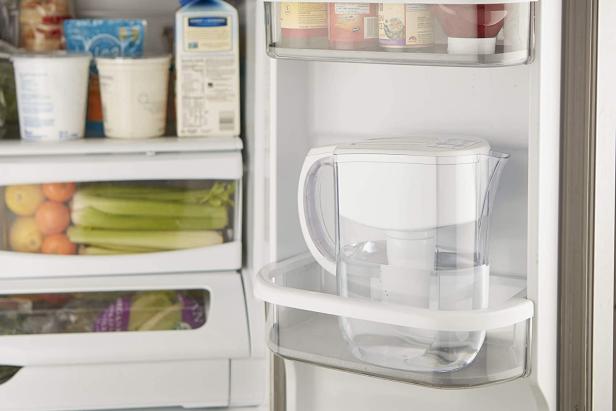 Best Overall: Brita Everyday 10-Cup Water Filter Pitcher
This top-rated water pitcher from Brita with more than 10,000 reviews is a great mid-range size, and despite it looking wider than comparable pitchers we tested, this one is actually the slimmest option for fitting on the counter or refrigerator. The NSF 42-certified standard filter it comes with only takes a few minutes to filter (with the Brita Longlast filter, it takes a little longer), and the spout is more directional and accurate than others we tested — spouts with a "hood" can sometimes get stuck or cause a too-heavy pour. Our tester filled a narrow water bottle with a 1.5-inch mouth opening, and it was mess-free and easy.
Buy It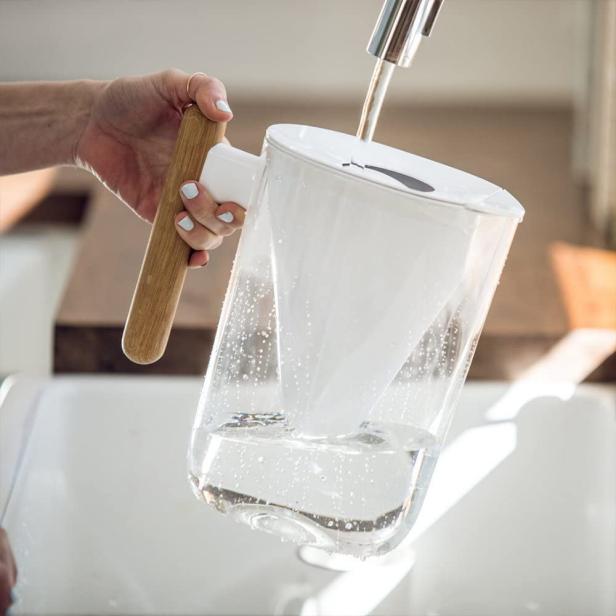 Best for Small Kitchens: Soma 6-Cup Water Filter Pitcher
This 6-cup pitcher is perfect for a small fridge — it fit perfectly in our tester's mini fridge — and it only takes a few minutes to filter. Compared to the other small pitchers we tried, Soma's filter, made with activated coconut shell carbon and charcoal and certified for NSF/ANSI Standards 42 and 53, worked the fastest. Soma's pitcher also comes in a 10-cup size and a glass option. A few downsides we noticed when testing and why we didn't pick this one as a best-overall pick: The spout is not as precise as others and is difficult to use with narrow-mouthed water bottles. The filter also requires more initial prep since you have to soak it for 15 minutes prior to use and need to discard the first few batches to flush out the carbon taste; our tester actually noticed residual carbon taste for about a week. We do like that the brand suggests using the first few batches to water your houseplants though since plants like carbon.
Buy It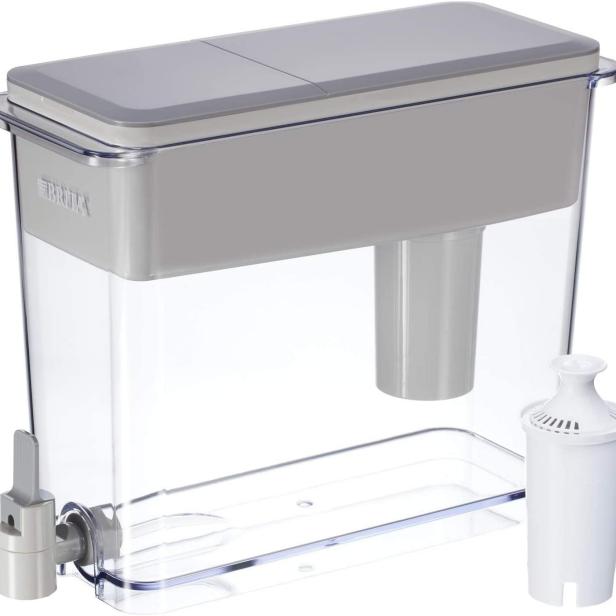 Best for Big Households: Brita UltraMax 18-Cup Water Filter Dispenser
If you go through a lot of water as a family or you just don't like refilling a smaller pitcher constantly, this 18-cup Brita UltraMax dispenser is a great buy. Although it's large, the small footprint and height mean it still easily fits in a fridge or on a countertop. With the same standard or lead-reducing filter options as the Brita Everyday pitcher, it does take longer to filter all 18 cups of water — about 14 minutes with the Standard filter and about 20 minutes with the Longlast filter, but a perk to this dispenser is you can fill your cup while the water is in the process of filtering. This dispenser comes with a sticker filter replacement indicator, a flip-up lid that means you don't have to remove the entire lid to fill and a spigot that has the ability to lock in a fixed position. Due to the size, it's a little awkward to fit in a sink to refill with tap water, but if your faucet has an extender, it's much easier.
Buy It