The Best Humidifiers, Tested by HGTV Editors
Adding moisture into your home's air with a humidifier offers loads of benefits. From the best humidifier for large spaces to our favorite model for nurseries, check out our top recommendations for humidifiers we've tested at every price point.
Keep in mind: Price and stock could change after publish date, and we may make money from these links.
Our Top Humidifier Picks:
If you experience cold symptoms, sinus issues or stuffiness from allergies, you should consider adding a humidifier to your bedroom or living room. The benefits are instantaneous and can be a major help during flu season or harsh winter months. Because it works to add moisture back into the air, humidifiers can help alleviate sore throats and coughs, clear up sinuses and keep skin hydrated. It can even help to keep your houseplants thriving and prevent your wood furniture from warping over time.
However, there are few things to consider when buying a humidifier. There are cool mist and warm mist options — they both release water vapor into the air, but warm mist options heat the water up before it's delivered. Warm mist can be beneficial in cold climates, but they're not recommended around kids or pets since the water often reaches extremely high temperatures. It should be noted that cold mist humidifiers have two different options when purchasing: evaporative and ultrasonic. Ultrasonic models use vibrations to break up particles that go into the air, and evaporative models use a wick that funnels out water as needed. Evaporative humidifiers have filters that need to be replaced, but they also often prevent the "white dust" that sometimes comes from using ultrasonic humidifiers, which is when minerals from the water disperse onto the surfaces around the humidifier. This can be prevented by using distilled water in ultrasonic versions, although the white dust was not a noticeable issue for our testers even when using tap water. Because they are generally quieter and require less upkeep — but still have all the benefits of the other models — an ultrasonic model is our top choice.
Finally, there are smaller factors to consider before purchase: how easy a model is to clean, how much water it holds and the size of the room for which it will be most effective. You can also find unique features such as the ability to diffuse essential oils or turn on a night light. We've considered all of these factors as we made our selections and tested them in our homes.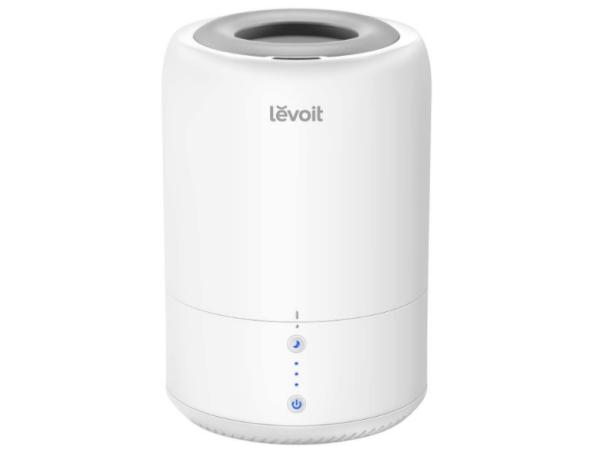 The LEVOIT Dual 100 Ultrasonic Humidifier and Diffuser offers both sleek, minimalist design and reliable results. It's unbelievably quiet and, within an hour, increased the room humidity by four percent. The 1.8-liter tank size is big enough to keep a medium-sized room like a bedroom, nursery or home office at an ideal humidity but not too large that the room could get damp. Since there's no timer feature, the humidifier requires manual powering off or it will turn off automatically when the tank is empty. The simple two-button panel is very easy to operate and has a handy option to put the humidifier in "night mode," which shuts off all display lights and prevents the room's humidity level from increasing past 60 percent.

Cleaning is a breeze thanks to minimal parts and the tank's wide opening. The diffuser lets off a very pleasant, subtle scent that we noticed almost immediately, and we actually prefer the scent strength from this LEVOIT diffuser to other diffusers we've tried. The LEVOIT Dual 100's simple, straightforward design and built-in diffuser makes it a great buy for the price. While it doesn't have all the bells and whistles of more expensive models, it certainly performs at top-level and looks great doing it.
Buy It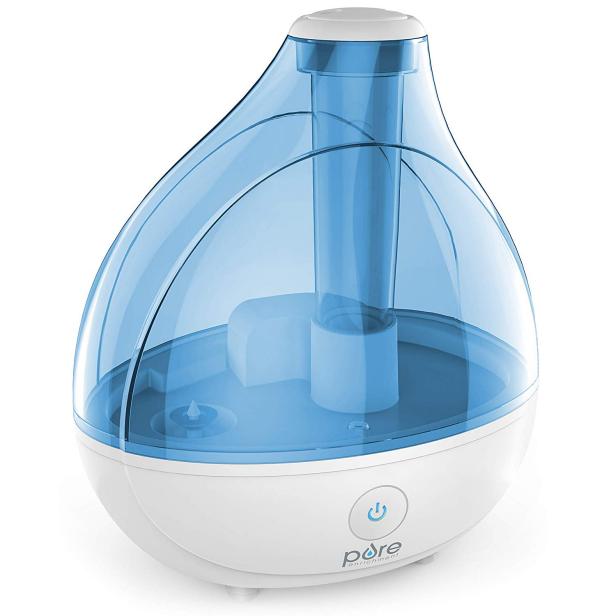 If you're wanting to spend less than $40, the Pure Enrichment MistAire Ultrasonic Cool Mist Humidifier is a good option for a basic model. Its 1.5-liter tank will cover most small rooms and runs for 16 hours on continuous mist, meaning it can work well through the night. The tank is easily removable and the humidifier comes with a brush to tackle all the nooks and crannies for a deeper clean. There's an automatic shut-off feature that ensures it won't short-circuit once the water runs out. It has an optional night light and a 360-degree nozzle that allows you to point it where you like. We did encounter a couple of cons when testing though. Although this model is quiet when misting, it makes a loud sound similar to a water cooler when the water is low, and even with the night-light off, the display is brighter than other models. If you need complete darkness to sleep, the light may disrupt you, and if you go to bed with the water level below halfway, the sound from it running out of water might wake you.
Buy It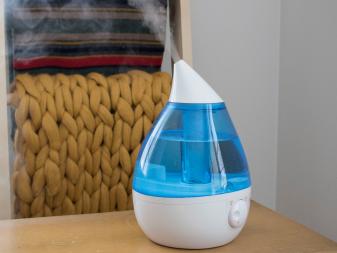 Improve your home's air quality by disinfecting one of the most important small appliances you're probably forgetting to clean.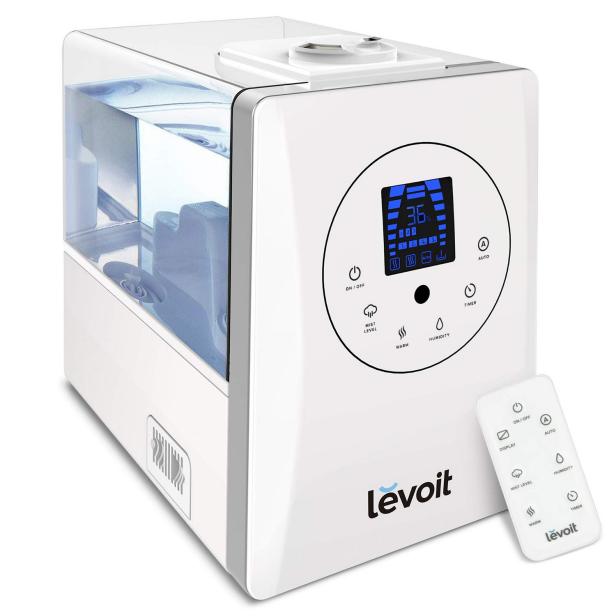 This LEVOIT Humidifier is the best splurge-worthy model if you're looking to humidify a larger space because it has a 6-liter tank that will cover around 750 square feet. It also has some high-tech features that will make it appealing to those who like smarter home products. The sensor gauges the humidity levels in the house and adjusts the mist output accordingly for more efficient humidifying, which, combined with the larger tank size, means you don't have to refill it as often as the other models. You can essentially set it and forget it. It can run continuously on low for 36 hours, although when we ran it continuously on auto mode in a 500-square-foot space, the water lasted three whole days before we had to refill it!

Additionally, it comes with a remote control that helps you do things like set a timer for up to 12 hours, but it still has an automatic shut-off when the water runs out. The display automatically dims after 30 seconds, but you can turn off the display completely while it's humidifying by pressing and holding the auto button for three seconds. This one can also go back and forth between warm and cool mist, so you can try both and see what works best for you. Finally, there is room to add essential oils in this model to add a pleasant aromatherapy element to your device, although make sure you're using essential oil with higher volatility because we could not smell anything when using less volatile oils. As with any larger humidifier, it's a little tricky to find a good, discreet spot for this model because they're meant to be set on elevated, water-resistant surfaces such as desktops, tables or nightstands. The humidifier comes with a thorough manual with exact instructions on how to easily clean with water and vinegar and how to disinfect with water and bleach, as well as address any issues or questions that might arise from all the bells and whistles this humidifier offers.
Buy It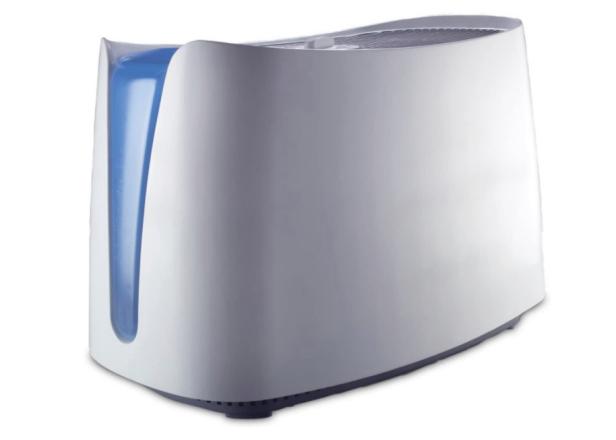 The Honeywell Germ-Free Cool Mist Humidifier is a great healthy home addition, especially during allergy season. The one-gallon tank runs up to 24 hours on low, making it a perfect pick for bedrooms and medium-sized rooms. At first, it may look intimidating to get the unit up and running, but it's literally just a three-step process — wet the wicking filter, fill the water tank and plug it in.

What makes it different from our other selections is its UV light technology. Here's how it works: Once the unit is on and the filled water tank is in place, the water moves past the UV system, destroying up to 99.9% of germs, fungus and mold that may be present in the water. The water then hits the wicking filter, which helps filter the air and provides moisture to the humidifier fan, delivering germ-free moisture to the room. It's so quiet that you'll forget it's even on, which is not the case for most evaporative models. The unit features three comfort settings: high (for fast humidifying), medium (for everyday moisture control) and low (for nighttime use). This unit doesn't come with a lot of other bells and whistles — just three fan speeds and a power button. You'll know the UV germicidal bulb needs to be replaced when the power light turns from green to red (after an average output of 3,000 hours). You'll find that cleaning is a breeze, as the water tank and base are both top-rack dishwasher safe. No dishwasher? You can disinfect by filling the water tank with one teaspoon of bleach and one gallon of cool water, wiping the base with the same solution, then rinsing both parts until the smell of bleach is gone.

Although we love the germ-free feature and the large tank that allows you to refill the water less often, this isn't a set-it-and-forget-it machine; you'll need to do quite a bit of regular maintenance to keep the humidifier working properly. That means regularly caring for and replacing the wicking filter. You'll want to flip the filter often to help it age more evenly, and you'll know it's time to replace the filter when it's hard and crusty, develops an odor or if you notice a decrease in the moisture output.
Buy It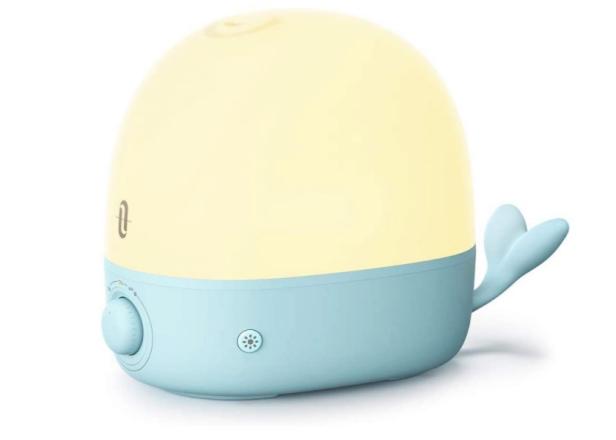 The TaoTronics Cool Mist Humidifier is our pick for nurseries and kids' rooms because of its affordable price point, whimsical whale design and BPA-free plastic exterior. This three-in-one machine can be used as a cool mist humidifier, an essential oil diffuser and as a soothing bedroom light for little ones. The 2.5-liter tank provides up to 30 hours of continuous mist with an operating noise level of just 26 decibels (it's super quiet). The smooth dial control lets you effortlessly adjust the mist output to the perfect humidity level for maximum comfort, while the 360-degree nozzle allows you to shoot the mist wherever you need it most within your space. Need some light? Simply press and hold the light button to emit a soft, warm glow that's perfect for night feedings and diaper changes. Refilling and sanitizing the water tank is a breeze, and all you need is a damp cloth and the included cleaning brush to wipe down the interior (at least once a week if you use it regularly). And when the water level is low, the humidifier will automatically turn off, so there's no fear of overheating. What makes this humidifier even more convenient for new parents is that it doesn't require filters, so you can basically set it and forget it.
Buy It